Would You Pay $47,000 for the University of Oregon?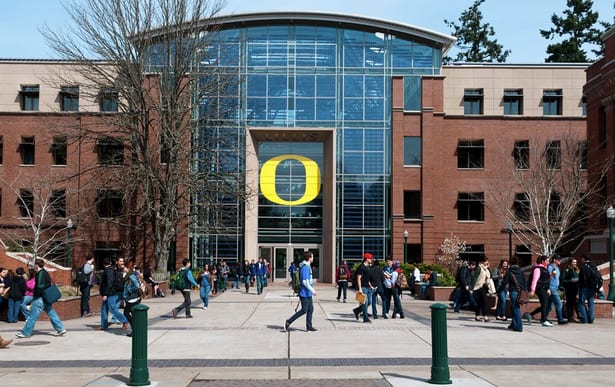 Last week at the exercise boot camp that I attend on Sunday mornings, I saw a mom who hadn't been coming to the workouts for several months. The mom is divorced and is trying to support herself as a manicurist.
Her son is a high school senior so I had been giving her some college advice before she stopped showing up on Sundays.
When I saw her, I asked her if her son knew where he would be attending school in the fall.
She frowned and said, "He wants to go to the University of Oregon."
I was stunned. "Oregon! Are you kidding me?"
I was not optimistic when I asked, "Did he get any money from Oregon?"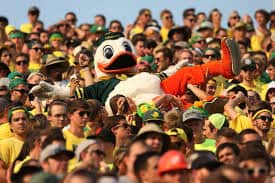 I wasn't surprised when the mom said that her son's package consisted entirely of loans for a school that will cost a nonresident at least $47,000.
The San Diegan teenager, who was attracted to Oregon because of its tremendous football success (!!!), is not dissuaded by the price tag.
Eighteen-year-olds seem immune to large price tags when loans can temporarily keep them from dealing with harsh financial realities. Making matters worse, the teachers at this teenager's school are encouraging him to go to Oregon! Ryan's dad is exploring how to make this work which would include a huge debt.
Universities Charge More When They Can
The steep price that Oregon is charging Ryan illustrates a classic supply-and-demand phenomenon. Public universities that are extremely popular with their own residents, as well as teenagers from other states, don't have to offer much of a financial enticement (if any) to attract outsiders to their campuses. This same phenomenon is played out among private colleges and universities.
The Oregon flagship not only has a successful football program, but it is located next to the nation's most populous state that doesn't have enough capacity to educate its own college students. So many Californians are attending the U. of Oregon that it's been called the University of California at Eugene.
Elite flagships are recruiting high-income students
When students contemplate the possibility of attending college outside their own state, they often put prominent state flagships on their dream lists. A major reason for this is because the typical teenagers and their parents unfortunately know of very few colleges and universities.
If you aren't rich, however, I'd suggest that you not fall in love with name brand schools like the Universities of California, Michigan, Virginia, Texas or that are located in desirable geographic areas such as the University of Colorado and University of Vermont (both near ski slopes) and the University of Arizona and Arizona State (both temperate weather).
These schools and others with strong brand names are hungry for outsiders who can bankroll an education that can cost more than $200,000.
Some of these institutions, such as Michigan, provide token merit scholarships –  $5,742 is the average – but that won't go far when you will be paying private school prices for state educations. Some prominent state universities, such as UCLA, UC Berkeley, UC San Diego, don't award any merit scholarships to outsiders.
Getting Into a Flagship
It's easier to gain admission into prestigious flagships as an outsider now because these institutions need the extra cash. Finding out-of-state sugar daddies is one way for these schools to attract new dollars. And it's easier to entice rich students to their campuses than for these institutions to get serious about making meaningful structural changes.
I wrote a story for my college blog over at CBS MoneyWatch a few years ago about a dad, who works at Columbia University, whose daughter had planned to attend the University of Michigan. She attended the new student orientation in the summer before her dad noticed that he had misread the bill. He thought the tuition was going to be a total of $19,000, but that was the price per semester. Now the school's tuition is $4,000 a year more.
Affluent students are the ones attending these popular schools because state universities almost never give need-based aid to nonresident applicants who can't afford the tab. And that's why I never would have recommended that Ryan apply to Oregon. The most he could have hoped for would have been a token scholarship and that would have barely made a dent in the cost.
As these flagships attract more higher-income students within their own borders and beyond, low and middle-income residents are getting less access to these institutions. In essence, these mighty institutions are becoming privatized.
State Schools Off the Radar
Unless you can afford to pay private-school prices for an education at a public university, I would suggest throwing a much wider net. If you look beyond the most popular flagships, plenty of state universities offer significant discounts to nonresidents.
The New York state universities (SUNY's) , for instance, represent some excellent values. Unlike many states, New York state has continued to support its public universities at levels other state legislatures have long abandoned.
Another potential great buy is the University of Minnesota in Minneapolis, which is a bargain compared to Michigan. I once asked a teenager why he thought that the University of Michigan is so much more popular than the U. of Minnesota, which is located in the Twin Cities. "Minnesota is cold," he replied. I mentioned that Michigan is hardly a temperate climate. My theory is that Michigan has enjoyed a long and storied tradition of success in the Big 10 athletic conference and the Minnesota Gophers have not.
The scholarships for nonresidents can be more generous and prices much lower to begin with at schools that have to work harder to attract nonresidents. University of Arkansas, for instance, has tons of scholarships for nonresidents. A huge plus at Arkansas is the tremendous amount of internships for students because of Walmart's proximity. Walmart requires major corporations to maintain an office in Arkansas so there are hundreds of corporate outposts in the state.
The University of New Mexico has impressive scholarships even for students with a 3.0 GPA and it's located in a city (Albuquerque.) I am hoping that a daughter of a family friend, who is a gifted dancer, ends up at the University of Utah's modern dance program, which is considered as good, if not better, than Julliard's.
I could go on and on about the opportunities at state universities beyond the popular ones, but I think you get the picture.
Bottom Line: 
If you want to lock in better prices, you need to be more imaginative when looking for schools. You can't continue to fish in the same pond as everyone else!
I am currently deciding to go to University of Oregon or SDSU. My dream school (like several others) is to attend the University of Oregon, however my reason why its my "dream school" is because of Nike and how it would really complement (product design) and Oregon has the resources to help me become a shoe designer. This has been my dream since the beginning and if I got to SDSU I would be changing my course completely and my major would be in Child and Family Development( Most likely try becoming a therapist). If I was to graduate from the University of Oregon with a degree( with lots of debt) I am willing to join the navy to possibly help elevate some of the debt(which wont guarantee paying for all debt but at least it would help a little and give me a great experience while serving my country). SDSU would be about 9,000 and Oregon 43,000 and i have a 16,000 scholarship that would help pay 4,000 each year in college.

I know I am very late to this party, but I so needed this article and responses. My son is graduating this May and was accepted to many good state schools in CA, but his dream school is University of Oregon. Wow did not come in as we or I had hoped, but I guess it never was going to. He feels his dreams are crushed and I am standing in the way of his dreams. I can't see paying well over $200,000 for his education especially when he can go in the state for a lot less. Obviously I made the mistake of even allowing him to apply, but we had a talk that if the $$ does not come in then it is not happening and now of course I look like the horrible parent.

Hi Jennifer,

Do not cave in! It's obscene to pay more than $200,000 for a STATE school or any school. He will have other dreams, but you would probably crush your retirement plans and financial security if you would let him go to Oregon, which teenager boys often love for the sports. Hang in there!

Lynn O.

University of Oregon is not the flagship school of the state. Just because they call themselves that and use it in the PR messages doesn't make it so. OSU is more qualified to get the designation, even though they don't use the term.

I am a middle 20's man contemplating going back to school from a dead end job.
I definitely needed to see this article.

It's funny, Oregon was one of my top choices as well, mainly for its Landscape Architecture program. Secondly was the fact that it has such a culture of running due to the years of Steve Prefontaine.

What I have to do is take a step back and realize my local state college, ISU, has a great consistently top 20 ranked LA program. Is it in my dream location? No. Does it have everything I want? No. Having said that, it has a great program of interest and is a very financially logical choice. Sometimes, unfortunately, we have to set aside the PERFECT school for the SMART school.

Hi Lynn,

Thanks for the words of advice. This struck a chord with my situation. My oldest child is graduating HS this year and will be off to college in the fall. She was accepted to some great public flagship schools including Cal Berkeley and UNC Chapel Hill. We live in MN so the OOS tuition and living expenses for these universities are well over $50K annually.

She was also accepted to the University of Minnesota College of Science and Engineering Honors program and received a gracious merit scholarship to attend. Consequently, she'll be able to complete four years at a top ranked university and participate in undergrad biomedical research for the same amount that it would cost to attend one year at these other schools. She'll graduate debt free.

What I still don't understand is the number of families that are spending over $200K for a college education…even if they can afford it, are the benefits that lucrative?

Congratulations for making the right decision! And NOOOOOOO!!!! UC Berkeley, UNC and other marquee flagships names are not worth paying $200,000 for a bachelor's degree.

Lynn O'Shaughnessy

Lynn,

My daughter is attending the University of Iowa as a Speech Pathology major. We visited them on Hawkeye day of her senior year. Two days after attending and meeting with the head of the Communications Disorder school she received her award notification that said Iowa would pay for all her cost of attendance. I had to pay $50 the first year. We will be paying $150 next year.

There are no loans involved.

We live in California but she was willing to go to an area outside her comfort zone. She loves it there.

She was a very good student with a 4.19 GPA but only a 27 on the ACT.

I was lucky that my daughter was willing to examine all schools.

I would suggest that parents be more involved in deciding on the schools. I know we visited five schools in the Midwest (Illinois-Urbana, Purdue, Miami-Ohio, Indiana and Southern Illinois). She had been accepted at all of them. All of them did offer money that reduced the cost by 50%.

Just wanted to say there are schools out there that will help you.

This phenomenon is so strange to me. Many years ago, my kid wanted a helicopter, but I never seriously contemplated buying one.

Just. Say. No.

I have a son finishing up his freshman year at the University of Arkansas and it's been a great experience. We're from Texas and he was able to qualify for in-state tuition offered to neighboring states. http://nrta.uark.edu
The program has been hugely successful in attracting Texans to the U of A and they now account for more than 30 percent of all students. In fact, our tuition payments to Arkansas are even less than the tuition for our oldest son at Texas State. Woo Pig Sooie!
Now our third son is a high school junior and he wants to go out of state to Clemson (my family is from South Carolina). We're exploring a variety of options to keep the cost down including loading up on AP classes and dual credits senior year so he can enter as a sophomore.

University of Alabama is actively recruiting my daughter in FL. They have great merit scholarships that would match in state tuition in FL.

Ha ha, no way. We didn't even allow our daughter to apply to out-of-state flagships. We told her in-state, WUE, or private (hoping that her 4.0 would garner some merit scholarships). I can only guess that parents don't know the difference between flagship and regional publics, and many that I've encountered don't know about the reciprocal programs like WUE.

Hi Lynn,

You are my "go to" writer about college admissions and I am giving myself a pat on the back this morning since I have been encouraging our junior daughter to consider UNM. My husband is an alum and loved his time in Albuquerque. We live in New York and while she will have at least one SUNY on her list, many of the SUNY campuses are in rural areas and she wants a city. Albuquerque ain't Manhattan but it may have to do! Great weather and green chilies.. better than fish tacos (which, humorously, Chapman promotes in their brochure!). Amigo scholarship would make travel affordable. Creative thinking is a necessity!
Another favorite story of mine was a tour of the freshman dorms a couple years ago at a UVA admitted students day. As a group of parents descended down the stairwell with scowls on their faces, I smiled and said, "Nothing to write home about, huh?" and a mother replied to me, "Can you believe, the out of state-ers are paying $50,000 a year for that?!". I guess I looked like a Virginian! My folks are but I am a proud New Yorker and now proud mother of a debt free college student.

Hi Lynn,

Would I pay $47,000 a year for the University of Oregon? No.

Why do parents continue to encourage their children to have such fantasies about picking their "top school"? Your acquaintance should tell her son what her annual contribution will be to his expenses and let him figure out that he (likely) can't afford U of O.

An acquaintance of mine had a similar experience. Her daughter fell in love with a $50,000 a year private college an hour away. Mom and Dad quickly set her straight about their finances and she came to love a public in-state university at half the cost.

My eldest is in the 8th grade but already knows approximately how much my husband and I plan to contribute towards college costs, and that cost will be one of the factors that determines where he eventually studies. I don't understand why more families don't have these conversations early in the process of looking at and applying to college.

Hi Lynn,

Texas A&M can be a great deal for out of state students. For those students who are awarded a merit scholarship of $1,000 or more they are given an out of state tuition waiver which enables them to pay in state tuition. This is a really great deal if they are awarded a four year merit scholarship of $1,000 or more! Getting in is another issue since the school is 97% in-state.