Will Your Home Equity Hurt Financial Aid Chances? A Case Study
Is your home equity going to hurt your chances of receiving need-based financial aid?
The majority of families don't need to worry about this because most schools don't consider home equity. These  institutions use the Free Application for Federal Student Aid. The FAFSA doesn't even ask if the family owns a home. Some of these schools, however, will use an extra form that may ask about home equity.
The approximately 250 institutions (nearly all private) that use the CSS/Financial Aid PROFILE will definitely be interested in your home equity. Schools vary on how they treat home equity, but typically they use some type of cap that's tied to the family's income to limit the impact that home equity has on a financial aid award.
A New Jersey Dad and Home Equity
Schools haven't been eager to divulge how home equity will impact a financial aid package, but net price calculators can help shine sunlight on the process. I came to this realization after a dad in New Jersey contacted me with an interesting story. He told me that he had generated really strange net prices when he used the net price calculators for about two dozen schools on the East Coast.
I was intrigued when Mike sent me the spread sheet with the net price for institutions that interest his bright daughter, who is a rising high school senior.
Before I share the figures, I should mention that Mike, 61, is a laid-off engineer. He only has $20,000 in taxable assets. (Retirement money is not counted in aid calculations.) Last year the family's income dropped to just $17,000, which gave him an expected family contribution of $0. If you don't know what a EFC is, here is an explanation:
What Is Your Expected Family Contribution?
The net prices at some of the private schools on the list were low cost, which didn't surprise me since they all had great financial aid policies.  Using each school's net price calculator, here are the schools on his daughter's list that would represent the lowest cost.
Lowest Cost Schools
Dickinson College ($0)
Franklin & Marshall College ($0)
Lehigh University ($0)
Rutgers University ($0)
University of Pennsylvania ($70)
Georgetown University ($198)
Haverford College ($2,087)
Colgate University ($2,026)
Bucknell University ($2,500)
Columbia University ($2,500)
Princeton University ($2,620)
Dartmouth College ($3,218)
Yale University ($4,600)
University of New Hampshire ($5,050)
Skidmore College ($8,922)
Most Expensive Schools
Boston College ($48,128)
Loyola University Maryland ($40,530)
Swarthmore College ($39,980)
University of Rochester ($38,500)
Northeastern University ($35,962)
Lafayette College ($35,320)
Villanova University ($39,000)
Penn State University ($33,134)
University of Michigan ($23,000)
Because Mike has an EFC of zero, he couldn't figure out why some schools would expect his family to contribute so much money. I was puzzled by the high figures except for those from the state universities outside New Jersey which are typically not going to be generous to nonresidents.
Many of the schools on the dad's list use the College Board's net price calculator so I suggested to Mike that we go through his inputs together. It quickly because apparent to me what the problem was. It was the family's home equity of $800,000.
Boston College clearly wasn't going to give this family, which is house rich and cash poor, a break. Neither were plenty of other schools. I was least surprised by Boston College's figures because the institution is considered aggressive in its attempts to limit factors that could boost a family's financial aid.
I didn't see anything else in Mike's inputs that would have resulted in such wildly different results. Just to be sure, I asked him to eliminate the home equity from his calculations. When he did, the net prices declined for the expensive schools.  Here are the screen shots that I took of the net price calculations from Boston College.
Boston College Net Price
Here is the Boston net price using the home equity: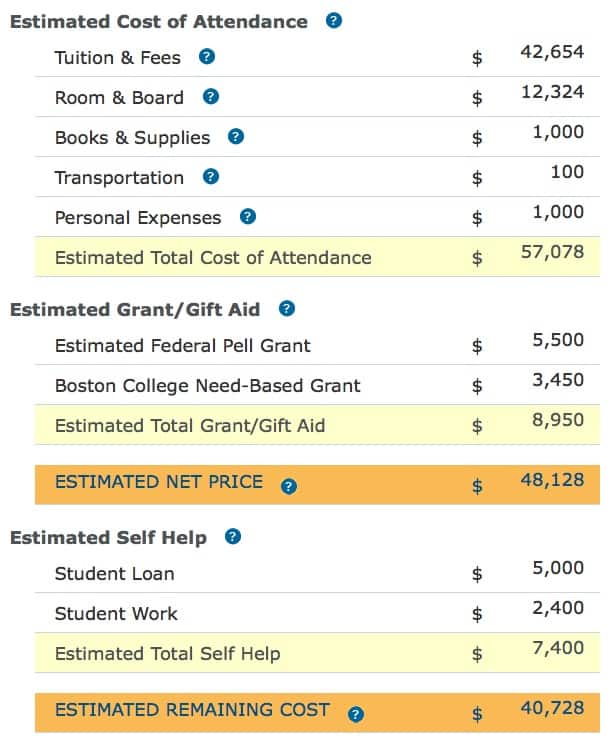 Boston College Aid Without Home Equity
Here is the Boston College net price without the home equity:
Bottom Line:
Whether home equity will be a factor or not in your family's chances for financial aid, always use net price calculators to get a personalized estimate of what your aid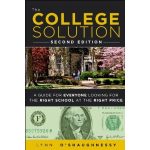 package will look like at every school on your child's list. Doing this should help you eliminate the stingiest schools.
Lynn O'Shaughnessy is the author of second edition of The College Solution: A Guide for Everyone Looking for the Right School at the Right Price, which was released in May.
How does the negative home equity effect the calculation? Is it treated as zero equity or a negative figure in the calculation?

I've been playing with the Net Price Calculators (NPC) with a dozen private schools. They all use the third party NPCs, either from Student Aid Services (SAS) or College Board (CB) (e.i. Yale and Williams College use SAS' and UPenn and Columbia use CB's). SAS' NPC seems to treat the negative home equity the same as no home equity; hence the EFC (expected family contribution) is higher. However, CB's NPC seems to take the negative home equity into the calculation; hence the EFC is lower.

Wow, father is a laid-off engineer, now that's a question in itself for all the future engineering majors.

Ken is right, he'd never get a loan. So here's an esoteric question. – Is art worth anything if you don't sell it? No. It's just a piece of beauty on the wall. It doesn't count. And another one – When you can't get an equity loan on your house because you can't qualify for one, is it really equity? Nope! Especially in states which don't allow subordinate loans (which are virtually non-existent these days). Then again, they could sell and move to AZ, NV, TX, FL, buy a house for cash, and have a lot left over!

Lynn, you have again brought out questions families should ask themselves before taking on the high cost of education.

Interesting that you can qualify for a Pell Grant and still have a net price of more than $48,000 at BC (first example).

Lynn,

I always enjoy reading your wise comments.. Today comment will be Price less to those Parents who see the number in black and White..

What you did not said in your comment today even if a Parent were willing to " borrow" against their " home equity".. No Mortgage company would make a loan based on this parents income..

Even Worst, I am going to assume that the parents credit score may have been " bruised" as a result of such a great drop in income.. so low income and poor credit score will have help save this family a large sum of money by selecting a college that does not count home equity.

So their a silver lining in this bad turn of economy events for this family.

Sadly no one explains to families that " home equity" is just dead money tied up until you sell or refinance and take equity from your home. . So for those who still have serious home equity it would be wise to face the facts on reaching that money..

Of course for millions of families who are up side down in their equity, they owe more than the house is worth.. this could be the time to approach the Boston college's of this world. Smile.

All the best,

Ken

HI Lynn,

I have heard of families refinancing prior to applying and putting their savings into their home thinking they are in for bigger aid from schools. The whole college process is a business. These schools are in the business to make money not just educate.

Again, thanks for posting the best college information of anyone out there.

There is a group of us in the North Shore of MA who adore you.

Best, Marisa Cain

Thanks Marisa. You made my day!!

Lynn O'Shaughnessy

I agree, Marisa. I, too, a in the North Shore of MA and Lynn, you always have great information.

One comment with regard to Ken, Paula and Dave's comments. I have had several similar issues with my clients with BC "under awarding" their students due to issues like having home equity or commercial property assets counting significantly against a family. However, it is possible to successfully appeal an award if the circumstances are shown to be beyond the capability of a family to remedy (which this case is). In a similar situation, I had the family file an appeal to BC and the family received an additional $32,000 in grant money. It took a while, but it was worth the effort. Schools will typically be receptive to awarding more money in cases where you can demonstrate either a change in financial circumstance (being laid off) or change in health status of a family member that impacts the family financially. I hope this helps.

Dick Joseph
MVP College Funding

Thanks Dick for that great suggestion and sharing your experience.

Lynn O'Shaughnessy

Hi Lynn,
I'm not surprised that home equity is the big variable for a lot of schools when calculating financial aid … and you found a good and simple way to validate that.

Unfortunately, I haven't found a good and simple way to anticipate merit aid, have you? As a middle-class family without much home equity, most of the EFCs for us have been in the same ballpark — plus or minus a few thousand dollars.

A few of the calculators have produced very discounted rates, and the only thing I can figure that's lowering our EFC is our state of residence — we live in Calif, and these schools are either small midwest or small upstate NY/VT.

So, although I know many small private liberal arts colleges give merit aid based on other criteria, there's nowhere in the calculators that seem to reveal that … unless I've missed something. Is the only way to figure out merit (non-need based aid) to wait until the end for the offer letter?

Thank you,
Denise

I've got a big spreadsheet of net price calculations, too for my rising senior. I agree that most seem to generate similar EFCs. Notable exceptions are Harvard and Yale where you can have an income upwards of $200K and still qualify for need-based aid AND which have no merit aid to speak of.

Although the net price calculator doesn't break out need-based versus merit aid, I think if the net price is less than the EFC, the contribution from the school is merit aid. (Either that or an inexpensive in-state school). The only real way I've been able to find to identify those schools is to run the calculator.

Hope this is helpful!

Hi Denise,
Your financial information cannot predict what schools will give you for merit aid. However, you can go to http://www.meritaid.com and look up the information on the schools that your children are interested in attending. That site has a fairly comprehensive list of the available merit scholarships at each school. The site typically provides the criteria used to determine who gets the merit scholarships (GPA, class standing and standardized test results are the usual criteria used). The school's own website is another place you can check. I hope this helps.
Dick Joseph

PS – Great Blog, Lynn!

Meritaid.com is a nice website. Thanks for sharing.

HI Denise,

Sorry for the delayed response. You might be using the net price calculators of schools that don't give merit scholarships, but give need-based aid. If the schools are high enough in the rankings they wouldn't give merit aid. If you are middle class, you should be getting need-based aid. It's possible you are using the wrong figures For instance, you should be including your retirement assets in the calculator.

Hope that helps!

Lynn O'Shaughnessy