Why You Shouldn't Be a Stealth College Applicant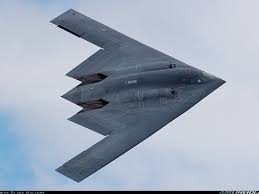 Do the schools that your children are interested in attending know that they exist? Or will they be stealth college applicants?
As you'll learn momentarily, stealth applicants can unwittingly hurt their admission chances at some colleges and universities.
Growing Stealth Applications

The number of teenagers who are applying as stealth applicants has been growing at both public and private colleges and universities. Students are pegged as stealth applicants if the first recorded time that they reached out to a school is when they apply. The figures below of stealth candidates are a bit dated, but it shows a trend that I bet is continuing to grow.

What's the Deal With Stealth Candidates
Here are three likely reasons why the number of stealth candidates are increasing:
No. 1:
It's easier to apply to schools thanks to the Common Application that a growing number of schools — nearly all private – are using.  With the Common Application, a child will use one main essay regardless of how many applications he or she sends out and all his basic information will essentially be the same.
It's also much simpler for teenagers to apply to schools because of the use of VIP or priority applications. I wrote about these dubious fast-track applications in this blog post: Should You Be Flattered by a College's Red Carpet Treatment?
No. 2:
Students also believe that they can research schools on their own just by logging into their lap tops. They can take virtual tours, check out information on scholarships and financial aid and talk to friends who attend without ever coming to the attention of an admission rep. Some of these students, according to a study by Southern Methodist University are intimidated by the prospects of communicating with admission offices.
No. 3:
First-generation and lower income students may not know that they should be routinely reaching out to schools, according to SMU's research. The school's enrollment figures below suggests this could be a factor.

Resisting the Temptation to Be a Stealth Applicant
As you can probably imagine, stealth applicants fluster schools. The institutions are more skeptical of a student's desire to attend their schools if they haven't reached out to them in traditional ways such as college fairs, campus visits, emails and online requests for information.
The schools that are going to be less concerned — or unconcerned – about this lack of a connection are state universities that are inundated with applications and don't enjoy the luxury of reviewing applications holistically.
I had conversations with admission officials from two schools  during my trip to the annual conference of the National Association for College Admission Counseling last week that would strongly suggest that students should not be admission lurkers.
Experience at Ithaca College
I talked with Eric Maguire, the vice president of enrollment and communications at Ithaca College. who told me that students who express the most interest in the upstate New York
In time for the admission season for the freshmen class of 2012-2013, Ithaca created an ambitious social networking site for teenagers who were interested in attending the school. Students who participated in the social network were able to do such thing as uploading pictures, chatting with other students on the site, posting comments and asking questions of staff and faculty.
Ithaca believed that these engaged prospects would be more likely to attend Ithaca so the admission office processed their applications first.
Ithaca believes the new policy is paying off. The freshmen retention rate of students who were selected using this new admission tool increased from 84.3% to 87.5% and Maguire believes the school can get this number up past 90%.
"Before we weren't necessarily gravitating to the students with more interest in the school, but now we are saying, 'Let's take a look at this interest.'"
As far as Maguire is concerned, the new policy is a win-win. Ithaca is more likely to accept students who really want to come to the school and those students are then more likely to graduate.
More More Example
I met another admission administrator on a plane leaving the conference and she told me that demonstrated interest at her liberal arts college that's located in the South is very important. She said that if a teenager did not contact the school before applying he or she was waitlisted. It doesn't matter how talented the student is.
In the wait-list notice, the school explains to the applicant why they were wait listed.
Judging How Important Demonstrated Interest Is
To get a sense of the importance of demonstrated interest at a school, you can head to COLLEGEdata and type in the name of a school. When you pull up the profile, click on the school's Admission link and scroll down the page until you see a chart of how important each of 19 admission factors at to a school.This information can obviously be more important than just looking at an applicant's level of interest in a school!
Here is what I found when I looked at West Point's admission factors: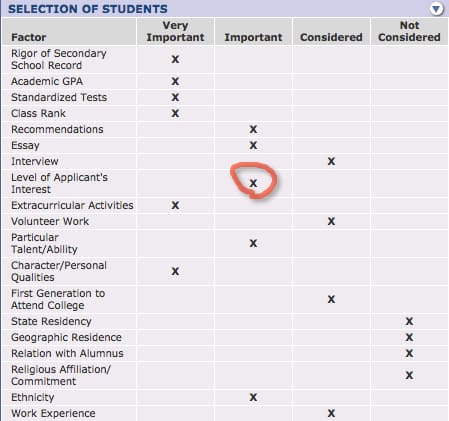 This information, which is taken from a school's self-reported Common Data Set, won't be full proof.  It's best just to assume that a school wants to know you exist before you apply.
How does one avoid being stealth if you can't afford to go all over the country doing college visits? Is a phone call, or signing up on a mailing list enough?

Hi Margaret,

You can sign up for literature, participate in a school's online community network (if it has one), find out when the school might be visiting your area (fall is the huge season for admission reps traveling across the country), reach out by email to the admission rep that covers the territory where you live.

Lynn O'Shaughnessy

Does registering for, and attending, one of the multiiple-college road show presentations put you on all the presenting schools' list of interested students?

How long do they maintain those lists, e.g., if you're on a vacation near a particular school, and take a campus tour their before your as a HS freshman, will they still remember you when you apply 3 years later?

Attending a presentation will count if you fill out something with the college. I don't think visiting a school before you are in high school counts.

Lynn O'Shaughnessy

Being in CA, it's cost prohibitive for us to visit the two upstate NY schools my daughter plans to apply to (one of them being Ithaca). Is a "demonstrated interest" an in-person visit/tour, an actual phone call to an admissions officer, or merely signing up on the school's website for a student/user ID and/or requesting the school's brochure?

(Also, I think you left out the ending to this sentance (?): …who told me that students who express the most interest in the upstate New York _______."

thank you

Kelly — Participating in Ithaca's community network is what helped get students on the application fast track. Your daughter can participate in the community without leaving her home.

Lynn O'Shaughnessy

I used the CollegeData "level of interest" indicator to decide which colleges to visit early on. We're in SoCal and my son was interested in two very selective colleges in the midwest. Both noted that level of interest was important, and I had learned from you and his counselor about the advantages of not being a stealth candidate. Two of his choices in upstate NY did not mention level of interest. So when it came to deciding where to visit, that bit of info helped. After he was accepted to the NY schools, then it was worth spending the time and money on a visit.

I would also say that during the visit days at the midwest schools, when the admissions staff heard how far we traveled to visit, they seemed very impressed. I'll never know for sure if that was part of why he was admitted, but it sure felt like it.

One other aspect may be, esp for students in rural areas, is they don't even consider anything other than good ol' State U and the schools don't help them. The local college fair near us had the community college, a nearby tech school, several of the for profit truck driving and auto mechanics schools, a couple of the state U's and the Univ of South. Really didn't have much for those who were interested in the bigger scheme of things. Pretty much left them on their own to figure things out.

My oldest daughter was a "stealth applicant" at a prominent university that sent her a "we'll waive the application fee" letter. She only applied there because I wanted her to and she could do it easily (and without fee) through the common app. At the time, I had the idea that if she was accepted there, I could probably convince her to visit. She fit comfortably within their standard freshman class profile. Guess what? Just as the admissions officer you talked to indicated, she was wait listed. I learned my lessons! First, don't count on being able to visit after acceptance if you haven't showed any other form of demonstrated interest. Second, if your child is not interested enough to at least contact the school before applying, tell him/her not to bother applying!

Thanks Wendy for sharing your experience!

Lynn O.

I will certainly encourage my kids to talk to admissions reps, etc. when possible. But, I think this blog is on to something when he says that there are "stealth colleges" as well.

http://jonboeckenstedt.wordpress.com/2013/09/23/there-are-no-stealth-applicants-but-there-are-a-lot-of-stealth-colleges/

For those who don't have time to click … here's a sample quote…

"Many places farm Student Search and EOS mailings out to third-party vendors, and never load the names into their student database. They've sent two or four or six or more emails, letters, or brochures to these students; the students assume they're on the mailing list, and don't take the time to request more information. (Really, you've mailed them five pieces; do you think they'd automatically understand they should fill out a card to request more?) "

Hi Janet,

Great piece by Jon Boeckenstedt at DePaul University in Chicago. Thanks for sharing it. I didn't know that schools are paying for third parties to send stuff to teens and won't necessarily ever have them in their databases!

Lynn O'Shaughnessy