Why You Should Avoid a Wait List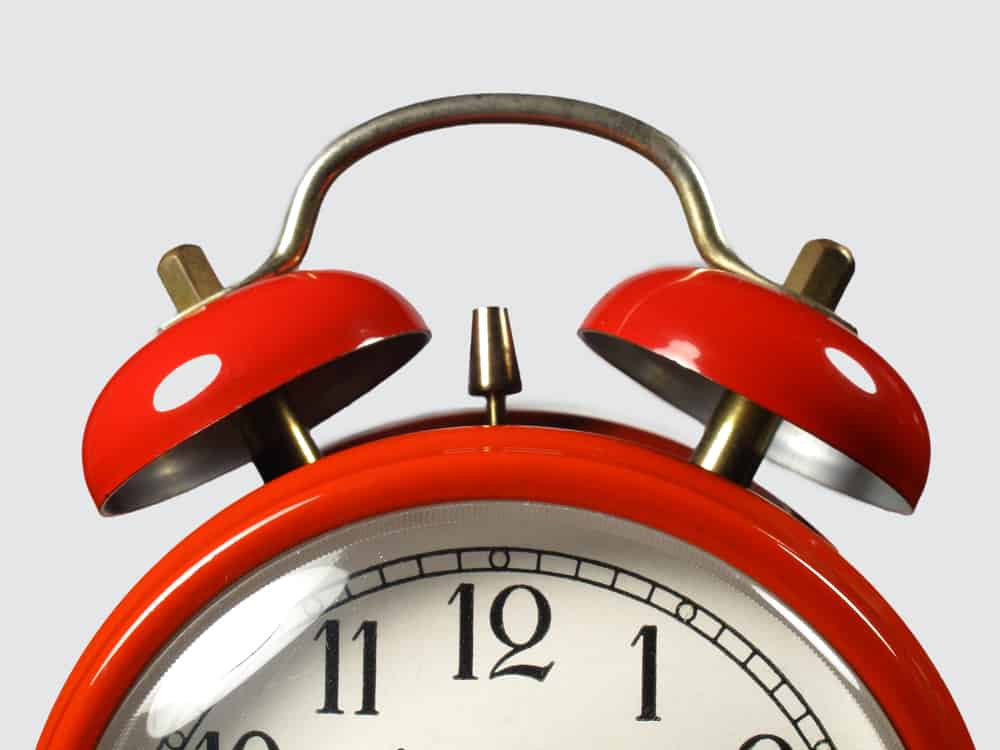 This is the time of year when students begin getting offered spots on waiting lists. I wanted to share a previous post I wrote about waiting lists that is just as relevant today. I  have updated the wait list statistics for the University of Notre Dame. Lynn O'Shaughnessy
This weekend I heard from old friends who wanted to share with me stories of brilliant students who got shut out of elite universities.
At a party on Friday night, a former colleague of my husband's mentioned that he was stunned that his son's friend didn't get into Stanford University. The boy is a stellar student and he only missed two or three answers on the SAT.  He is a gifted jazz musician and throughout the party we were listening to an amazing recording of his jazz quartet.
Yesterday a dear friend in Maryland told me about a young man she knew who was rejected by Johns Hopkins University and some Ivy League schools. This young man has been doing research at Johns Hopkins during his summer vacations and his extracurriculars were just as long and impressive as the kid from San Diego.
"Can you believe that this boy got rejected from all these schools?" my friend asked. I think I startled her when I said, "I'm not surprised. In fact, I would have been shocked if he got in."
I am always amazed that brilliant children and their often accomplished parents have a disconnect when it comes to their admission expectations. When they look at Stanford's admission rate of 6.6%, they don't seem to think it applies to them. If anybody can explain this, I'd love to hear it.
The plight, if you can call it that, of these teenagers reminded me of one of my previous posts:
What's Wrong With College Dream Lists
Trying to Beat the Wait List Odds
I'm bringing this up today because many of these spurned students are now hoping against hope that they will be plucked off the wait list of their dream college(s). I heard from one of these teenagers last week who wanted advice on how to get off the wait list of the University of Notre Dame.
I am equally surprised that students think they can get lucky on the wait list. My advice to them is simple: Forget it. Move on and be happy with one of the schools that does want to see you in their freshman class.
Finding a School's Wait List Statistics
It's usually futile to hope for a wait-list rescue.  You can find the wait-list odds of a school by heading to the College Board's website. Type in the name of any school and when you are directed to its profile, click on its Applying hyperlink.

Let's take a look at the wait-list odds for Notre Dame.
During the past admission season, the school offered 1,521 students a place on its wait list and 806 students accepted the invitation. How many students got accepted from the wait list? ZERO!
As you can also see, the number of applicants offered a spot on Notre Dame's waiting list was not much lower than the school's entire freshman class!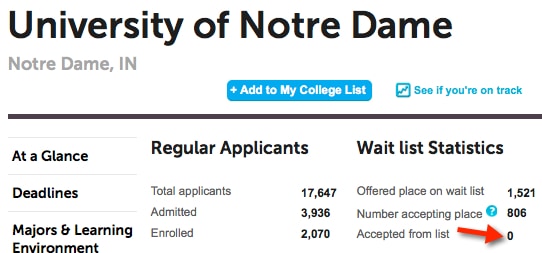 Wait List Overkill
The wait list numbers for a particular institution will vary every year, but at elite schools the odds will always be lousy.  During the 2012-2013 school year, for instance, Notre Dame offered significantly more students a place on the wait list (2,461) and 1,153 accepted. The school eventually plucked 86 from the list. And the year before that,  951 applicants accepted a place on the Catholic university's wait list, but the school only offered admission to seven applicants.
Why do schools place so many kids on their waiting list when there is little to no chance of getting off of them? Because they can.
Schools use their wait lists as a way to manage their admission yield. They'd rather put more students on a wait list and pluck teens off as needed than accept more students and then see too many of these teenagers spurn their admission invitation. Schools want to be in control of saying, "No." And when they say no to more students, they look more selective which appeals to families looking for elite schools.  And U.S. News & World Report's also rewards schools that reject more applicants.
I suspect that highly ranked schools are placing more students on wait lists because admission administrators are stressing out that ambitious applicants are applying to a very large number of elite schools and they can't get a handle on which teens would accept an invitation to their school.
Using a wait list is also a way to reject students without completely demoralizing them. It can be a helpful tool, for instance, to turn away students of alumni, who are not desirable candidates. Some students see an invitation to a wait list as something to even brag about. I'm not joking.
What I find sad is that so many students are pinning their hopes on suitors that have spurned them. This prevents these teenagers from getting psyched for their grand adventure at whatever colleges they end up attending. Also, students plucked from waiting lists often get little or no financial aid.
,
Thanks for the link! It's good to get the perspective of a university. Many schools aren't forthcoming for obvious reasons.

Lynn O'Shaughnessy

While I agree with most of what you say about these ridiculously long wait lists, I do personally know quite a few kids who did get into their dream schools off wait lists this year and last, including at places like Duke, Harvard, Johns Hopkins. And, if you read on College Confidential, at least a few kids do get in off wait lists at most colleges each year. A connected, caring school counselor and an ambitious student willing to put in some extra effort can SOMETIMES communicate effectively with the colleges to make the wait list work in their favor.

Colleges do offer their wait lists to far too many kids though, so the odds are against the kids. But, the odds are against the kids at highly competitive schools in general. I would guess that wait lists move a little more at less competitive small colleges or large universities? I just hate to discourage any student who is desperately interested in a college from at least trying to get off the wait list, as long as he/she is advised to maintain realistic expectations.

P.S. Wait-listed kids at need-blind colleges can receive financial aid, and there is no need to accept the wait list offer until the fin aid package is received. I am guessing that merit aid (from colleges which offer merit) would not usually be an option for a kid accepted off the wait list. .

The statement about the waitlisted candidates being offered little to no financial aid is completely unfounded. My son was pulled off the waitlist for the 2012-2013 school year and is now a sophomore at Notre Dame. He was offered a very generous financial aid package along with his offer of admission. Notre Dame does not offer many merit-based scholarships, but does offer generous need-based scholarships whether you were admitted early action, regular decision or from the waitlist. We could not possibly have afforded to send him otherwise. I will be forever grateful to the Notre Dame community for the incredible opportunity they have provided for my son.

A few thoughts – It's odd to me the final comments on this article, "Many students are pinning their hopes on suitors that have spurned them…Students on a wait list often receive little to no financial aid". I'm currently on a wait list for a Master's program at Notre Dame, and I don't see it as being spurned by the institution and offered the wait list as a consolation prize. I know the odds of there not being enough students accepting Notre Dame's offer to constitute a class are slim to none, but it IS less demoralizing to know that of the hundreds of applications they review, my application at least made the top 25-30 since they only offer first rounds admissions to 20-25 in my program. Prestigious fully funded places like Notre Dame have to make tough decisions and being on the wait list does mean the institution thinks you're a worthy candidate for admission even if you were slightly "beaten" by other candidates. Secondly, I'd like statistics on the "little to no financial aid" – if you are referring to Notre Dame, the school primarily referenced in this article, at least at the Master's level, if you were lucky enough to get pulled from the wait list, you are admitted into the program with full tuition just like anyone else. It would astonish me if other schools don't offer admitted students pulled from the list comparable tuition assistance – although it's a given they would not receive the highest full ride scholarships the first round offers received.

Obviously, a smart candidate should not pin their hopes on a wait-list option – but again referencing my situation, being on their wait list is not a big burden – I will be notified within a couple weeks, before I need to make any decisions with my other schools. If a miracle happens, and they have a spot for me, great, but I'm not figuring on it right now I'm comparing options on the schools I did get into. The wait list scenario is inevitable with competitive schools, and smart candidates are going to need to spread out their applications, and accept a few wait list situations graciously.

Monica,

My post had nothing to do with graduate programs. I was talking about undergraduate wait lists.

Lynn O'Shaughnessy

College admissions is pretty unpredictable as is getting off the wait list. Choose a college where to have been accepted and focus on the opportunities you will have there.