Where Can You Find Cheaper College Prices?
In the higher-ed world, some things are highly predictable. Every year, for instance, millions of high school students head to college and every year schools raise their prices.
Colleges and universities have rightfully taken a lot of flack for their annual price hikes. Traditionally, that's been especially true with private institutions and particularly at the institutions that are now reaching the $60,000-a-year mark.
Surging Prices at State Schools
In recent times, however, the price increases at private institutions have slowed while the prices at state universities have soared. For the current school year, if you exclude California state schools, tuition at four-year public institutions jumped 7%. In California, tuition and fees increased 21%. One out of every 10 college students, by the way, is attending a four-year public university in Californian.
In part, the price tags at state schools are rising more rapidly because of the erosion of support from state governments. In the three years ending in 2010,  state appropriations per student to public universities across the country has declined 19% in constant dollars. One of the fixed costs that is giving state universities fits are the monstrous pension and health care costs for their employees and retirees.
Private and public universities don't face the same huge pension/health care obligation as their public peers. These schools have their own financial issues, but they do enjoy more flexibility about how they allocate their money. Many of these institutions have been devoting more money to financial aid.
 Who Pays Full Price
What is often is overlooked in press accounts of rising college prices is that most students don't pay anywhere close to full price. (That doesn't excuse, however, the increases that  families do face. Private and public schools need to be more creative in offering educations that aren't as expensive.) Two-thirds of all students receive one or more grants (free money) from sources that include the federal and state governments and the schools themselves.
Let me state the obvious here:  You don't want to be the one in three students who pays full price. (I'd suggest that one way to avoid being stuck with the full tab, is to spend time on my college blog, where I've written tons and tons of articles about how to make college more affordable.)
If you're interested, you can learn much more about today's college prices by reading the College Board's annual Trends in College Pricing.
2011-2012 College Prices
For the current year, this was the typical amount of grant aid and federal tax benefits that full-time undergrads received:
State colleges and universities: $5,750
Private colleges and universities: $15,530
Two-year public community colleges: $3,770
 State vs. Private College Costs
With state prices rising higher than private ones, a growing number of students can find that the cost of a bachelor's degree at a private institution is comparable or sometimes even cheaper than at a state school. As always, it pays to cast a wider net when looking for colleges.
 Schools Making College More Affordable
Very well aware of how unpopular college prices are, the National Association Independent Colleges and Universities just released a list of member schools that are trying to make their institutions more affordable. Keep in mind that this is by no means a complete list of schools that are doing such things as freezing or cutting tuition or providing four-year graduation guarantees, but it's a start.

Tuition freezes for the 2012-2013 school year
Alderson Broaddus College
Ancilla College
Burlington College
Culver-Stockton College
Goodwin College
Hardin-Simmons University
Montreat College
Mount Holyoke College
Oak Hills Christian College
Sewanee: University of the South.
Tabor University
Thomas College
Urbana University
Westminster College (MO)
Wilson College
Tuition Cuts
Burlington College 25% cut for summer semester
Cabrini College 12.5% cut
Duquesne University 50% cut for freshmen in school of education
Lincoln College 24% cut at Lincoln, IL and 28% at Normal, IL campuses
Seton Hall University reducing tuition/fees by $21,000 for academically high achieving student to match Rutgers University's in-state rate
University of Charleston 22% cut for freshman/transfers
William Peace University 7.7% cut and room/board charge frozen
Tuition Guarantee
At these schools, there is no increase during the years a student is enrolled.
Burlington College
Columbia College (MO)
Sewanee: University of the South
Four-Year Graduation Guarantees
Ashland University
Baldwin-Wallace College
Jackson University
Medaille College
Midland University
Three-Year Degrees
Ashland University
Baldwin-Wallace College
Thomas Moore College
Urbana University
Wentworth Institute of Technolog
More on The College Solution:
Attending Expensive East Coast Universities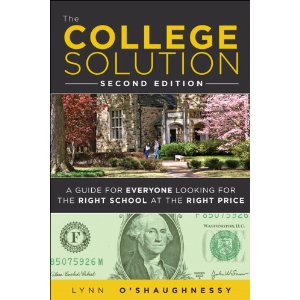 Don't Believe Princeton Review's Best  Value Colleges List
Are Colleges as Generous to Upper Classmen?
I want to thank everyone who has been pre-ordering the second edition of The College Solution: A Guide for Everyone Looking for the Right School at the Right Price.  Thanks!
Hi Lynn,
There are lots of schools that are providing tuition guarantees or four year graduation guarantees. I've found 60 for just graduation guarantees and over 20 for tuition guarantees and the lists just keeps growing.

But there are some catches to watch out for. St. John's has a tuition guarantee program but you don't pay the same tuition rate and student paying under the regular plan. The guaranteed tuition rate is higher. Also, it generally doesn't cover room and board.

It's a similar situation for graduation guarantees. Generally, the school will only pay for the classes (not an extra year) that the student needs to graduate and it doesn't include room and board.

Great information Michelle. Thanks so much for sharing!!

Lynn O'Shaughnessy