Where Are the Scholarships Hiding?
Yesterday, a frustrated mom posted a comment on my college blog that expressed her doubts that merit scholarships even exist.
Here is what Wendy had to say:

How Many Students Receive Merit Scholarships?
Wendy's comment is a timely one because this week the National Association of College and University Business Officers released its annual statistics on merit scholarships and grants that private schools award.
As in past years, the survey of 400 private institutions reveals that the vast majority of students – 85.5% – receive what's called in the industry a "tuition discount." That simply means that these students pocketed a grant/scholarship to shrink their tuition.
Obviously when 85.5% of students attending private schools receive scholarships it means that it's not just the braniacs who are winning these awards. Just getting in will automatically qualify most students for a price break. This figure, by the way, isn't surprising because private schools have to offer merit scholarships to compete with less costly public institutions.
The average tuition discount for the nation's current batch of freshman was 51%. Here is a graph that illustrates the pricing trends since 2001: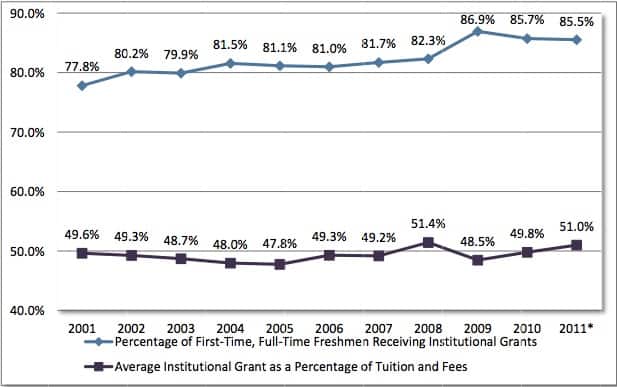 Increasing Your Chances for a Merit Scholarship
You have to be strategic when aiming for these tuition discounts. A student who barely gets into a college or university, is going to have far, far less of a chance of getting a price break than students who are in the top quarter or third of the entering freshman class. You can learn more about this phenomenon in this post:
Also, families need to be aware that the most elite schools — what Wendy is probably referring to as tier 1 – don't award merit scholarships. These schools only give money to students who have demonstrated financial need. (As a practical matter, most schools give merit scholarships to wealthy students.)
Here is a fascinating comment from my college blog from a dad, who shared his daughter's own experience seeking merit scholarships: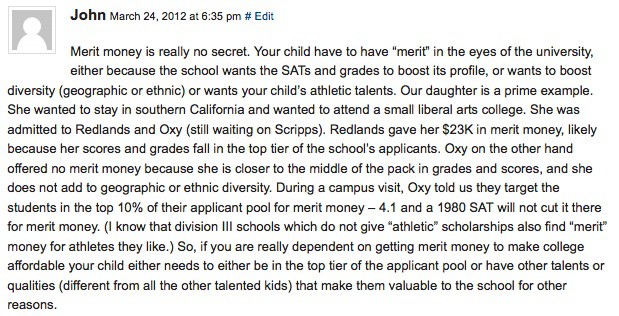 Private scholarships
It's possible that Wendy was referring to private scholarships in her comment. If that's the case, I'm not surprised that her sons have not won any of those scholarships. Only 6% of college money comes from private scholarships that include such sources as the Rotary, Kiwanis and Lions clubs, as well as marquee names such as Intel, Gates Foundation and Coca Cola. Students are usually much better off pursuing merit scholarships from schools rather than dinky scholarships from private sources.
Here is a post that I wrote earlier this year about private college scholarships:
That's it for now. Happy Easter and Passover everyone!
Lynn O'Shaughnessy is the author of  the second edition of The College Solution, which is now available for preorder.
Mike,
I know it's been over a year since your post. The collegeship.com link doesn't work. Is there a new site name?

The mom also needs to realize that the tier 1 schools don't need to offer merit scholarships. I could find 20 schools within 2 hours of Chicago that would offer significant merit money.
The problem – they don't have the name recognition that you mention in a recent post. My favorite example when talking with parents involves the recently completed March Madness. Butler is an outstanding place to go for an education, but until they made the Final Four two years in a row many had no idea where the school was or how good it is.

I am happy to say that the death of merit scholarships has been greatly exaggerated! (As much as Lynn hates them, and I have begun to hate them, I am going to use the USN&WR Rankings as a comparison here.) My daughter, who was denied admission to two top 10 schools and wait-listed by two top 20 schools (all private universities), received wonderful merit scholarships from a top 100 school (public university), a top 60 (private university) and and top 30 liberal arts school (private university), ranging from $6500/year to $28,000/year. She has also been awarded more than $17,000 in private scholarships, from national, state and local organizations – so far.
I know how frustrating and time consuming this process is, but it has been well worth the effort. From what I can tell, while many of the top universities are no longer looking for "well-rounded" students, there are plenty of scholarship organizations that are.