In this lesson, I'm focusing on the Free Application for Federal Student Aid (FAFSA) because families, regardless of the type of school their children want to attend, must complete this application to qualify for need-based aid and to take out federal loans.

The FAFSA is the federal financial aid form that roughly 20 million financial aid applicants complete every year. Here is a breakdown of who requires the FAFSA:
Federal Aid
The federal government relies on the FAFSA to determine who qualifies for federal financial aid.
The Pell Grant represents the major source of federal aid grants. It's rare for a family with an adjusted gross income of $50,00 or higher to qualify for a Pell Grant.
Even if eligibility for a Pell Grant or much smaller federal programs such as the TEACH Grant or the FSEOG Grant, is out of the question, parents will want to file the FAFSA if they wish to be eligible to borrow through the federal Direct Subsidized and Unsubsidized Loans and the PLUS Loan for parents.
The FAFSA is also required if a child hopes to obtain a campus work-study job.
State Aid
States also often require families to complete the FAFSA to be eligible for state financial aid grants.
Institutional Aid
The vast majority of colleges and universities require families to file the FAFSA to be considered for their own in-house, need-based financial aid. In some cases, schools will even require families to file the FAFSA to be eligible for merit scholarships. This is not a common practice.
Contact a school to be sure if you otherwise wouldn't be planning to file the FAFSA, but your child is hoping to receive a merit scholarship.
FAFSA Nuts & Bolts



You will access the application at FAFSA on the Web.
A parent and the student must obtain a so-called FSA ID, which is a username and password combination. The FSA ID serves as a student's or parent's identifier to allow access to personal information on the financial aid website and acts as a digital signature on some online forms.
FAFSA Timeline

One of the most unpleasant aspects of filing for financial aid had been how rushed the process has always been.
The FAFSA had traditionally been released on January 1 each year, which has never given parents much time to file for financial aid. This is especially true since families need their tax returns finished before finalizing the FAFSA.
The aid deadlines for some state programs are in February and many schools expect families to file for aid in that same time period.
With impossibly tight deadlines, families have often found themselves using estimated tax information when they've filed the FAFSA. If their estimates have been wrong, however, their aid packages could end up being worse that they expected. A $10,000 difference in parent income can lead to a $3,000 difference in financial aid. For student income it is worse, with a $10,000 difference in student income leading to a $5,000 difference in financial aid.
The admission cycle and the annual tax-filing calendar have never been aligned. And that has also forced students to apply to schools months before knowing if these institutions would be financially feasible.
It's been a terrible system, but the system changed starting for the 2017-2018 school year. This was great news for most families.
Here are some key things that you need to know about the changes:
Switch to two-year-old taxes returns.
The parental scramble to file the FAFSA and the CSS/Financial Aid PROFILE and get their taxes completed is no longer an issue. Students and parents are now using prior-prior tax returns (two-year-old tax returns) when completing the FAFSA and the PROFILE.
Parents of students who will be in college in the fall of 2018, for example, will use their 2016 federal tax return to complete the financial aid forms. Under the old system, these parents would have relied on their 2017 tax returns. So you can see that scrambling to complete their tax returns is no longer a problem because of the reliance on an older tax return.
A reason for a professional judgment.
If parents' financial situation has changed for the worst since they filed their two-year-old tax return, they can ask for a professional judgment from a school. College financial aid administrators have the power to adjust a student's aid amount based on information that isn't reflected in the aid application.
During the professional judgment process, the financial aid administrators may compare income during the base year with estimated income during the award year.
When To File the FAFSA
The federal government has traditionally released the latest FAFSA on January 1 each year, but with the changes, the FAFSA is now available on October 1 each year. So, for instance, parents can start filing the FAFSA beginning Oct. 1, 2017 for students who will be attending college in the fall of 2018.
The PROFILE was always available beginning on October 1, but in the past families had to use estimated taxes. Using estimated figures isn't necessary any more since the PROFILE is using two-year tax returns too.
Be aware of state deadlines.
It's best to complete the financial aid applications as soon as possible because colleges have financial-aid deadlines and so do states. Some states, such as Illinois, Kentucky, North Carolina, Vermont and Washington, dispense money to eligible students on a first-come, first-serve basis until the money runs out. States rely on the FAFSA to determine aid eligibility.
You can find out what the deadlines are for many states by looking on the front page of the federal government's FAFSA on the Web Worksheet 2017-2018.  The worksheet contains some of the FAFSA questions so it's smart to check it out before tackling the real application.
Here is a snapshot of the worksheet's front page that always contains the state deadlines on the front page: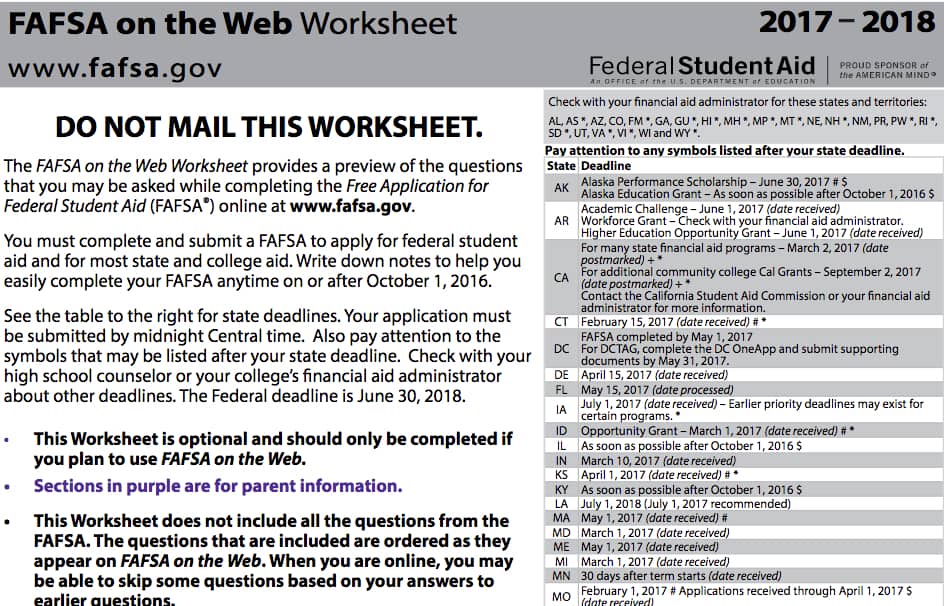 School Order No Longer an Issue



When completing the FAFSA, families used to have to be careful how they listed the colleges that their child would be applying to because colleges could use that information against them.
Some schools — no one knows how many – used to check the FAFSA to see in what order an applicant listed his or her schools. A family can designate up to 10 schools at one time on the FAFSA. The U.S. Department of Education has traditionally shared the FAFSA information with all the designated schools on an applicant's list, as well as applicable state agencies that award aid.
The federal government never intended for this information to be used as a tip sheet for colleges. The practice burst out into the open when a trade publication wrote this story about it:  Using FAFSA Against Students. The story suggested that schools could be denying admission and reducing aid to students based on the order of colleges listed on the FAFSA.
The story caused an uproar, but I'm happy to say that in the summer of 2015 the federal government announced that it would no longer be sharing this information with other schools.
Although schools will no longer gain access to a student's school list via the FAFSA, state higher-ed agencies will continue to have access to students' college preferences. Several states, including Massachusetts, New Jersey and Connecticut, require that students put a state university first on the FAFSA list to be eligible for some state grants.
Hi Kristin,

Green-card holders can qualify for federal grants and loans. I don't know about state assistance. My guess is that it might vary by state. I would suggest a quick way to find out what the rule is in your state is to call the financial aid office of any public university in that state and ask.

Lynn O'Shaughnessy

Is the FSA ID unique to each student or each family? In other words, once a family gets a FSA ID do they need an additional one for each subsequent child? Also does the information from one child carry over onto next childs application

Hi Shan,

Each student needs to have their own unique FSA ID. Two siblings can't share a FSA ID. A parent can use his or her ID when signing his/her children's FAFSA. Bottom line: each person who signs the FAFSA must have his/her own FSA ID. You can learn more here: https://fsaid.ed.gov/npas/index.htm

Lynn O.

Hi Lynn,

I apologize in advance for hounding you about the FAFSA and whether or not school order matters, but it seems there is still conflicting information floating around. I trust your insight and skepticism when it comes to these things!

Can you please comment on the following statement in a US News & World Report article in October 2015 titled "3 Changes to the FAFSA for College Students to Understand"? Is this accurate?

"He [Mark Kantrowitz, senior vice president and publisher at Edvisors, a higher education resource site] cautions, however that the list will still be visible to state agencies, and suggests that FAFSA filers list a state college first on the form to maximize their changes of being considered for state aid."

Thank you!

It is true that state agencies would be able to see that a state school is listed first. I don't know if this really matters in any states in terms of aid, but just to be on the safe side it makes sense to list a state school, assuming a child is applying to one, first. As I said before, no colleges will see the list.

Lynn O.

Our daughter will be applying to five UCs and one CalPoly (all state schools), three of which are in the top 5 on her list. We now understand these state schools will all see the same FAFSA list, and all but one will not be flattered by what they see.

If state schools can see that they are (or are NOT) the first name on my child's list, then is it still fair to say that the order in which you place schools doesn't matter? Assuming it DOES matter (to state schools) in their decision to grant financial aid, should we be concerned that it may influence their decision to admit, as well?

I appreciate your thoughtful opinion on this!

Rose

Hi Rose,

None of the schools on your child's list will see the FAFSA order. As the lesson mentions, private and state schools no longer see the FAFSA order. State agencies in some states might look at the list, but schools do not. You do not have to worry about this!

Whether you get money from any state school in California will heavily depend on whether you will qualify for the Cal Grant. If you make too much money for the Cal Grant there is very little chance of getting merit aid. California state schools provide little merit aid.

Here is the link for the income ceilings for the Cal Grant: http://www.csac.ca.gov/doc.asp?id=1122

Lynn O.

Thank you for clearing that up for me, Lynn! I was hung up on the word "state" and didn't realize that "agencies" are not equivalent to schools.

Thanks, again!!
Rose

Hi Lynn,

Re: "School Order No Longer an Issue…in the summer of 2015 the federal government announced that it would no longer be sharing this information with other schools."

I understand that each school will not be privy to names of other schools on an applicant's FAFSA, but can each school see on which number line it's placed on a student's FAFSA list of 10?

Thank you!
Rose

P.S. Upon turning on the radio during lunch today I had a pleasant surprise — you were speaking as a guest on "Air Talk" with Larry Mantle on KPCC! I only caught the last 15 minutes, so I will definitely listen to the podcast when it becomes available. Any other interviews coming up for you in the SoCal area?

Hi Rose,
No, schools will not be able to see what line they are on in the FAFSA. This information will not be shared with schools.

Glad you caught some of the radio interview today! I was on the show with my friend Kim Clark of Money magazine who called in from New York. I don't have any radio shows planned right now.

Lynn

Lynn, the link for the federal announcement at the end of your article is broken. When I click on it, I get an error message. Is the article still available? If yes, how do we get to it?
Thanks,
Marita

Hi Marita,

Thanks for letting me know. Unfortunately, it looks like the federal government took down the article. I've taken the reference to it out of the lesson.

Lynn O.

While the FAFSA can't be filled out until Oct 1 of each year, can a family get their FAFSA ID before then? When do recommend the FAFSA ID is obtained?

Now that the FAFSA and profile will be available starting October 1 I'm wondering when students will need to submit them. Does anyone know if the FAFSA and profile deadlines will also be pushed up? And what about within California? This year I believe the deadline was March 2. Does anyone expect this to be moved to the first semester?

Thanks!

Hi Deborah,

When students should submit the FAFSA will depend on each school's deadlines. Also, if students want work-study positions, I would suggest they file as soon as possible. Work-study jobs can be doled out on a first-come, first-served basis. I can't think of any reason not to file early if you know what schools the child is applying to.

I assume states will reevaluate when their deadlines for need-based grants will be. As for private schools, they often don't know what they are going to charge by October for the following year. All this should be known by the fall. So I'd suggest that parents not worry about this right now.

Lynn O'Shaughnessy

Hi Lynn – With the new FAFSA filing date happening in October 2016, should we be concerned that universities/colleges will be able to determine an applicant's financial need before making admissions decisions … and therefore be less likely to admit students who are going to need significant financial aid? Am I being too cynical?

I know that admissions and financial aid are supposed to be separate worlds at a college, but if admissions is deciding between Student A and Student B, I'm sure they would love to know that Student B will not need aid and give him/her preference.

Hi Erika,

Good question!

Actually, schools have always had the ability to know a great deal about students before they submit their financial aid awards. They know a lot about a child based on the zip code they live in, their school, the occupation of their parents, their parents alumni. The vast majority of schools are need aware, also called need sensitive, and they can decide on who to admit based on their finances. A school can accept a certain percentage of students without caring about their finances, but some percentage can be rejected if they need a lot of aid. I frankly think that there are no schools that are need blind.

You are right to be cynical about the behavior of colleges, but I doubt that the deadlines are going to encourage any worse behavior considering what they are doing now.

Lynn O.

Hi Lynn,
Is there any limit or restriction to the amount of money a student is able to borrow overall for education?

Hi Shelley,

Yes, there is a limit to what students can borrow. Please read the lessons in Borrowing for College modules.

Here is how much most students can borrow through federal direct loans:

1st year: $5,500
2nd year: $6,500
3rd year: $7,500
4th year: $7,500

If the undergrad goes to college more than four years, he/she can borrow up to $31,000.

If a parent doesn't qualify for the PLUS Loan, the student can borrow even more.

Lynn O.

Hi Lynn,

Should we fill out the FAFSA if our son is only a Junior in high school? Or do we wait until his senior year? I hesitate to do it now because I know there will be some financial changes in our family at the end of this calendar year. If we submit it now, can we re-submit it in 2016?

Also, I am confused a bit about the EPC. Are we only able to get that number if we do a FAFSA?

Thanks,

Shyla

Hi Shyla,

You can't fill out the FAFSA until the second semester of your son's senior year in high school. The first day you will be able to file the FAFSA is on Jan. 1, 2016.

The FAFSA produces the federal EFC. Each school using the PROFILE will generate its own EFC and a good financial aid letter will include this figure. If it doesn't include the figure, you should ask the school for this number so you'll be able to tell it if it has generated a good award.

Lynn O.

Hi — Should you complete FAFSA during the junior year or senior year of high school? My daughter graduates in 2016 and would start college that summer or fall. It is unlikely we will qualify for financial aid based on our EFC.

Hi Marie,

You can't complete the FAFSA until your daughter's senior year beginning on Jan. 1. So you could complete the FAFSA beginning Jan. 1, 2016.

Lynn O.

Can we only use the IRS data retrieval tool if we file our taxes electronically?

You can use the IRA retrieval tool with a paper income tax return, but I would highly recommend against this. It can take 8 to 11 weeks after filing your taxes on a paper return to use the retrieval tool.

Lynn O.

I have a similar question to Kirsten. We do not qualify for need-based as our EFC higher than 60!

Because she receives a very generous merit scholarship from our state university that will cover 90% tuition for 4 years, except for $1500 a year, our senior decides she's 99% sure she's staying in state. She would only have to pay for room & board. The possibility of living at home if she wishes (after the first year) to save money for graduate school is also very attractive to her.

She & we won't be taking out any loans. That's our goal.

I don't see any advantage for us in filing the FAFSA, as her merit scholarship from our state university is not dependent on us filing FAFSA or CSS. Am I thinking right?

Fordham accepted her and wants both the CSS (which we filed) and the FAFSA. They 'promised' a financial aid decision end of this month. From what I hear of Fordham, I doubt they would offer her any merit aid that would beat our state university's deal, so the question is whether it's worth it for us to file the FAFSA since they already have our CSS.

Along with their acceptance letter, Chapman offers $22K merit scholarship a year for 4 years, but we do not think Chapman merits a $43K a year, so that's a no brainer to cross them off the list.

I also heard from a rumor various parents with high EFCs that they noticed schools offer more merit-scholarships to those students who didn't file CSS than those that did. Since none of these parents offered to show me their financial papers, I'm skeptical, but thought I'd mention it here and see if you'd heard this?

Nina

Hi Nina,

It's extremely unlikely that you would get a better deal than the one you received from your state university. You would not receive any need-based financial aid from Fordham. Your daughter might receive a merit award or nothing. And unless Fordham tells you otherwise, you don't need to file for need-based aid to qualify for a merit scholarship. It's up to you whether to file the FAFSA, but under the circumstances, I can't imagine your child qualifying for financial aid.

Lynn O.

Hi Lynn,

Thanks for the clarifications. I can't give you an example of a school that offers its own institutional loans, but I had read about that option on Edvisors http://www.edvisors.com/loans/private/institutional/. Perhaps those loans are only need based and would not be relevant in my family's situation.

One more question about filing the FAFSA after waiting until committing to a college. Does the Common App ask if a student plans to ask for financial aid? Since we would want to be eligible for loans, we would mark yes. But if we did not supply our FAFSA information before schools make their admit decisions could that work against us? Specifically, I'm wondering if it would be better for schools to see that we have a high EFC and know we aren't requiring a large aid package in order to attend.

Thanks again!

Here is a dumb question. I just don't understand. We will not qualify for federal aid due to our income level, (greater than $100K) but our EFC is only $24,000, so would we qualify for institutional need-based aid (and what is that exactly????) or only merit based aid at private expensive $60K colleges? I am hoping to get more money and thought grants and need-based aid will give us more than the merit awards.

Thank you.

Hi Victoria,

This is not a dumb question. Many families who do not qualify for federal or state need-based grants do qualify for need-based aid from the colleges themselves.

With an EFC of roughly $24,000, you would be eligible for need-based aid at private institutions. A school will first look at whether a student will qualify for federal or state aid and then it will decide whether to give the child any of its own pot of institutional cash. Merit scholarships, which are really just tuition discounts, can be used to help fill the gap between the cost of the school and the family's EFC. For some students merit aid will serve as need-based aid and for wealthy families with a very high EFC, it will strictly serve as merit aid. Let's say a family's EFC is $60,000 and the school cost $60,000. The child receives a $15,000 merit scholarship, which would strictly be characterized as non-need based aid.

Now let's say your child gets accepted into a $60,000 and your son got a $15,000 merit scholarship. That would help fulfill your financial need/ The school would then decide if your child would get additional money. If he got into a school that meets 100% of need, he would get additional help to fill the gap between the cost of attendance and your EFC.

Lynn O.

Hi Lynn,

I have calculated my family's EFC and it is too high to receive any need based aid even at the most expensive schools. However we would be interested in possibly receiving federal unsubsidized student and parent plus loans. Is filing the FAFSA the only way to receive those loans? If so, since these are federal loans and not limited need based grants we are interested in, is there still the necessity to file the FAFSA as early as possible or could we wait until after our student has committed to a school? I'm wondering if we could avoid guessing early on our taxes and then needing to go back and make adjustments. I understand the deadline set by the government for the FAFSA is June 30th.

I have a similar question about the CSS Profile. If we are certain we do not qualify for need based aid do we still need to file it with those schools that request it? I have heard that some schools might require the Profile (and the FAFSA for that matter) just to be considered for merit aid. Is that true?

And last, will some schools need the Profile to award non-need based institutional loan offers? If so, are those offers ever a better deal than maxing out the unsubsidized Stafford and Parent Plus loans?

Hopefully my questions are clear – thank you!

Hi Kirsten,

Thanks for your questions. If you aren't seeking need-based aid, there is no reason that you have to rush to complete the FAFSA. You can fill it out after your taxes are done. You wouldn't be able to apply for the federal direct student loan and PLUS loan until your FAFSA has been processed. The federal student loan season for the 2015-2016 school year starts on July 1, which is the day the interest rates are set for the new school year and the government can start accepting loan applications.

If you are ABSOLUTELY sure that you won't qualify for need-based institutional aid (run the net price calculators for every school your child intends to apply to), you do not have to file the PROFILE unless a school requires it for merit aid. It's not common for schools to require the PROFILE for merit aid, but it's not rare either. Just check with each school your child will be applying to to find out if this extra step is necessary.

I am not familiar with schools that offer their own institutional loans. There could be some, but I'm not aware of them. If they did offer their own loans, I would ask the school what the requirements are to qualify for them. If you know of schools that offer these loans, please share in the comment box below!

The direct student loan (formerly known as a Stafford Loan) is the best loan for a child because of its built-in safety net. Check out the Borrowing for College module for more info on loans. The Parent PLUS loan is a very expensive loan and people who have excellent credit should be able to do better with their home equity line and also private college loans through credit unions.

Lynn O.