One of the most infuriating aspects of the college admission process is this:
Traditionally, you couldn't know what any college was going to cost until your child received his or her financial aid or merit award package. Even worse, you might not have gotten the offer until the spring, which would give you little time to select a school by the deposit deadline, which is often May 1.
Learn What You'll Pay Before Applying
Applying to schools, however, doesn't have to be a financial crapshoot if you use federally mandated net price calculators before your child applies to any colleges.
A net price calculator is supposed to provide you with a personalized estimate of what a particular school will really cost you. When using a calculator, some families will discover that the cost of a $50,000 university will be $20,000 or $10,000 or even lower. For other families, the cost really will be $50,000.
If you want to avoid budget-busting schools, it's critical to know what the actual prices of particular schools will be before your child falls in love with them. In fact, turning to net price calculators could ultimately save you tens of thousands of dollars by focusing your efforts on schools that will be more generous to your family.
Every college and university that participates in the federal financial aid system, and that's almost all of them, must post a net price calculator on its website for freshman applicants. Some schools also provide a calculator for transfer students.
Inside scoop on net price calculators
To squeeze the most value out of these calculators, here are 10 things you need to know about using them:
1. These calculators provide a family's net price.
The net price represents what a student will have to pay after scholarships and grants from the federal and state governments and the school itself are subtracted.
Let's say, for example, that a college costs $50,000 and the student will receive a $30,000 award from the school and a state grant of $5,000. The net price for this student would be $15,000.
The net price equals the true price of the college because it only considers free money and disregards loans when calculating the cost of a school.
You can see just how many different prices you can generate when using net price calculators by reading about the experience from a few years ago of a mother in Washington State:
Case Study: What 66 Schools Would Cost This Family
2. Use net price calculators to test academic scenarios.
You should turn to these calculators to get a handle on what sort of applicants capture the best awards at an institution. What kind of grade point averages or test scores does it take for a student to win a greater award from a specific school?
To illustrate what we're talking about, let's look at the experience of a father whose son is now a junior at Northeastern University in Boston. When the dad initially used the net price calculator and plugged in his son's SAT score of 1300 (out of 1600), the calculator estimated his grant at $20,000 for the first year.
After his son earned a 1340 score on the SAT, the dad retried the calculator and discovered that the teenager's award had jumped to $34,200.
With this tool, you can manipulate the figures to see whether it would be worth it for your child, for instance, to take the SAT or ACT again. Would a higher test score boost your child's potential package? Would a slightly higher GPA matter?
With so much money at stake, it's worth taking the time to use these calculators strategically.
3. Use net price calculators to weigh impact of assets.

These calculators can also be handy when you want to figure out how a school treats assets, such as a small business, rental property, investments accounts and home equity for 
financial aid purposes.
I wrote an eye-opening blog post back in 2012 (see link below) that illustrates how differently schools treat home equity. You will learn in this class that private schools that use the PROFILE financial aid application can assess home equity in different ways. In contrast, schools that only use the FAFSA don't ask about primary home ownership.
Will Your Home Equity Hurt Your Financial Aid Chances? A Case Study
In the blog post, I wrote about an unemployed New Jersey dad/engineer, who inadvertently discovered how two dozen institutions including Boston College, Dartmouth, Villanova, University of Rochester, Dickinson College and Georgetown treated his home equity in significantly different ways that resulted in estimated awards that would have had the family pay anywhere from $0 to more than $40,000 for one year of college!
4. Calculators will vary in what information they require.
To use many calculators, and particularly those of selective private schools, you will need your tax return and bank/investment statements. If your child has income and a bank account, you should gather that information too.
If the school provides merit scholarships, in addition to providing need-based aid, a good calculator will ask for additional information such as a teenager's GPA, test scores and class rank.
A thorough calculator could take you 15 or 20 minutes to complete.
5.  Some net price calculators are inaccurate.
The weakest calculators rely on the federal-calculator template. Using a calculator that uses the federal template could take less than a minute to complete! The questions are minimal, which leads to dubious cost estimates.
These federal calculators are only meant to provide personalized cost estimates — faulty or not — to families seeking need-based aid.  And even then, the need-based aid answers are simply averages.
The schools using the federal template ask only three questions if the family isn't seeking need-based aid but would like merit aid. Here are the three questions that I answered when I tried out American University's net price calculator: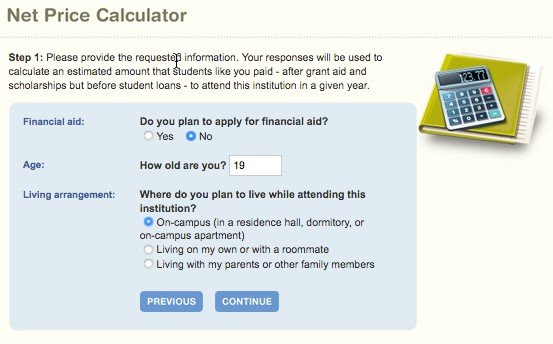 How could this university provide an accurate net price when all it knows about potential applicants are their age, the decision not to apply for need-based aid and where they would like to live!
Based on the answers to these three questions, I received this net price estimate from American University: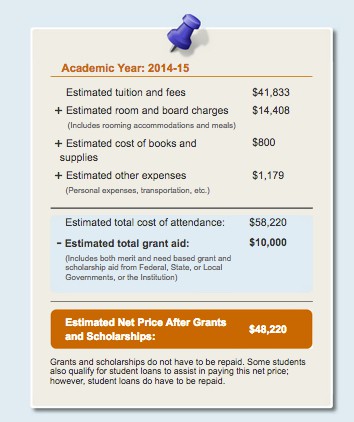 These federally-based calculators that American and others schools use will be absolutely worthless for wealthier families strictly seeking merit scholarships. These calculators will also often be inaccurate for students of households of any income because they do not ask questions that would determine if a child qualifies for a school's merit scholarships.
Slightly more than 50% of schools use the federal-calculator model. Many of the schools using the federal template are state universities, but some private schools have embraced this inferior calculator too.  Besides American, private institutions that rely on the federal inspired calculators include:
Bennington College
Berklee College of Music
Brigham Young University
Duquesne University
Gonzaga University
New York University
Why Use Inferior Calculators?
You can't expect to get a reliable financial-aid verdict from any school using the federal calculator template. So why would schools use a mediocre calculator?  Here are two potential reasons:
Creating an accurate calculator isn't a priority for some schools, which may also believe that applicants aren't interested in them.
Private schools can favor mediocre calculators because the tools can mask the true cost of their schools. Admission officers may advise applicants to ignore worrisome calculator results and apply anyway because the calculator results are unreliable.
6. Observe how many questions a calculator asks.
Calculators that depend on the federal-template calculator ask few questions and don't require the actual income that parents report on their income tax returns.
These federal-template calculators only provide income ranges and the highest income level the tool offers is "above $99,999." (See below.) In addition, these calculators do not inquire about family assets!
7. Look to see that the costs are up-to-date.
When using calculators check to see if the prices are current.
Unfortunately, schools that use the federal template will be using cost-of-attendance figures that are at least two years old. I've found schools sharing much older cost data.
As you can see in the American example above that the cost estimate is based on the 2014-2015 school year even though I used the calculator in June 2017! Students using the calculator now would be interested at prices for 2018-2019 and beyond!
8. Net price estimates are not guarantees.
The price that a net price calculator spits out is not necessarily what you will pay.
While the goal of these calculators is to provide families with solid cost estimates, the figures aren't binding. For instance, I previously mentioned the case of the dad using the Northeastern University calculator. The initial award the son received was lower than what the calculator suggested and the dad aggressively appealed the lower amount and eventually received more money. Not all families would do this or be successful if they push the issue.
Northeastern, by the way, no longer calculates merit awards via its net price calculator and will only generate need-based aid figures. This is a disappointing development.
In general, the net prices generated by schools that have developed their own calculators should be much more accurate and these institutions should be more willing to stand behind their estimates. Ask schools about the accuracy of their calculators.
9. Double-check your figures.
Be careful when inputting your information into a net price calculator. If the outcome seems wrong, try again. Ask a school's financial aid office if you aren't sure what information is needed.
10. Where you can find net price calculators.
Schools are federally obligated to post their net price calculator for freshmen on their website and some offer net price calculators for transfer students. It can be hard, however, finding these calculators. Some schools don't want you to use them because you could discover how stingy they are.
An easy way to look for a school's calculator is to Google the name of the institution and net price calculator.
11. Check outside calculator providers.
There are at least two outside sources for net prices:
Each has its strength and weaknesses. Let's take a look at each one:
College Abacus
College Abacus is a one-stop shop for accessing many net price calculators.  The site allows a visitor to compare up to three different net prices at once.
The site asks for a tremendous amount of your financial information because it needs this data to answer all the anticipated questions that any school's net price calculator would ask. Once you've inputted your financial data, you can obtain the results from a school's net price calculator without leaving College Abacus.
Unfortunately, some schools block College Abacus from accessing their net price calculators because many college administrators do not want price comparisons to be so easy. So you may not be able to access all the calculators that you'd like at this site. The lofty goal of this site is to become the college-pricing equivalent of Kayak, Expedia, Zillow or other cost-comparison sites.
College Reality Check
College Reality Check is a site, courtesy of The Chronicle of Higher Education, which allows families an easy way to compare net prices of up to five schools at once. You can also compare other factors such as graduation rates, student loan default rates and estimated average monthly loan repayment amounts.
Keep in mind that the average net prices on this site, which come from the federal government, are for income ranges. Unfortunately, the highest income range is only $110,001 and above, which is not helpful because what a family with a household income of $110,000 can afford will be quite different than what a millionaire can comfortably cover.
What's more, the net prices are only calculated for families who applied for and received financial aid, which includes federal college loans. It's more likely that the net prices for lower income ranges are going to be more reliable because people in the upper income brackets are less likely to apply for aid.
In the example below, I obtained the average net price for families whose income ranges between $75,001 and $110,000. As you'll see, the prices for students applying to these schools differ significantly.
I included Carroll College in Helena, MT, to illustrate this phenomenon –  lesser-known schools in areas off the coasts are often less expensive. One of this school's many selling points is its nursing school where students can graduate in four years unlike impacted nursing programs in state schools in California.
West Coast examples
The example below also shows that expensive schools with excellent financial aid (Pomona) can be cheaper than state universities. And finally, this tool shows how expensive some schools in cities on the West Coast are.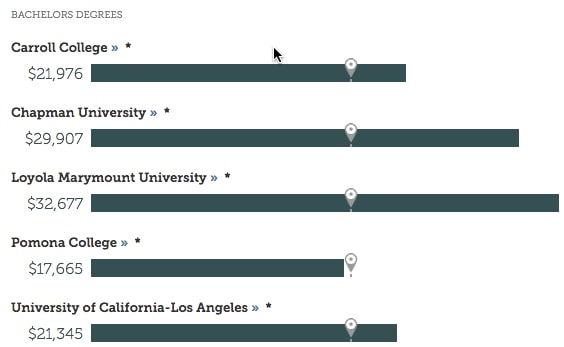 East Coast examples
I also generated a net-price example with East Coast schools. In this example, I also assumed that the family's income was between $75,001 and $110,000. Once again you'll see that the prices differ significantly.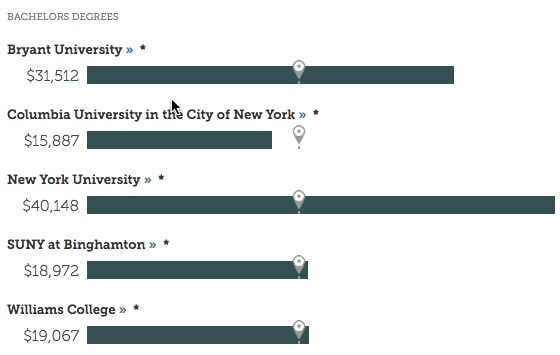 Bottom Line:
Use net price calculators before your child finalizes his/her college list. There is no point in letting your child get excited about particular schools if their costs will be exorbitant.
Use these calculators strategically. See how assets and a child's test scores/GPA could change awards.
Ask a school how accurate its calculator is.
Check how old each school's cost figures are.
Use the results of net price calculators to develop a list of schools that will be financially doable.
Hi Nancy,

I would suggest using the tools from College Board and COLLEGEdata that you will see in the module entitled, Tools to Find Generous Colleges. I would also read the resource guide, The Ultimate College List Builder that will give you an overall look at what kind of a schools are more generous. Lynn O'Shaughnessy

Hi Lynn,

I've actually asked a similar question before (and I'll probably ask again, as I'm finding this to be so surprising)…

Is the calculated merit aid that's given from schools' NPC exactly accurate, a close approximation, or just a guide?

I'm shocked that merit aid is as calculable from such a small amount of information as the NPCs suggest, or that schools would remove the mystery of how they allocate it.

How would they know right now what the application pool for next year is going to look like? How affected is the actual merit aid that we will (or won't) be granted by things other than GPA and ACT (which are the only two things that the NPC considers to distinguish students)? If two students have identical families, income, GPA and ACT, but one had no other activities/extracurriculars and the other was outstanding in some way, are they really going to receive the same thing?

Thank you for this fantastic resource!
Dave

Hi Dave,

I understand your frustration, but grade point average for college prep classes, overall GPA and test scores are almost always the most important admission factors. You can see more about this by looking at the annual survey recently released by the National Association for College Admission Counseling. http://www.nacacnet.org/research/PublicationsResources/Marketplace/research/Pages/StateofCollegeAdmission.aspx

Keep in mind that calculator results are estimates. They are supposed to be as accurate as possible, but you can't count on them to be precise. The results may be lower or higher. There are calculators, by the way, that do ask about extracurriculars. Many schools also have extra side scholarships for such things as particular majors and extracurriculars.

Lynn O.

Thanks, Lynn. Not frustrated, just surprised. This is our first time through (oldest is a senior plus we have a freshman in high school) and it's a fascinating process. Full of mystery – I appreciate your helping us through it!

Your very welcome, Dave.

Lynn O.

Hi Lynn,
We were looking at the net price calculators for John Hopkins, George Washington and Barnard and the price for us to pay is about $42000. It was based only on our financial situation and not on our daughter's GPA, SAT, etc. is that the price that we could expect to pay at these colleges regardless of our daughter' credentials? I apologize if this type of question is already answered.
Thanks!

Hi Milica,

I would suggest that you would be paying roughly $42,000 for these schools. Barnard doesn't provide any merit aid and Johns Hopkins only provides 1% of freshmen with merit aid. Those schools would give your daughter need-based aid if she got accepted. Her credentials would help her get into the school.

About 30% of freshmen at George Washington get merit aid, but if your daughter got a merit scholarship that would probably substitute for need-based aid.

Lynn O'Shaughnessy

Thank you, we are really feeling empowered by your class! I do have a question about the net price calculators. I have used the one on the College Board, as you suggested using both methods (institutional and federal). Are the ones linked to the actual schools more accurate for each school (i.e. small private schools)? Are some schools more "friendly" towards equity in homes, etc? We live in a pricey area (Bergen County NJ), but we are of modest means, one of us likely fitting the definition of a dislocated worker.

Hi Stacey,

I am glad you are finding the class helpful already!

The tool you are referring to on the College Board is actually the expected family contribution calculator. Each school will offer a net price calculator on its site. A good net price calculator will be more accurate than an EFC calculator. Please review the other lessons in this first module to get a solid understanding of what an EFC calculator does.

Also please read the lesson on Financial Aid and Home Equity and you'll learn more about how some schools link home equity to income which can be a friendlier policy for families like yourself!Keep in mind that it's only the PROFILE schools that care about home equity. Most schools do not.

Lynn O'Shaughnessy

It looks like some of the NPCs require you to enter your contact info. My daughter is a rising Junior and I'm really just playing at this moment. Is there any issue with me entering fudged data in the calculator, but putting our real contact info? Should I create a separate profile that doesn't contain identifying info about our daughter and use that until I'm ready to get a bit more serious about the calculations.

Hi Jane,

If this is a concern to you, just use a different name and email address. You might be referring to the schools that use the College Board, which is very convenient because you can store your results on your College Board account. To use that convenient feature, you need a log-in. The College Board does not share this information with the colleges that rely on its net price calculator.

Lynn O.

Hi Lynn,

If a college's net price calculator asks you for your EFC, and then spits out a net cost – does that mean that is all I pay or do I pay the net cost plus the EFC?

Sorry for the confusion – I just want to get it straight in my my mind.

Thank you!

HI Linda,

A net price calculator should not ask for your EFC. I never have seen one that does. Based on using your income, asset, marital status, number of student in college etc and the academic profile of a child, it will produce a net price. The net price is determined by subtracting any scholarships/grants from the cost of attendance.

Lynn O.

Lynn O.

Hi Lynn,

Again, when you say "financial aid" in the above article, you mean "need-based aid." Is that correct?

Thank you!

Hi Linda,

Yes, need-based aid.

Lynn O.

Hi Lynn–is there a way to tell which schools will include merit aid in their Net Price Calculator? Our EFC is high enough that we will need to rely on merit aid. However, none of the NPC calculators I have just used ask about GPA or SAT (University of Richmond, Johns Hopkins, Northeastern, and University of Maryland). As you suggest in the course, it would be wise to understand just how much we might be expected to pay before my son applies to a school, but if the NPC isn't giving me an idea of merit aid we might expect, how can we know the true price in advance? Many thanks for your help. This course is incredibly helpful! Kind regards, Carol

Hi Carol,

I am glad you are trying out the net price calculators. I know it's frustrating when a calculator doesn't provide merit aid estimates.

Johns Hopkins doesn't include it in its calculator because only 11 students (according to the most recent stats I saw) get merit scholarships. If you don't qualify for need-based aid, you should assume you will pay full price.

Northeastern used to include merit aid information with its NPC but it stopped doing so. I suspect that it no longer provides it because its merit aid policy is fluid. Because the school has become so popular, it wouldn't need to provide as many scholarships to attract students. According to the stats I saw on COLLEGEdata, 26% of students (among those with no need) received merit scholarships of roughly $19,000. You'd want to see how your son's academic profile (test scores/GPA) compares to the most recent freshmen class. If he isn't among the top 25% of students, you might want to assume he wouldn't get a scholarship.

As for U. of Richmond, I believe they have a major contest for students to win their large merit awards. I'd check on the school's website to see what you can find out about that. Less than 9% of the students receive merit scholarships, but they are large. As for U of Maryland, it might be using the lousy federal template. When visiting the website of a state school, you can usually see what test scores and GPA it takes to get a particular scholarship.

Good luck!

Lynn O.

Can you please clarify how EFC and Net Prices differ. If the EFC is what a family is expected to pay for one year of college and the Net Price is "what a student will have to pay after scholarships and grants from the federal and state governments and the school itself are subtracted," how do these differ?

Hi Lauran,

Great question and I know this puzzles many people.

The EFC calculator provides an estimate of what a family would be expected to pay, at a minimum, for one year of school. That's just what the formula – federal FAFSA formula or the institutional PROFILE formula – says a family can afford.

Most schools, however, don't provide a family with all the financial help that they need. Schools often provide less than what the EFC would indicate that a household can afford.

To provide a good estimate of what a school will actually give a child, you need to use the institution's net price calculator.

The EFC is a good tool to use to get a sense of whether a family should be looking for schools that provide good merit aid (high EFC) or good need-based aid (lower EFC). The EFC is also critical in determining if an offer is a good one when evaluating an actual financial aid award. If a school doesn't provide the EFC on the award letter, a family should ask the school for it. I discuss this latter way of using the EFC in the module on evaluating financial aid awards.

Lynn O.

Cost of Learning site seems to have disappeared, unfortunately.

Hi Alexandra,

Darn. That's a shame! Thanks for letting me know Alexandra.

I have deleted mention of the site from this lesson.

Lynn O.

Lynn,

You probably also want to change your article to say "two sites" rather than "three sites." I checked the comments and figured out what was going on, but others may be confused.

Best,
Paula

Thanks Paula for the heads up.
Lynn O.

Hi Lynn,

I have been a dedicated reader of your blog for quite sometime. I am so excited to enroll in your class. I have an older kid in an elite LAC and paid very high price tag. Facing two younger kids in college in a few years, I have the following two questions:

1) How can we tell if a school will use loan to meet 100% needs instead of grants? My two kids are one year apart and will overlap three years in college. Since my EFC is $64,000, I am worried that when the younger one attends the college, the college for the older one will not provide more free money.
I feel that once you are already in the college, you lost the leverage to negotiate.

2) In order to get two kids discount, does it requires two kids to be in private university/college in the same year? If the older one goes to private and the younger one goes to public, will the older one gets 40% off?

Hi Hong,

I am sorry I overlooked your question initially! Thanks for being a loyal blog reader!!

Schools will vary in their generosity. The most elite schools typically provide the best aid. Some of these schools are no-loan schools that don't include any loans in packages for families with a certain income. Most schools do include at least the federal Direct Loan for students.

I would suggest you look at the resource guide in the Bonus Material module entitled, The Ultimate List of the Nation's Most Generous Colleges.

I would also urge you to use the net price calculator on any school. Also check out the lessons in the module entitled, Tools to Find Generous Colleges, to learn further how to evaluate schools.

It doesn't require two children to be in private schools to get the EFC reduction. It should happen automatically with FAFSA-only schools. Some private schools that use the PROFILE may ask what school the sibling is attending and adjust the EFC if it's an inexpensive school.

Lynn O.

Lynn, I am so confused! We have tried to use Net Price Calculators for the University of Richmond, Vanderbilt, and Lafayette College. All these are via College Board. After inputting all the financials, our estimated net price was shown as: $5,425, $3,650, and $14,505 respectively. This seemed completely unbelievable as our EFC, according to EFC College Board calculator, should be between $50K and $58K. Then we run Abbacus Calculator comparing the three above mentioned colleges. According to Abbacus, our net price will be: $61,040, $53,953, and $61,880 respectively. How can you account for this incredible discrepancy? What are we doing wrong? Do Net Price Calculators on the College Board take into account academics? For each of the above schools, there was a disclaimer posted that their NPC did not take into account any merit scholarships… The numbers came in the same even if we did not signed into our daughter's account (giving the calculator access to her GPA and scores) but requested calculations as guests…

Hi Irena,

That is a very strange situation that you encountered with three schools. I've never had anyone complain about this before.

Considering what you got for your EFC figure using the College Board's EFC calculator, I would assume that the College Abacus figures are the correct ones.

I would suggest contacting the schools and sharing what happened. I would think someone at each institution could help you with this and could investigate the strange results. Perhaps talking to one school first could clear up the mystery with the other two as well.

Good luck!

Lynn O'Shaughnessy

Thank you, Lynn! We re-run the College Board calculators today and, as you probably suspected, we made a mistake on one line while entering the financial data – hence these ridiculous numbers. The world is back to its order now, however troubling for us it might be, and we are expected to contribute around 60K for each one of these schools. All is well (NOT)…

Hi Irena,

I was thinking about your situation today and concluded that you must have made an error when using it. The reason why all three schools showed up with the wrong numbers is because they all use the same calculator inputs.

With such a high EFC, looking for schools that provide very good merit aid makes sense.

If you want to know all the schools that don't give any merit aid at all, check out the resource guide – The Schools That Don't Provide Merit Aid. There are 23 schools, but other elite schools provide very little as well.

Lynn O'Shaughnessy

Lynn O'Shaughnessy

Hi Lynn,

I filled out a rather extensive NPC for Occidental in LA but there were no questions about GPA or SAT scores. Does this imply anything about whether or not the school is generous with merit aid?

Thanks,
Rosalie

Hi Rosalie,

This doesn't indicate anything about this particular school's merit scholarship awards. Elite schools that don't give out merit scholarships won't ask about GPA and test scores, but Occidental does provide merit aid. It is irritating that Occidental doesn't ask the questions that would allow it to provide an estimate of merit aid. On its NPC website, Occidental says the calculator doesn't touch the merit aid question. http://www.oxy.edu/admission-aid/financial-aid/net-price-calculator

I would suggest that you look at the lessons on how to use COLLEGEdata and the College Board to evaluate the generosity of schools. If you look on COLLEGEdata at Occidental's money stats (click Occidental's Money Matters link), you'll see that 66 freshmen received merit aid and the average award is $10,450. Here is the COLLEGEdata link: http://www.collegedata.com/cs/data/college/college_pg03_tmpl.jhtml?schoolId=1129

Since it's a highly selective school and it's located in a major city on the West Coast, it's not surprising that it's average award is pretty low.

Here is the link to Occidental's description of its merit awards: http://www.oxy.edu/sites/default/files/assets/Financial_Aid/MeritScholarships_0.pdf

Lynn O.

Dear Lynn,

This weekend, I finally pulled together our paperwork and ran the EFC calculator on the college board website as well as several NPCs. I would like to take a moment to say that your course and blog fill such a need for people like myself and a poster on another page (I think it's the FAFSA page) who are "heartbroken" the first time they try these calculations. Fortunately, my first foray into these calculations was way back last February, and I'm over (kind of) the negative emotions and ready for pragmatism.

I have several questions:
1 – I think I read this somewhere in your course but I don't remember where, but what is the IM (Institutional Methodology)? There are actually 3 sets of calculations, it seems. Our family's contributions under IM are $16K higher than under FM. How do you find out which schools use IM?

2 – I was surprised to see that the NPC of two schools (Case Western Reserve U and Princeton) returned EFCs that are lower than the FM EFC. I thought the FM EFC was the bare minimum, but I guess in some cases schools will give a lot? (Princeton says our EFC is 25,900 and CWRU says Estimated Net Price $34,520, while our FM is 40K and the IM is 56K)

At first I thought I did something wrong, but Cornell wants 55,505 and MIT wants 53,622 (these are all before "self help of student loans and work study). So I am just asking for verification that it is possible to get a family contribution result that is lower than the federal EFC, and when you actually apply for financial aid, it will still be possible even though the colleges will have our FAFSA calculation at that point.

3 – On the spreadsheet you provide that shows how various colleges treat home equity, many say "100%, can appeal" How exactly does one appeal? What should the letter include?

4 – We do not deduct any medical expenses on our 1040, so I did not put any in the FAFSA calculations, but the NPC asked for uncovered medical expenses such as orthodontics. Can I include medical expenses in the NPC even though we don't deduct them on the 1040? What about insurance premiums that are deducted from my husband's pay?

5 – I have 2 separate part-time jobs. One deducts taxes, and the other doesn't. We pay quarterly estimated taxes for the latter. On the NPCs (and the EFC calculator), if they ask for the AGI, I include all of my income in the question about parent 2's income from work, but if they ask for wages, salaries and tips, then I only include my taxed income for parent 2 and my untaxed income in the question for untaxed income (along with our 401K contrib). Is this the correct way to do this?

Thank you for your help,

Mary

Hi Mary,

I am going to answer your questions in the order that you asked!

1 The schools that use the IM formula are PROFILE schools. You can find the entire list of PROFILE schools on the College Board's website that's devoted to the PROFILE. Here is the link to the schools:

https://profileonline.collegeboard.org/prf/PXRemotePartInstitutionServlet/PXRemotePartInstitutionServlet.srv

2. Yes, it is possible to get an institutional EFC lower than the federal one though it's probably not all that common. Your federal EFC will only be relevant to PROFILE schools because they will know how much federal and state aid you might be qualified for. PROFILE schools use their own institutional EFC to determine who gets their own pot of need-based money. In some extreme cases, a family could qualify for a Pell Grant, but not qualify for any institutional need-based aid. An example would be a doctor or dentist who has his/her wealth tied up in the business ( assets in family business with under 100 ft employees don't count in calculation) and primary home (equity also doesn't count) who receives federal aid, but nothing from the school.

3. When you get your award letter, you can ask how your home equity was assessed and then ask the school to reconsider this calculation. You can offer whatever arguments you want to make about why the house shouldn't be considered for aid purposes. You can contact the admission office and see who you should talk to about an appeal.

4. You shouldn't confuse the IRS rules with the college EFC rules. The IRS maintains a high hurdle when families seek to deduct their medical expenses on their taxes, but this has nothing to do with the college formulas. Some schools will give parents a break on their EFC for medical expenses which is why the question is asked. Each PROFILE school's net price calculator will be different, but i would not deduct medical expenses when using a NPC unless the calculator specifically directs you to. As for your husband's insurance premiums, I would follow each NPC directions. Good calculators should direct you to the specific line it is requesting off your income tax. If you have questions about a particular calculator, I would contact the school.

I would suggest that you put your other income (I assume from your own services such as a contract workers, consultant etc.) in with your adjusted gross income. If you look at the AGI worksheet provided by the College Board's EFC calculator, you'll see that your adjusted gross income includes your net income from business, farm, rents etc.

Good luck!

Lynn O'Shaughnessy

Thank you so much for your advice — I've gone through the net price calculators on 41 schools my daughter is interested in. Can you explain why, using the same figures, different schools give different Pell Grant figures. The estimates (when given) have ranged from $2525 to $5580.

Hi David,

Wow. That's a lot of net price calculations!

I can't explain the $2,000 difference beyond observing that some calculators are going to be more accurate than others.

Lynn O.

And how reliable are the College Board powered Net Price Calculators?

Hi David,

They are only as reliable as the data the schools provide. These calculators should be pretty accurate. This is a question can you can put to individual schools.

Lynn O.

I ljust did the net price calculator for Cornell University. It said our EFC would be $9,945 — but there was a pop-up note that said if the parents' income was under $60,000 our EFC would be 0! Since our income is just under $61,000 –the difference seems steep! Have you encountered this before? Is the $60,000 income figure a "real" threshold for Institutional Methodology schools?

Hi David,

A few elite schools will provide students with family incomes of $60,000 or less a free education by providing grants without including any federal student loans in the package. These are called no-loan schools and there aren't many of them.

Lynn O.

Lynn,

Where can I find legal proof that I can move the UTMA money to a custodial 529 plan and that it will be assessed at the parent rate of 5-5.6%? Can I move $75K or is there a limit? My financial advisor and husband don't believe you and want PROOF that it will count under a parent's asset. Are there really two different 529 plans? One a custodial one in the child's name and one a non-custodial in the parents' names?

Thank you,

Vicki Hughes

Hi Victoria,

Money moved from a custodial account into a custodial 529 plan is treated as a parent asset with the FAFSA even though it is still the child's asset. Congress changed the rules a few year ago. I am very surprised that your financial advisor was unaware of this if he has been giving you college advise!

I would contact a 529 provider such as Vanguard that does have custodial 529 plans and they can tell you that custodial assets are assessed as if they were parent assets. Unlike the federal handling of custodial 529 accounts, there is no actual law concerning how the PROFILE members treats custodial 529 assets. But the PROFILE also treats custodial 529 assets as if it was owned by the parent. Since your husband and financial advisor don't believe me, I would suggest they contact the PROFILE to verify that they are in fact wrong.

I would also strongly suggest that you pick a custodial 529 plan that offers low-cost index funds. As I mentioned in an email to you earlier, I recommend Vanguard's plan. Another very good plan is Utah's. Your advisor, depending on what type he is, may recommend a 529 plan that will give him a commission. I would strongly recommend against that — save your money.

Lynn O'Shaughnessy

Please let me know the react

Hello Lynn. I have done a quick and dirty EFC and Johns Hopkins specific calculations. Our EFC is about $20-$24K with the college board site and on the Johns Hopkins specific it says we are expected to contribute: $16K for parent and since my son has funds: $10K for him and then some other $6K for student work and loan. So we would need to get grant/merit aid of $32K from them for us to be able to afford it. That sounds reasonable on our end, but do you think a school like that would be able to grant $32K which is half the total real cost of attending (tution, fees, room and board and transporation, books and supplies and personal expenses all included)?

I also don't understand where I put Owen's funds on the line: what is the current value of your parents' investments? or on the line that says what is the total current value of a ll of the trusts of which you (the student) are a beneficiary? I put it on both lines to get the above calculation. Owen has money in a coverdell ($3K), but most in his DE UGMA.

Thank you.

– Vicki

Hi Victoria,

Johns Hopkins uses a net price calculator designed by the College Board and these are generally known to be very good calculators. Consequently, the net price estimate that the Johns Hopkins calculator spits out should be close to the right price. Johns Hopkins says, on average, it meets 100% of the demonstrated need of its students.

It's unfortunate that you have money set aside for college in an UGMA, which is treated as the child's money. The PROFILE assesses a child's assets at 25% of their value versus 5% for parent assets. The Coverdell is considered the parent asset but UGMA money is considered your son's asset. I would use the UGMA money first for college. You can move this UGMA money into a custodial 529 account, which will then be treated as the parent assets. The capital gains, however, will be treated against your son if he is a senior. If you move the money this year, it will show up on your PROFILE and FAFSA when you file for aid for the 2015-2016 school year.

For families who will qualify for financial aid, it's best to move UGMA/UTMA money no later than the child's first semester of junior year in high school that way the capital gains don't show up on any financial aid form.

Lynn O.

Thank you Lynn. We still have time to move the money now then. My son is a Sophmore in high school. We were advised to put it in a UGMA/UGMT account for tax purposes I suppose, but you think it is best if all the money is a parents assests and the son has nothing then?

Thanks.

Hi Victoria,

Excellent. I'm glad your son isn't a senior! Having money in a child's name is a generally a bad idea if he/she will be qualifying for financial aid. I never recommend putting money in a UGMA/UTMA if it's intended use is for college and the family may qualify for need-based aid.

Use the Johns Hopkins calculator and pretend your son's money is in your account instead and you'll see what a difference it can make. With the PROFILE, parent assets are assessed at 5% versus 25% for students.

Lynn O.

I have used many net price calculators posted by the colleges themselves on their websites. Our EFC is higher than the cost of attendance at all schools my daughter has looked at, and so I've been focusing on merit aid. Most calculators I used were sponsored by the College Board, which asks a lot of detailed financial questions as well as questions regarding the student's GPA, test scores, class rank, etc. Given that, I'd like to think they are fairly accurate, even thought they all have disclaimers posted explaining that there's no guarantee or that the calculator should not be construed as an actual financial aid or merit aid offer, etc. My experience bears out what Lynn is saying regarding merit aid and which schools offer the most. The schools that need to work harder are the ones that seem to have the better merit aid programs (whether b/c they are not as well-known, less desirable location, etc.). For example, I live in Pennsylvania, a state that has many state university options, as well as many highly regarded private and liberal arts colleges. The higher ranked, prestigious liberal arts schools in PA like Bucknell (my alma mater), Lafayette, Lehigh, and Dickinson, as well as Villanova University (Catholic-based) would offer my daughter nothing in merit aid. All of these schools' price of attendance exceeds $60K per year. Muhlenberg College, a well-regarded liberal arts college (but not as well-known) only a few miles from Lafayette would offer up to $14K in merit aid. The University of Scranton, a Jesuit university in the northeast with a very similar U.S News ranking vis a vis Villanova (big sports teams, especially in basketball) and Providence College (great college town of course!) would offer her $18K in merit aid; Villanova and Providence, nothing. Providence College is especially striking to me b/c the student profile and acceptance rate is almost exactly the same as Scranton's. Muhlenberg's acceptance rate is a bit higher than Lafayette's but the student profile is similar. From what I can tell, my daughter would be in the top 25% or so of applicants at Scranton and Muhlenberg; she would definitely be more average at Bucknell, Lehigh, Lafayette, etc.

I also have tried the Abacus net price calculator tool since you can compare 3 schools at once. It also was helpful, although I find that the calculator is rather slow in terms of spitting out the final results and can be frustrating – I've used it a few times and at least 50% of the time it generates an error and you have to start again. I think these are just software bugs and hopefully will be worked out over time.

Overall, I think the net price calculators that ask a lot of questions/detail are a great tool. Especially if you are counting on financial aid or just want to get the best bang for your buck, at least you can go into application season being fully informed rather than just crossing your fingers and hoping for the best.