What I've Been Up To Lately
My husband took this picture of me and Minerva, my office assistant, yesterday in my horribly messy office. I thought it would help illustrate what I've been doing for the past few months.
My office is a wreck because I've been totally preoccupied with writing the second edition of The College Solution: A Guide for Everyone Looking for the Right School at the Right Price.
I finished the book yesterday though technically I still have to write the acknowledgment page and I will have proofs to read, which won't be tough. Every time I write a book it's a challenge (I've written 7 if you count the two financial books that I ghost wrote), but this was a particular bear because I had less time to write it and I had lots more to say!
Practically an Entirely New Book
I am extremely proud of this book, which I estimate contains 90% new material. I wrote the original book back in 2007 when my daughter Caitlin was a college freshman so you can imagine that I've learned so much more since then.
My publisher expected me to perhaps replace a third of the book, but I ended up tearing it apart and redoing the whole darn thing. The 10% that I didn't change much is at the back of the book and covers nuts and bolts stuff like college essays, college visits, interviews, admission timelines, which lots of other college books cover ad nauseum. In this back section, however, I did write entirely new chapters about high school counselors and independent college counselors, which I hope you find worthwhile.
My No. 1 aim of the new book (which is my favorite of all the ones that I've written) is to help parents and students become empowered consumers when they are weighing decisions for an investment that could be the second biggest ticket item of their lives. Sadly few families embark on this college odyssey knowing what the heck they are doing! My book, however, shows families how they can find wonderful schools and make them more affordable.
Here is what the cover of the second edition looks like: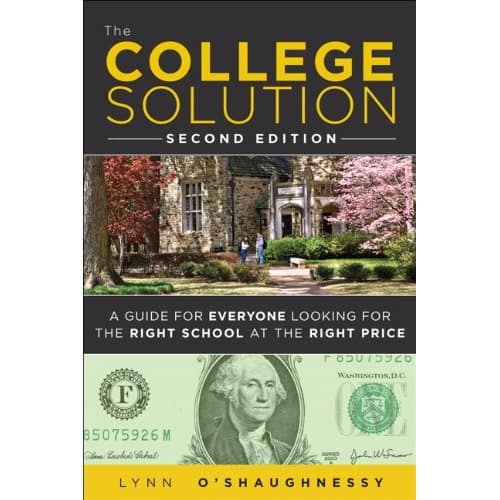 If you're wondering what school is on the cover, it's Rhodes College in Memphis. Having lived in Memphis for three years right out of college, I was familiar with Rhodes' beautiful campus with its collegiate architecture. My publisher wanted to go with a stock photo and kept sending me suggestions, but all of them were awful as far as I was concerned. I appreciate the good folks at Rhodes letting me use this photo that I found on The Colleges That Change Lives website.
The official release date of the second edition of The College Solution is May 24  and, if you're interested,  it's available on Amazon for preorders for dirt cheap. The sticker price is $23.99, but it's selling right now on Amazon for $12.61!
FYI, the information on Amazon about the second edition needs to be scrapped. Somebody just took the wording from my old book and slapped it on the new page. Getting that information updated is on my list of things to do.
With the book finished, this weekend I am so looking forward to cleaning my office!
Hi Julie,

Hey thanks for that great endorsement! Rewriting the book was a grueling experience, but now that it's over, I'm eager to get the book in my hands.

I agree that buying my book or any other one at a local book store is a good thing. It also helps the author. The more the book costs, the more likely the author is to eventually got royalties.

Hope all is well with Joe and Dave!

Lynn O'Shaughnessy

just found your log, i'm so excited about reading your new book (just preordered it). we got a HS junior in the process of finding "her goal college" but it is a daunting mission. Especially since she will be the 1st to attend a 4 yr college!! so much to learn can't wait to get the book!!

So glad you found my college blog! And thanks for ordering the book. I think it will help a lot as you wade through your choices. You'll also find a lot on this topic by spending time on my blog.

Please spread the word to anyone you think would benefit from visiting my blog.

Lynn O'Shaughnessy

just pre-ordered the new book. have been toting around the 1st edition and the workbook to help our h.s. sophomore figure out which schools (with lacrosse teams) might actually have money for her. read them a little too late to help my senior make more informed choices last summer/fall. with our new-found knowledge, we'll be able to help guide him if things don't work out so well next fall for him. thank you, Lynn, for sharing your knowledge.

HI Amy,

Thanks for preordering the book. I did add a chapter on athletic scholarships for the second edition, but the best way to find money for college is usually with academic merit awards. I hope you find the new book helpful!

Lynn O'Shaughnessy

Lynn – Your book – The College Solution – was the most down to earth, easy to comprehend, and useful book that I found when researching colleges for my son. Reading it paid off immensely. In this area, knowledge is indeed power.

My son is now in his second year. I still highly recommend your book to parents who ask.
Best wishes for continued success with the second edition.

Thanks Joan. I'm so glad you enjoyed the book and thanks so much for spreading the word about it. I think the second edition of The College Solution is going to be a lot better than the first edition!

Lynn O'Shaughnessy

Congrats! Enjoy reading your posts and look forward to your revised book. BTW, my daughter received marketing info from Beloit. Because of you, I immediatedly recognized the college name and remembered the info you had posted.

Can't wait. The first edition was our key text for son no. 1, I expect this edition to be key for HS sophomore son no. 2. I placed my pre-order just now!

Hi Susan,

Hey thanks for your vote of confidence! I hope you like the book.

Lynn O'Shaughnessy

Am relatively new to your blog (found it AFTER sending kid #1 off to college this year), but have found it incredibly useful (and am already using it as a primary resource for high school sophomore kid #2). Can't wait to get your revised (really new) book!

Thanks for your note. Glad you found my blog too! I think my "new" book will be worth the wait!

Lynn O'Shaughnessy

Congrats on the completion of the new edition!

Thanks! It's a big relief that it's over and I can't wait to have the book in my hands!

Lynn O'Shaughnessy