What If You Bomb on the SAT or ACT?
I recently got an email from a dad who was depressed because his son had performed poorly on the SAT test. He wondered what his son's options are.
I understand how the father felt. The ACT and SAT loom so large in the life of a college-bound student that it's easy to assume that doing poorly on either test will ruin a teenager's chances of getting into a good school. That, however, is nonsense.
There are roughly 850 test-optional  colleges and universities, which represent one-third of all accredited, bachelor-degree-granting institutions, according to FairTest: National Center for Fair & Open Testing. FairTest is a nonprofit that helps schools adopt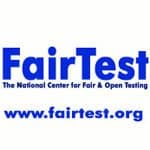 test-optional policies and works to end testing abuse.
The number of test-optional schools is somewhat misleading because many of the institutions have relaxed admission standards. There are, however, elite schools which are test optional, particularly among liberal arts colleges. The test-optional policy is perfect for liberal arts colleges because these institutions enjoy the luxury of evaluating applicants holistically and spending more time with each application. Universities, particularly state schools, rely more heavily on statistics — GPA, test scores and class rank.
More than a third of the top liberal arts colleges in the country are considered test optional. I am sharing with you the list that FairTest sent me that includes highly selective and/or selective schools that are test optional. You'll find liberal arts colleges on the first list.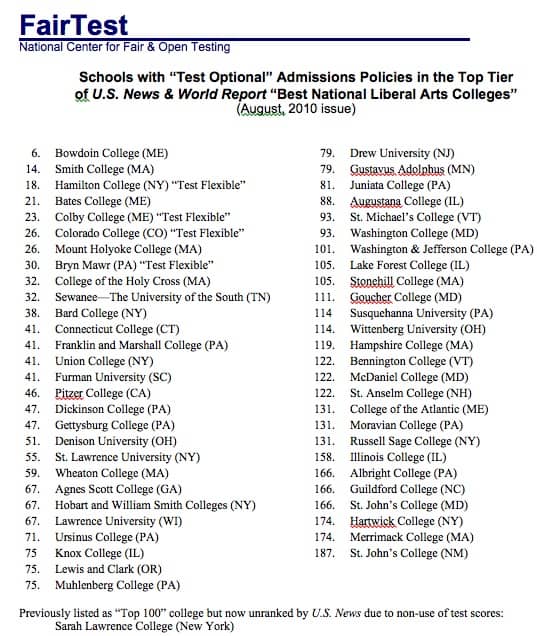 Test-Flexible Schools
You may have noticed that four of the above schools are test flexible. That means that in lieu of the SAT or ACT, a student must submit other scores such as from Advanced Placement and International Baccalaureate exams or SAT subject tests.
Test-Optional Universities

Test-optional policies have been a harder sell with highly selective universities that receive many thousands or tens of thousands of applications. One exception to this rule is Wake Forest University, which invested a tremendous amount of time revamping its admission procedure. Wake Forest administrators say the test-optional policy has allowed the school to attract a much stronger freshman class. Other schools in the national university category include American, DePaul, George Mason, New  School, Worcester Polytechnic Institute and the University of Arizona.
Bottom Line:
Applying to test-optional schools can be a great way to eliminate lackluster scores as an admission hurdle.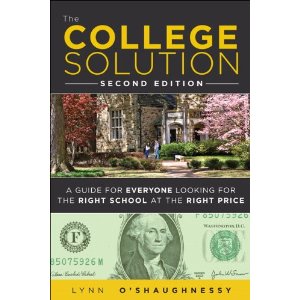 You can now pre-order the second edition of The College Solution: A Guide for Everyone Looking for the Right School at the Right Price.
Read More on The College Solution:
Sizing Up Your SAT and ACT Scores
well i wouldn't want to get a mail saying that i know that i tried
my best to do it and to come to find out that i didn't do so good in it
i would be unset but i would try again if i get the opportunity to do so
i do understand those who don't care about the act or sat because they just site there
and do nothing to pass it they wouldn't even try. a little so it their fault