What Ever Happened to Shakespeare?
Is anybody else out there concerned about the popularity of vocational college degrees?
I'm talking about degrees like sports management, film production, park & recreation, information technology, homeland security and communications. And, of course, the biggest vocational major of all – business.
Vocational degrees have always been around. Until the mid 1960s, there was a balance between vocational degrees and liberal arts degrees. Since then, however, the liberal arts have been getting pummeled. Today 64% of college students are enrolled in vocational degrees.
The Decline of the Arts & Sciences
Since the 1960s, physical science majors have dropped by 60%, English only attracts half as many majors and history and foreign language have fared even worse. Some universities are kicking less popular foreign language offerings to the curb.
If you want to read a wonderful book that explains why we should care if young Americans are spending their college years learning to be fire safety specialists, landscape architects, IT guys and marketers, I'd urge you to read a wonderful book that just came out in paperback: Higher Education? How Colleges Are Wasting Our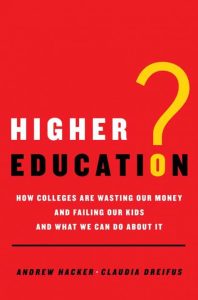 Money and Failing Our Kids – And What We Can Do About It by Claudia Dreifus and Andrew Hacker. Or at least visit their website: High Education?
What College Classes Are Important
I pulled my copy of Higher Education? off the shelf yesterday after I visited the website of the American Council on Trustees and Alumni, which for years has decried the fact that so many colleges and universities are allowing undergrads to skip out on classes that should be in any core curriculum.
ACTA released its annual report card this week that attempts to measure  whether colleges are requiring their young charges to be well-rounded before they leave with their diploma. To receive an A on the ACTA report card, schools must require undergrads to take classes in at least six of the following seven disciplines that the council believes should be in any core curriculum:
Composition
Literature
Foreign language
US government or history
Economics
Mathematics
Natural or physical science
While ACTA surveyed more than 1,000 colleges and universities, only 19 actually received an A. I guarantee that you'll be surprised at what schools didn't make the list. I shared the names of these 19 schools, and had further to say on this subject, at my college blog at CBS MoneyWatch. Please take a look here:
What Do You Think?
Do you believe that I'm off base for suggesting that a student's time in college should be devoted primarily to learning how to think, write and reason rather than learn a trade? I think the former abilities are vastly more valuable when grads are looking for jobs and they will make them more thoughtful citizens. I'd love to hear what you think – just use the comment box below.
Lynn O'Shaughnessy is the author of The College Solution and she also writes college blogs for CBSMoneyWatch and US News & World Report.
More at The College Solution:
Why Not Major in Philosophy?
 Where Professors Send Their Children to College
8 Reasons Not to Get a Business Degree
5 Reasons to Attend a Liberal Arts College
When I was getting ready to go to college, my father told me that one should not go to college to train for a job, but rather to learn to think. I studied engineering – definitely vocational in nature – but I thoroughly enjoyed my classes in British Literature (which imbued me with a love for Shakespeare that persists to this day), Economics, World History, even Psychology. I wish I had the time to study french, but my course load would not allow for the commitment involved. My writing skills, such as they were at the time, helped me through all those classes. I will strongly encourage my kids to study broad topics when it's their turn. I felt that they greatly enriched my awareness. And maybe even helped me learn to think even though I didn't go to your list of schools.

Thanks for sharing your experience Patty. When majoring in engineering it can be very difficult to get a broad liberal arts experience, but it sounds like you did far better than most. I also love the fact that you have passed down your father's advice to your own children.
Lynn O'Shaughnessy