I am excited that you have joined me in my online course, The College Cost Lab!
The best way to make college more affordable for your family is to become a smart college shopper. And that is my No. 1 goal for this class – empowering you to make the best decisions as you contemplate your college choices. The last thing I want is for you to feel that the entire college admission process is out of your control!
I am also eager to welcome the college consultants and high school counselors who are enrolled in The College Cost Lab. The materials will be equally relevant and valuable for you!
What's inside The College Cost Lab
I want to share what you'll find inside The College Cost Lab that will allow you to squeeze more value out of the course.
How to Access the Classroom
You will access this class through my website, The College Solution.
For future use, I would highly recommend that you bookmark the link that gets you into the classroom. Here it is:  Course Member Log-In
You can also gain access to the class by visiting the home page of my website. At the top right-hand corner of the website, you'll see the drop-down menu for Lynn's Classes. (See the screenshot below). Just click on Course Login.
Your class offers lifetime access to most materials.
You can take advantage of all the class material at your own pace. All the materials will be there for you when you get a chance to spend time with them.
Written lessons
13 resource guides
Full-ride, full-tuition scholarship list
Recorded webinars
What's Inside the Classroom
Here is a rundown of the resources that you'll find in this course:
1. Written Lessons and Videos

The class is divided into 10 modules and each module contains a series of related lessons. There are roughly three dozen lessons. Here is a screenshot of what it looks like: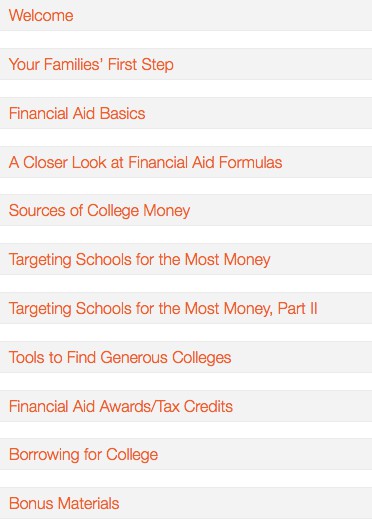 I have aimed to provide information in these lessons in a logical order for parents searching for ways to make college more affordable. You are reading the first lesson.
In some lessons, you will also find videos that I've recorded.
In one video, for instance, I explain how to use a search tool at COLLEGEdata.com to look for schools that provide a high percentage of their students with merit awards, as well as schools that meet a high percentage of demonstrated financial need. You'll also find a video that explains how to use the financial statistics for individuals schools on the College Board website.
2. Webinars
I will be offering four webinars during the course.
All four of the webinars will be held at 5:30 p.m. Pacific, 8:30 p.m. Eastern.
At the start of each webinar, I will typically be sharing a PowerPoint lesson and sometimes I will hop on the Internet to illustrate what I've been talking about.  When I'm finished with my presentation, I devote the rest of the time to answering your questions.
In the past, these webinars have typically lasted from 70 to 90 minutes. If you can't watch the webinars live, I record each one and I will email you the link to the recording within 24 hours. Unless you download the recorded webinar onto you desktop, you will only be able to watch a few minutes of the presentation.
To participate in the live webinar, you must register. You can register with the links above and I will also send you the registration link two or three days before each webinar. You will also get a follow-up reminder about the event.
If you can't make the live webinar, but would like to ask a question just email it to me in advance at Lynn@TheCollegeSolution.com.
Please send me your question(s) at least a couple of hours before the webinar. In the past some people have emailed me questions just minutes before the webinar has started and I never saw them.
3. Where To Ask Me Questions
You have two ways to ask me questions during the course. You will be able to ask me questions during the first eight weeks of the course. The webinars will also be held during that time.
Webinars. I never conclude any webinar without addressing every participant's questions. If you want to ask a question and you can't make the live webinar, just email me with your question and I'll address it during my presentation.
Comment boxes. At the bottom of each lesson in each module, you can ask me questions. Just look for the following Leave a Reply feature: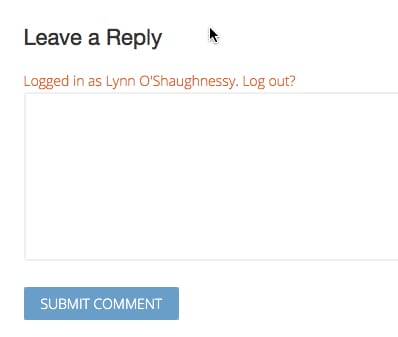 Just type your question in this Leave a Reply box and I'll be automatically alerted to your question. I aim to answer any question as soon as possible and most certainly within 24 hours.
You will see questions and my responses from another class in the Leave a Reply section. It's my hope that you can benefit from these previous exchanges too!
4. Resource Guides

You will find all of the resource guides located throughout this course, but I have also gathered all of them in the last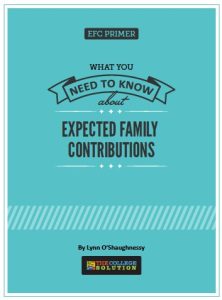 module entitled, Bonus Materials.
Here are the resource guides that you'll get:
Your Smart Blueprint for Selecting Colleges
The Ultimate College List Builder
The Ultimate List of the Nation's Most Generous Colleges
Schools That Don't Provide Merit Scholarships
EFC Primer: What You Need to Know About Expected Family Contributions
How To Measure the Generosity of Colleges
A Guide to Building the Perfect College List
The Ultimate SAT and ACT Guide
Six Ways to Cut College Costs
A Step-by-Step Guide to Help Families Cut Their College Costs
Class Introductions – Q&As
I've included screenshots of what a couple of the guides look like.
5. Scholarship lists
You will also find this list in the Bonus Material module. in two different forms
Full-Ride, Full-Tuition Scholarships List (PDF)
Full-Ride, Full-Tuition Scholarships List (Searchable Excel spreadsheet)
How To Save All Course Material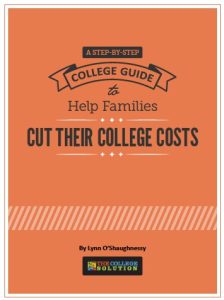 Don't worry if you can't read all the lessons and watch the webinars right away. You will have lifetime access to the materials in the course.
Questions?
If you have any questions about the course instructions, email me at Lynn@TheCollegeSolution.com.
Legal Notice

I have attempted to verify everything in this course, but I don't assume any responsibility for errors, omissions or varying interpretations of the material.  I do not intend this course to be used for legal, business or financial advice. I do not assume responsibility or liability on behalf of the purchaser or participants in this course.
Hi Tom,

Welcome to the class! For some reason I did not get notification of your quesitons!

I am not aware of 3-2 options for the arts or architecture. The 3-2 programs are typically for students who want to go into engineering, but want to start at a liberal arts college. If you would qualify for financial aid, you'd have to ask the college at the two-year finish line about its policy.

As fir the programs, I would ask each school how many students go this route and and be sure to talk with students/grads who have done it to get their experience. Ask for contacts from the schools themselves.

You would have to decide if you want to tell a college that you want to take a gap year when you apply. It might be better to apply and then after acceptance ask for a deferral. Ask if any merit scholarships would be retained if the gap year is taken. You would have to refile for financial aid though – it's a yearly requirement.

Lynn O.

Hi Lynn,
I just signed yup for the course ( September 7). I am wondering how to access the two webinars that don't have recordings and were presented on August 3rd and August 9th ?
– Increasing Admission Chances and Financial Aid Formulas ?

I am looking forward to the class. Thank you for all of your hard work and constant updating of information. Very impressive !

Lisa Wilson

HI Lisa,

Thanks Lisa for joining the class! You can find the recordings for the Aug. 3 and Aug. 9th webinars in the Bonus Material module, along with recordings from previous lessons. I also just added those two recordings to this lesson.

Lynn O'Shaughnessy

Hi Lynn,
I have two daughters. They will be starting 7th grade and 10th this August. We have had some very interesting financial challenges throughout their childhood. Both my husband and I have been on medical disability for many year due to injuries. We do not have any savings for college or retirement. In order to hang onto our home I have gone back to work- with a substantial income. We live in the Bay Area and have a high mortgage payment but, have also, developed a large amount of equity in our home. My concern is that we will not qualify for any assistance due to my income but, really it barely covers the bills.
Both of our girls have worked very hard to overcome learning differences and are really expecting to attend college. They are attending a college prep-charter school which has a 98% 4 year college acceptance rate. My husband feels our only option is to first send them to a community college and then have them figure out the finances on their own to finish college. I am really looking forward to learning what our options are.
Kind Regards,
Rosalie T

Hi Rosalie,

Thank you for attending the class. I am sorry to hear about your financial difficulties. It is brutal living in the Bay Area. At least you have a lot of equity in your home.

Certainly one option is community college, but I wouldn't overrule four-year schools. Four-year state schools are one option in California. If you have a substantial income, however, you wouldn't qualify for the Cal Grant.

You could find values at state universities in the interior West. Also, it can be fairly easy to become a state resident and qualify for low in-state tuition at state schools. The lowest state school prices in the country include Utah, Wyoming and New Mexico. I now it's extremely easy to get really good scholarships at U. of New Mexico.

The daughter of a dear friend of mine just finished her second year at the University of Utah and she is totally in love with the place. She has encountered lots of great professors and small class sizes. She is a dance major. My best friend's son will be heading to Montana State in Bozeman in the fall and she is utterly impressed with the place. There are a lot of great opportunities out there!

You don't say what kind of GPA your daughter has, but the greater it is, the more opportunity for merit awards. If you are looking at state universities outside the state, you would be looking for merit scholarships. Please check the lesson on state universities and merit awards. State universities across the country also offer merit scholarships, but I mentioned the interior West public universities because they have a lower sticker price than others even before merit awards and it's probably easier to get the in-house scholarships.

From your note it sounds like you would be looking for merit scholarships at private schools too because of a high income. I'd suggest looking at the lesson on finding college bargains before checking out private colleges. Also read the resource guide entitled, The Ultimate College List Builder.

Good luck!

Lynn O.

Hi Lynn:
I have subscribed to your website for over a year. I have a rising junior son who attends in a private high school prep in the San Francisco Bay Area. He is our only one. I have a few basic questions.

(1) If there is one website to start with, which one do you recommend? College Board, Naviance, US News? I don't even know where to begin.

(2) Also, what is the best way to find out which majors/specialties each college offers? In checking out their websites, there are so many majors. How do we find out which schools'major strengths are: such as computer science degree, business degree?

(3) My son has sports during ski week and maybe spring break. We decide not to tour schools this summer as we were told the campuses get really quiet and it is better to get a sense of the student body while school is in session. To visit east coast campuses, besides spring break, should we still tour during the summer?

Thanks.

HI Michele,

Thanks for joining the class. I don't know if I would start with a particular website. I think I would suggest checking out two of the resource guides in the course first – Your Smart Blueprint for Selecting Colleges and Your Step-by-Step Blueprint to Cut Your College Costs. Those will give you some good overviews for the two big challenges – locating schools and shrinking their cost.

One resource that I like for looking for schools that have strength in a particular major is a book entitled The College Finder by Steve Antonoff, a nationally recognized college consultant. The fourth edition just came out and it consists of lists of schools in different categories that college consultants have recommended. There is a website connected to this book – CollegeXpress – worth checking out. Here is the link: http://www.collegexpress.com/ .

There is also a book (or PDF) entitled, Ruggs Recommendation that looks at school on the department level. Also check out this post I wrote last year: https://www.thecollegesolution.com/digging-deeper-when-researching-colleges/

Ideally you should visit school when school is in session, but as a practical matter that isn't always possible especially when you live at great distances from colleges. With my two children, we mostly visited schools in the summer.

Lynn O.

Lynn- This is the time of year I have students asking about "negotiating" with colleges about scholarships/financial aid. My usual reply is that for Financial Aid-if they have any new or additional information regarding family financial situation, they can talk with Finaid office. For Merit- I tell them they can call and say they want to attend is there any additional scholarships they can apply for. I tend to steer them away from negotiating. Do you have any advice on this or a good pat answer to reply with?
thanks!

Hi Shan,

Thanks for taking the class again!

My position is that they don't need a "good" excuse to appeal, such as a loss of job, change in marital status, big medical bills etc. Since schools' financial aid formulas are usually on the stingy side, I'd say just saying you can't afford the school and explaining why and what you can afford is a good strategy. Also, schools can be more generous if they really want a student or they are worried about not filling their freshmen class. If the freshmen deposits are coming in slow, they can be more willing to kick in more money and that is true for financial aid and merit aid.

I think families can definitely ask about more merit aid. Once again. schools can be more inclined to kick in more money if they want a child or they are worried about meeting their freshmen numbers. Some schools won't consider merit aid appeals, but some definitely will. I had the admission dean at Drake U. tell me once that schools will make up scholarships late in the admission season to lure students that are on the fence So it can definitely be worth asking!

Lynn O.

1. On the Common Application (for admission), how should a student answer if he or she is going to apply for financial aid? Will this impact admissions decisions?

2. On the CSS/Financial Aid PROFILE, how should the family respond to the expected amount it will contribute to the student's next year's college costs?

Hi Lynn,

My husband and I attended one of your talks at our local high school in Redwood City when my son was entering the 7th grade. I had been receiving your newsletters since that time. He has now started his freshman year and I am ready to dive in and commit to educating ourselves on how to get through the college planning. What's the best thing to do at this early stage? I have a lot of reading and learning to do but are there physical steps I can take starting now?

Thank you, I look forward to feeling more empowered on a very confusing and mysterious topic!

Yvonne Sarles

I'm excited to take this course. I've been coaching seniors with college application essays for 5 years, and I'm now taking courses to learn to do financial aid advising as well. So along with coaching teens through their fears about writing about themselves, I'm enjoying the challenges of coaching parents and students through their financial fears and through the labyrinth of applying for financial aid. As a writer, published author, and a writing consultant for children, teens, and adults, it's been interesting to discover that I'm as fascinated with people's financial "stories" as I am with the ones I encounter through writing.

Hi Deborah,

Glad you are in the class! I'd recommend that you look at the next lesson – Introduce Yourself – where you can read the stories of many people who are currently taking the class, as well as those in the past.

You will learn a lot about the financial side of college in this class!

Lynn O.

I'm in your current Lab, and I have a question. I work with a student whose grandfather set up an UTMA account. I know that an UTMA set up by the parents must be reported on FAFSA, but I cannot find any info on the FSA site that specifically mentions how to deal with this type of asset if the grandparents are the custodians, and I've read conflicting info elsewhere.

The info on the account statement reads (I've left out last names):

Earnest _____ CUST [the grandfather's name]
Thomas _____ [the student's name)
UNIF TRANS MIN ACT – CA
Rebecca _____ SUCC CUST [the mother's name]

Should this be reported on the FAFSA as a student asset?
Or does it not need to be reported because it's not owned or set up by the parents?

Note: the student DID receive interest income from this account ($650) in 2015 (which seems to indicate he needs to report the principal as an asset, but I just want to make sure).

Hello Lynn,

I downloaded your first webinar, since I could not attend live. But even with the download, the webinar stopped part way through.

Also, what software do I play it with if I download? Windows media player could not make it go. Guess I am confused and would appreciate some guidance. Thanks in advance.

Hi Nola,

I am sorry that you are having troubles watching the video!

I would urge you to double check that you actually downloaded the recording. If you tried to view the recording without downloading it onto your computer it will freeze after a few minutes. Without downloading the recording, you will be viewing it via Dropbox and Dropbox will only allow people to stream a video for a few minutes.

You don't need to use any special software when you download the video. Your computer should be equipped to allow you to view it.

Lynn O.

My name is Charles Feiner. I have assisted students and parents for over 25 years with all aspects of the college admissions process, as both a college administrator and a high school guidance counselor.

This is my second time taking your class. I find the information extremely valuable and with the financial aspects of college constantly changing it is worthwhile to keep up to date. Thanks,

Thanks for joining again Charles!

Lynn O.

Aloha Lynn,
I attended one of your seminars a few years back when we lived in San Diego and have followed you since. We are a military family stationed in the state of Hawaii. We have a senior in high school +2 in junior H.S. He has done very well in school (top in his class) and on both the SAT and ACT tests. He is firm on what he wants to study, Law; the issue is that he is inundated with propaganda from the various schools. Our home of record is California. My focus is to facilitate the process of choosing schools that meet his choice of studies along with his personality and passion in Debate and swimming while assisting us/the parents in the finance department.

I am also assisting military students with their college applications. Please sent me any information aimed at military dependents; scholarships, grants, etc.? Thanks, Yansi

Hi Lynn,
Thanks for answering my question. I actually logged in and did watch the video prior to asking you and sent the answer to the student and she said she equally lives with both parents. I sort of jokingly said that even if she did that, with 365 days in the year, there is one extra day she lives with one of them, so thank you so much for that confirmation this evening. I will let her know that she then needs to pick one, preferably the one who has lower assets, and choose them as custodial parent. Thank you!!! GREAT class tonight and thank you for generously staying on so late! Mira

Hi Mira,

I am glad you enrolled in the class! I am also glad that I cleared up the issue of who is the custodial parent. Thanks for sharing that you really liked the webinar tonight!
Lynn O'Shaughnessy

Hi Lynn,
I met you at a recent talk you gave for the San Diego IECA group. I have been following your blog and your website for a few years and I am excited to take this course. I emailed you but I now realize that this is the format to ask a question. I had a student ask me what she needs to do if she equally divides her time between her mom and her dad during the year, and they are divorced. She is unsure as to how to complete the income information for divorced parents. She physically lives with both and alternates week by week. Thank you

Hi, I'm taking my youngest child to his first year of college tomorrow. I work at a rural public high school coordinating the Career & College Center. I have been getting free advice from you for years and decided I should see behind the curtain. I started helping students with the college admissions process after my daughter applied – she will graduate from college this year (her fourth year, thankfully).

Hi Darcy,

I am glad that you have been getting advice from me for years!! And congratulations that your daughter will be graduating soon! I'm glad you are using what you learn here to help others who are seeking college answers!

I am curious where your rural high school is located.

Welcome!

Lynn O.

I am so excited for this class. The information not only looks interesting but, so helpful for everyone. Thank you for this great opportunity. Thanks again!

Hi ZuAnn,

Thanks for joining the class. I am glad you are excited!

Lynn O'Shaughnessy

Hi Lynn,

I am so excited to be in the class and strategically partner up with parents in a way that hopefully empowers them and demonstrates my interest in helping them beyond simply viewing colleges with the supreme idea of "what are your chances". With that said, I have a question I know you will answer, But I wanted to ask anyway: Should a family do their EFC before the inquiry of the net price calculator and more importantly, where does one end and the other begin; what is the big difference? Thanks

Hi Isaac,

Welcome to the class! I am glad you are excited!

I think the Expected Family Contribution calculator is an excellent first step and I say as much in the next module. The EFC calculator will give yoyu an idea of whether you should be looking for schools that provide very good need-based aid or schools that provide generous merit aid. Of course, there are plenty of families in the middle where a child's merit award will help meet the applicant's financial need.

You can use the EFC calculator a lot earlier in the process than the net price calculator. I recommend that parents use the EFC calculator even in middle school and certainly at the beginning of high school.

You can't use the net price calculator that early because you won't have a child's academic record yet. Ideally, you'll use the NPC when a child has at least two years of high school under his or her belt and has taken the SAT or ACT or at least the PSAT. Of course, you can plug in hypothetical academic figures just to play around with them. The NPC should provide a more fine-tuned look at what a particular school will cost. As long as the school uses a good calculator. You'll learn more about EFC's and NPC in the next module.

Lynn O'Shaughnessy

Hello Lynn–I am trying to plan my time for the upcoming months. Can you kindly tell me about how many hours I should plan to set aside to get through the course? I realize it is different for everyone but it would be helpful to get an average. Many thanks! Kind regards, Carol

Hi Carol,

I wish that I could tell you how much time to devote to this class to get through it. Unfortunately, I can't.

People are going to spend varying amounts of time on it. Keep in mind that I will be sending you all the materials when the course is over so you will have access to everything – the written lessons, the recorded webinars, the resource guides to use whenever you want in the future. So I wouldn't view this as a learning opportunity that will end on Aug. 6. With the materials, you can continue to learn and double-back on what you learned anytime in the future.

Lynn O.

Hello from Washington, DC! My son will be a junior next year. We recently returned to the US after 7 years in Europe. Needless to say the cost of college here is a shock! Our financial planner told us about you when we were living in Switzerland. I'm looking forward to "spending" the summer with you 🙂 Carol

Hi Carol,

Welcome to the class! That's a long time to be out of the country! I bet college costs isn't the only shock when you returned to this country. I am glad the financial advisor recommended that you take the class.

Nearly everyone who is introducing themselves did so in the next lesson, Introduce Yourself, and I would urge you to check out that lesson too and read the introductions and my responses. I think you will learn a lot just going that!

Lynn O.

Hi Lynn!

I started as an independent counselor this year and your name continually comes up as a wealth of knowledge in this arena. I have a son who just finished his freshman year of college and loved it, and another son who is about to finish his junior year of high school. So, we are entering the fray once again.

Looking forward to an organized presentation of the information parents so desperately want!!

Hi Anne,

Welcome to the class! I think this class will benefit you both professionally and personally! I would also urge you to read the comments and my responses in the next lessons, Introduce Yourself, which is the module that most people used to share something about themselves.

Lynn O.

Hi Lynn,

I have a daughter that will be a sophomore in the fall here in Southern California. Since I applied for college decades ago, everything has changed so I desperately need your guidance! Looking forward to learning how to navigate through the system.

I have 14-year-old twins: a boy and a girl. They are very different and I need to plan carefully as they will be in college at the same time. Looking to get a bit of a head start.

Hi Pamela,

Welcome to the class! I am glad you are starting to explore your college options when your children are 13. That's very smart of you. Many, perhaps most parents, don't start until their children have just started their senior year in high school!

Lynn O.

Lynn,
I'm an independent college consultant in the Chicago area and a long-time fan of your blog. Looking forward to getting some new ideas and approaches to the college search to help my families.
Stephanie Kennedy, My College Planning Team

Hi Stephanie,

Welcome to the class! I am glad you have enjoyed my blog! I am confident you will get new ideas by participating in this class!

Thanks!!

Lynn O.

Hi Lynn,
I am looking forward to spending this summer 2016 with you in this class. We have corresponded before regarding the sad state of affairs called "students in debt with college loans to payback"! I am an independent consultant working with students anywhere in the United States. If this class can help any family and student stay out of debt and find a great college fit then the investment of my time and money will be worthwhile. I think you can help us all whether we be parents, students, guidance counselors, or consultants.
Best Regards,
George Crace
Crace College Consulting

Do we have access to the Facebook page now?

Hi Jann,

Yes you should have received your invitation to Facebook by now!

Lynn O.

Hi Lynn,

I'm a longtime fan and independent college consultant (certified through the Berkeley program). My practice is College Fly (Marin County, CA).

Lynn, I thought I signed up for the course starting in January 2016. However, in looking at the syllabus, I see that the course that I am signed up for actually ends on November 15. Is there a way for me to transfer my current registration to the course that you will offer in January?

Hi Trang,

I apologize for the confusion! Yes, I will be happy to transfer your membership to January or February. I am not sure exactly when i will start the class. In the meantime, feel free to participate in the time left in this class. I will be keeping this classroom open until at least the beginning of December.

Thanks for joining.

Lynn O.

Lynn, I already have a commitment on 9/22 at 5:30. Do i still need to register for the webinar, or will you get me the link to download anyway? Sorry to miss i it, but I did not see the date till now, and I book out more than a week in advance, unfortunately. I have the others down, but will miss the 4th one s well, as I will be on a plane to DC for a meeting.
I have a number of questions, some specific to some client situations I am dealing with right now. Should I use the forum, or simply email you directly?
Thanks,
Margie Determan

Good morning,
This is our second child to prepare for college, Ela is a sophomore. She is 18 years younger than her sister. So, we are happy to get all the help we can to help her decide the best place. Thank you Lynn for providing a forum and class to share ideas about the entire process of college selection. Teresa

Hello classmates,
Very excited to be in this class and learn about the financial end of college list building.
Proud Mom of two
A son who graduated from University of Oregon (not one of Lynn's favorites for it's $47K COA fall 2015) But, in our defense, he got in and out in 8 quarters and before the big jump in tuition!
A daughter, a rising sophomore at Colorado State University, whose good grades got her a discount off out of state tuition.

Hi Ellen,

Welcome to the class. Could you please cut and paste your comment and put it in the Parent Forum. I am trying not to use this comment section and steer people to the forum.

Here is the link to the forum: http://www.thecollegesolution.com/forum

Thanks!

Lynn O.

Hello Lynn,

Is there a place where we can find a list of colleges that have trouble filling seats?

Thanks!

Hi Betsy,

This article was talking about getting professorships after earning PhD's. This is a different animal than deciding whether someone seeking a bachelor's degree should attend a college, which only educates undergraduates, versus a university that also educates graduate students.

Sadly, the world of academia is pretty much stuck in the 19th century. If you want to be a professor, as the study illustrated, you should often aim for the most prestigious university possible that will accept you as a graduate student. Status does matter in academia when trying to get hired as a professor and I am so glad the most of the rest of the world is not stuck in that mindset. As a practical matter, a higher percentage of students, who attend liberal arts colleges, end up attending graduate school. Their odds of getting into top graduate schools can be higher because they are more likely to have mentors among their professors, great recommendations, guidance on what schools to apply to and undergraduate research experiences.

Something else to keep in mind is that with tenured positions shrinking and adjunct positions soaring, there are far fewer full-time jobs to get in academia for anybody. Adjunct professors typically make less far money with little to no benefits than public school teachers. Frankly, I think too many young college students are heading to graduate schools because they don't know what to do and most of them are not going to end up as professors.

Lynn O'Shaughnessy

Hi Lynn! We just signed up for your class, even though we are well into the two months. I see we missed the Feb 19 webinar. Would you please send the link so we can access it? We live in Italy and may not be able to see the webinars live because of the time difference, but we are very much looking forward to this class with you. Thank you!

I really enjoyed tonight's webinar. Does the Cal grant also pay full tuition for the CSUs, as it does for the UCs? Thank you!

Hi Sheri,

I'm glad you liked the webinar!

The Cal Grant does cover the entire tuition for Cal State campuses. It also covers a little more than $9,000 in tuition for qualified CA students who attend non-profit private schools in CA.

Lynn O.

Hi Lynn,

I saw you two or so years ago at Grossmont College in Southern California and signed up for your emails. Well, after all the emails from you, I finally decided I really did need to take this course. My daughter graduated high school last June and because we haven't figured things out yet regarding college, she is attending the community college, which is fine for the moment but now time is really ticking and we need to figure out where she will go next.

I have been confused and overwhelmed about the whole college thing for about her whole high school career, so it's time to get it all sorted out and really spend time doing my "homework" about the topic.

Denise and Steve Jones

Proud parent of Carissa

Hi Denise and Steve,

Thanks for joining the class. I am going to respond to your introduction in the next lesson entitled, Introduce Yourself so everybody can see it!

Lynn O.

Aloha Lynn,

Very excited to get started and dig into the Modules.. Can't wait to get thru all the info.
Perfect timing as my daughter heads off to college in August.

Mahalo,
Caprice Vida
Proud parent of Ronni!

Hi Caprice,

Congratulations on your daughter! Thanks for joining the class. It's great to have someone from Hawaii in the class!

Lynn O.