Using College Rankings to Find Great Schools
If you're willing to cast a wider net to find colleges, where do you start?
Here is one way: Look at alternative college rankings.
While US News & World Report's college rankings hog the press coverage, I much prefer the college rankings that Forbes releases every summer.
The Center for College Affordability and Productivity, a nonprofit education think tank, developed the methodology for the Forbes rankings and produces the annual lists.
These rankings are imperfect but a heck of a lot better than US News' rankings because they at least attempt to measure the kind of educational experience that students are receiving in college, as well as their success in getting jobs.
The Forbes' rankings measure these five areas:
Student satisfaction
Post-graduate success
Student debt
Four-year grad rate
Student competitive awards
In comparison, US News' most important factor is reputation. In other words, what do schools think about each other. For instance, what do administrators at UCLA, Yale and George Mason University think about the University of Central Florida, Virginia Tech, MIT and about 250 other institutions in the magazine's national university category. If this sounds nuts, I swear I'm not making this up.
You can find the Forbes' college rankings sliced and diced on the CCAP's website. On the site is the master list of the 650 ranked schools, as well as lists broken down into regions and by school categories. These are screen shots of what you'll find on the website: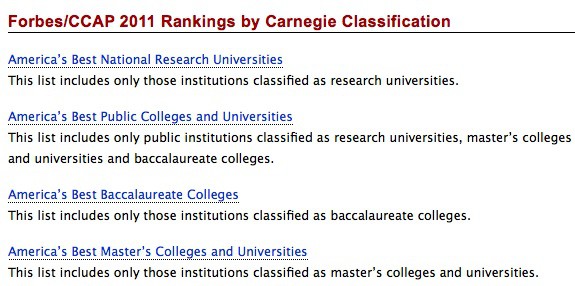 A College Cheat Sheet
I wouldn't get hung up on the specific rankings, but I do think these lists can help generate names of schools that you would never have known existed.
Among the top 100 schools, according to Forbes, are such institutions as Centre College (KY), St. Michael's College (VT), Transylvania University (KY), St. Norbert College (WI), Knox College (IL), St. Olaf College (MN) and the University of Minnesota at Morris, a public liberal arts college which gives in-state tuition to all students! These schools fared better in the rankings than such academic darlings as Sarah Lawrence College, Washington University in St. Louis, Johns Hopkins, University of Michigan and the University of Texas.
You might find the rankings by geographic region particularly helpful since most students aren't going to stray too far away from home. It's my opinion that far more students could be attending schools in distant zip codes if their parents weren't so freaked out about the prospects. Here are the links to the PDF for the four regional lists:
Midwest Colleges
Northeastern Colleges
Southern Colleges

Western Colleges
Happy hunting.
Lynn O'Shaughnessy is the author of  Shrinking the Cost of College workbook.  She also writes a college blog for  CBSMoneyWatch and US News. Follow her on Twitter.