Tuition Hogs: The Priciest Schools in America
This week the U.S. Department of Education released its second annual lists of college tuition hogs. For the record, the federal bureaucrats don't call them them porkers.
Congress mandated that the government compile and release annual lists of the five percent of colleges and universities that charge the highest and lowest tuition.
The government assembles the lists based on each institution's published tuition and also by its net tuition. The net tuition represents what a typical student would pay after average scholarships and grants are subtracted. I find the net price lists far more relevant since most families don't pay full fare. At private colleges and universities, for instance, about 85% of students receive some type of scholarships.
 Drum Roll……..
According to the federal government, the private, nonprofit institution with the highest net price is the School of the Art Institute of Chicago. It's net tuition is $40,6544. In comparison, the average tuition at private institutions is $18,770.
The University of Guam is the most expensive public institution with a net price of $25,956, but within the 50 states Miami University in Ohio takes the honors with a net tuition at $22,303. The average tuition at a four-year public university is $10,471.
Private School Tuition Hogs
Among private schools, art institutes and music conservatories clearly dominate the list of the biggest tuition hogs. They represent eight out of the ten most expensive private schools. Like the other schools on this list below, the institutions charge high tuition and yet award meager financial aid. If you need financial assistance to obtain a bachelor's degree, these are the kind of schools that you should be avoiding!
I had more to say about this list at my college blog at CBS MoneyWatch: 25 Priciest Colleges and Universities.
Most Expensive Private Colleges and Universities Net Price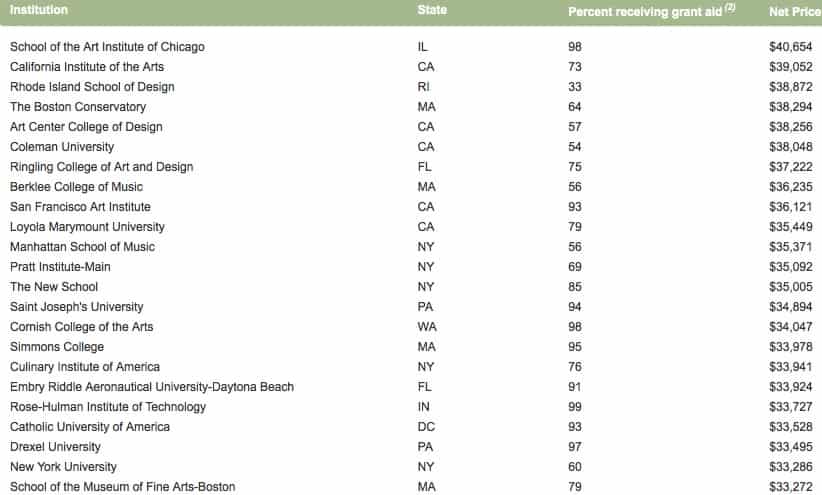 Public School Tuition Hogs
Pennsylvania gets the honors for the state with the largest number of tuition hogs followed by Ohio. The governor of Pennsylvania has received tremendous flack for whittling away support for the state's public universities. Public universities in California, Arizona and Georgia made the federal list of  institutions with the highest tuition increases.
Most Expensive State Universities Net Price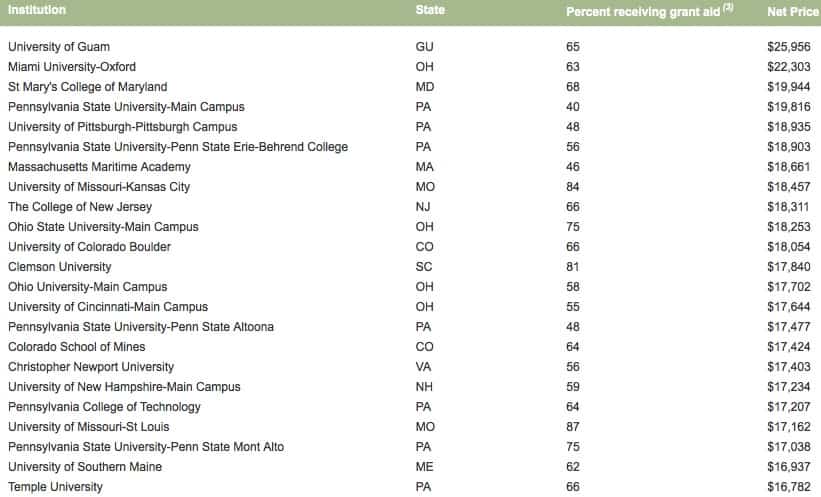 You can take a look at the other federal lists by heading to the federal College Affordability and Transparency Center. To obtain the highest net tuition list of private schools, for instance, I clicked on the two links highlighted by the arrows and then I hit the "generate report" button.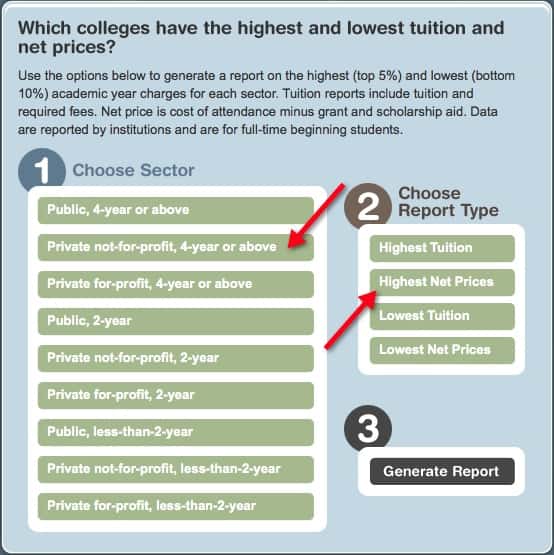 Learn More at The College Solution:
 Do-It-Yourself College Rankings
Do-It-Yourself College Rankings, Part II
Who is Stressed Out About College?
Lynn O'Shaughnessy is the author of the second edition of The College Solution: A Guide for Everyone Looking for the Right School at the Right Price.