The Ultimate College List Builder
My main goal of this lesson is to help you demystify college pricing.
The best way to do that is to read this lesson along with my resource guide, The Ultimate College List Builder. This guide will provide you with an eye-opening overview (okay that's my opinion) of how colleges,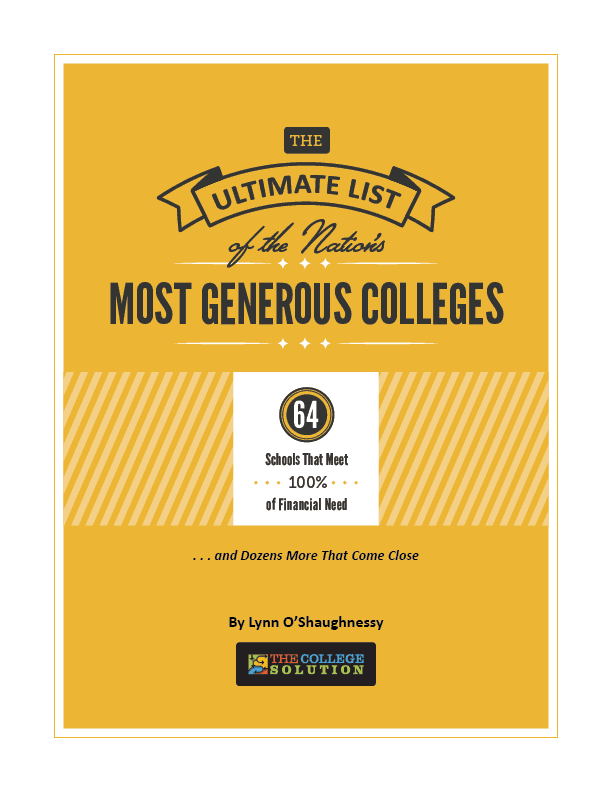 and in particular private institutions, price themselves.
This lesson will give you a quick pricing overview, but you should read the entire guide since it will provide much more advice on how you can target your search for affordable schools.
The list builder relies heavily on higher-ed statistics from the National Association of College and University Business Officers and the federal government that are largely overlooked but quite valuable.
The guide is 33 pages, but 19 of those pages are devoted to a list of 722 public and private colleges and universities that includes what percentage of students at each institution receive a price discount through merit and/or financial aid awards, as well as the average award.
As The Ultimate College List Builder explains, when you are looking for schools that will discount the price, you need to appreciate that some types of institutions will provide all their freshmen – or nearly all of them – a price cut. Other institutions, which can get away with it, will make many of their higher-income students pay full price.
According to the latest NACUBO survey, 88% of students attending private colleges and universities don't pay the sticker price. That figure, by the way, represents an historic high. The average tuition discount is 55.5%, which is also at an historic high.
Using a school with a $40,000 tuition, this example illustrates the impact of capturing a 55.5% price break: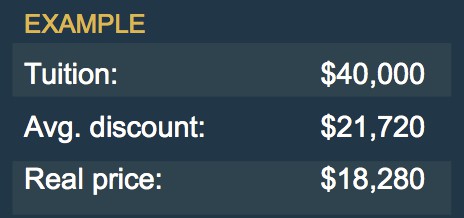 Courtesy of NACUBO's survey of more than 400 private schools, here is a breakdown of three types of institutions and the percentage of freshmen who receive a discount (scholarships and/or grants) from their schools.
Research universities 68%
Master's level universities 86%
Small schools  91%
Once you understand that colleges are businesses, you can appreciate why research universities offer price breaks to a smaller percentage of students.
In general, research universities are the only schools that can get away with offering no merit awards or dispensing very few because they have little or no trouble filling their freshmen slots every year.
Research universities are in this enviable position because they are perceived (rightly or wrongly) as the best higher-ed institutions. Consequently, they attract plenty of wealthy students to their campuses whose parents are willing to pay $250,000 for one bachelor's degree. These students are referred to in the higher-ed industry as "full pays" and are highly coveted.
Research Universities
In the screenshot below, you'll see examples of what percentage of students receive a price break from some prominent research universities. These statistics are compiled by the U.S. Department of Education. You might find it shocking that so many students pay full price at these schools. I was especially stunned that Tufts charges full price to 64% of its students!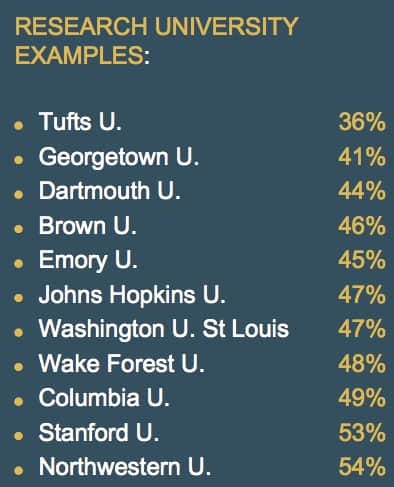 Master's Level Universities and Colleges
In contrast to research universities, colleges and master's level universities have to try harder to fill their freshmen slots. And this often means giving nearly everyone a price break.
People often don't know what colleges are and those that give these schools any thought at all probably wrongly assume, like I did many years ago, that these institutions must be small because few students want to attend them. Colleges and master's level universities, even those that draw students from across the country, are mostly only known in their own state or region.
Master's Level Universities
Below are some examples of master's level universities and the percentage of freshmen who receive scholarships and/or grants.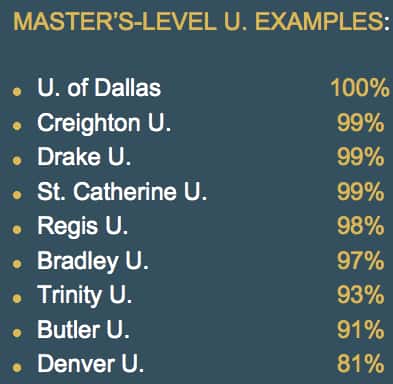 Liberal Arts Colleges
There are some elite liberal arts colleges that embrace the same type of aid policies as research universities, but most colleges must dispense awards to most of their freshmen.
Below are examples of liberal arts colleges and the percentage of freshmen who receive scholarships and/or grants. In the list, I included my daughter and son's alma maters (Juniata College and Beloit College):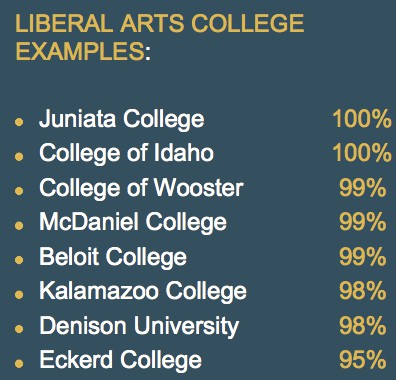 Summing Up

Here are some key points from this lesson:
1 While many families worry that only "A" students receive scholarships, this is clearly not true. Eight-nine percent of all freshmen attending private institutions receive a price break and the average tuition discount is 55.5%. At most private schools, the price tag is irrelevant for almost everybody.
2 High-income students who want to attend private, elite research universities are likely to pay full price or close to it. You will learn more about this phenomenon in another lesson, which is also in this module, entitled, High-Income Students and Merit Scholarships. Wealthy families who can't afford a steep tab for a private research universities should throw a wider net when looking for schools.
3 Private schools that provide little or no merit scholarships to high-income students can be excellent institutions for smart students who require a great deal of financial aid to help attend college. A middle-class or disadvantaged student who gets into a school like Tufts, Georgetown, Amherst and Pomona should receive an excellent financial aid package.
4 Just because a school gives everyone or nearly everyone a price break doesn't mean that these will be the most affordable
schools. Other factors are at play including the school price, the size of scholarships and how generous or stingy is a school's need-based aid policy. (Check my resource guide, The Ultimate List of the Nation's Most Generous Colleges, in the Bonus Material module for the names of schools that say they meet a high percentage of students' financial need.)
5 Checking the odds of receiving a price cut at a particular school is only part of your task.
One of the additional steps that you need to take is to look at what the average need-based financial aid packages and merit scholarships are at an institution and compare that with the school's cost of attendance. You can discover a school's average merit scholarships and need-based aid award, as well as a school's price tag, on the  College Board's website.
You will learn how to use the College Board's website to research the generosity of a particular school in the lesson entitled, College Board: Evaluating School Generosity in the module entitled, Tools to Find Generous Colleges.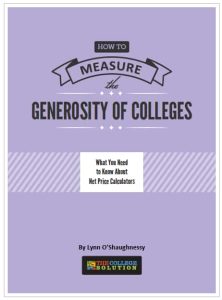 And of course, you should always run the net price calculator on any school before you let a child apply to it. My lesson on net price calculators is in the Your Families' First Steps module.
You can also download my resource guide on net price calculators entitled, How to Measure the Generosity of Colleges: What You Need to Know About Net Price Calculators.
Hi Karen,

Thanks so much for alerting me to the broken links! I had a problem with the Dropbox folder that contained the resource guides. I fixed all the links.

Lynn O.