The Realities of College Money
For many students the biggest source of money will be from the colleges themselves.
That's why it's important for you to understand what would motivate any school to give your child one of its awards.
Schools don't dispense grants and scholarships to be nice. They give awards because they expect to get something valuable from a student in return.
To understand why schools are eager to award aid to some students and not others, you have to appreciate that schools are businesses. They are focused on increasing their own reputations and achieving their institutional goals.
Private and public colleges and universities routinely employ in-house enrollment managers or hire consultants who devise ways for colleges to use their institutional cash as strategically as possible to assemble their freshman classes. Typically this means helping institutions leverage their own revenue to attract the kind of teenagers they covet.
Enrollment management practices have turned financial aid from primarily a utilitarian way to help disadvantaged students into a powerful tool to attract higher achieving students, as well as the wealthy.
The most eye-opening article that I've ever read on enrollment management is more than a decade old, but it's as relevant today as when I read this Atlantic Monthly article – The Best Class Money Can Buy.
The Realities of Preferential Packaging
If you've browsed through marketing materials from colleges you probably haven't gotten the sense that financial aid is heavily determined by a college's excitement or lack of enthusiasm for an applicant. Financial aid realities are a topic that admission officers rarely broach with families. In fact, I'd argue that most of the admission representatives that families typically encounter at college fairs honestly don't know how the money is divvied up.
 Most admission reps possess little-to-no knowledge of the tough decisions that are being made back at their motherships by the senior administrators, who must juggle the realities of finite resources and competing institutional goals.
Many of the admission reps, who are not in the loop, are recent young college grads themselves who are eager to share with families why their 
institutions are so great. When families ask these admission cheerleaders how they can afford their institutions, they will often respond by saying something along these lines:  "We've got scholarships that start at $5,000 and go all the way up to full-rides!"
The reps might also mention that many or even most of the institution's students receive scholarships. Reps urge teens to apply to see what kind of goodies they will ultimately win. It's no surprise then that students and their parents get excited as they contemplate the awards coming their way.
The reality, however, can be very different from the upbeat picture that reps serve up of a can't-lose lottery. For starters, a $5,000 annual scholarship isn't going to go far if the school costs $50,000. And while a full-ride sounds awesome, just how many get this top award? One or two applicants or maybe a dozen in a freshman class of 1,000 or 2,000 students?
Families also shouldn't be swayed if a rep notes that most students at his or her institution receive grants and scholarships. At private colleges and universities 88% of students receive a tuition discount via institutional grants/scholarships and the average discount slashes 55.5% off the tuition price.
These latest statistics  come from the National Association of College and University Business Officers, which is considered the definitive source for tuition discounting. You can see the discounting trend in the graph below.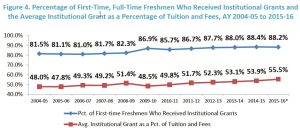 Giving awards is the cost of doing business in the higher-ed world because, contrary to media reports, the college market is largely a buyer's market. With the exception of the elite rankings giants, enrollment administrators at most schools worry each year that they aren't going to fill all their freshmen slots. In fact, the latest Gallup survey that polls administrators at public and private schools, on behalf of Inside Higher Ed, revealed that 61% of schools did not meet their freshman targets for the 2015-2016 school year.
Here is a snapshot from the Inside Higher Ed survey that illustrates just how concerned public and private colleges and universities are:
Generalities Aren't Helpful
The danger that vague promises of awards pose is that this information isn't going to help you determine if a particular school will be generous to your family or your clients. If money is an issue, and it usually is, you don't want your child to settle for a school dispensing $5,000 scholarships like peanuts, if there are colleges that would be eager to chip in serious money.
Unfortunately, you can't depend on schools to reveal their secret sauce and how it dictates what applicants get awards and in what amounts.  When you know what motivates schools, you will be more likely to cut your college costs.
The Real Deal on Financial Aid
You can start by understanding this harsh reality: colleges and universities will almost always reserve their so-called preferential financial aid packages to the students they really want.
On its website, Muhlenberg College, a highly regarded liberal arts college in Allentown, PA, shares an unusually candid explanation for preferential packaging – The Real Deal on Financial Aid – that I urge you to read.
The essay's main take-away is that students who are in the top quarter to third of a school's freshman class will typically enjoy better financial aid or merit scholarships. What kind of academic profile a student will need to get into the top third will vary by school. At some schools, a 3.25 GPA will launch a child in that coveted territory and at other schools it could be a 3.75 GPA or higher.
The Muhlenberg essay notes that students in the bottom half of the applicant pile are more likely to receive smaller packages including those stuffed simply with loans and a possible work-study job. These teenagers are the ones most likely to be gapped. That's when the university produces a financial aid package that doesn't include enough money to cover the student's demonstrated need.
Sometimes the financial aid gap can be quite large. A $40,000 school, for example, might give a student with an Expected Family Contribution of $4,000 a financial aid package that includes a $10,000 grant with the rest in loans. In a case like this, the gap is so large it's scary.
Avoiding Reach Schools
In fact, one way to shrink the cost of college is for students to generally avoid what high school counselors like to refer to as reach schools. It's common for counselors to recommend that students apply to safety, target, and reach schools. If money is a concern, it's best to look for schools that represent a solid academic match for the student and skip the reaches.
Schools are less likely to provide decent packages to less-than-stellar students because these teenagers won't help their bid to inch up in U.S. News' and World Report's college rankings. Pursuing a better ranking from U.S. News is an obsession at many public and private institutions. You will learn more about how college rankings impact financial aid and merit award practices in the next lesson.
Hi Trina,

Ever since the recession of 2008-2009, public universities have seen cuts to their state funding. That is one reason why there has been aggressive recruitment for nonresidents to come to their schools.

KU has been caught up in an ambitious experiment by the ultra conservative Gov. Sam Brownback who got the Republic legislature to slash taxes dramatically a few years ago, which they believed would boost the state's economy. It's been a financial disaster and education from kindergarten to the universities has suffered.

Here is an article from last month about the cuts to KU: https://www.insidehighered.com/news/2016/05/23/kansas-cuts-criticized-hurting-large-research-universities

Frankly, I don't think a student would see much and more likely no difference in how the school would operate. I suspect you'd find that the class sizes and experience at KU will be better than at the Cal State and UC schools which are underfunded and are plagued with large class sizes and difficulty getting classes.

You'd need to research what going on at the school, which is something you should do anyway. Here is a link about researching departments: https://www.thecollegesolution.com/digging-deeper-when-researching-colleges/

And another one about researching schools: https://www.thecollegesolution.com/professor-ratings-surprising-results/

I lived in Lawrence, KS, for three years not long after I graduated from Mizzou and I think it's a lovely college town and lovely campus!

Lynn O.

ok, thanks so much for the quick response!!

How do I figure out which schools my daughter would be in the top 25% of admitted students?

Hi Tara,

This is easy to find out. You can go to the College Board and type any school into the search engine. Then click on the Applying link on the left hand side. Click on the Academics and GPA link, as well as the SAT and ACT link. You will see how your child measures up.

Remember that most students at private colleges (88%) don't pay full price. The best awards, however, are typically given to students the schools covet the most.

Lynn O'Shaughnessy

Lynn, further to your response to Lisa Breen below, I found that most of the schools I have run net price calculators on do not ask for GPAs and test scores despite the fact that they supposedly do give merit aid. Brandeis, Vanderbilt, University of Richmond, Lafayette, Dickinson all use College Board for net price calculations and do not ask for GPAs or test scores. This leaves even more to the guessing game…

Hi Irena,

Thanks for sharing your experience with these net price calculators. It is extremely frustrating when schools that use the College Board to create their net price calculators are not providing any guidance on merit aid!

You'd have to look on a school's website to see what they say about merit scholarships and compare your child's academic statistics with the stats of the most recent available freshman class. You can also look at the school's profile on COLLEGEdata to see what percentage of freshmen received merit aid and what the award amount was.

Lynn O'Shaughnessy

Hi Lynn,

After reading The Real Deal on Financial Aid on the Muhlenberg College Website, it seems that the EFC calculator from each institution has very little relevance when it comes right down to the amount of grant money actually awarded to accepted students. Some institutions no longer require applicants to submit test scores. Choosing not to submit scores might be another factor in getting less aid money, even if the student is accepted. If higher test scores correlate to more grant money, I would think retaking the SAT or ACT at least three times for a superscore would be worth the effort if it means more grant money. I welcome you thoughts.

Hi Lisa,

Whether a net price calculator is accurate will depend on the calculator the school uses. The calculators are going to be bad if they use the federal template. Most high selective schools use better calculators from third parties such as Student Aid Services and the College Board. If the schools award merit aid, their net price calculators should be asking about test scores and GPAs.

If your child wants to go the test-optional route, you should find out from a school whether that will hurt his/her chances for non-need-based aid (merit scholarships.) I wrote a story for the New York Times in 2009 about test-optional policies and contacted quite a few test-optional liberal arts colleges and asked about whether non-submission would hurt merit awards and need-based aid. All colleges said need-based aid would not be impacted, but at a minority of schools merit awards were impacted. Muhlenberg was one of those in the latter category.

Here is the link to learn more: http://www.nytimes.com/2009/07/26/education/edlife/26guidance-t.html?pagewanted=all&_r=0

Lynn O.

Read my NYT story to get more info on test-optional policies: