The Dangers of Being Taught by Part Timers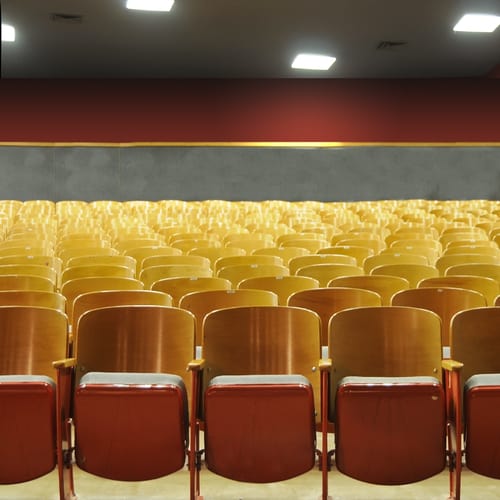 When your teenagers reach college, who will be teaching them?
Chances are excellent that many of your children's professors will be part-timers or full-time professors without any chance of getting tenured. The number of adjunct professors on college campuses has soared in the past decade. Today only thirty percent of college professors have tenure or are on the tenure track.
The change, according to a recent article in The Chronicle of Higher Education, has been particularly pronounced at mid-tier private universities and at regional state universities.
Adjuncts, who are the workhorses at many campuses, are paid by the course with short-term contracts. Some of these instructors are earning a mere $2,500 or $3,000 a course, which should make some of them eligible for food stamps.
The Des Moines Register, which recently examined salaries of Iowa state employees, concluded that two of the five lowest salaried employees were adjunct professors at Iowa public universities. As you can see below these professors, many of them with PhDs, are getting paid comparable to parking attendants and cafeteria workers.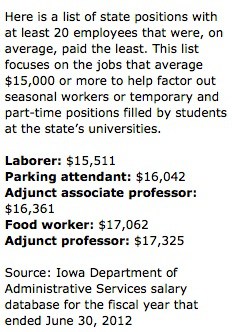 The Impact of Adjunct Professors
Adjunct professors can be better teachers than tenured professors, who enjoy lifetime job security, sabbaticals, health care and sometimes few teaching responsiblities. There are plenty of reasons why you should care that highly educated yet exploited adjunct professors are a growing presence on college campuses.  A recent in-depth story on adjunct professors in The Chronicle of Higher Education discussed how adjunct's tenuous employment realities can negatively impact  students:

Bottom Line: 
When you are researching colleges and universities, ask about the presence of adjunct professors on the campus. I believe how institutions treat their professors does matter, not only to the faculty but the students as well.
Also, if your child has dreams of becoming a college professor, please tell them to explore the ugly realities of this profession.
Learn more on The College Solution:
What is Your Expected Family Contribution?
The Weakest Link in the College Admission Process
Where to Find the Best College Professors
Lynn O'Shaughnessy is the author of The College Solution:  A Guide for Everyone Looking for the Right School at the Right Price.