Surprising Facts About College Freshmen
During my college workshop at the University of California, San Diego, on Saturday, I asked the parents in attendance this question:
What percentage of high school seniors do you think got accepted into their No. 1 college last year?
One dad blurted out, "Six percent." From the other side of the room, a mom provided this answer: "Two percent?"
I was surprised by the low-ball answers, but it certainly illustrates something that is not surprising at all — families are stressed about college.  I had no idea, however, that some parents are that pessimistic about their teenagers getting into good schools.
The actual percentage of students who manage to get into their top choice is actually quite high at 76%. The number of students who received acceptance letters from their first choice school did decline from 78.9% in 2010, but it's still represents great odds.
These figures come from the latest annual study from UCLA's Higher Education Research Institute that has been surveying college freshmen, who attend four-year institutions, since 1966. UCLA surveys more than 204,000 freshmen, which when adjusted statistically reflects the responses of 1.5 million full-time freshman.
 College Freshman Facts
I thought I'd share with you some of the fascinating facts about this year's college freshmen.
 Freshmen are self confident.
While American teenagers perform poorly on math and other standardized tests compared with students from plenty of other countries, the Yanks excel in self confidence and that comes through in the latest survey. Nearly half of freshman believe they are either in the top 10% or above average in their academic ability.
It's understandable that so many teenagers think they are hot stuff academically because of the number who graduate from high school with inflated grade points averages! Here are the UCLA stats:

Interestingly enough, 25% of college freshman thought they would need tutoring or remedial work in math.
Students seem to be taking high school a bit more seriously.
High school seniors spent less time partying, more time studying and tackled more Advanced Placement courses.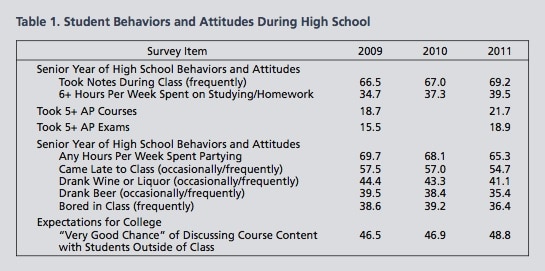 Freshman stay within two hours away from home.
Freshmen continue to stay close to home for college. While there are plenty of  students who don't have the maturity or the money to attend a distant school, far more should be considering this alternative. The number of students attending school 500 or more miles away actually dropped this year from 15.5% to 14%.

Here are some blog posts that I've written in the past about the admission advantage you can capture by casting a wider net when looking at colleges:
Where Most Students End Up Attending College

Where Are the Freshman Coming From?
University Reveals the Secrets of Winning Merit Scholarships
 Teenagers aren't applying to as many schools as you may think.
Twenty one percent of last year's high school seniors applied to seven or more schools, but an equal number applied to only one or two.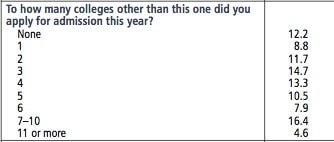 Freshman are becoming increasingly liberal on social issues.
An unprecedented 71.3% of freshmen indicated that same-sex couples should have the right to marry, which is a 6.4 percentage point increase over the response that freshmen gave in 2009. Support for same-sex marriage was 99.3% among liberal, but even many conservatives (42.8%) approve.
Lynn O'Shaughnessy is the author of The College Solution and She also writes a college blog for  CBSMoneyWatch and US News. Follow her on Twitter.
Good stuff as always Lynn, thanks. I've been following these data for a while now and am especially interested in the question regarding reasons for college attendance, and how this has shifted over time.

Do you happen to know of a good source of data for where students in any given state choose to go to school — in other words, trends in decision-making among seniors within a given state?I'm in Colorado and have a strong sense that certain schools and states are favored (apart from CO), but don't know where to locate the info. Thanks! Lisa