Surprise: Where Harvard Law Students Got Their Undergrad Degrees
Today I'm passing along a fascinating list that comes from Harvard Law School. The list you see below includes the 261 colleges and universities where members of the Class of 2013 law school students come from.
Michelle Kretzschmur, the creator of Do-It-Yourself College Rankings sent me the link to the list because she knows how strongly I believe that students don't have to attend schools favored by the college ratings gods to gain admission into excellent graduate and professional schools.
Michelle sent the link after reading this recent post of mine: 50  Schools That Produce the Most Science and Engineering PhDs
I checked out Harvard Law School's site to see how many  students seeking a J.D. degree gain admission to the institution each year and I calculated that it's approximately 560.  So obviously with this class size, graduates of elite undergraduate institutions are not represented in greater numbers than the students who hail from Central Connecticut State,  Eastern Kentucky University and  William Jewell College.
Undergrad Schools of Origin for Harvard Law School's Class of 2013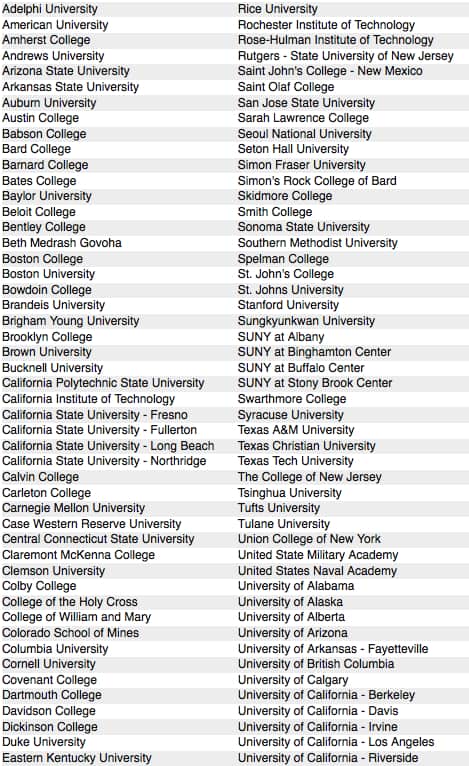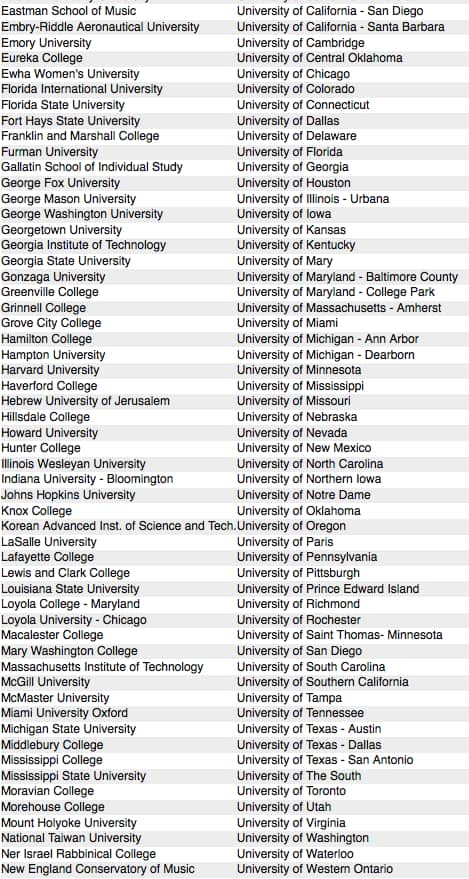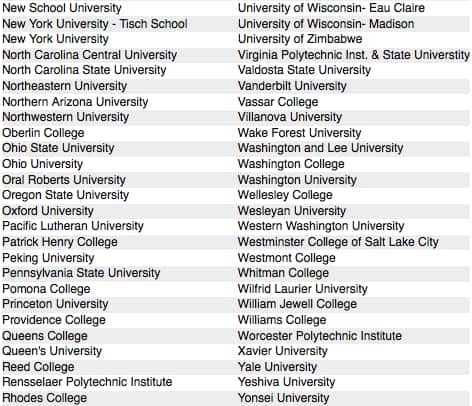 Bottom Line:
As I've emphasized repeatedly on this college blog, where you attend college isn't nearly as important as what you do when you get there. Just ask the folks at Harvard Law School.
Lynn O'Shaughnessy is the author of The College Solution: A Guide for Everyone Looking for the Right School at the Right Price.
To get a fuller picture I would be interested to know how many students attend HLS from each of the schools listed. I would also like to know how the list changes year after year. If only one student from a particular school attends every 10 years, the chances of being that one student is very small. However, if every year a school sends several students to HLS, than the chances of admittance are higher. As the list illustrates it is possible to attend HLS from non-Ivy League schools, but the list alone does not give the whole picture.

Hi,

It would be impossible for many schools to have multiple grads attending Harvard Law School. For the 2016 law school class there were 564 slots and the law students came from 171 schools.

Lynn O'Shaughnessy

There's a business in publishing stats on time series information on grad schools and where their students completed their undergraduate studies. Most education decisions are made with incomplete data in an environment of apparent abundance of it.

Hey Lynn,

Awesome list!

I try to convey this to community college students. Start out at community college, transfer to a 4-year-college and you can go anywhere!

In some cases, there are community college transfers that get into Harvard!

Great site. I'll try to connect with you via social media as well 🙂

Chad

Hi Lynn,

I love your website. I compared the list above to Harvard's site and the list is different. Odd. What am I missing? For example, Southern Methodist and Reed are missing. Thanks.

ADELPHI UNIVERSITY
AMERICAN UNIVERSITY
AMHERST COLLEGE
ARIZONA STATE UNIVERSITY
BARNARD COLLEGE-COLUMBIA UNIVERSITY
BATES COLLEGE
BETH MEDRASH GOVOHA
BIOLA UNIVERSITY
BOSTON COLLEGE
BOSTON UNIVERSITY
BRANDEIS UNIVERSITY
BRIGHAM YOUNG UNIVERSITY
BROWN UNIVERSITY
BUCKNELL UNIVERSITY
CAMPBELLSVILLE UNIVERSITY
CARLETON COLLEGE-MN
CLAREMONT MCKENNA COLLEGE
CLARKSON UNIVERSITY
COLBY COLLEGE
COLLEGE OF THE HOLY CROSS
COLLEGE OF WILLIAM AND MARY
COLUMBIA
CONCORDIA UNIV-SIR GEO WILLIAMS CAMPUS
CORNELL UNIVERSITY-NY
DARTMOUTH COLLEGE
DENISON UNIVERSITY
DEPAUL UNIVERSITY
DUKE UNIVERSITY
EMORY UNIVERSITY
FLORIDA STATE UNIVERSITY
FORDHAM UNIV. FORDHAM COLLEGE @ ROSEHILL
FURMAN UNIVERSITY
GEORGE WASHINGTON UNIVERSITY
GEORGETOWN UNIVERSITY
GEORGIA INSTITUTE OF TECHNOLOGY
GRINNELL COLLEGE
HAMLINE UNIVERSITY
HARVARD UNIVERSITY
HENDRIX COLLEGE
HOWARD UNIVERSITY
HUNTER COLLEGE – CUNY
INDIANA UNIVERSITY-BLOOMINGTON
JOHNS HOPKINS UNIVERSITY
LOUISIANA STATE UNIVERSITY-BATON ROUGE
MACALESTER COLLEGE
MASSACHUSETTS INSTITUTE OF TECH.
MCDANIEL COLLEGE
MERCER UNIVERSITY-MACON
MIAMI UNIVERSITY OXFORD
MICHIGAN STATE UNIVERSITY
MIDDLEBURY COLLEGE
MISSOURI VALLEY COLLEGE
MOREHOUSE COLLEGE
MOUNT HOLYOKE COLLEGE
MUHLENBERG COLLEGE
NEBRASKA WESLEYAN UNIVERSITY
NORTHWESTERN UNIVERSITY
NORWICH UNIVERSITY
NYU
OBERLIN COLLEGE
OCCIDENTAL COLLEGE
OHIO STATE UNIVERSITY-COLUMBUS
OHIO UNIVERSITY
OXFORD UNIVERSITY
PATRICK HENRY COLLEGE
PEKING UNIVERSITY
POMONA COLLEGE
PRINCETON UNIVERSITY
QUEEN'S UNIVERSITY
RICE UNIVERSITY
RUTGERS U SCH OF ARTS & SCIENCES
SAINT LOUIS UNIVERSITY
SAINT OLAF COLLEGE
SARAH LAWRENCE COLLEGE NY
SH'OR YOSHUV RABBINICAL CL NY
SMITH COLLEGE
SPELMAN COLLEGE
STANFORD UNIVERSITY
SWARTHMORE COLLEGE
SYRACUSE UNIVERSITY
TEMPLE UNIVERSITY
TEXAS A & M UNIVERSITY – COLLEGE STATION
THE COLLEGE OF NEW JERSEY
TOURO COLLEGE
TRINITY COLLEGE-CT
TSINGHUA UNIVERSITY
TUFTS UNIVERSITY OF ARTS & SCIENCES
TULANE UNIVERSITY
UNION UNIVERSITY
UNITED STATES MILITARY ACADEMY
UNITED STATES NAVAL ACADEMY
UNIV. OF DELAWARE
UNIV. OF MELBOURNE AUSTRALIA
UNIVERSITY OF AKRON
UNIVERSITY OF ALBERTA
UNIVERSITY OF ARIZONA
UNIVERSITY OF ARKANSAS-FAYETTEVILLE
UNIVERSITY OF BRITISH COLUMBIA
UNIVERSITY OF CALIFORNIA-BERKELEY
UNIVERSITY OF CALIFORNIA-DAVIS
UNIVERSITY OF CALIFORNIA-IRVINE
UNIVERSITY OF CALIFORNIA-LOS ANGELES
UNIVERSITY OF CALIFORNIA-SAN DIEGO
UNIVERSITY OF CAMBRIDGE
UNIVERSITY OF CENTRAL FLORIDA
UNIVERSITY OF CHICAGO
UNIVERSITY OF DALLAS
UNIVERSITY OF DAYTON
UNIVERSITY OF FLORIDA
UNIVERSITY OF GEORGIA-ATHENS
UNIVERSITY OF ILLINOIS-URBANA
UNIVERSITY OF IOWA
UNIVERSITY OF KANSAS
UNIVERSITY OF LOUISVILLE
UNIVERSITY OF MAINE-ORONO
UNIVERSITY OF MARYLAND-COLLEGE PARK
UNIVERSITY OF MASSACHUSETTS-AMHERST
UNIVERSITY OF MIAMI
UNIVERSITY OF MICHIGAN-ANN ARBOR
UNIVERSITY OF MICHIGAN-DEARBORN
UNIVERSITY OF MINNESOTA-MINNEAPOLIS
UNIVERSITY OF MISSOURI-COLUMBIA
UNIVERSITY OF MONTANA
UNIVERSITY OF NEBRASKA-LINCOLN
UNIVERSITY OF NORTH CAROLINA-CHAPEL HILL
UNIVERSITY OF NORTHERN IOWA
UNIVERSITY OF NOTRE DAME
UNIVERSITY OF OREGON
UNIVERSITY OF PENNSYLVANIA
UNIVERSITY OF PITTSBURGH
UNIVERSITY OF PORTLAND
UNIVERSITY OF ROCHESTER
UNIVERSITY OF SAN FRANCISCO
UNIVERSITY OF SOUTHERN CALIFORNIA
UNIVERSITY OF TEXAS – AUSTIN
UNIVERSITY OF TEXAS – DALLAS
UNIVERSITY OF THE SOUTH
UNIVERSITY OF TORONTO
UNIVERSITY OF TULSA
UNIVERSITY OF UTAH
UNIVERSITY OF VIRGINIA
UNIVERSITY OF WASHINGTON
UNIVERSITY OF WATERLOO
UNIVERSITY OF WISCONSIN – MADISON
VANDERBILT UNIVERSITY
VILLANOVA UNIVERSITY
WAKE FOREST UNIVERSITY
WALLA WALLA COLLEGE
WASHINGTON AND LEE UNIVERSITY
WASHINGTON UNIVERSITY
WESLEYAN UNIVERSITY
WEST BENGAL NATIONAL UNIVERSITY
WESTERN UNIVERSITY, CANADA
WHEATON COLLEGE-ILLINOIS
WILFRID LAURIER UNIVERSITY
WILLAMETTE UNIVERSITY
WILLIAMS COLLEGE
YALE UNIVERSITY
YESHIVA UNIVERSITY
YONSEI UNIVERSITY
YORK UNIVERSITY

Hi Karen,

The list on my post is correct because it is a screen shot from Harvard's website. Maybe we were looking at different law school classes. Mine is for the law students who will be graduating from Harvard in 2013.

Lynn O'Shaughnessy