Suggestions for the Mom Stressing About College
I want to thank everybody who offered advice to the single mom, who is anxious about her daughter's college options.
You can read all the comments and the original post here:
Today I thought I'd offer my own suggestions about the options for this teenager, who thinks that she might want to be a teacher.
1. Be a super student.
Students who are going to require considerable financial aid to attend college, should focus hard on their studies. Schools have a finite amount of money to give students and they reserve their best packages for the students that they covet. That often means teenagers with desirable academic profiles.
This California girls appears to fit into this category because she has a 4.0 GPA and has a couple of solid extracurriculars.
The mom didn't share what the teenager's SAT or ACT is, but the test scores are a secondary consideration at state universities in California and there are also plenty of test-optional private institutions.
2. Look for state money.
As some of the parents commented earlier, this teenager can qualify for the state of California's major financial aid program — the Cal Grant. You must have at least a 3.0 GPA to qualify for Cal Grant A, which is earmarked for students heading to four-year institutions.  As you can see from the chart, there is an eligibility income ceiling.
For a family of two, the adjusted gross income can't exceed $74,700. (Cal Grant B represent smaller awards for community college students.)
The Cal Grant covers the tuition (not room/board) at state universities in California and also provides close to $10,000 for recipients who attend a private college or university in California.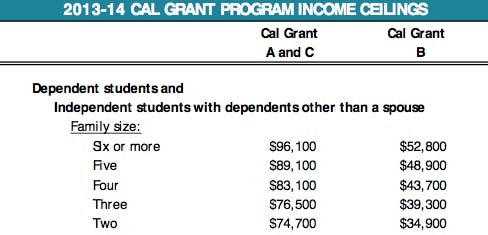 There is an additional requirement to qualify for Cal Grant money. Your taxable assets, as well as 529 college accounts, can't exceed a certain level. The asset test doesn't include retirement accounts.

If you are a California parent, it's extremely important to understand this: 
It used to be that if you didn't qualify for a Cal Grant, it was highly unlikely that your child would receive any help to attend a public university in the state.  The University of California and California State University systems reserves only a miniscule amount of money for students whose families don't qualify for Cal Grants.
California state universities, unlike many public universities elsewhere in the country, believe that their institutional money should be earmarked for the students with the most need.
This summer, however, the California Legislature passed the Middle-Class Scholarship which will help tens of thousands of families. It will offer sliding-scale tuition discounts of up to 40% for families making up to $100,000. For those who earn $125,000 it's 25%. The discount disappears for those making more than $150,000. (If the state experiences a budget deficit, funding for the scholarship can shrink by a third.)
Even with this new program, many California families will find that attending private and state schools elsewhere will cost no more than a public university  in California.
Let's go back to the mom, who was the focus of the last blog post: While the tuition for her child would be covered by the Cal Grant, the room/board would not. She should keep in mind that California state schools have some of the stiffest room/board charges in the country. The Middle-Class Scholarship will also not cover room/board or campus specific fees.
3. You don't need an education degree to become a teacher.
You don't need to major in education to be a teacher. In fact, education schools have been  harshly criticized for decades about the poor quality of their programs. To become a teacher, what you need is any bachelor's degree and then you can obtain a teacher credential. I wrote a post about the sad state of teacher education here:
Teacher Education Programs Flunk Out
As alternatives to traditional education-degree programs, there are some exciting things happening in this field with teacher residency programs that are springing up in cities across the country including Boston, San Francisco, Denver, New York City, Newark, Chicago, Philadelphia, New Orleans and Washington DC.
I've been doing research for my own son on these graduate residency programs and he will start applying to them in the fall. The graduates most in demand for these teacher programs are those with science or math degrees. (Ben is majoring in math.)
4. Pay attention to graduation rates.
The schools on the daughter's tentative list have four-year graduation rates ranging from awful to unimpressive. Schools on her list included California State U. Long Beach (12.3%), Cal State Northridge (14.2%), San Diego State (30.4%), Sonoma State (31.2%) , University of California Riverside (45.5%) and University of La Verne (49.3%).
Most families only plan for their children to attend college for four years, but that usually doesn't happen. This can add significant additional dollars to a budget that's already constrained.
5. Look outside California.
I'd URGE this girl to throw a wider net and look for generous schools throughout the country. Unfortunately, there aren't many schools with excellent financial aid in this state. There are a cluster of them among the extremely competitive Claremont schools, Stanford, Occidental and University of Southern California, but that's it.
It frustrates me when I see bright students who could have a chance at excellent financial aid outside the state, who insists on staying in California. That can be an incredibly costly mistake.
Hi Lynn, Tina, and others reading this blog,

In one of my earlier posts, I said that CA teaching credential programs require a 5th year beyond the BA. This is partially correct and partially incorrect. I will try to explain.

There are some credential programs called "blended" or "integrated" programs that are accelerated and combine a BA/BS with a Preliminary CA Teaching Credential in 4 years.

The downside of these programs are that:

students usually take 18 or 19 units both junior and senior years to fit in all of the classes required by their major and the teaching credential program. That is a lot!

If work-study is part of a student's financial aid package, that's on top of the 18 or 19 units!

A car is a necessity because the schools where student teaching will be done will likely not be near her university because there are particular requirements about economic and ethnic diversity of the students for student teaching and these K-12 schools are usually not located near a university.

However, blended/integrated have a tremendous upside:

if the student is receiving financial aid, the aid can be used for the credential program. (Undergrads get only 4 years of gift aid——no matter how long it takes them to complete their undergraduate degree.)

This was one of the issues I attempted to point out in my first post: that students who do a 5th year program (and most do, because it's extremely difficult to GET the classes needed for the BA/BS and the credential in 4 years) end up taking out loans to foot the entire bill for the 5th year because there is almost no gift aid for any work past the BA/BS.

If a student completes the blended 4 year program (BA/BS + Credential) they receive a "Preliminary Credential". This credential is good for 5 years. During the 5 years with the Preliminary Credential, a full year of courses must be completed in order to earn a "Professional Clear Credential". (So my hints from the earlier blog about needing units, not time, was incorrect. The units for the 5th year must be completed after the BA/BS.) These courses can be taken part-time night/weekends (spread out over 5 years, including summers) while the student is teaching and earning $. There is no real aid for these, either, but since the student is employed, presumably they can pay for it out of their salary.

If a student does the 5th year program (undertaken after the student receives the BA/BS), they are typically awarded a "Professional Clear". The big difference, as I tried to point out, is that there is no financial aid for 5th year programs beyond loans, leaving the students working two jobs or deeply in debt.

The research I was able to do (which was very difficult and is dated), named blended programs at quite a few of the CSUs. UC's included: Berkeley (math only), UCLA, and UC Riverside. Private colleges which have blended (or integrated) programs include: UOP, Pepperdine, St Mary's (Moraga), LMU, and Dominican.

My "free and friendly advice" would be to look hard at the CA private colleges if your daughter wants to do the 4 year program and teach in CA. I always recommend that students apply to CA public as well (both CSUs and UCs), because aid awards at private colleges can vary significantly. The "word on the street" that I hear from my clients (I am a college admissions consultant in private practice) and others is that getting out in 4 years from CA public, especially the CSU's, is nearly impossible, despite students' diligent efforts at trying to obtain the classes they need. They just can't get into the classes; classrooms have fire code laws, and the profs are limited by those constraints. There are fewer sections of needed classes than there were 5 and 10 years ago due to the budget cuts.

The colleges with the blended/integrated credential programs (the one that can, theoretically, be completed in 4 years) also have articulation agreements with their local community college feeder programs for students who want/need to go to community college and then transfer to 4 year. However, the "word on the street" from every community college student I know is that it is even more difficult to get all of the needed courses at a community college than it is at a CSU. For a variety of reasons, outside the scope of this blog post, community colleges in CA have been hit the hardest by the budget cuts and a variety of other social and economic factors, resulting in an unprecedented number of students trying to get courses. Students tell me they spend 3, 4 or more years getting their 2 year degree! But remember: there is only 4 years total of gift aid, and only 2 years of aid can be used for community college. There is no consideration for whether the student finished their intended program or not!

A fairly usable site for teaching credential info is:
http://www.teachcalifornia.org

The only list I could find online of which colleges have blended programs was from 2004:

http://www.ctc.ca.gov/reports/ABITPP-2004.pdf

The list is on page 28 of the report.
Some of the schools I listed above which are not on the 2004 list, I obtained by word of mouth.

The best way to find info re: blended/integrated credential programs would be to ask the Education department at the universities your daughter is currently researching. And I wouldn't hesitate to ask them how many students are able to complete all the needed requirements in 4 years, (i.e. can the students get into the courses they need?). Visit the colleges and ask lots of questions! You can also find most 4 year graduation rates at http://www.collegedata.com as well as the average aid award, percentage of need met, and average student debt at graduation. I am the parent of a high school senior this year as well, and this info varies widely, depending upon the school, so be sure to check it out! Finally, do consider looking out of state as well: many out of state SLC's meet a high percentage of student need.

Hopefully, this information was helpful and not more confusing.
Best wishes to you and your daughter as she embarks on this exciting journey!

PS: Go Mats! 🙂

Awesome information Karen! Thanks for your thorough description of teacher programs in California in this response and the previous one. I greatly appreciate all your effort!

Lynn O'Shaughnessy

One final thought:

There are quite a few jobs at K-12 schools (both public and private) which do not require a credential or a BA/BS and might be really good for a college student. Examples would be school crossing guard, playground/recess/lunch aide, classroom aide (usually for special ed classes), and after school programs. In fact, with your daughter's experience in track and dance, she could look into coaching (middle school or high school) or running an after-school dance program. There are usually K-12 schools near colleges, so a car may not be necessary; these schools might be reachable by foot, bike, or bus.

If your daughter earns 6 college units in early childhood education, she can be a preschool aide. I did this several summers during college.

In addition to the obvious resume and networking connections these jobs will provide, they pay more than many college student jobs, and for a future teacher, they are also more fun!

Karen, thanks very much for sharing this wealth of helpful information. You've offered many key points for consideration and thought. Your job tips are truly appreciated as well. My daughter will earn those college units in early childhood ed by the end of this year to support summer employment opportunities that may lie ahead. Your and David's suggestion regarding Resident Advisor is excellent. I never realized the opportunity existed and I think my daughter could do very well. Thank you again for the time you've taken to respond assisting me and certainly others out there. Very Best Wishes. PS Granada, always a favorite rivalry 😉

Hi!

My answers apply only if your daughter wants to teach in CA:

In California, a student CAN'T major in education. The closest thing would be "liberal studies", which students often major in if they want to teach elementary school. Students wishing to teach secondary (grades 7-12) usually major in the subject they want to teach (i.e. biology). However, students are not required to major in a particular subject for either elementary or secondary; technically speaking, they can major in any subject. They just have to fulfill the subject requirements of the credential program they want to enter. (i.e. secondary level life science).

California requires a "fifth year" of college to teach. In practice, this means that students complete their BS/BA, and then take another year to complete their teaching credential.

Though many students wishing to teach in CA do attend the credential program at their 4 year college, it is not required that they attend there. She can attend any credential program in the state of CA which admits her and offers the credential she desires.

Something to think about is that there is almost no grant or scholarship money given to students doing their credential in CA; there are only loans. With student teaching 15+ hours/week, + a full load of credential classes on top of that, most students are either a) working an additional job and barely sleeping, or b) they are nearly starving because it's difficult to live independently in CA and pay tuition out of the amount of a grad loan ($20,500 for 1 year).

An additional consideration is that in 2012, the federal gov't changed the student loan rules for graduate students; there are now no more federally subsidized student loans for students in graduate school (this includes teaching credential programs). This means if she takes a loan AFTER her BS/BA to complete her teaching credential program, she will be responsible for the interest accruing on the loans taken out AFTER the BA/BS. However, if she takes out subsidized loans in order to earn her BA/BS, interest does NOT accrue on those loans as long as she is enrolled in school at least part-time (including a teaching credential program taken after she graduates).

So, my advice would be this:

1. A student is in the best position to get aid, grants, and scholarships in the senior year of high school, and the majority of this money will come from a) the federal gov't, b) the state of CA—if she chooses to go to college in state, and c) the colleges themselves. Although she would NOT be able to use a Cal Grant out of state, the aid and particularly scholarships she might receive at an out-of-state private college might very well offset the loss of the Cal Grant. So, like Lynn, I'd really think twice about limiting the search to in-state schools. Cast a wide net in the beginning of the process with the applications (apply to both in state and out of state); she can always say "no" at the end of the process if she decides she really does want to stay in CA.

2. The fifth year (CA teaching credential) is UNITS; not TIME. One way around this would be to try to earn the BA/BS in 3 years instead of 4 by using the community college units she has, and earning more community college units during the summer if possible. (AP and IB units can also be used to do this.) Another option would be to look into the CLEP (College Level Examination Program) run by the College Board if she thinks she has the knowledge to test out of one of her college classes.

3. If she goes to school away from home, she should investigate being an RA (Resident Advisor) in the dorms (after frosh year). Students who want to become teachers make great RAs because they are friendly and like to work with people. There is usually no "pay", but the student receives free room and board (a $10-12K/yr value). This is more than a student can make at most other jobs, and it looks great on a resume when she applies to teaching credential programs. It's possible to do this for more than one year; I did it for two.

4. Since there are typically no (or very little) grants & loans for teaching credential programs in CA:

a. Don't assume that the school where she earned her BA/BS is the way to go. Apply there—they might have some institutional scholarships—-but consider a back up plan to live at home and go to the nearest CSU for the credential if it is within commuting distance. Another consideration might be to room with a relative in another city if that relative can offer free housing for her during the credential program.

b. Most CSU credential programs offer both a 2 semester and a 3 semester program. It's very difficult to work even part time in the two semester program, but do-able (part-time) in the 3 semester program if needed.

c. There are some schools that offer credential programs at night. Typically, these are extremely expensive tuition-wise, but if her financial situation requires that she work full-time after earning her BA/BS, this can be done. Usually students who attend these programs are making enough to cover tuition, or they're living at home with parents, or they take out loans. Of course, this lengthens the time in school, but it is an option. (examples in CA are National University, Chapman, LaVerne and others).

d. If she does need to work full-time after earning her BA/BS and work her way through a credential program (c, above), an easy job to get into is substitute teaching. The pay isn't a lot (+/- $100/day), the work is per diem (so she only works when called), and there are no benefits (health insurance), but it is possible to keep from starving. It's also great for building relationships with school administrators who might be looking to hire! A full teaching credential is not needed in CA; just the BS/BA and fingerprinting.

e. There are a few programs in CA where a teacher can work full-time while enrolled in the credential program. Classes occur nights and weekends.

f. For all CA Teaching Credential info, go to http://www.ctc.ca.gov
(ctc= CA Commission on Teacher Credentialing)

g. A full teaching credential is needed for CA public under most conditions, but not private schools. Another option to pay for the credential program might be for her to work at a private school while earning her credential part time or at night. Private schools can be religious or non-religious.

h. Be aware that schools typically start hiring around February or March thru August for the upcoming school year. In practical terms, this means that if your daughter graduates from a credential program any month other than May or June (i.e. the CSU 3 semester program might end in Dec), she may be going without a full-time job until September when school starts. Subbing during this time will help pay the bills, but it may not cover everything. (I subbed and worked nights and weekends in retail, working 12 hours/day, 7 days/week for months.)

i. Extra bonus points: there is a particular need in CA (really, all over the US) for science and math teachers (secondary) and special education teachers at all levels. If she wants to go into any of these fields, it is easier to get into a credential program, there are more options in the different types of programs she can attend, and jobs are much easier to find, partly because the need is greater and because there are fewer applicants to compete for those jobs.

j. If she teaches in a school in a low-income area, it may be possible to get some or all of her Stafford loans forgiven. There are restrictions and qualifications. For more info, see:
http://www.studentaid.ed.gov/sites/default/files/loan-forgiveness-for-teachers.pdf
or google "student loan forgiveness for teachers"

I hope some of this information is valuable; best wishes to your daughter as she embarks on this journey!

Thanks Karen for the awesome information. I think anybody whose child is considering teaching could benefit from reading this even though you were focused on the California system. It certainly is confusing.

Lynn O'Shaughnessy

I've been reading the small amount of information that is available regarding the Middle Class Scholarship and some caveats occur to me.

The program is slated to be phased in from 2014 with set amounts of increased funding each year until it is fully functional in academic year 2017/2018. What will this mean for students starting college in 2014? Will the full discount apply? I can't seem to find details on this.

As Lynn mentions there is a provision that funding for the program can be cut by a third if California has a budget deficit.

As the funding increases in set amounts each year until 2017 what happens if University of California increases tuition? Will additional funding be found? If not will fewer students be covered or receive lower discounts?

If, as the Mercury article that Lynn linked to suggests, families who would otherwise go private or out of state are attracted by the scholarship and their children apply to UC will this increase the problem of impacted courses and/or competition to get into UC?

Hopefully we'll get some answers to these questions before the program is underway.

Lynn, I wish to thank you and all of your wonderful readers for valuable input, comments and insight. I appreciate the recommendations.

I believe I can meet the $64,300 asset ceiling for Cal Grant consideration. One possible option to reduce reportable assets is to contribute existing savings to my Roth IRA. I've learned, however, that if I plan to target this money for college expenses I should withdraw and apply it during the last enrollment year otherwise it would have to be reported as untaxed income on the following year's FAFSA defeating the original objective.

The big hurt becomes those hefty room and board fees and dismal graduation rates you mention. We would have to hope for institutional grants and scholarships but even those come at a price. If used for room & board I believe they are taxable and need to be reported as student income the following year. And if Federal rules require a college to consider outside scholarships when calculating a financial aid package, I'm left to wonder whether the college will reduce the loan portion or grant portion first.

Then there is that harsh reality. Even with my daughter's solid academic hs record (she scored 1670 on the SAT for those inquiring) it sounds like the best chances for financial gifting lie outside this not-so-golden state of California. Overcoming her reluctance to relocate too far from family will make casting a wider net quite challenging for me however. UNR could be a possibility though.

Tina, One thing to consider is that your daughter, if she chooses, could become a Resident Advisor. The "pay" is room and board, and in many cases isn't considered as income. Its not a scholarship, or a grant. It's a great way to cut a significant part of your college expense, and make great friends while saving money over a few years. Many of the CSU's and UC's all have dorms. Check into it. Good luck!

I am the daughter and wife of school teachers. One of my children plans to teach as well, and we are very supportive of this choice. However, our son has been informed that he can major in any academic subject of his choice, but we will not be paying for an education major. That's how strongly our family feels about the quality of an education degree.

Hi Phoebe,

Thanks for sharing. As someone who grew up in an extended family of educators (superintendent, principal and many teachers), I think it's a national scandal how poor the preparation is for students who obtain education degrees. I hope the tide is turning with residency programs and a growing focus on learning outcomes for all college students.

Lynn O'Shaughnessy

Lynn – I would be really interested in your take on how the new "Middle Class Scholarship" championed by John Perez and now passed by the California legislature will affect students who will be applying from next year onwards. As I understand it, the scholarship will be non-repayable and will offer a 40% reduction in tuition fees for families making less than $100K, and up to 10% off to families making between $100K to $150K a year. Do you think that this would reduce the financial burden for families such as the one mentioned above, or do you think that University of California will raise tuition?

I totally agree with #3, you absolutely do not need a degree in education to become a teacher. My degree is in biology and after surviving the ringer of my degree, the certification process was simple and straight forward. I feel it helps me stand out in the pool of applicants as I'm eager to teach laboratory sciences while most education majors avoid the area completely.

Also, this past summer, I was able to put my degree to use at a local research facility. I know of teachers with finance degrees who work for financial institutions during breaks. All of these interim positions bring considerable value back to the classroom in August and can break the monotony of the same subjects year to year.

Thanks Lauren for sharing your teaching experience. I think majoring outside of the education field will make a student more marketable — and particularly for those majoring in a STEM.

I never thought about the summer job possibilities that come with not having an education degree!

Lynn O'Shaughnessy

I completely agree with your advice, in particular, point #5. WUE schools offer some options, but an even finer education can be had all across the midwest. The amount of merit aid offered by several midwest colleges to my SoCal son (who was a good student, but not great) was very surprising and made college affordable for me.

I know a lot of parents who freak out about the distance from home, and probably pass on that anxiety to their kids. But airfare is not that bad if you plan for it, and there are many ways with new technology to connect in between visits home. Plus, as I'm sure you've seen with your kids, Lynn, they mature in wonderful ways when they are studying far from home.

Denise — I agree that the anxiety about leaving the home state for college often comes from parents. This is so unfortunate and shortsighted. My son can fly nonstop from San Diego to Chicago and take a bus (they operate nearly 24-hours a day) and be at his school (Beloit College) in about the same time it would take a student in San Diego to get to UC Santa Cruz by air. Also, the impact of air fare can be reduced by healthy scholarships or financial aid. In addition, car insurance can be shrunk to almost nothing when students leave a state without a car. Talk about a savings.

Lynn O'Shaughnessy