Some Surprising College Super Stars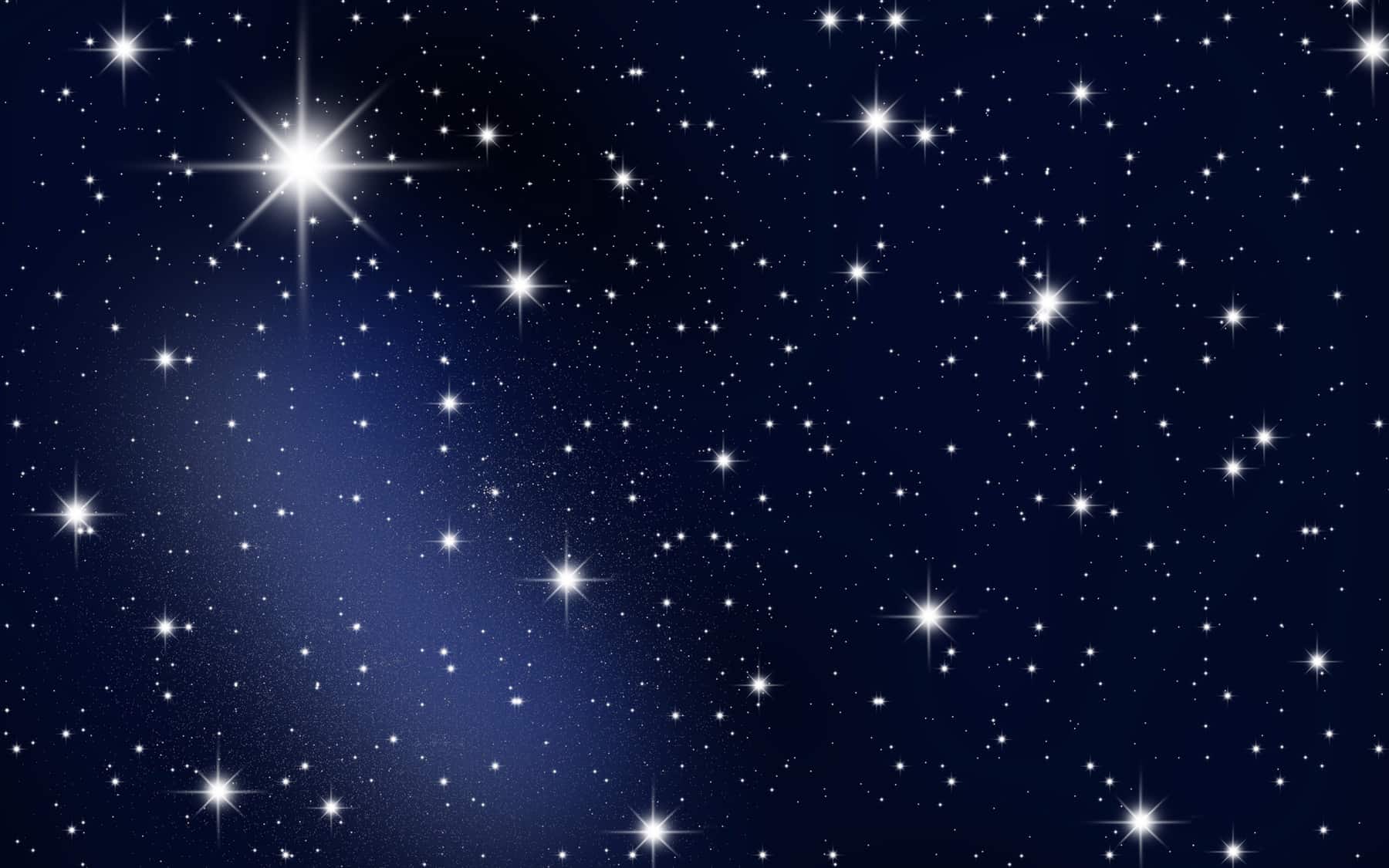 Can you guess what the following schools have in common: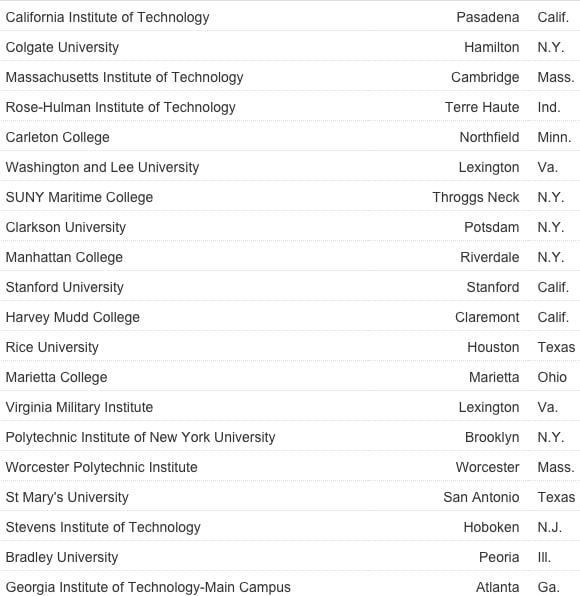 More Than a Mish Mash
Admittedly, this list looks like a mishmash of institutions that includes some of the nation's prestigious research universities along with specialty engineering schools, liberal arts colleges and master's level universities.
These colleges and universities emerged as super stars in a new value-added college ranking system developed by the Brookings Institution that focuses on measuring just how big of a boost that colleges and universities give their grads in terms of their earnings power and mid-career salaries.
According to the think thank, the schools that made the list above, in the order that you see, provided their grads with the best value-added boost to their mid-career earnings. Brookings Institution measured what students at these schools would likely have made based on such things as their student demographics and majors and then how much they exceeded or failed to exceed those levels.
Schools at the Top
In the No. 1 spot, graduates of Cal Tech with 10 years of workplace experience where salaries were 49% higher than what would have been predicted. The average grad was making $126,200.
The graduates at Colgate University, a liberal arts college in New York state, were earning 46% more than would be expected with an average salary of $126,600.
In a recent post that I wrote for CBS MoneyWatch, I explained one of the key differences between the Brookings' rankings and U.S. News & World Reports' flawed rankings, which are fixated on the selectivity of incoming students and not on the education they receive. U.S. News relies on proxies for educational quality, but these proxies are dubious at best.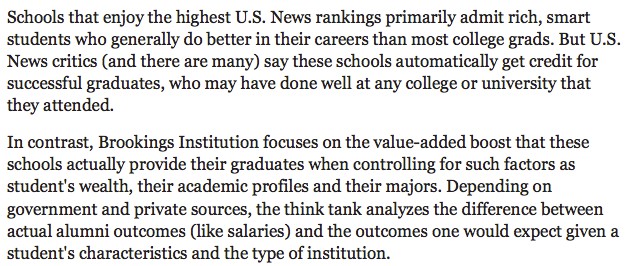 Brookings also looked at the value-added boost (if any) that schools gave their alumni in occupational earnings power. You can look at how schools fared in this category too, as well as the track record of alums in repaying their student loans.
Use Rankings as Tip Sheets
Keep in mind that all rankings have flaws!
I STRONGLY suggest that you use any rankings simply to get ideas for potential schools and not believe that an institution that's No. 1 on a particular scorecard is automatically better than No. 10 and that school is better than No. 50 or a school that didn't even make it among the top 100.
For instance, there are schools in the impressive list above, including Bradley, St. Mary's, Manhattan, Clarkson and Marietta, that would normally slip under nearly everyone's radar.
Accessing the Value-Added Numbers
Here is where you can access the database of schools (four-year and two-year schools) in Brookings Institution's database and download the report.
To access the database once you're on the site, click the View college data link.

When you get to the think tank's College Value-Added Data Explorer, you can sort by the three categories that I've highlighted with red arrows. Below, you'll see the next highest performing schools in the list that I shared at the top.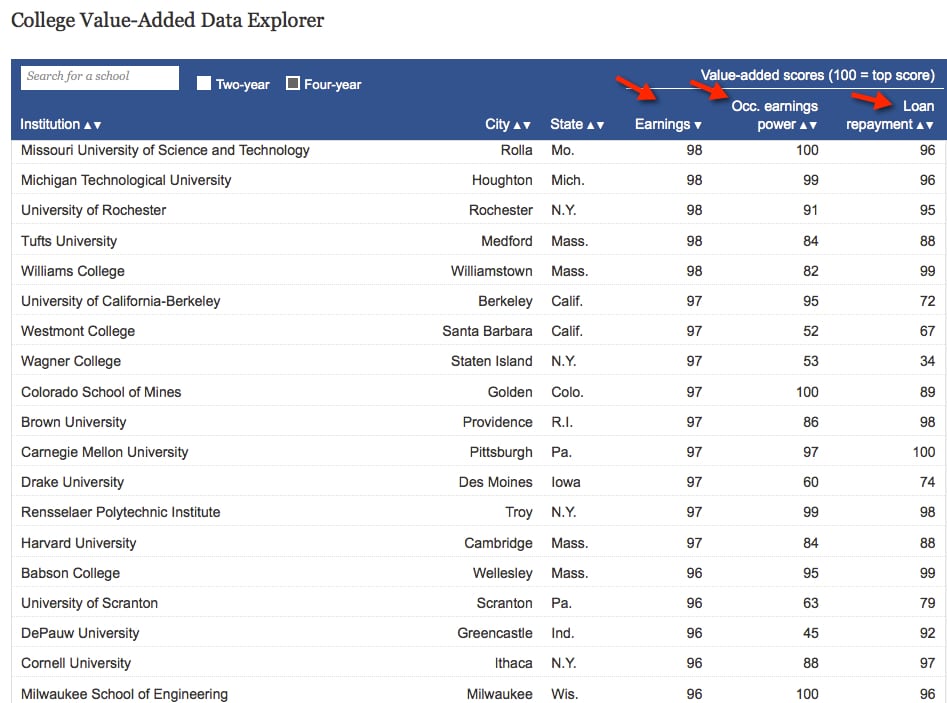 Checking Individual School Stats
You can click on any school in the database and access stats for that institution. Here is a partial screenshot of what you'll find for Marietta College, one of the highly ranked schools: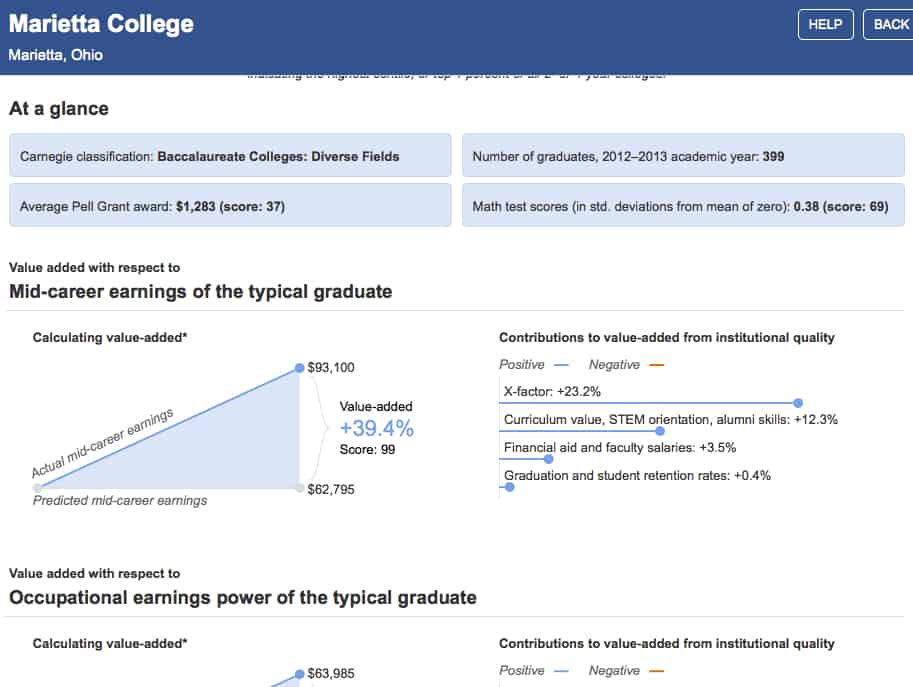 Learn more…