Skip the College Wait List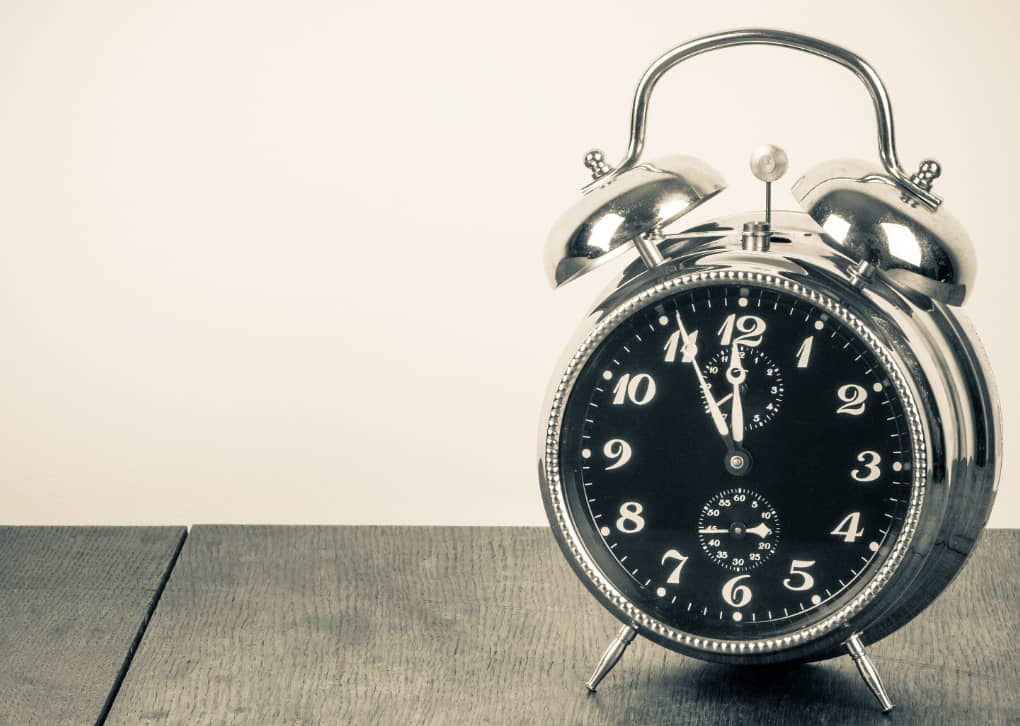 This is the time of year when students are getting offered spots on waiting lists. I wanted to share a previous post that I wrote about waiting lists that is just as relevant today. 

This weekend I heard from old friends who wanted to share with me stories of brilliant students who got shut out of elite universities.
At a party, a former colleague of my husband's mentioned that he was stunned that his son's friend didn't get into Stanford University. The boy is a stellar student and he only missed two or three answers on the SAT.  He is a gifted jazz musician and throughout the party we were listening to an amazing recording of his jazz quartet.
Yesterday a dear friend in Maryland told me about a young man she knew who was rejected by Johns Hopkins University and some Ivy League schools. This young man has been doing research at Johns Hopkins during his summer vacations and his extracurriculars were just as long and impressive as the kid from San Diego.
"Can you believe that this boy got rejected from all these schools?" my friend asked. I think I startled her when I said, "I'm not surprised. In fact, I would have been shocked if he got in."
I am always amazed that brilliant children and their often accomplished parents have a disconnect when it comes to their admission expectations. When they look at Stanford's admission rate of 5%, they don't seem to think it applies to them. If anybody can explain this, I'd love to hear it.
The plight of these teenagers reminded me of two of my previous posts:
What's Wrong With College Dream Lists
Stop Fixating on These Colleges
Trying to Beat the Wait List Odds
I'm bringing this up today because many of these spurned students are now hoping against hope that they will be plucked off the wait list of their dream college(s). I heard from one of these teenagers last week who wanted advice on how to get off the wait list of the University of Notre Dame.
I am equally surprised that students think they can get lucky on the wait list. My advice to them is simple:  Forget it. Move on and be happy with one of the schools that would truly love to see you in its freshman class.
Finding a School's Wait List Statistics
It's usually futile to hope for a wait-list rescue.  You can find the wait-list odds of a school by heading to the College Board's website. Type in the name of any school and when you are directed to its profile, click on its Applying hyperlink.

Let's take a look at the wait-list odds for Notre Dame. (NOTE:  I pulled the Notre Dame figures that you see below from the College Board last spring. When I tried to update the statistics moments ago, I discovered that Notre Dame stopped sharing wait-list stats with the College Board. I guess Notre Dame didn't want to be embarrassed by its wait-list practices!
During the past admission season, the school offered 1,521 students a place on its wait list and 806 students accepted the invitation. How many students got accepted from the wait list? ZERO!
As you can also see, the number of applicants offered a spot on Notre Dame's waiting list was not much lower than the school's entire freshman class!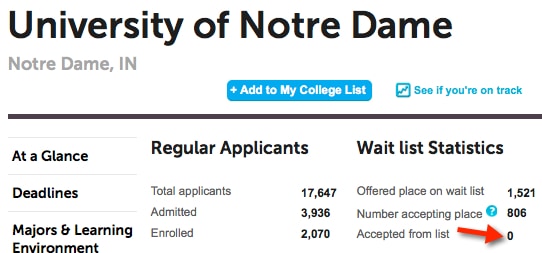 Dartmouth College's Wait List
Notre Dame is hardly the only school stiffing hopeful teenagers on its wait list. It took me 20 seconds to find another example. As you can see below, Dartmouth offered 1,855 applicants a spot on its wait list for the 2014-2015 school year and 1,133 accepted.  Not a single soul, however, was accepted off this list.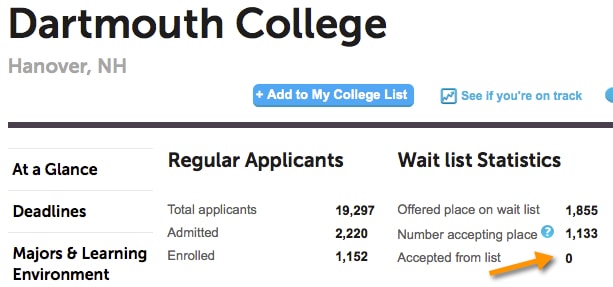 Wait List Overkill
The wait list numbers for a particular institution will vary every year, but at elite schools the odds will always be lousy.  During the 2012-2013 school year, for instance, Notre Dame offered significantly more students a place on the wait list (2,461) and 1,153 accepted. The school eventually plucked 86 from the list. And the year before that,  951 applicants accepted a place on the Catholic university's wait list, but the school only offered admission to seven applicants.
Abusing Wait Lists
Why do schools place so many kids on their waiting list when there is little to no chance of getting off of them? Because they can.
Schools use their wait lists as a way to manage their admission yield. They'd rather put more students on a wait list and pluck teens off as needed than accept more students and then see too many of these teenagers spurn their admission invitation.
Schools want to be in control of saying, "No." And when they say no to more students, they look more selective which appeals to families looking for elite schools.  And U.S. News & World Report's also rewards schools that reject more applicants.
One major reason why highly ranked schools are placing more students on wait lists because admission administrators are stressing out that ambitious applicants are applying to a very large number of elite schools and they can't get a handle on which teens would accept an invitation to their school.
With help from the Common Application that makes it easy to apply to many schools, some high-achieving, affluent students are treating college admission to elite schools like a high-stakes lottery. The application mania also explains why prestigious private schools are accepting more early-decision candidates whom they can lock up early.
Using a wait list is also a way to reject students without completely demoralizing them. It can be a helpful tool, for instance, to turn away students of alumni, who are not desirable candidates. Some students see an invitation to a wait list as something to even brag about. I'm not joking.
The wait list also allows some schools to generate more revenue by not offering financial aid to anyone rescued from their lists.
What I find sad is that so many students are pinning their hopes on suitors that have spurned them. This prevents these teenagers from getting psyched for their grand adventure at whatever colleges they end up attending.
Don't let this happen to a child you love!
While I agree that colleges are wait listing way too many applicants (my daughter was wait listed at 5 schools and stayed on 2), there is hope that u will get off. My daughter was called on April 29th and offered a spot off the wait list of her #1 choice school. She had sent in an e-mail updating her resume and a writing sample and also called the admissions office. So, my advice is to be happy with the schools you got in to, get excited about the one u choose to attend, but stay on the wait list of any school you really want to go to. Know that you probably won't get off the waitlist but, who knows, maybe you will!

My son applied to reach, reasonable and safety schools. 8 total. He was rejected from 5 and waitlisted on 3. Zero acceptances. Since he is a top student in California, he was given a guaranteed spot at a UC campus –They offered him Merced, a campus he did not apply to. We literally had to go to google to see where this campus is located. He lives much closer to Irvine, San Diego and Santa Barbara all of which waitlisted him. He has a 4.4 GPA and a 35 ACT and a 1560 SAT. He did an engineering internship last summer. He is an amazing and talented kid who deserves a great school. Why is he waitlisted at 3 schools when we know his scores are already much higher than 75% of students who apply there? We didn't expect him to get into UCLA or Berkley or Stanford, but the other reasonably high ranking UC schools we did expect to offer him a spot. Why don't they ask the kids which schools they would accept right away if offered a spot? Now he has to accept at Merced and HOPE he gets a spot and one of the other 3 because he really doesn't want to go to the "Consolation prize" campus. This makes him feel like a failure.

We were surprised when our student was called this week, and was admitted from the wait list at Wake Forest. Maybe this year is different from past years. We are glad she decided to move forward and commit to a college, but also keep her name on the WL. It doesn't work for everyone, but it has for her.

Congratulations to your daughter! She definitely beat the odds! I wish her luck at Wake Forest!

Lynn O'shaughnessy

My daughter was wait listed at Wake Forest. It was interesting to see all the details of how it would work: 3 dates that you would stay on the wait list till, a phone call if you were given a spot, 24 hours to accept your offer. We saw it as a victory to be placed on the wait list as opposed to being rejected. So many high level students were placed on the wait list with such amazing credentials and talents. It was the only "reach" school that she applied to and she cast a wide net all over the country. She will probably go to NCState, where they gave her a good package as an out of state student. Thanks for the information you provide. It really helped.

My Daughter , like so many students with the grades the schools and all the sugar added on top was rejected by 6 and wait listed by 2 only if she would change her major. Ha Ha Ha , And yes, she is the Valedictorian of her senior class. She decided to not wait around, applied to local private schools who awarded her within one week 20,000 each year for her merits. We found out the other colleges would not allow us to pay for tuition, they simply did not accept her. We filled out the FAFSA, and did not have the option to pay for full tuition, which we can. Our Student now feels like the failure after working so hard to get accepted of a deserving education, unlike Legacy applicants with far less qualifications, and will probably not be able to graduate without their parents purchasing the diploma. College Admissions is a big sham, and is unlawful. I believe the Ivies, and ND, GT and alike will be known as the "the Rich kid "Dummy Schools". They will not be turning out any Nobel prizes in the future.

Hi Sue,

The problem is that your daughter applied to a very tiny slice of schools that happen to be popular with top applicants. Being a valedictorian is meaningless when you only apply to the schools at the very top of the rankings. Throwing a wider net is always preferable.

Lynn O'Shaughnessy

This is extremely well said; sad but true. Why string students along when there is no hope….. I am not sure that you have experienced this but what about the early decision applicant who is deferred and then wait listed ? Is there a greater let down for these truly outstanding seventeen year old students?

Hallelujah! My daughter got into her favorite (Reed). However, before the good news, she got on four waitlists. Let me say, being put on the waitlist doesn't ease the letdown and it's totally confusing. Just another ridiculous part of the process.

Great post. It seems to me that these waitlists give false hope to majority students. That's not to say that students don't get accepted after being on a waitlist, but your advice is well put and backed up with great stats. Students need not wait for their number 1 to get back to them when their are other great programs out there willing to accept them right away. Thanks for posting!

While it is certainly true that the most elite colleges and universities in the US wait list hundreds of students each year with little intention of admitting and students from the wait list, there are many excellent schools out there that traditionally go to their wait list each year, and at those students at least have a fighting chance. In my experience as an admissions counselor, wait listed students who called, wrote letters and "made noise" were more likely to be admitted. There was still financial aid available to students admitted from the wait list, though a family's ability to pay was a consideration.

I don't like the games schools play with wait lists, and everything you described above (soften the blow, maintain alumni relations, U.S. News rankings, etc.) is accurate. But it's not all gloom and doom. If you're only looking at the top tier schools, chances of any movement on a wait list are slim. However, if you are wait listed at a school one or two (or more) tiers below that, you have a more realistic shot. Indicate your interest in remaining on the wait list, make some noise and see what happens!

Hi, Lynn–Thanks for the post–as always. I always thought one had to dig through Common Data sets to find waitlist stats; I'm glad they are accessible on a site like the CB which gets a lot of student and parent traffic. Leigh Moore

Then there are those, who do get deferred and then get in, like my daughter to princeton. We never believed it.

Congratulations Laura!

Lynn O.