Sharing a College's Return on Investment
In my last post I discussed a serious dilemma facing families searching for colleges.
When we send our teenagers off to college, we expect that our children will return to us smarter, wiser and employable. But it's nearly impossible to determine which schools are in the best position to help make this happen. Here is the post:
Without hard data on learning and job outcomes, families tend to turn to college rankings, which are not proxies for academic quality. Rankings simply serve as a measure of a school's wealth and prestige (whether it's deserved or not).
 A Trailblazing College
In the face of this dreary reality, I am excited to pass along what one trailblazing school is doing to share its return-on-investment results.  Recently St. Olaf College, a highly respected liberal arts college in Northfield, MN, devoted considerable time to tracking down where its 2011 graduates had landed after earning their bachelor's degree.
The college recently posted amazingly detailed employment information on its website for all to see. Every year, the college intends to add the job placement details of the newest graduating class to its database.
After gathering data for 92% of its 2011 graduates, St. Olaf concluded that 98% had a job or full-time volunteer work.  Twenty eight percent were furthering their education in  graduate or professional schools and 70% were in the workforce, in the military or involved in volunteering with such organizations as the Peace Corp, Americorp and Teach for America.
What I found particularly helpful when using St. Olaf's database is being able to drill down and see what jobs students obtained for individual majors. When I looked at French majors, for instance, I saw one grad had won a Fulbright scholarship, another student was working at the French Ministry of Education and yet another was working at a healthcare corporation in Madison, WI.
Here is where you can check out  St. Olaf's Return on Investment page.
The Case for the Liberal Arts
Clearly what St. Olaf is doing is making the case for a liberal arts degree. I agree with the liberal arts supporters at St. Olaf and elsewhere who argue that the liberal arts are relevant in today's job market. Employers are always going to need graduates that think and reason critically and can write cogently.
Liberal arts, however, are under siege because many parents and students believe you need a practical degree to get a job.  Perhaps because liberal arts colleges are feeling the heat, they appear to be at the forefront of innovation in this area. A recent article in The Chronicle of Higher Education, which mentioned St. Olaf's database, made this observation:  "Some of the most innovative ideas for helping recent graduates find work are coming from a sector that has long felt uncomfortable with the concept of preparing their students for jobs:  liberal arts colleges.
Q & A with St. Olaf's President
I was so impressed by what St. Olaf is doing that I asked David Anderson, the president of St. Olaf about his college's decision to obtain and share its ROI data. Anderson, who was traveling in Norway, was kind enough to peck out his answers via email.  Anderson provides a video explanation the school's new ROI database here.
Q. Why did St. Olaf decide to track down and release job outcomes?
A. Two main reasons, really.  First, students and their families want to be able to evaluate the investment they are going to make in a liberal arts education, just as they would any investment, and it is our responsibility to provide them with clear, accurate, transparent information that enables them to make this evaluation.  Part of the relevant data they want to consider is the employment outcomes of our students, so we provided it.  Higher Ed in general needs to provide more and more transparent information about its operations.  This is a good start.
Second, this information is also very helpful to current students who are engaged in vocational discernment and who are helped by seeing what other English majors or Philosophy majors etc. are doing post-BA.
Q. What should families do with this information?
A. The decision about where to attend college is obviously a complex one, and the benefits and outcomes are both tangible and intangible.  But employment outcomes of graduates is important and relevant information, and I invite families to include it along with the other information they gather in considering the right college choice for their student and their circumstances.
Q. What other schools are you aware of that are also releasing job outcomes?
A. I believe that Bucknell University does this as well. Most don't go to this level of detail.
Q. Are the typical statistics that colleges and universities share about the percentage of students getting jobs out of college and heading to grad/law/medical school meaningful? Aren't these statistics typically self reported and consequently leave out many underemployed or unemployed students who are more likely not to respond?
A. Yes, they typically are self-reported, and so must be evaluated carefully.  For example, is the percent with jobs a percent of all graduates or only of those who responded to the questionnaire? That's why we have provided so much detail with our report.  You can tell exactly how many students graduated, exactly how many reported their outcomes, and exactly what those outcomes are.  This should be the standard for all such reporting.
Q. How difficult or easy was it to track what grads were doing
A. Once we decided that we were determined to get this information, it wasn't that hard.  As with most things, patience and persistence won the day.
Q. Do you think the pressure for institutions to generate and share learning/job outcomes will prompt more schools to follow St. Olaf's lead?
A. That's our plan!
Q. Do you think the federal government will have to mandate some sort of student-learning and job-market outcome requirements that will be tied to federal aid?
I would prefer to let the market impose that requirement, not the government, at least for not for profit colleges and universities.
Bottom Line:
I hope many colleges and universities follow St. Olaf's lead. Families desperately need this transparency.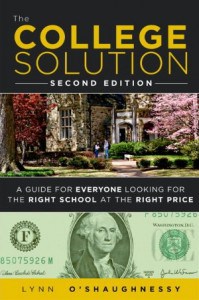 Lynn O'Shaughnessy is the author of the second edition of The College Solution: A Guide for Everyone Looking for the Right School at the Right Price.