Seniors Applying to College: You Need a Plan!
Today's college blog post was written by Alison Cooper Chisolm, who heads the college admissions consulting practice at Ivey College Consulting. Prior to becoming a college consultant, Chisolm worked in admissions for more than 10 years at three selective universities (Southern Methodist University, University of Chicago and Dartmouth College).
Chisolm is the co-author of How to Prepare a Standout College Application: Expert Advice that Takes You from LMO* (*Like Many Others) to Admit,which will be released this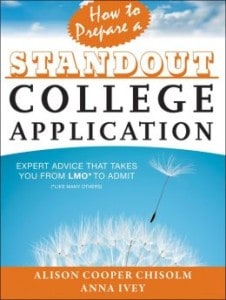 month.
I am looking forward to reading her book.
By Alison Cooper Chisolm
How do you tackle applying to college? Short answer: with a plan.
Map out what you are going to do when and then you work your plan. It is both as easy and as hard as that. Here are 5 tips for making a plan that will help you get your applications done with a minimum of stress and drama.
Tip #1: Make a plan that allows you enough time to get it all done.
You can assume that you will devote about 100 hours total to complete 8-12 applications. We know that sounds crazy, and you're thinking that it couldn't possibly take that much time. But trust us, it will.
If you budget 100 hours, what's the worst that can happen? You find yourself in the happy situation of having more free time than expected. Compare that to what happens if you fail to budget enough time for your college applications. You'll have to scramble to make time when you are under serious pressure, and it won't be pretty.
Tip #2: Make a plan that is based on the application requirements for each college on your list.
Do you actually know what each college requires? I'm guessing you don't.
You probably have a general idea, but you haven't actually done the research and gotten all the details. You need the details. A college application is not a single form that you complete and submit online; it is a set of materials that come together into an application file.
What is the full set of materials required by each college on your list?
What comprises your part of the application?
Is it the Common Application alone?
Or the Common Application plus a College Specific Supplement?
Or does the college have its own application? What supporting materials do you need to submit?
A transcript?
A test score report?
One teacher recommendation or two?
Are there any supplementary materials that you are required or would like to submit?
What are they and what format is specified for them?
Are evaluative interviews a part of the process?
If so, what do you need to do to request one?
Are you an international student or a home-schooled student? If so, check if there are different requirements for you.
In other words, go to each college's website and educate yourself about the details of each and every application that you need to complete.
Tip #3: Make a plan that capitalizes on any opportunities to "do it once and use it twice or more."
Once you know what each college on your list requires, you can determine what opportunities you have to "do it once" and "use it twice or more." It probably goes without saying that the Common Application is a wonderful "do it once, use it more than once" opportunity.
But beyond that opportunity, are there others? Many of the questions on college applications are similar to each other and you will probably find that you can use one answer for multiple applications.
One important caveat: Don't reuse answers unless they actually respond to the question being asked. Doing that saves you time at the expense of getting in. Not a good idea.
Tip #4: Make a plan that structures your work "application by application."
This is a strategy we learned from writer Anne Lamott, who recounts this story in her book, Bird by Bird: Some Instructions on Writing and Life: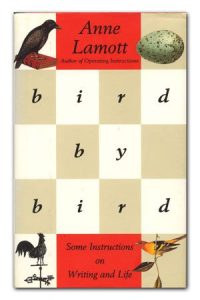 My older brother was trying to get a report on birds written that he'd had three months to write, which was due the next day. We were out at our family cabin . . . and he was at the kitchen table close to tears, surrounded by binder paper and pencils and unopened books on birds, immobilized by the hugeness of the task ahead. Then my father sat down beside him, put his arm around my brother's shoulder, and said, "Bird by bird, buddy. Just take it bird by bird." (pp. 18-19, Kindle Edition)
Our advice mirrors the father's advice: "Application by application. Just take it application by application."
Tip #5: Make a plan that allows you to beat the submission deadlines by at least a week, preferably two.
College application submission deadlines are firm and there is little or no forgiveness for those who miss them.
At many colleges, if you fail to submit your application by the deadline, your chances of acceptance are exactly zero, because your application will not be considered, no matter how legitimate your excuse and no matter how much you beg and plead
If you make a plan that allows you to beat the submission deadlines, then even if everything goes wrong (computer crashes, your school is suddenly shut down due to environmental hazard, dog eats your application, whatever) – you have time to recover and still meet the application deadline!
© 2013 Alison Cooper Chisolm, co-author of How to Prepare a Standout College Application: Expert Advice that Takes You from LMO* (*Like Many Others) to Admit. You can follow her on Twitter @IveyCollege.
This is great advice, applying to college was one of the most stressful things of my senior year and I wish I had planned it out a bit better.

JC sounds very organized! I wasn't quite as organized but I did create a spreadsheet that became invaluable as I helped my son progress through the stages of looking for and applying to colleges. Version 1 included about 25 colleges with details about GPA required, size, likely cost (after using net price calculators and more), % of need met, diversity, specific things he wanted in a college, and potential red flags. We added categories as he went along and dropped others. Every week, the spreadsheet became more meaningful, helpful and a touchstone for what mattered and what didn't. (Fortunately, he did not care whether a school had a "big name" – that really leveled the field.)

I emailed this spreadsheet to his counselor before we met to discuss colleges. Then the counselor went through each college and told us which were the best bets for my son, where he was likely to get good merit aid, and the ones he had slim chance of getting into. It made it a lot easier for the counselor and a good way to use his knowledge without jumping all over the place. In the end, we had a good idea of which schools to reach for, target and so on, helping my son narrow it down to 11. Eventually, he applied to 9, got into 6, visited 3. Because all his top picks were more than 2,000 miles from home, we visited only after he was accepted and got a look at his merit aid.

I think "Bird by Bird" is the perfect analogy for the whole process, and the only sane way to approach it. The earlier you start organizing your info, the better. Then, it's pretty simple and a whole lot less stressful than what I've seen other parents go through.

That's great advice. It is so easy to feel overwhelmed by the process. I would expand tip #2 to add something that really helped here. We made a spreadsheet that listed each college: what was required and when it was due. As my daughter completed things and then sent things in, she recorded it all on the spreadsheet with the dates. No missed deadlines! This was key because some schools she applied to had specific (early!) deadlines to qualify for special scholarships. Of course, this is very useful for schools not using the Common Application, but it is also helpful for keeping track of materials that are sent in that are not included with the electronic submission on the Common Application. It is HUGE help when a school has multiple essays required for the supplement and/or scholarships.

She also had a folder for each college application. Mostly that was to organize correspondence (questions to adcoms, interview thank yous, etc). Though it was probably a bit of overkill, stapled to the inside cover of each folder was a sheet that listed what was required so she could just record it there as well.

J.