Searching for Colleges by Price Tag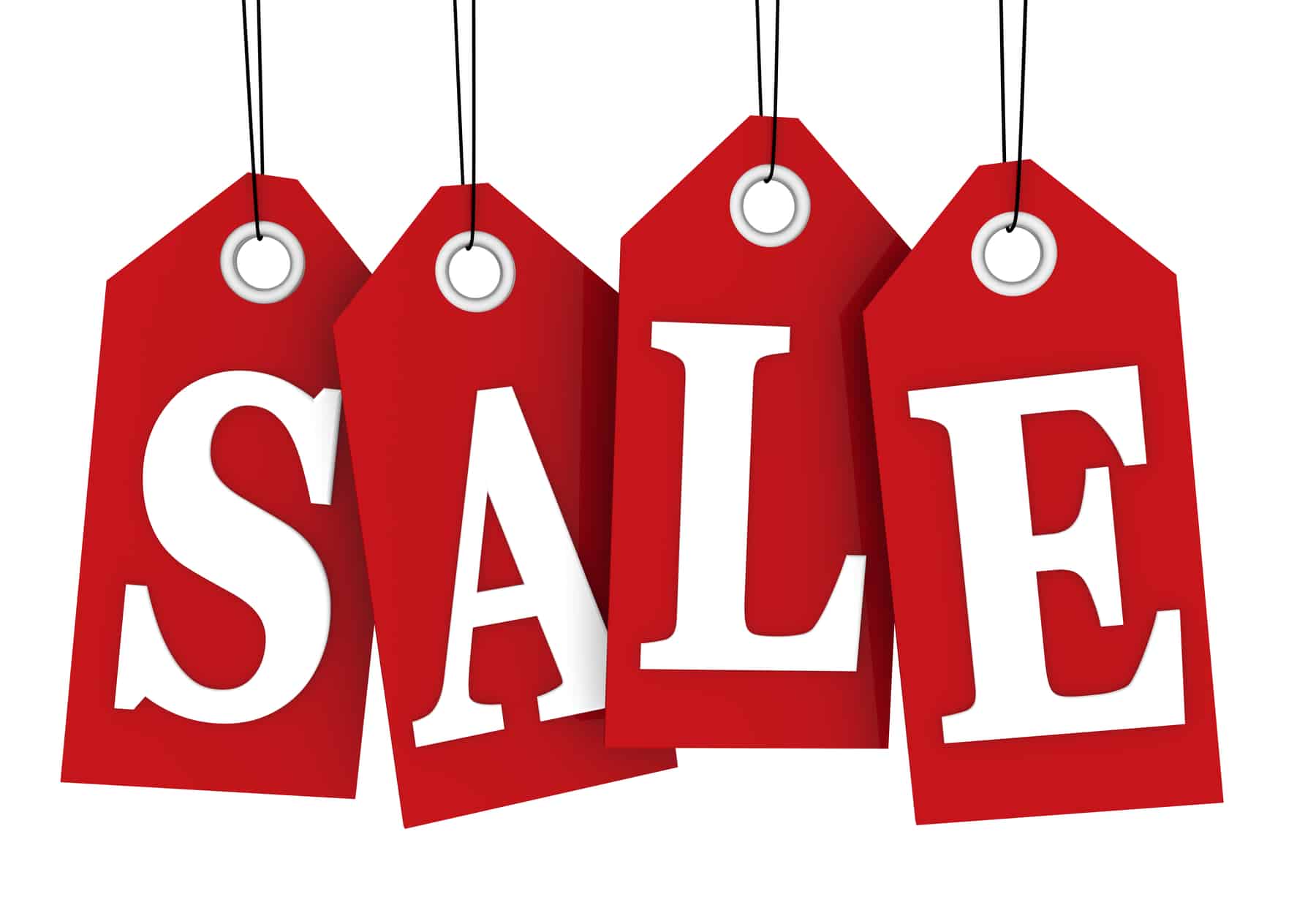 College price tags are meaningless. Most students do not pay full tuition price for college.
That said, paying attention to college prices can be extremely helpful in making college more affordable.
Here's a simple example:
Getting a $20,000-a-year merit scholarship from a school that has a published price of $45,000 will obviously make a college much more affordable than receiving the same award from a school priced at $65,000.
Sorting Colleges by Price
Today I'm excited to share with you a helpful tool that The Chronicle of Higher Education has recently updated that will allow you to sort through 3,000 schools by 2017-2018 sticker prices.
With the tool, you can identify schools by price in these categories:
Private colleges.
Public colleges.
Two-year public colleges.
Two-year private colleges.
Using this tool, officially entitled Tuition and Fees, 1998-1999 Through 2017-2018, you can conduct a search for schools in any of the above categories or all of them simultaneously either nationwide or by state.
Nation's Most Expensive Colleges and Universities
To illustrate what you can do with the tool, I generated the list below of the nation's most expensive private colleges and universities.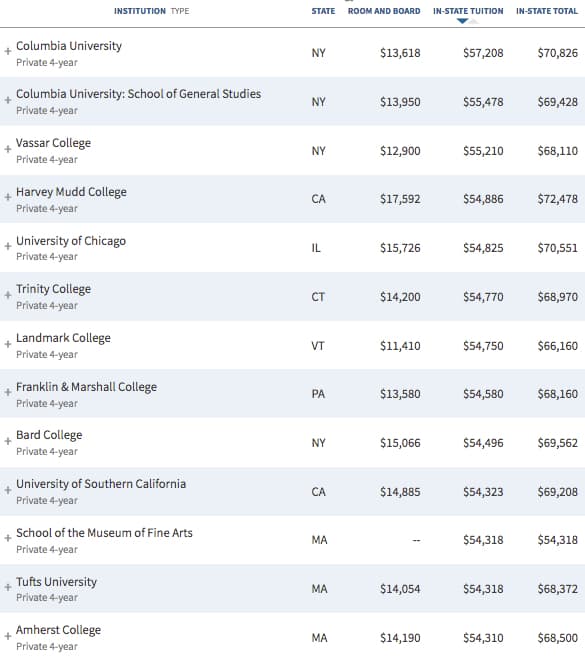 Not surprisingly, the nation's most expensive schools are nearly all elite institutions located on the East Coast.
Using the Database to Find Bargains
Dig a little deeper with this database and you'll find valuable pricing trends that would otherwise be hard to identify.
To demonstrate what you can find, I checked prices in Ohio, which has a large number of private institutions that are competing for students in a state with declining high school students.
I created a list of private schools based on price and here is a screenshot of the most expensive private colleges and universities in Ohio:
Ohio Schools Based on Price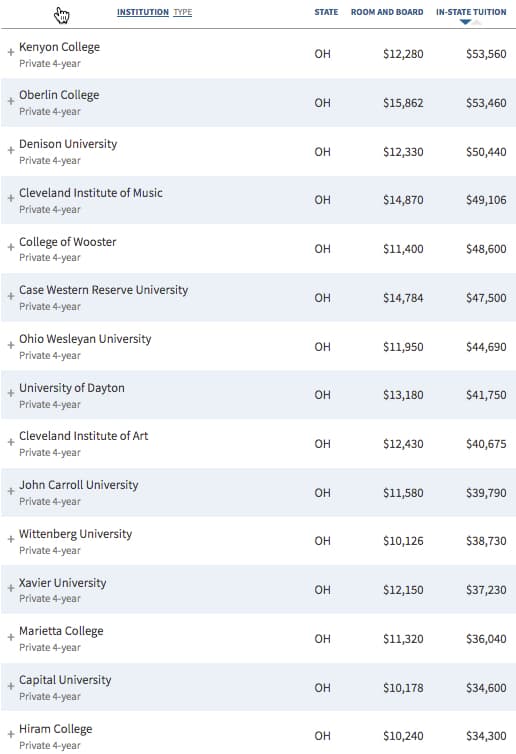 Prices of Liberal Arts Colleges in Ohio
When I looked more closely at the list, I discovered that the prices and U.S. News & World Report's rankings were highly correlated!
Liberal Arts Colleges
First let's look at the Ohio schools on the list that are in the National Liberal Arts College category.
Oberlin College and Kenyon College are tied as the 26th best liberal arts college in U.S. News & World Report's controversial rankings.
I don't think it's a coincidence that they are the most expensive higher-ed institutions in the state because they are the most highly ranked colleges.   There is only a $100 difference between the tuition at each school.
Denison is the third highest ranked liberal arts college in Ohio and it falls into line as the third most expensive college in the state. And Wooster, the fourth ranked liberal arts college in the state, charges the fourth highest tuition. Ohio Wesleyan, the fifth ranked Ohio college, charges the fifth highest price.
Kenyon College 26 (U.S. News ranking),  $53,560 (tuition)
Oberlin College  26, $53,460
Denison University 46,  $50,440
College of Wooster 63,  $48,600
Ohio Wesleyan U. 101,  $44,690
Wittenburg U. 158,  $38,730
Hiram College 141,  $34,300
What's also interesting is the major spread in pricing between the most highly ranked colleges and those much farther down on the list. The tuition at Hiram College, which is one of the schools featured in the popular book, Colleges That Change Lives, is more than $19,000 less than Kenyon and Oberlin.
National Universities
This trend also held for the two Ohio schools on the screenshot that are ranked in U.S. News' National University category
Case Western Reserve University 37 (U.S. News ranking), $47,500 (tuition)
University of Dayton 124, $41,750
Looking for Good Buys
I'm not going to get into a discussion of college rankings here, but there has been plenty of evidence that U.S. News' college rankings are horribly flawed.
These rankings, for instance, don't measure the education that students receive at a college or university nor take into account their career outcomes. And yet my little exercise would suggest that we are often paying for schools based heavily on these rankings!
State University and Pricing
You can also use the tool to check the in-state and out-of-state price for public universities. You will discover that some of the most popular state universities for nonresidents are also among the most expensive.
Among the most expensive – all charge $50,000 or more to nonresidents – are the following:
University of Michigan
University of Virginia
University of California, Berkeley
University of California, Los Angeles
University of California, San Diego
University of Vermont
University of Colorado
Finding Bargains
There are many hidden gems out there and if you want to cut the price of college, I'd suggest that you start exploring possibilities beyond the most highly rated schools. And you can get started by using this tool.
Lynn, Your content is absolutely the best! Thanks so much for sharing this.

I hope this isn't a dumb question, but couldn't the prices be set based on what people will pay? So, USNWR ranks the schools based on other factors (not price) and then people are willing to pay more to go to the more highly ranked schools so the school is able to increase tuition? Or do they say that their rankings take into consideration the tuition of the school?

Hi Catharine,

People are willing to pay more for a college that has a higher college ranking. They will pay for the bragging rights and for the perception that a higher ranking means the education will be better and their ultimate job prospects will be better.

The most elite schools could probably 10 times their current sticker price and fill their seats. That, however, would give them bad press!

Lynn O.

Thanks so much, Lynn. This is great!

This is great. Thanks so much, Lynn.

Thanks for the information but wouldn't it be more useful to sort them by net price? Is there a way to do that?

Hi Lee,

It's impossible to sort them by net price because everyone's net price will be different.

Lynn O'Shaughnessy