Schools that Meet 100% of Financial Need
While there are nearly 2,800 four-year colleges and universities in the United States, there are just over five dozen that claim that they meet 100% of their students' financial need.
Even though some schools say they meet 100% of need, this doesn't mean that the financial aid packages will be identical for a student applying to these institutions. Far from it.
Most, if not all, of the schools on this list use the CSS/Financial Aid PROFILE, the aid application that allows schools to tweak their aid formulas in many ways that can make awards significantly different.
A PROFILE school, for instance, that uses the entire value of a family's home equity in the financial aid calculation can produce a financial aid package that will be significantly lower than a package from a school that disregards the equity in a primary home or caps its impact.
You also need to keep in mind that these figures are self reported and no one is auditing them. I have wondered about the accuracy of some figures that I see.
Where the Figures Come From
Schools share their average percentage-of-need figure in a document called the Common Data Set. You can learn more about the Common Data Set by reading the lesson on this document in the module entitled, Tools to Find Generous Colleges.
You can also find this percentage-of-need met figure in the school's profile on the College Board. You'll find instructions on how to obtain this figure below as a well as in a longer lesson entitled, College Board: Evaluating School Generosity, in the module that I mentioned above.
Keep in mind that the figures for each school can change yearly and schools will update their figures in different months. However, you usually won't see a major change in these percentages from year to year.
You will find a list of the schools that say they meet 100%  of need, as well as those that say that meet at least 95% of need,  by reading your course resource guide, The Ultimate List of the Nation's Most Generous Colleges. Like all the other resource guides in this class, you can also find it located in the Bonus Material module.
A closer look at the numbers
While the most generous schools on this list will meet the full financial need for all its students, some of the institutions listed in the guide won't provide all its students with the best deal.
You'll find the relevant numbers by checking out a school's profile on the College Board's website. Here is an example from Lafayette College in Easton, PA:

Lafayette says that it meets 99% of the typical student's financial need, but as you can see from the chart below, 9% of students did not get their full financial need met.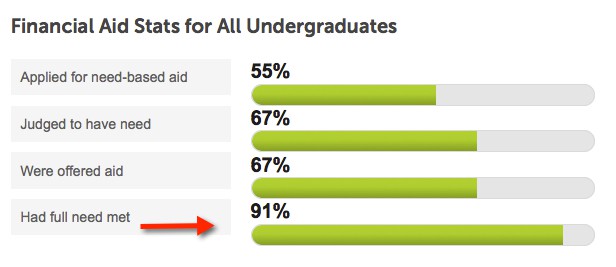 The 91% of students who did get their need met is still a much better percentage than the majority of schools can muster. I've seen schools where the percentage of students of who have their full need met is under 10%!
IMPORTANT: Keep in mind that these figures are NOT for accepted students, but rather for students who enrolled. This is important because enrolled students are more likely to have gotten better packages overall than students who went elsewhere.
Hi Nina,

I have a dim view of USC's financial aid policy. These need-met figures are not audited by the federal government and are self-reported by the schools. I believe USC uses a punitive formula when calculating a student's institution EFC. I suspect it uses 100% of home equity. Did your friend ask the school what EFC it generated for the student? Did the school say the institutional EFC was $45,000? If so, one argument that she could use is that the school says it meet 100% of the need of its students and it isn't in this case.

Lynn O.

Do colleges that meet 100% of a student's financial need ever add a merit scholarship if the family can't, no matter what the formula says, afford its EFC? Assume, for discussion purposes, an EFC of $20,000 that is demonstrably undoable.

It looks like you may have left Duke University off of the Ultimate List of the Nation's Most Generous Colleges. If I follow your method correctly, it looks like it meets 100% of need and 100% of students had their full need met.