Schools That Meet 100% of Financial Need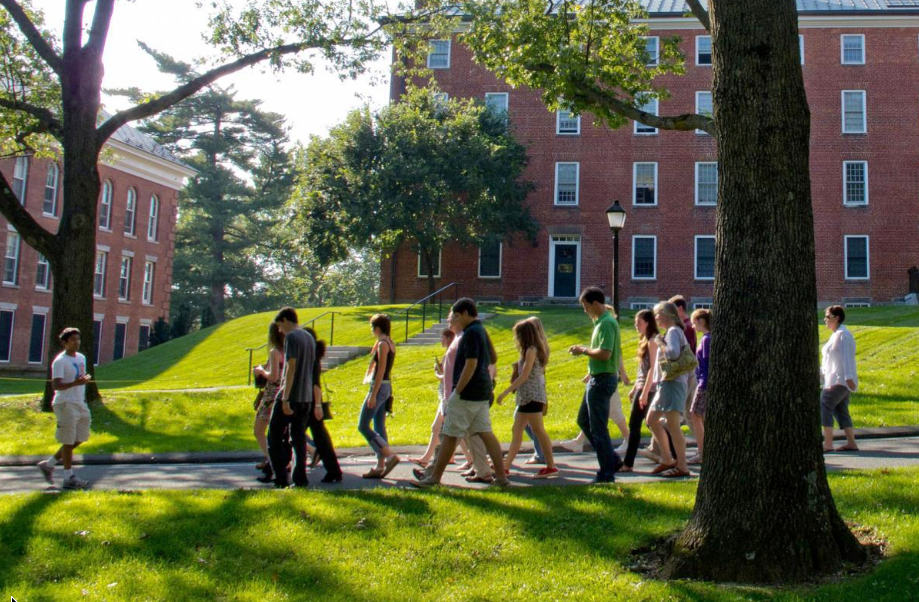 While there are nearly 2,800 four-year colleges and universities in the United States, there
are less than six dozen that claim that they meet 100% of the demonstrated financial
need of all or most of their freshmen.
The list below includes the names of those schools. I've also included institutions on this
list that say that they meet at least 93% of financial need or higher. Those are the boldfaced
institutions.
You need to keep in mind that the institutions self report these figures. In other words, remain somewhat cynical when looking at this list.
A school's generosity will depend heavily on the institutional aid formula that it uses. For instance, Boston College claims it meet 100% of need, but its aid formula calculates the full value of a family's home equity. It also takes a much closer look at a family's finances than some of the other schools you'll see below.
Consequently, even schools that are similarly priced could offer significantly different
packages. For example, the average need-based aid package for Boston College students
is $32,146. Compare that to Amherst College's average aid package of $47,553.
Most, if not all, of the schools on this list use the CSS/Financial Aid PROFILE, the aid application that allows schools to tweak their aid formulas in hundreds of ways that can make awards significantly different.
What Does Meeting 100% of Financial Need Mean?
I often find that parents are confused by what this term — meeting 100% of financial need — means. I hope this clears up the confusion.
A school that meets 100% of need will provide an aid package that fills the gap between
what a family's Expected Family Contribution is and a school's cost of attendance.

In the above example, the school would provide $36,000 in aid in a package that should be primarily grants/scholarships. Nearly all schools will include the federal direct loan in a financial aid package. The maximum federal direct loan for most freshmen will be $5,500.
Schools That Meet a High Percentage of Need
The schools in boldfaced meet at least 90% of need while the rest say they meet 100% of need.
Amherst College (MA)
Barnard College (NY)
Bates College (ME)
Babson College (MA)
Beloit College (WI)
Bentley University (MA)
Berea College (KY)
Boston College (MA)
Brown University (RI)
Bryn Mawr College (PA)
Bowdoin College (ME)
California Institute of Technology
Carleton College (MN)
Claremont McKenna College (CA)
Colby College (ME)
Colgate University (NY)
College of the Atlantic (ME)
College of the Holy Cross (MA)
College of Wooster (OH)
Colorado College (CO)
Columbia University (NY)
Connecticut College (CT)
Cornell University (NY)
Davidson College (NC)
Denison University (OH)
Dickinson College (PA)
Duke University (NC)
Dartmouth College (NH)
Earlham College (IN)
Emory University (GA)
Franklin and Marshall College (PA)
Franklin W. Olin College
Georgetown University (DC)
Gettysburg College (PA)
Grinnell College (IA)
Hamilton College (NY)
Harvey Mudd College (CA)
Haverford College (PA)
Harvard University (MA)
Johns Hopkins University (MD)
Kenyon College (OH)
Lafayette College (PA)
Lehigh University (PA)
Macalester College (MN)
Massachusetts Institute of Technology (MA)
Middlebury College (VT)
Mount Holyoke College (MA)
Northwestern University (IL)
Oberlin College (OH)
Occidental College (CA)
Pitzer College (CA)
Pomona College (CA)
Princeton University (NJ)
Reed College (OR)
Rice University (TX)
Saint John's College (NM)
Saint Olaf College (MN)
Scripps College (CA)
Sewanee: The University of the South (TN)
Skidmore College (NY)
Smith College (MA)
Stanford University (CA)
Swarthmore College (NY)
Syracuse University (NY)
Thomas Aquinas College (CA)
Trinity College (CT)
Tufts University (MA)
Tulane University (LA)
Union College (NY)
University of Chicago (IL)
University of Notre Dame (IN)
University of Pennsylvania (PA)
University of Richmond (VA)
University of Rochester (NY)
University of Southern California
University of Virginia
Vanderbilt University (TN)
Vassar College (NY)
Wake Forest University (NC)
Washington and Lee University (VA)
Washington University, St. Louis, (MO)
Wellesley College (MA)
Wesleyan University (MA)
Williams College (MA)
Wheaton College (MA)
Yale University (CT)
A closer look at the numbers
While the most generous schools on this list will meet the full financial need for all its students, some of the institutions listed above won't provide all its students with the best deals.
You'll find the relevant numbers by checking out a school's profile on the College Board's website. Here is an example from Tulane University in New Orleans: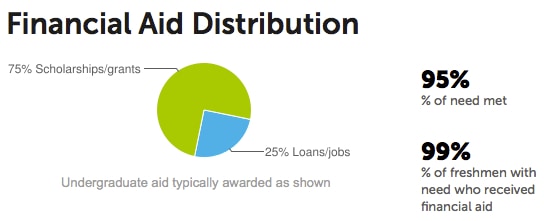 Tulane says that it meets 95% of the typical student's financial need, but as you can see from the chart below, only 69% of students got their full financial need met.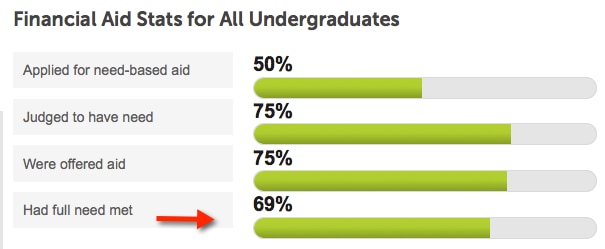 The 69% figure is still a much better percentage than the majority of schools can muster. I've seen schools where the percentage of students of who have their full need met is under 10%!
Obviously, the best deal is for a student to get into a school that meets 100% of need for all of its students.6
Did I miss any?
This list, by the way, will be a fluid one. Some schools will be on this list every year, but others will come and go. Can you suggest any schools that I overlooked?
Hi Robin,

You are looking at the wrong school – Columbia's School of General Studies. Look for Columbia University.

Lynn O'Shaughnessy

One thing to mention when looking at need-based schools that meet 100% of need is that all additional aid a student/family gets (scholarships, tuition grants, etc.) is not applied to the parents contribution but is used to decrease the amount of need-based aid. I get a generous tuition grant from my employer for my children–this was my "college savings plan"–and i found out too late that it decreases the amount of aid my child will get–not my portion of the bill. So i have a much bigger bill than i anticipated and, truthfully, can really afford.

That depends on the institution. Some actually will reduce their aid when outside funding comes in. Their rationale is that they can give that to another deserving student. It is best to ask how the financial aid office will handle outside funds such as private scholarships, etc. Some only reduce the work study or loans but wont touch the gift aid.

My daughter attends a university and she was $4000.00 short of money to complete her fin package so I applied for a parent student loan but was turned down but once you is turned you automatic get the loan but my question am I eligible for more than that if so how do i increase she is sophmore because she had no more left to pay for books and supplies and her work study money also went toward her tutition.

Thanks for an amazingly helpful article! I know so many students who will benefit from this list, and I can't wait to pass it on.

Another awesome article, Lynn. I found it interesting that the vast majority, if not all, of the listed schools are private institutions. It seems like some schools with the highest sticker prices actually meet some of the highest need percentages. Great values to be found in a lot of places!

Hmm. Caltech offered 100% and met needs 100% according to the college board website. That's the way it was for me back in the day … They backfilled all the external scholarships I received with their own scholarships plus very generous loans, help in getting even more external aid, and on-campus jobs that were relevant to my scholastic work.

My daughter has been independent and filing her own taxes and fasfa is saying she doesn't qualify and she is 21 paying her bills. I've heard from 3 people that say fasfa should NOT be using my tax info
PLEASE HELP ME
Casey Mangum
Caseymangum@gmail.ccom

Hi Courtney,

The three people you talked to are wrong.

Just because you no longer support your daughter doesn't mean she is independent. If it was that easy to become independent, many students would go this route to qualify for more financial aid.

Ways to qualify as independent include:
Being 24
Being married.
Being in the military.

Here are the rules:
https://studentaid.ed.gov/sa/fafsa/filling-out/dependency

You can ask a school for a professional judgement to treat your daughter as independent, but I'd say it's highly unlikely to work. Sorry.

Lynn O'Shaughnessy

Among the colleges that meet 100% of Financial Need, the best ones have "no-loan" policies. That means that student loans are replaced with grants in the student's financial aid packages Students can graduate with no student debt to pay back. These schools include Harvard, Princeton, Stanford, and University of Pennsylvania.

Vanderbilt also has has a "no-loan" policies

Ditto nice article! I have used your previous list on the same subject during the college search process for my daughter. Very useful!! A few comments: 1) Your point about colleges on this list using different methods to calculate financial need is important. I have found that parents often do not understand this part of financial aid. Myself included until I learned more. 2) Loyola University Maryland should be added to the list. Collegedata.com indicates that they meet 96% of average need. I can verify this as my daughter received a generous financial aid package from them. For some reason, they do not show up on other lists of the same topic as well. This past school year, my daughter applied to 13 colleges (alot I know!). She was accepted to nine but only three were financially feasible. College of the Holy Cross in MA, Loyola University Maryland, and suprisingly to me, St. Joseph's University in Philadelphia. Some merit aid was involved in the latter two. In the end, the choice became pretty clear as to what college was the best overall fit for her, not just financial, and she chose College of the Holy Cross. 3) As you have mentioned in the past, Net Price Calculators are an important tool in narrowing down a college list. We should have used them more in my daughter's case. I am more educated now and will be in a much better position when my son applies to college. Thank you, Lynn, for helping all of us with so many useful articles, comments, and advice!

OUR EXPERIENCE WITH FINANCIAL AID OFFERS

My daughter applied to several colleges for which she would be in the top 25-30 percent with her GPA and test Scores as presented on the Common Data Set Freshman Profile, and which presented an excellent match for her interests in Anthropology and Spanish. The colleges were: Beloit; Willamette; Lewis & Clark; Bryn Mawr; College of the Holy Cross; Smith.

Of these, ONLY BELOIT AND SMITH truly met our financial need with (very generous) offers. However, those were two wonderful colleges that we might not have considered if we hadn't read your books and looked at liberal arts colleges specifically.

The others were higher priced by $5,000-$10,000 with the same financial data. The West Coast colleges were especially high. We're wondering if they have less financial aid to give, or do they just realize that Oregon is really fashionable right now?

Thank you! In any case, we feel that our daughter had two wonderful choices because of your clear, measured advice and we are deeply grateful. You were a real help in a difficult time for our family. My husband lost his job two years ago and we are living on our retirement. Because he was going to be 60 when our daughter turned 18, we put college savings in our retirement fund. However, we need to stretch those dollars as far as possible now. Even our state school, UW-Madison, would be prohibitively expensive right now.