Real Story Behind College Wait Lists

This is a previous blog post I wrote on college wait lists (with updated figures) that I'm rerunning now that students are receiving wait list offers. Lynn O'Shaughnessy

This weekend I heard from old friends who wanted to share with me stories of brilliant students who got shut out of elite universities.
At a party on Friday night, a dad mentioned that he was stunned that his son's friend didn't get into Stanford University. The boy is a stellar student and he only missed two or three answers on the SAT.  He is a gifted jazz musician and throughout the party we were listening to an amazing recording of his jazz quartet.
Yesterday a friend in Maryland told me about a young man she knew who was rejected by Johns Hopkins University and some Ivy League schools. This young man has been doing research at Johns Hopkins during his summer vacations and his extracurriculars were just as long and impressive as the kid from San Diego.
"Can you believe that this boy got rejected from all these schools?" my friend asked. I think I startled her when I said, "I'm not surprised. In fact, I would have been shocked if he got in."
I am always amazed that brilliant children and their often accomplished parents have a disconnect when it comes to their admission expectations.
When they look at Stanford's admission rate of 9%, they don't seem to think it applies to them.
Trying to Beat the Wait List Odds
I'm bringing this up today because many of these spurned students are now hoping against hope that they will be plucked off the wait list of their dream college(s).
Finding a School's Wait List Statistics
You can find the wait-list odds of a school by heading to the College Board's website. Type in the name of any school and when you are directed to its profile, click on its Applying hyperlink.

Stanford University Wait List
Let's take a look at the wait-list odds for Stanford University: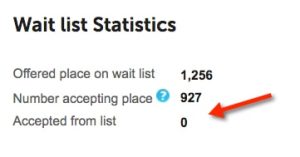 During the past admission season, the school offered 1,256 students a place on its wait list and 927 students accepted the invitation. How many students got accepted from the wait list? ZERO!
Wait-List Statistics for University of Notre Dame

The wait list numbers for a particular institution will vary every year, but at elite schools you should just assume that the odds will always be lousy. Here are some historical wait list numbers from the University of Notre Dame.
2016-2017
Students offered wait list spots 1,796
Accepted from wait list: 85
2015-2016
Students offered wait-list spots: 1,602
Accepted from wait list: 0
2014-2015
School didn't release figures.
2013-2014
Students offered wait list spot: 1,521
Accepted from wait list: 0
2012-2013
Students offered wait list spot: 2,461
Students accepted from wait list: 86
2011-2012 
Students offered wait-list spot 951
Students accepted from wait list: 7
Motivations for Shameful Wait-List Policies
Why do elite schools place so many applicants on their wait lists when there is little to no chance of getting off of them? Here are four reasons:
No. 1: Schools use their wait lists as a way to manage their admission yield. They'd rather put more students on a wait list and pluck teens off as needed than accept more students and then see too many of these teenagers spurn their admission invitation. Schools want to be in control of saying, "No."
No. 2:  When schools say no to more students, they look more selective which appeals to families looking for elite schools.  And U.S. News & World Report's also rewards schools that reject more applicants.
No. 3: Highly ranked schools are placing more students on wait lists because admission administrators are stressing out that ambitious applicants are applying to a very large number of elite schools and they can't get a handle on which teens would accept an invitation to their school.
No. 4:  Using a wait list is also a way to reject students without completely demoralizing them. It can be a helpful tool, for instance, to turn away students of alumni, who are not desirable candidates. Some students see an invitation to a wait list as something to even brag about. I'm not joking.
Wait List Advice
What I find sad is that so many students are pinning their hopes on suitors that have spurned them. This prevents these teenagers from getting psyched for their grand adventure at whatever colleges they end up attending. Also, students plucked from waiting lists often get little or no financial aid.
My advice to these teenagers is simple:
Move on and be happy with one of the schools that does want to see you in their freshman class.
,