Picking a Private College Loan: 8 Things You Need to Know
If you possess excellent credit and intend to pay down a college loan fairly aggressively, taking out a private college loan can make sense. People with sterling credit can get better interest rates going this route than with the federal Parent PLUS Loan.
Here are eight things to know about private college loans:
1. Check out credit unions.
Credit unions are relatively new players in this field and well worth checking out. Borrowers with top credit scores were recently able to obtain private student loans at 4.75%.  A convenient place to  look for credit union college loans is through cuStudentLoans. The highest rate available through credit unions participating through cuStudentLoans was 7.25%.
2. Don't be fooled by teaser rates.
The best rates for private loans look superior to the Parent PLUS Loan, but most families don't qualify for the best rate. Mark Kantrowitz, the publisher of FinAid.org, estimates that less than 5% of borrowers capture the lowest rate. Recently, for instance, Sallie Mae, a major lender, was advertising its best rate at 3%, but the average borrowers were paying 9% to 10% interest, according to AllTuition.com, which operates a student-loan comparison site.
3. Use loan search engines.
In addition to cuStudentLoans, here are three tools to find private student loans:
4. Apply for more than one loan.
Comparison shoppers who use AllTuition.com check out many loans, but then rarely apply for more than one, according to Sue Kim, the site's CEO. Unfortunately, there is a lack of transparency in upfront pricing, which means that there is no way to tell which loans will provide the best rates without applying. When you apply for multiple loans, you can choose the one that comes back with the best terms.
5. Look for college credit unions.
The following schools have their own credit unions and it's worth checking out their rates and terms.
Harvard University
University of Chicago
Amherst College
Hampshire College
Mount Holyoke College
Smith College
University of Massachusetts
University of Wyoming
MIT
University of Kentucky
Princeton University
California State University system
Eastern Iowa Community Colleges
Canada College
6. Don't borrow too much.
It's much easier to borrow too much through private loans because they have high borrowing limits. Use the student loan calculator at Mapping Your Future to estimate how much your repayments will be.
7. Ask the right questions.
Before selecting a private loan, ask these questions:
What is the interest rate?
Is the rate fixed or variable?
Is there an interest-rate cap?
What is the total cost of the loan?
Does the loan have borrower rewards?
What are the student loan deferment options both during and after school and are there any hardship waivers?
Are there any additional fees?
How difficult is it to consolidate loans and cut interest rates after graduation?
Does the loan offer penalty-free pre-payment?
How long is the grace period?
8. Make timely payments.
One of the best ways to avoid punitive penalties for missing payments is to sign up for automatic payments through your checking or savings accounts.
Lynn O'Shaughnessy is the author of the second edition of The College Solution: A Guide for Everyone Looking for the Right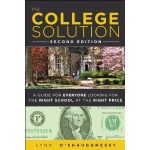 School at the Right Price, which is available on Amazon for preorder. The book will be released May 2!