Paying Attention to College Prices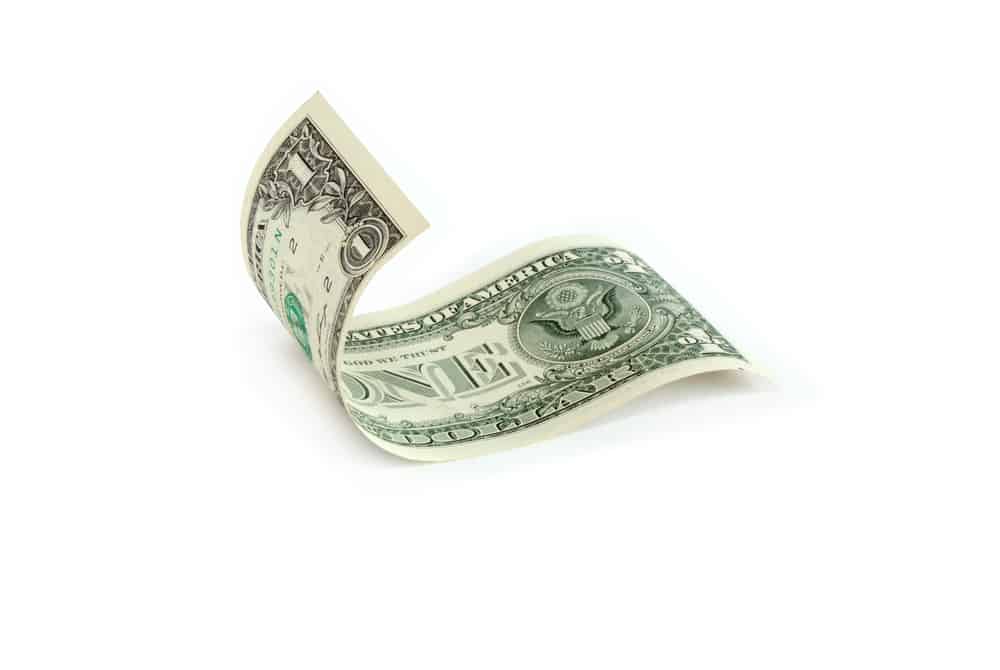 College price tags are meaningless. Most students do not pay full tuition price for college.
That said, paying attention to college prices can be extremely helpful in making college more affordable.
Here's a simple example:
Getting a $20,000-a-year merit scholarship from a school that has a published price of $48,000 will obviously make a college much more affordable than receiving the same award from a school priced at $65,000.
Sorting Colleges by Price
Today I'm excited to share with you a helpful tool that The Chronicle of Higher Education rolled out that will allow you to sort through 3,000 schools by price.
With the tool, you can identify schools by price in these categories:
Private colleges.
Public colleges.
Two-year public colleges.
Two-year private colleges.
For-profit schools.
Using this tool, officially entitled Tuition and Fees, 1998-1999 Through 2016-2017, you can conduct a search for schools in any of the above categories or all of them simultaneously either nationwide or by state.
Nation's Most Expensive Colleges and Universities
Using The Chronicle's database, I generated the list below of the most expensive private colleges and universities. You must add the tuition and the room/board charges to get the full price.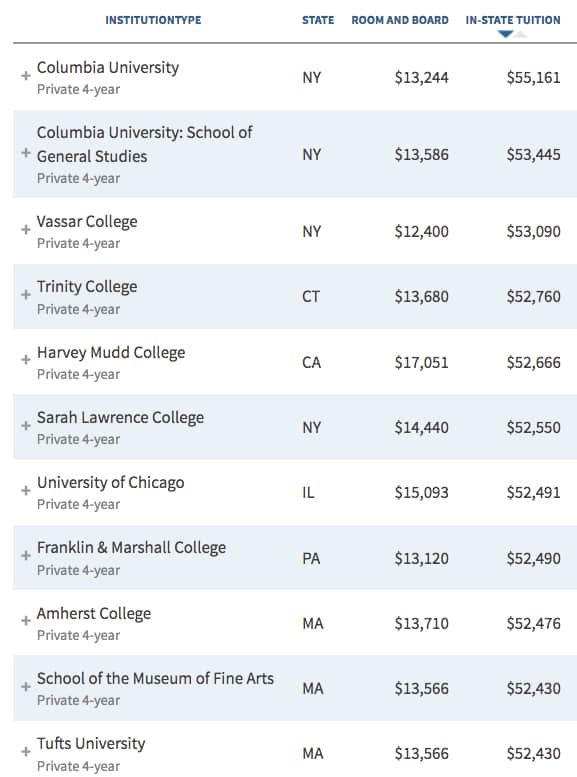 Not surprisingly, the nation's most expensive schools are nearly all elite institutions with all but two of them located on the East Coast.
Using the Database to Find Bargains
Dig a little deeper with this database and you'll find valuable pricing trends that would otherwise be hard to identify.
To demonstrate what you can find, I checked prices in Ohio, which has a large number of private institutions that are competing for students in a state with declining high school students.
I created a list of private schools based on price and here is a screenshot of the most expensive private colleges and universities in Ohio:
Ohio Schools Based on Price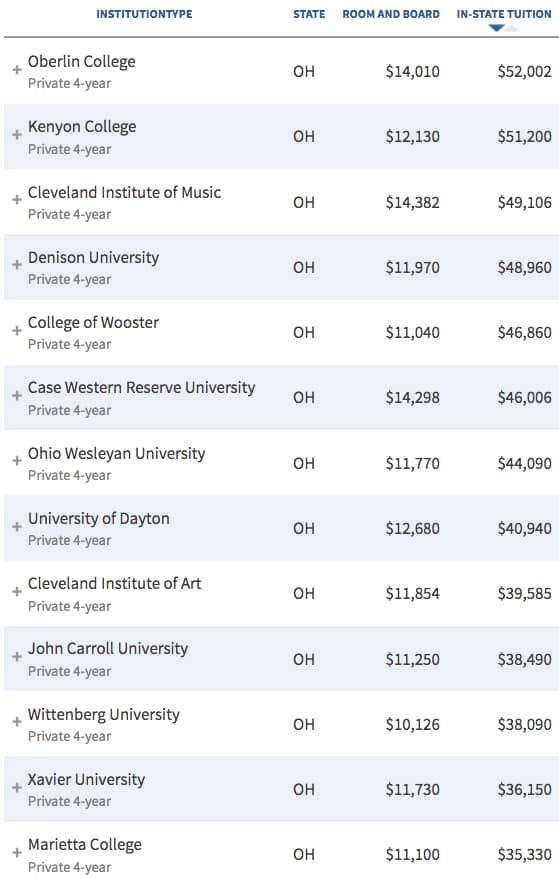 Prices of Liberal Arts Colleges in Ohio
When I looked more closely at the list, I discovered that the prices and U.S. News & World Report's rankings were highly correlated!
Liberal Arts Colleges
First let's look at the Ohio schools on the list that are in the National Liberal Arts College category. With one small exception, their rank by cost correlates exactly with their U.S. News ranking.
Oberlin College, for instance, enjoys the highest U.S. News ranking – it's considered the 24th best liberal arts college in the country – and it is also the most expensive college in the Buckeye state. The Ohio college with the next highest U.S. News ranking (Kenyon) is the second most expensive college.
Denison is the third highest ranked liberal arts college in Ohio and it falls into line as the third most expensive college in the state.
Oberlin College  24 (U.S. News ranking)
Kenyon College 27
Denison University 51
College of Wooster 62
Ohio Wesleyan U. 95
Wittenburg U. 154
Hiram College 149
National Universities
This trend also held for the two Ohio schools on the screenshot that are ranked in U.S. News' National University category:
Case Western Reserve University 37
University of Dayton 11
Looking for Good Buys
I'm not going to get into a discussion of college rankings here, but there has been plenty of evidence that U.S. News' college rankings are horribly flawed.
These rankings, for instance, don't measure the education that students receive at a college or university nor take into account their career outcomes. And yet my little exercise would suggest that we are often paying for schools based on these rankings!
There are wonderful education opportunities at many schools regardless of what U.S. News might think of a school. Here are just two examples:
Marietta College has an impressive program for petroleum engineers – the only college that offers this – that enjoys an awesome placement rate. Baldwin Wallace University, an Ohio school that didn't make my screenshot (its tuition is $30,776 before aid or scholarships) enjoys 100% placement for its highly regarded music therapy programs.
There are many hidden gems out there and if you want to cut the price of college, I'd suggest that you start exploring possibilities beyond the most highly rated schools.
Lynn, this is interesting timing. When comparing Pacific U of Oregon, U of Puget Sound, and Westminster College of Salt Lake City, the "rack rate" is what shows up the wide discrepancy in actual cost. All schools will give $15 to $18 thousand in scholarships to our 3.6 GPA's son, but Puget Sound comes in about $17K MORE per year than Westminster.
The risk: what if our son doesn't apply himself to make the Puget Sound cost worthwhile? If he likes Pacific, or Westminster, we can afford those schools and then he will have far less debt and will be enabled to go on to graduate school in a better position.

I'm not sure your list is the most expensive private colleges and universities. I put in Grinnell, and it came back about $60K. It's not on the east coast, and none of your list is in the 60s.

Hi John,

You have to add the tuition and the room/board rate on that list to get the full price. Grinnell is expensive – but not as expensive as the schools on the list – because it is a highly ranked liberal arts college. However, unlike its peer institutions like Amherst, Swarthmore, Bates and Vassar, Grinnell gives out merit scholarships. It has to because of its location.

Lynn O'Shaughnessy