My Take on the College Board's BigFuture
I'm going to keep yesterday's post up another day because the College Board's new consumer site – BigFuture – was experiencing difficulty staying online Tuesday. I had trouble accessing the site and you probably did too.
Since I wrote the post below, I received a response from the College Board that promised to improve its Paying for College section. Here  is part of the College Board's response:
We're committed to continuously improving BigFuture to make it an even more helpful resource, and we have plans to roll out new and enhanced features over the coming months.
You can read the rest of the note by scrolling all the way down to the comment section.
In the meantime, I thought of another search feature that BigFuture should include — graduation rates. What's more costly than staying in college for five or six years? One sure-fire way to reduce costs is to earn a diploma in the traditional four years.
Once you've had a chance to check out BigFuture, I'd love to hear what you think. Just use the comment box below.
Lynn O'Shaughnessy
The College Board has rolled out a new ambitious website today called BigFuture that's dedicated to families looking for college answers.
I got a sneak peek of the site on Monday from College Board officials and it's obvious that the organization has invested a ton of time and money into the makeover. The new site is attractive and packed with tools and sprinkled with inspirational videos from students, college and high school counselors, as well as college admission and financial aid officers from mostly elite universities. The admirable aim of the ambitious site is to make the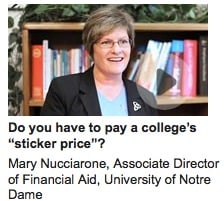 process of getting into college and paying the tab less stressful.
The Wrong Search Criteria
Unfortunately, I think the College Board missed an opportunity to make BigFuture much more valuable.  Today I want to focus on the site's financial aid section, which I'd argue is the site's weakest link.  I find this a shame because paying for college arguably generates the most anxiety, frustration and financial pain for families.
I have a lot of issues with the financial aid part of the site beginning with the college search engine that parents and students can use to hunt for schools.
If you click on the Paying  link when searching for schools, you will find the following criteria for locating schools: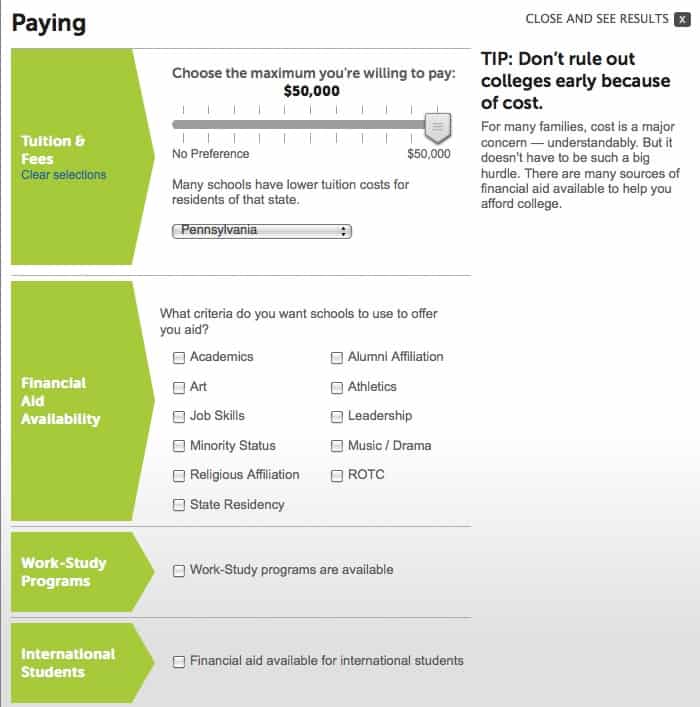 What's Missing Here?
Do you see anything wrong with the above categories?
I do.
For starters, using the Tuition & Fees criterion you can only search for a school based on sticker price. Sticker price, however, is irrelevant most of the time. In fact, two-thirds of college students who attend state or public universities receive some type of grant that will reduce the price. About 88% of students attending private colleges and universities receive a price break. So why in the world would you require families to use price tag to find colleges?
I also am puzzled by the Financial Aid Availability criteria, which I believe families will find perplexing. Most need-based financial aid is given automatically when a student applies to a school and so is most non-need-based aid, which is the only type rich students qualify for. Teenagers don't have to check a box on these sorts of categories when applying to schools.
I also was surprised to see the third search criterion — Work Study Programs. Schools that participate in the federal financial aid program routinely offer work-study programs so I'm not sure why that needs to be a category. And of course, the fourth search category is irrelevant to American students.
Better Ways to Hunt for Affordable Schools
I would have liked to see search criteria that are actually meaningful. It would be great if the  College Board allowed families to find schools based on these sorts of search criteria:
College net prices. (What you pay after the typical grants are subtracted.)
Percentage of financial need that a school typically meets. (The higher the number the better).
The percentage of students who get their full financial need met. (The higher the percentage the better.)
College indebtedness. (What schools graduate students with the lowest debt vs. crushing debt.)
Where's the Beef?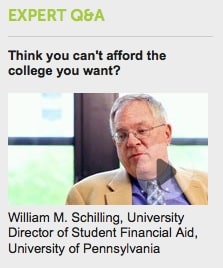 The videos and articles on financial aid that you will see on BigFuture provide some helpful information, but only on an extremely basic level. For instance, you'll see videos explaining that grants are free money and another that shares that you need to apply for financial aid to qualify for assistance.
While the financial experts captured on video repeatedly urge families not to get too hung up about sticker prices, the site doesn't provide enough instruction to empower visitors to become educated consumers.  To find affordable schools, families require a tremendous amount of help and a lot of detailed step-by-step instruction on a variety of financial topics that you won't find on the site.
What's ironic is that the College Board possesses lots of data that could be shared in a user friendly way that would allow families to make smarter decisions as they look for schools that are financial fits. I've certainly used College Board statistics countless times in my blog posts, as well as in the upcoming second edition of my book, The College Solution. Here are two examples from my college blog that illustrate what you can do with statistics that the College Board gathers every year from schools:
Drawbacks of a Membership Organization?
Myra Smith, the College Board's executive director of Financial Aid Services explained to me that the College Board has provided a link to each school's net price calculator on the site, which can provide a family with a personalized estimate of what a particular college will cost.  That is certainly valuable and I'm glad that the College Board has done that, but I don't think that should be an excuse for not providing more substantive financial information on its site.
So why isn't the financial aid section of the College Board's Big Future as helpful as it could be? Here is my guess:  the College Board is a membership organization made up of higher-ed institutions. If the College Board lays out exactly how to separate schools with lousy aid from those who do an admirable job, some institutions are going to be furious. This political reality is unfortunate because if anybody has the resources and brand name to truly educate families, it's the College Board.
Myra Smith suggested that there will be some changes made to the financial aid information in the future so maybe I'm being too pessimistic and cynical. I hope I am.
What Do You Think?
I will share more about BigFuture later, but I'd appreciate hearing what you think about the College Board's BigFuture. I'd love for you to visit the new site and share your impressions in the comment box below.
Lynn O'Shaughnessy is the author of the second edition of The College Solution, which is now available for preorders.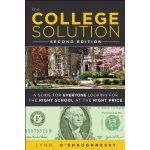 More on The College Solution:
Beware of Preferential Packaging
What's Missing From This Financial Aid Letter?
I agree. I have been trying to navigate this sight for months and find it very difficult. How do you find the "how do I stack up" section? This new format is not helpful to me as a parent. I have to say, I hate it.

As a parent I have experienced a big problem with the new College Board website, BigFuture.
It just WILL NOT WORK on a computer where I repetitvely used the College Board college search for the last five years. I think the problem is with the fact that it is now supposed to be availalbe some way on the Twitter services, but my security has all Twitter/Tweats blocked, so we only get a "spinning wheel" where the site. I think they really promoted this site before all the technical issues were fixed. I hear the counselors complain about the printing, but I can no longer search for school information at all on this site. I have sent email to College Board, and called technical support twice. they do not respond with concern about my problem and respond as if I am the ONLY person that has EVER report a technical problem with the new Big Future website. They will only LOOK into the problem and have a patch to their new site so that it will work on secure sites that will not support "twitter".

I am so frustrated, I feel like as a parent, with the cost of the SAT tests and then sending scores to universities makes me the "paying customer". But customer service is very lacking.

The BigFuture is a BigDisappointment. Like Karen, I initially thought I was on the wrong site and kept trying to find my way back to where I had fairly easily been able to obtain useful data about schools. I can see the the apparent relationship between the College Board and colleges in the new design. It is now emphasizing more subjective content with visual impact versus objective content that would enable you to compare colleges in critical areas. This removes the spotlight from schools that just don't measure up in certain areas. It certainly makes our jobs as counselors more difficult in assisting students and parents but I don't believe that is a concern of the College Board.

Jack — I think you are unfortunately right on in your observations about the new design. The College Board, after all, is a membership organization. Here's just one example to illustrate what you are talking about. Under the "Paying" section for any school, most of the financial aid information is under a tab labeled "Policies & Stats."

Now isn't that where you'd look when you'd like to learn about a school's financial aid policies? Strange, huh?

Lynn O'Shaughnessy

I can no longer see the percent of gift aid versus self-help aid. I was able to attain this data from the old site.

I was very surprised to see the vast changes on a website that I use regularly and was working just fine. I cannot print a list of colleges from a search because the formatting is a mess and only prints the sidebar info. Not impressed. I work in a public school and have a limited amount of time to work with students. Meeting with a student and not having the ability to print a list of colleges we just searched for on a trusted website is not only frustrating, but also embarrasing. I wish they had tested the site better before turning it loose to the public. This is not a helpful site to me anymore and I will need to find some alternative asap.

The financial aid section is a joke. Fill out the form, everything will be fine. No discussion of how to fill out the form for maximum financial benefit to the family/student. The College Board has a monopoly under the guise of a non-profit. Only the College Board could fail as a for profit company.

On a related note, you might like to know that the College Board does not allow independent 3P test prep counselors to advertise using the SAT brand name via Google ad words anymore. They are now aggresssively enforcing their IP rights, despite the fact that these independent counselors and businesses actually generate fees for the College Board through increase SAT test fees over the ACT.

Also, the Princeton Review is being sold to an investment firm for $33 million. http://www.mercurynews.com/business/ci_20265030/princeton-review-sell-test-prep-business-name

The new College Board website is yet another example of "old wine, new bottle" with absolutely nothing in the way of relevant information that isn't already out there. If it weren't for the well-known (if not well-worn out) brand names (Thacker, College Board), it is hard to believe that you and the other media would give it so much positive exposure.

What about CollegeStraightTalk.org, a new in-development site that will use the results of large-scale satisfaction and outcomes surveys with recent college grads as the basis of unique on-line mechanisms for college intenders' use in identifying their best-fit colleges? It is at http://collegestraighttalk.org/.

The site is specifically designed for college aspirants who may be relatively clueless about the college choice and application process; according to the website, it features a straightforward, 6-step methodology for their use in systematically narrowing down their searches until they identify the colleges that best meet their own, unique needs and wants.

Among other things, the site will enable college aspirants and their families to develop college short lists using a large number of different filters (e.g.distance from home, urban/rural setting, desired net-price range, GPA/SAT/ACT requirements, and many, many more) and – yes! – TO COMPARE THEM SIDE BY SIDE.

Then – and here's the really interesting part – it will let them generate their very own, personalized college rankings on the basis of 1. how much importance they and their families place on a variety of college characteristics, combined with 2. how highly (or not) recent alumni have rated their own alma maters on these same criteria.

CollegeStraightTalk is a service of The Center for Alumni Satisfaction and Outcomes Research. Unlike the College Board, it truly is a non-profit – and one with a unique structure, at that.

Tom Benghauser

Tom, when will CollegeStraightTalk be live?

I was very frustrated by the new design. I kept clicking back thinking I must be on the wrong link. I just wanted a quick overview of schools like SAT range, cost in state vs. out of state, etc. I felt like I was landing on a site created by the school itself. The new format while it may be more visually appealing doesn't give information in an easier to read format.

Glad to see this review. The new site is more attractive but as a counselor I am concerned that this new format highlights some of the wrong information while leaving out other important information.

One thing that really jumped out at me as confusing about the new site is the prominent listing of selectivity. Just from the little sample I looked at, it appears that perhaps the College Board is looking exclusively at the percent of students admitted in order to make this classification. This doesn't seem like the ideal approach to help consumers.

Let me give an example from my state.

Kentucky State University (which incidentally has a six year graduation rate of 23% – information I had to find elsewhere) is listed as "very selective" because they take only 30% of students who apply. However, you have to read the much smaller text and click and then look at more categories and click again and then scroll down to find out that their ACT composite is 16-20, with only 1% of their students scoring 30 or above.

Centre College (a well respected "Colleges That Change Lives" school) is "somewhat selective" as they accept 70% of students. Click, click, and scroll down to find out their ACT composite is 26-31 with 34% of their students scoring 30 or above.

Transylvania University (a good liberal arts college in Lexington, Kentucky) is listed as "less selective" though their ACT range is 24-30, with a full quarter of their students scoring 30 or above on their composite.

So, Kentucky State, with the lowest test scores by a long shot and the lowest graduation rate by a long shot is "very selective". By the way, Kentucky State shares the "very selective" categorization with schools such as University of Michigan, UCLA, Carnegie Mellon, and Oberlin.

Students are going to need help understanding why some schools listed as "less selective" are attracting much stronger students and will be more difficult to be admitted to. In my opinion highlighting acceptance rates is taking us in the wrong direction. It hurts some really strong schools that have self-selecting applicant pools and therefore higher admissions rates. It may also be quite confusing to students with a weaker statistical profile who are looking for schools that are a statistical match but see them classified as "very selective".

I'd love to hear some explanation from the College Board about how they are calculating selectivity and if they've considered using a more sophisticated approach, perhaps including test scores or GPA in the formula.

Excellent points Barbara!

You provided great examples to illustrate why the College Board needs to use a more sophisticated approach to calculating selectivity. What I find equally interesting are the sorts of statistics that the College Board has hidden or made very difficult to find. The stats, for instance, on the average indebtedness of graduates, percent of students who had their full financial need met, and other pertinent financial aid stats are found in a very strangely named tab — Policies & Stats. Who would look there?

Lynn O'Shaughnessy

I too met with a student yesterday to be unpleasantly surprised by the change in design. I am perplexed by the timing of this change. One would think that perhaps in the summer when college counselors would have time to get to know the site aside from the busy school year would have made more sense?

Yesterday, the site kept freezing up and it took some time to find the "How do I stack up" feature (which now is acutally on 3 pages vs. one) UGH. The changes seem less user friendly and overall the site seems to be more of a marketing device. Sad. I tried do link into the Net Price calculator today for a school and while it provided the link to the pay in the schools website it was inoperable. A frozen 3/4 page view of the colleges net price calculator page, so it is not useful.

Can you provide some tips on how to best get there?
Perhaps a link? Thank you!

I'm confused as to why College Board launched this site with all of its flaws. They're too big of an organization to be pressured into releasing what appears to be essentially a beta test. Thanks for this post Lynn!

I am so frustrated by the new Collegeboard site! I just compared 3 schools. When I printed out the data, the formatting was all over the place and used up 4 pages. This is an improvement?? Why did they try to fix something that wasn't broken? So, the site wasn't glitzy but it FUNCTIONED! I could enter the parameters I wanted and would get a list of schools meeting the criteria. I have a meeting with a client tomorrow and there's no way I'm getting anything of use from the CB site tonight!

Thank you for reviewing the initial release of the College Board's BigFuture site, and thanks for your input and suggestions on improving the "paying for college" features. We're committed to continuously improving BigFuture to make it an even more helpful resource, and we have plans to roll out new and enhanced features over the coming months. We agree that it would be useful for families to search for colleges by net price, in addition to tuition and fees. We're currently working to implement that, as well as investigating adding other search criteria similar to the ones you list.

Hi College Board,

I'm glad to hear that the College Board is committed to improving the financial aid section of Big Future. I look forward to seeing the changes that you make in the future.

Lynn O'Shaughnessy

College Board's BigFuture appears to be little more than a mishmosh crazy quilt of information that can be had, in better form and substance, elsewhere. Not user-friendly? Since when has College Board been user-friendly? Surprised there is no fee for the privilege of gaining entrance to the BigFuture, or, for that matter, the requisite response to a query with (a) all of the above, (b) none of the above, or (c) both (a) and (b) are correct.

I suppose College Board is simply trying to fill a niche — that which is occupied by college-bound students who rely on the college entrance equivalent of the Borg to gain knowledge on the methods and madness of the application, admissions and college financing process.

As with much else College Board rolls out (and rolls in), the logic is flawed, the reasoning vacuous, and the result a dismal failure.

Gee, it's a dog's breakfast even with all of Lloyd Thacker's input for how many years is it now since he sold out and joined forces with his previous arch enemy, the College Board?

Thanks for this great overview of the CB's new tools. I tried to visit just now but I keep getting a message saying it is unavailable. Maybe they are updating it.

I had no idea this was coming and was really disappointed that it's nowhere near as helpful as it should be. Thanks so much for giving the lowdown in this site. I'm sure that I would have recommended it to parents once I had stumbled onto it. Is there anything better available, or is this the best that is currently available?

Hi Amy,

Thanks for your comment. I noticed that late this evening the link to BigFuture.org was down. I think getting this monster site online is a real challenge. Like you Amy, I wish the site was more helpful. Maybe if people ask for more, the College Board will be receptive.

Lynn O'Shaughnessy

It looks like the College Board rolled out their new website BigFuture before it was quite ready or had a thorough going over. It sounds good but I think a lot of families will be disappointed with what they find. BigFuture could certainly stand some improvement.

Sorry … typo – should be students.

UGH! I went to the site last night to check for something and was shocked to see the new format. I obviously haven't had a lot of time to surf the new layout but I am VERY disappointed that the "non need average grant" category no longer appears. For many of my student's, that piece of data was THE most important one.

Don't worry about that Paula. I pointed out to the College Board that its non-need based aid category is now appearing as non-need-based loans. The financial aid director at the College Board told me they would fix this.

Lynn O'Shaughnessy