Measuring the Generosity of Colleges
In my last post, I promised to share some resources that can help you evaluate the generosity of colleges and universities. If you missed it, here is that post:
Today I'm going to focus on the College Board's website, which is a quick and easy resource for anyone interested in getting financial aid statistics on any college or university.
To get started, type the name of any school into the College Search box on the College Board's home page. You will have access to a variety of statistics on the institution. Once you've called up a school's profile, click on the Cost & Financial Aid link to find financial aid stats.
To illustrate what the College Board can provide, I closed my eyes and opened a page in US News & World Report Ultimate College Guide and selected DePauw University, a highly respected liberal arts college in Greencastle, IN. This is what you will see at the top of DePauw's profile page:

When I clicked on the school's Cost & Financial Aid link, the first thing I saw was the liberal arts college's prices. Scary huh? Remember though that the prices are usually meaningless. Most families won't pay the full tab.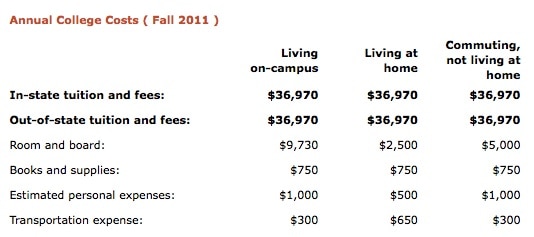 What's more meaningful are the financial aid statistics that you will see below the published prices:
Comparing Statistics

It's hard to decide whether DePauw University is a generous school in a vacuum. Compared to Ivy League schools, which meet 100% of every student's demonstrated financial need, Depauw is not as generous. On average DePauw meets 86% of a student's financial aid need.  This is not a fare comparison, however, since only the richest and most elite schools offer such amazing financial aid practices.
It makes more sense to compare DePauw with some of it's peers. For instance, students looking at DePauw might also be interested in other Midwestern liberal arts colleges such as College of Wooster, St. Olaf's, Beloit, Denison, Grinnell, Illinois Wesleyan, Coe, Lawrence and others. (By the way, I think Midwestern and Southern liberal arts colleges offer great financial value because their prices are typically significantly lower than on the coasts.)
Here is a snapshot of the College of Wooster's financial aid statistics: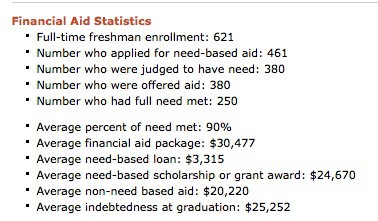 As you can see, Wooster meets a higher percentage of the typical freshmen's need (90%) It also meets the full need of more freshmen – 250 out of 380 students, who required financial aid. In DePauw's case, the school met the full financial need of 133 of the 408 freshmen who received financial aid.
It's important to look at the size of the average financial aid  package. In DePauw's case it's $29,279. Obviously you want packages that contain grants, which don't have to be paid back. The average need-based grant of $25,918 represents a high percentage of the typical aid package, which is good.
Wealthy families, who aren't going to qualify for need-based aid, must look at the average non-need based aid line, which is higher-ed jargon for merit aid for rich students. The average merit aid at DePauw is $17,134, which is high. The merit award for wealthy students is even higher at Wooster — $20,220.
DePauw didn't share the average student's indebtedness at graduation, which is irritating and always raises questions for me about why they are withholding that figure.  The typical student, who borrows at Wooster, left with $25,252 in loans, which is pretty much the national average for all schools.
The best way to get comfortable with working with these sorts of statistics is to try to do research with colleges that you are interested in. So get started.
Lynn O'Shaughnessy is the author of The College Solution, an Amazon bestseller and a workbook, Shrinking the Cost of College: Great Ways to Cut the Cost of a Bachelor's Degree. Follow her on Twitter and Facebook.