Measuring a School's ROI with College Reality Check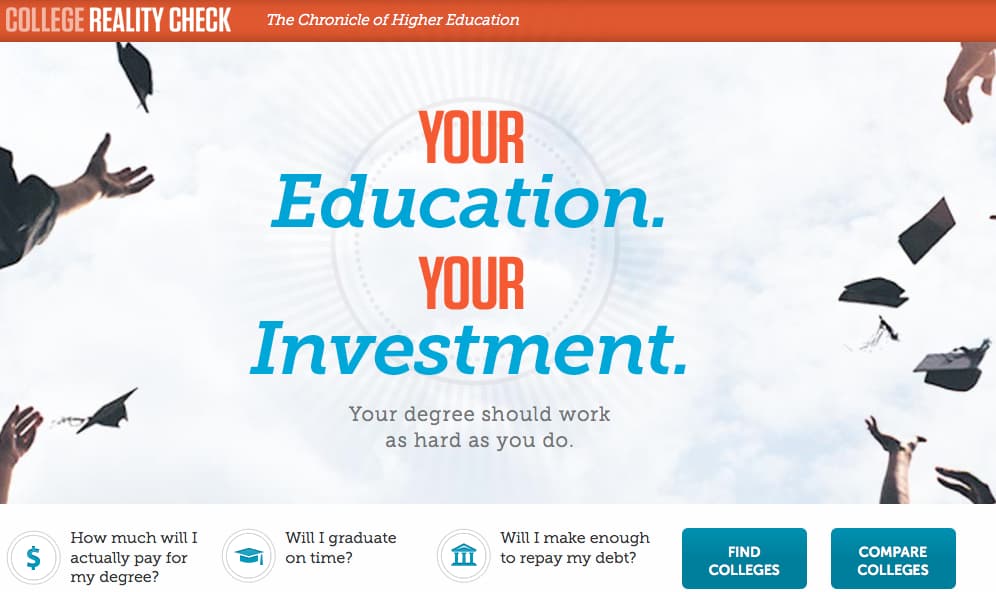 In February, the U.S. Department of Education rolled out a new College Scorecard that families can use to research schools.
If you missed it, I wrote a post on the day of the unveiling: The New Federal College Scorecard. The scorecard is a good first start to help families measure a school's return on investment, but it needs work.
If you want to know more about what needs to be done to improve the College Scorecard, here are some thoughts from Jeff Selingo, the editor at large of The Chronicle of Higher Education and the author of an excellent new book College UnBound: The Future of Higher Education and What It Means for Students that I read over the weekend: Five Ways to Improve the President's Scorecard.
I am bringing this up today because The Chronicle of Higher Education has created a new tool that's called College Reality Check, which improves upon the College Scorecard.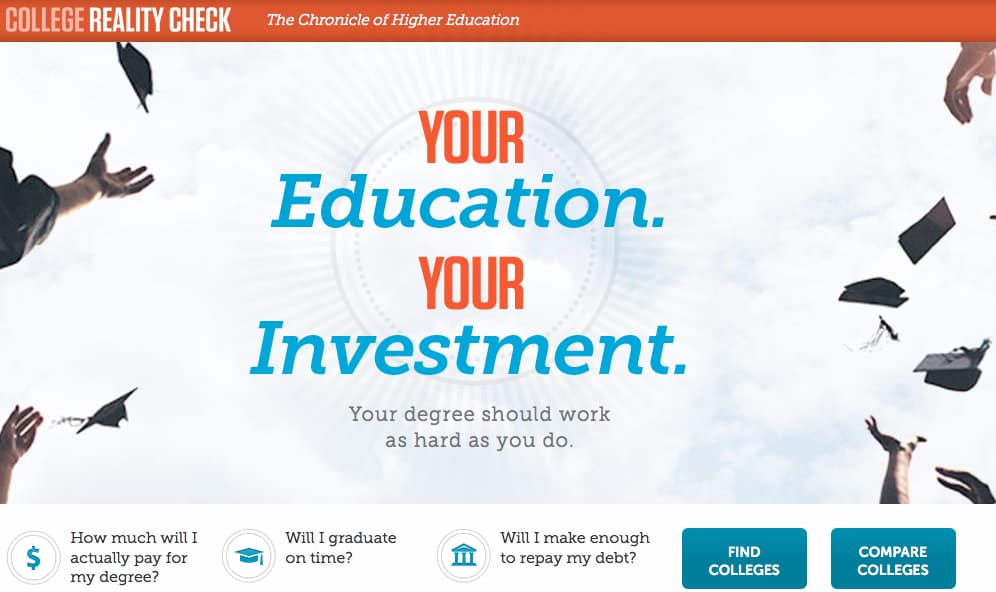 College Reality Check shares statistics for individual schools on these measures:
Net price
Graduation rates
Average college debt of graduates
Loan default rates
Graduate earnings (Payscale figures)
At College Reality Check, unlike College Scorecard, you can compare statistics of different schools simultaneously. What I also find extremely helpful is that you can also sort schools within a particular state by using one of the categories above. As you can see below, you can also conduct a nationwide search by using graduation rates and net price for different income categories.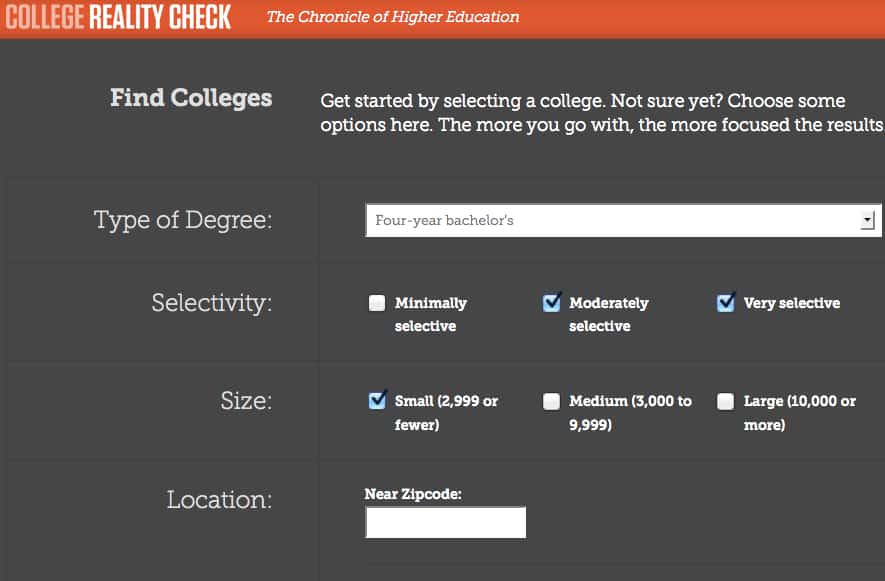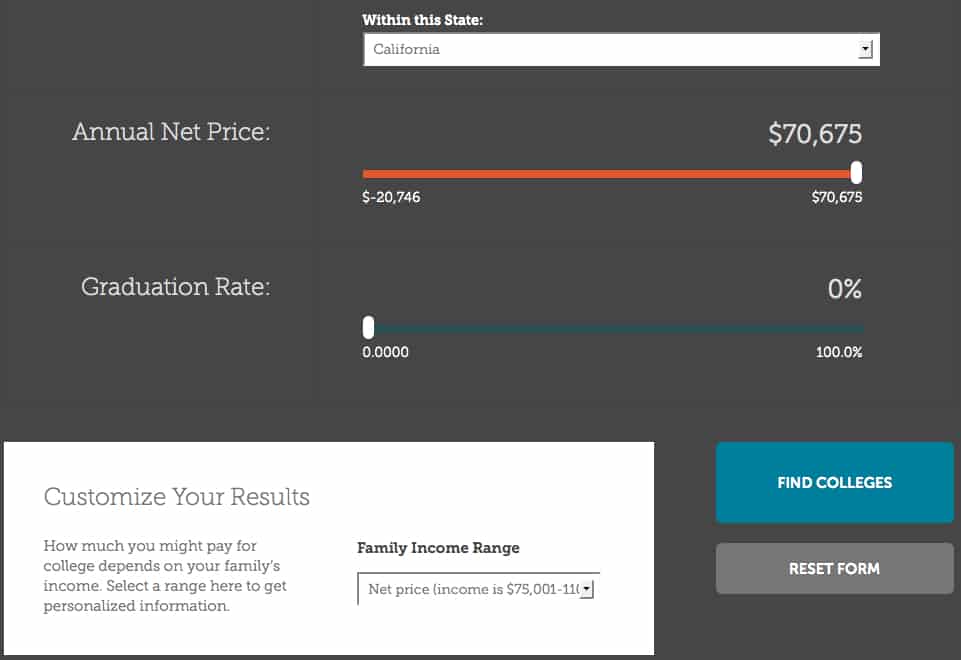 Beware of Net Price Figures
The net price figures come from the federal government and are the same ones used by the federal College Scorecard. The net prices at individual schools can be misleading because the net prices only reflect what families pay who accepted some type of need-based aid including loans. Affluent students who don't receive any aid could pay far more than the net price would indicate.
The highest income level for net price is $110,001 and greater. If I remember correctly, lobbyists for colleges and universities protested against including more income ranges. when this issue was raised in Washington DC. You can always count on the higher-ed industry to fight greater consumer disclosure!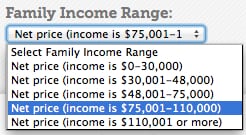 Here is more on the net price problem: A Simple Fix for the Broken.
Finally, I'm sharing what a school profile looks like on College Reality Check. I am using a California school that has a low grad rate, a high default rate, high college debt rate and one of the highest net prices (after grants deducted) in the country. Art schools are typically very stingy. If a child isn't being bankrolled by wealthy parents, these are the kind of statistics that should make any sane teenagers keep looking.
New College Tools
While The Chronicle is the leading newspaper for the higher-ed industry, with help from the Bill and Melinda Gates Foundation it's out front in providing helpful consumer tools for overwhelmed families trying to find colleges. Earlier The Chronicle also created College Completion, where you can find graduation rates for any school.
Another valuable consumer site that I will be discussing soon on my college blog is CollegeMeasures.org.
Lynn O'Shaughnessy is the author of The College Solution (2nd edition) and a workbook entitled, Shrinking the Cost of College.
Hi Jim,

There is no one right answer. I would suggest, however, that you expand your search to private schools as well. If you select wisely, some private schools can be less expensive than public schools and you are often more likely to graduate in four years.

Lynn O'Shaughnessy

Great website… I've been playing with it all night long. So, I figured out we are not going to get any aid of any kind for my daughter. So, based on these numbers I'm trying to decide if a private school in state or out of state especially since most of the ones we are looking at have good graduation rates within 4 years or in state public which has doesn't have favorable graduation rates but lower fees. Is it better to be working within 4 years or do kids need more time to decide on a career. For reference it took me 6 years to graduate and I changed majors after my 1st year. Most of the classes I took the first year had nothing to do with my accounting major so they were just extra classes. I did pay my way so, I worked part-time but went to school full-time. In most cases, whether we go in state public or private the cost is about the same within 10,000. What do you think?

I read an article about a college that had published what all graduates were doing – not just the ones who became famous, but the entire class of 2011. I'm waiting to see if they're doing "ROI" for the class of 2012. But I wish all colleges would do that.
http://wp.stolaf.edu/outcomes/