Looking For Great College Bargains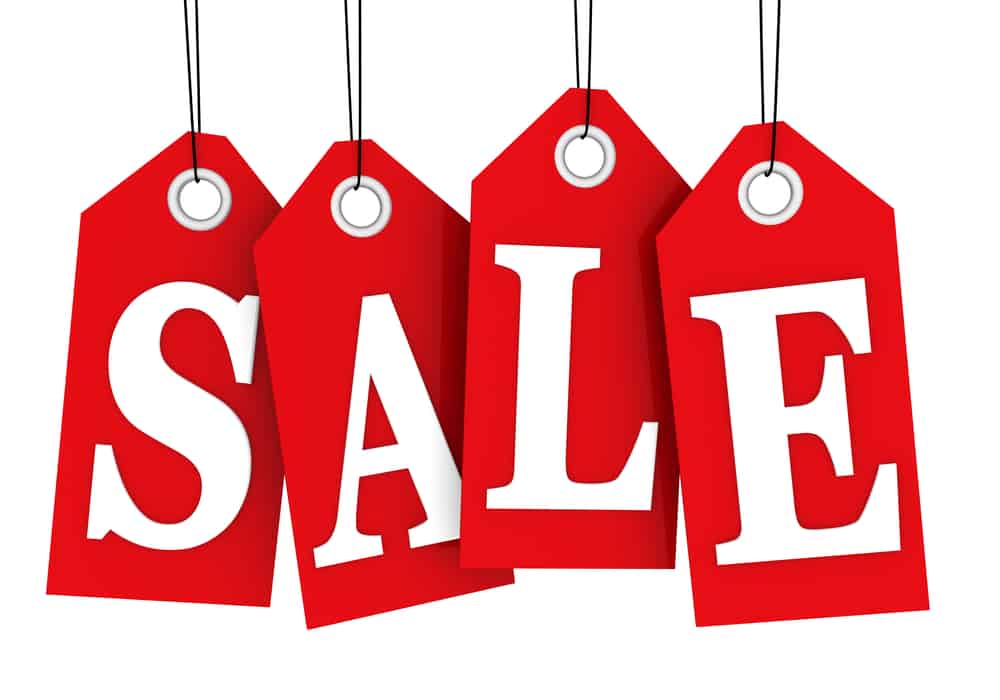 Excuse me if this sounds ridiculously elementary, but here goes:
One way to cut your college costs is to look for schools with lower sticker prices.
My nephew Matt attends Westminster College in Fulton Mo, a liberal arts college, where the tuition and room/board is $30,490. Ninety eight percent of the students at Westminster don't pay full price. The average merit scholarship is $11,500 and the average need-based award is nearly $16,000.
Matt, who is a sophomore, is thriving at Westminster where he has made friends, enjoys small classes and benefits from attentive professors.
My son Ben, a senior, is having an equally great experience at Beloit College, where the price tag is higher.
Comparing Prices
The tuition and room/board at Beloit College is $48,506. The average merit award is $17,600 and the average need-based award is $25,000.
The total price for someone, who qualified for a merit scholarships from Westminster, would be $18,990 versus $30,914 for a Beloit student who snagged a scholarship.
Is Beloit worth the extra $11,924?
And what about the schools, particularly on the coasts that cost an additional $10,000 to $15,000 more than Beloit?
In our family, the price was not a deal breaker because my husband and I could afford to pay for Ben's No. 1 school. But I would suggest that the education students receive at Westminister is going to be quite comparable to Beloit's.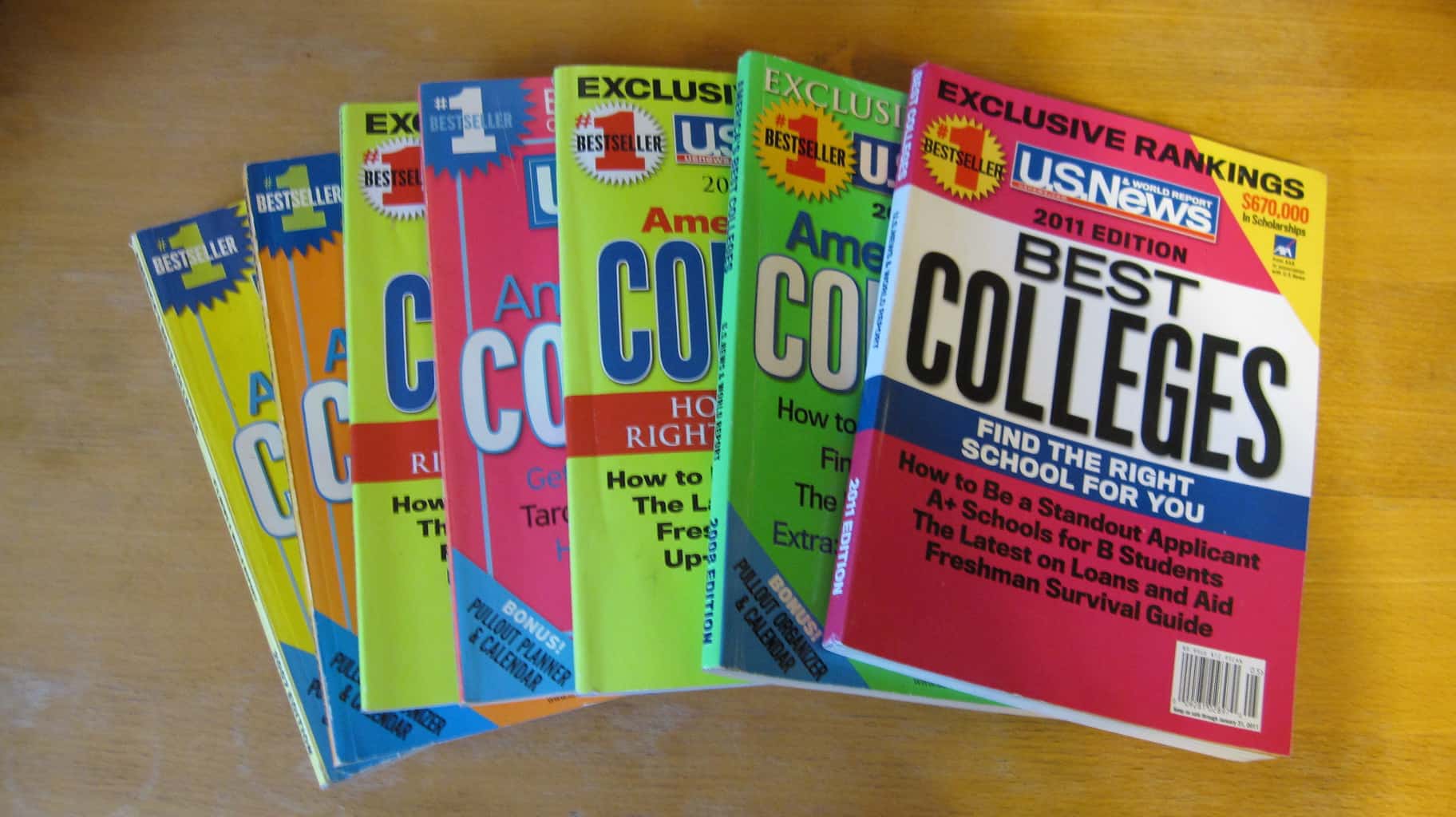 I'd argue that a big reason for the price differential is the college rankings. Beloit is ranked as the 59th best liberal arts college and Westminster is ranked as No. 146th.
Families looking for bargains are more likely to find them if they search lower in the rankings. And, just as importantly, look outside cities and especially those on the coasts where schools can charge a premium.
Sorting Schools by Price
Today I want to share with you a new helpful tool that The Chronicle of Higher Education has rolled out that will allow you to sort through 3,000 schools by price, as well as by price for schools in each state. Play around with this tool and should find some more affordable hidden gems. (You won't be able to access the tool without a subscription, but here is a PDF of the latest prices for schools broken down by state.)
To demonstrate what you can find, I checked prices in Ohio which has a large number of private institutions that are competing for students in a state with declining high school students.
I created a list of private schools based on price and here is a screenshot of the most expensive private schools in Ohio: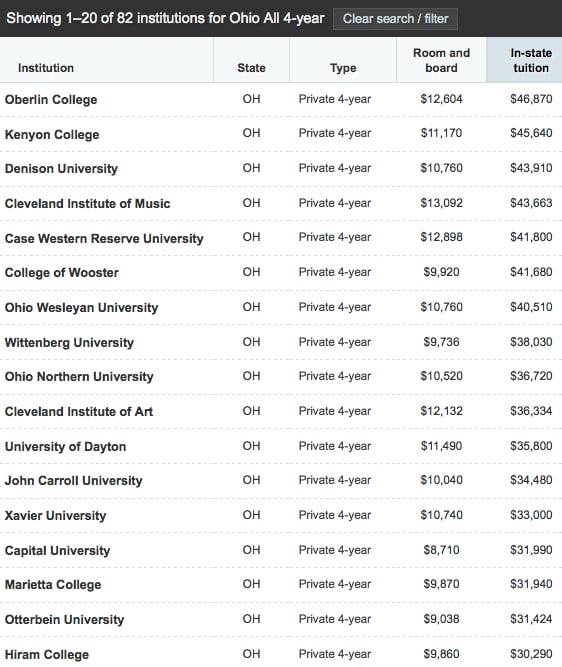 When I looked more closely at the list, I was surprised to discover that price and rankings were highly correlated!
Liberal Arts Colleges
First, let's take a look at the Ohio schools on the list that are in the National Liberal Arts College category. Their rank by cost correlates exactly with their U.S. News ranking:
Oberlin College  25 (U.S. News ranking)
Kenyon College 32
Denison University 50
College of Wooster 65
Ohio Wesleyan U. 100
Wittenburg U. 123
Hiram College 156
National Universities
This trend also held for the two Ohio schools on the screenshot that are ranked in U.S. News' National University category:
Case Western Reserve University 37
University of Dayton 112
Regional Universities – Midwest
The trend doesn't hold for the schools in the Midwestern regional category, but I suspect that could be because people pay less attention to the rankings in this category. The two premiere categories for U.S. News are the national university and liberal arts categories.
John Carroll University 7
Xavier University 4
Capital University 35
Marietta College 4
Otterbein University 17
Looking for Good Buys
I'm not going to get into a discussion of rankings here, but I've discussed in my book and my college blog why U.S. News' college rankings are horribly flawed and even destructive. And yet my little exercise would suggest that we are often paying for schools based on these rankings!
There are wonderful education opportunities at many schools regardless of what U.S. News might think of a school. Here are just two examples:
Marietta College has an impressive program for petroleum engineers – the only liberal arts college that offers this – that enjoys an awesome placement rate. Baldwin Wallace University, an Ohio school that didn't make my screenshot (its tuition is just $27,840 before aid or scholarships) enjoys 100% placement for its highly regarded music therapy programs.
There are many hidden gems out there and if you want to cut the price of college, I'd start looking for them.
 Learn More…
4 Reasons to Ignore U.S. News College Rankings
Why U.S. News' College Rankings Hurt Students
Here's a great New Yorker Magazine piece on college rankings by Malcolm Gladwell