Looking for College Bargains
College sticker prices are often meaningless because most students at state and private universities don't pay it.
Published prices, however, can be a helpful starting point when exploring what kind of price break, in the form of scholarship and grants, your child might get at a particular institution.
Here's an example:
Your teenager receives a $15,000 annual merit award at two universities. While the award is identical, the impact of the scholarships can be significantly different when the sticker prices vary.
List price of college No. 1:  $58,000
List price of college No. 2: $34,000
Now let's look at the dramatically different net prices after deducting the $15,000 scholarship from each school.
Net price at college No. 1: $43,000
Net price at college No. 2: $19,000
While there are certainly exceptions, looking at schools with a lower sticker price will often lead to lower net prices.  Consequently, families should strongly consider including lower priced schools in their hunt.

An easy way to obtain sticker prices is through a valuable tool that The Chronicle of Higher Education created. While much of the content on The Chronicle's website is only available to subscribers, the database of college prices is available to anyone.
Here is a screenshot of the tool:

What you can do with the cost tool
Using The Chronicle tool, you can sort schools by price in a variety of ways including these categories:
Public colleges and universities
Private colleges and universities
Schools by state
Schools by tuition price
Schools by room/board price
State universities by in-state or nonresident prices
To show you what you can obtain, I generated a list of private four-year colleges in Massachusetts. I ranked the private schools by their total price. The in-state total price will be the same as the out-of-state total because private institutions, unlike state universities, don't charge more for students who live outside their state borders.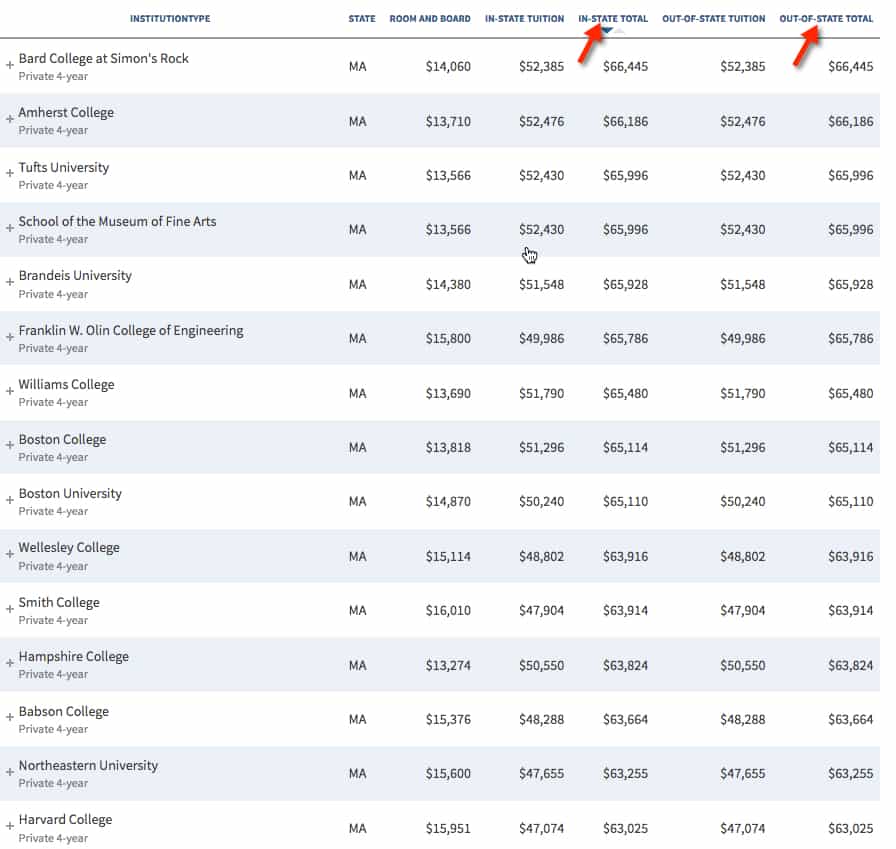 Demonstrating a college pricing reality
Using the cost tool, I was able to demonstrate one of the realities of college pricing: schools that enjoy higher rankings from U.S. News & World Report can charge more and often do.
Families that want the sticker price – and the net price to be lower – should include schools in their search that are perched on lower rankings rungs.
Example
Here is an example from my own extended family:
My nephew Matt graduated last year from Westminster College in Fulton Mo, a liberal arts college. The tuition and room/board is currently $34,020. Ninety-eight percent of the students at Westminster don't pay full price. The average merit scholarship is $13,636 and the average need-based award is nearly $18,524.
Matt thrived at Westminster where he made friends, enjoyed small classes and benefited from attentive professors.
My son Ben had an equally great experience at Beloit College, where the price tag is higher.
How college rankings impact prices

The tuition and room/board at Beloit College is currently $55,206. The average merit award is $23,659 and the average need-based grant is $31,060.
The net price for someone who qualified for the average merit scholarship from Westminster would be $20,384 versus $31,547 for a Beloit student who snagged a scholarship.
Is Beloit worth the extra $11,163?
And what about the schools, particularly on the coasts, that sport sticker prices that are an additional $10,000 to $15,000 more a year than Beloit and other non-coastal schools?
 I would suggest that the education students receive at Westminster will be qutie comparable to Beloit's.
I'd argue that a big reason for the price differential is U.S. News & World Report's college rankings. Beloit is ranked as the 62th best liberal arts college and Westminster is ranked as No. 149th.
Families looking for bargains are more likely to find them if they search lower in the rankings. And, just as importantly, look outside cities and especially those on the coasts where schools can charge a premium because of their location.
Sorting schools by prices

To test out my suspicion about rankings and tuition prices, I used The Chronicle's online database to check the 2016-2017 tuition prices in Ohio, which has a large number of private institutions that must compete for students in a state with a declining population of high school students.
I created a list of all the four-year colleges and universities in Ohio (82 in all) based on price. Here is a screenshot of the sticker prices of the Buckeye state's most expensive colleges and universities that all happen to be private institutions:
As you can see from the above list, there is a huge difference in tuition price between Oberlin (the priciest school in Ohio) and Hiram, which is one of the 40 liberal arts colleges featured in the best-selling book, Colleges That Change Lives. (There are wonderful liberal arts college ideas in that book.)
When I looked more closely at the list, I discovered that the tuition prices and rankings were highly correlated for U.S. News' two premier ranking categories – national liberal arts colleges and national universities.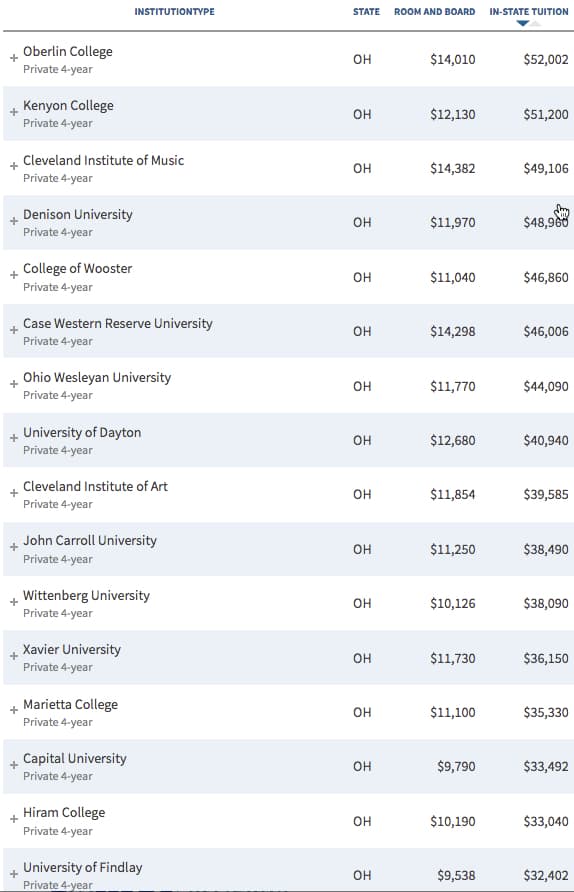 Tuition prices at Ohio liberal arts colleges ranked by cost
First, let's take a look at the Ohio liberal arts colleges on the above list. Their rank by cost lines up exactly with their U.S. News ranking:
| | | |
| --- | --- | --- |
| 23 | Oberlin College | $52,002 |
| 25 | Kenyon College | $51,200 |
| 55 | Denison University | $48,980 |
| 61 | College of Wooster | $46,860 |
| 108 | Ohio Wesleyan U. | $44,090 |
| 148 | Wittenberg U. | $38,090 |
| 154 | Hiram College | $33,040 |
Tuition Prices at Ohio National Universities Ranked by Cost
There were only two private Ohio schools in the national university category in the above list, but they also were priced based on their rankings.
| | | |
| --- | --- | --- |
| 37 | Case Western Reserve University | $44,550 |
| 108 | University of Dayton | $39,090 |
Prices off the coasts
The Chronicle database also illustrates another trend that I previously. Schools on the coasts tend to be more expensive.
You can see this when comparing prices of many schools on the coasts versus elsewhere in the country.
For instance, the tuition and room/board at Hiram College, which is the 15th most expensive school in Ohio, costs $25,565 less than the San Francisco Art Institute ($58,605 sticker price), which is the 15th most expensive school in California.
Tuition prices at Pennsylvania universities
I also took a look at the seven private Pennsylvania institutions in the national university category and detected the similar pricing pattern. The two top-ranked schools – the University of Pennsylvania and Carnegie Mellon University – charged the most. The top four ranked university in Pennsylvania cost considerably more than the other three.
| | | |
| --- | --- | --- |
| 9 | University of Pennsylvania | $66,000 |
| 23 | Carnegie Mellon University | $65,580 |
| 47 | Lehigh University | $61,010 |
| 99 | Drexel University | $65,432 |
| 115 | Duquesne University | $46,822 |
| 161 | Immaculata University | $47,710 |
| 187 | Widener University | $56,486 |
What about state university pricing?
I could have used The Chronicle's database to focus strictly on state schools and college rankings, but I didn't because pricing is heavily impacted by state appropriations and politics and some state governments must approve tuition prices.
That said, state universities that are most popular with nonresidents such as University of California campuses, University of Michigan, University of Virginia, University of Colorado, University of Vermont and the College of William and Mary can charge more.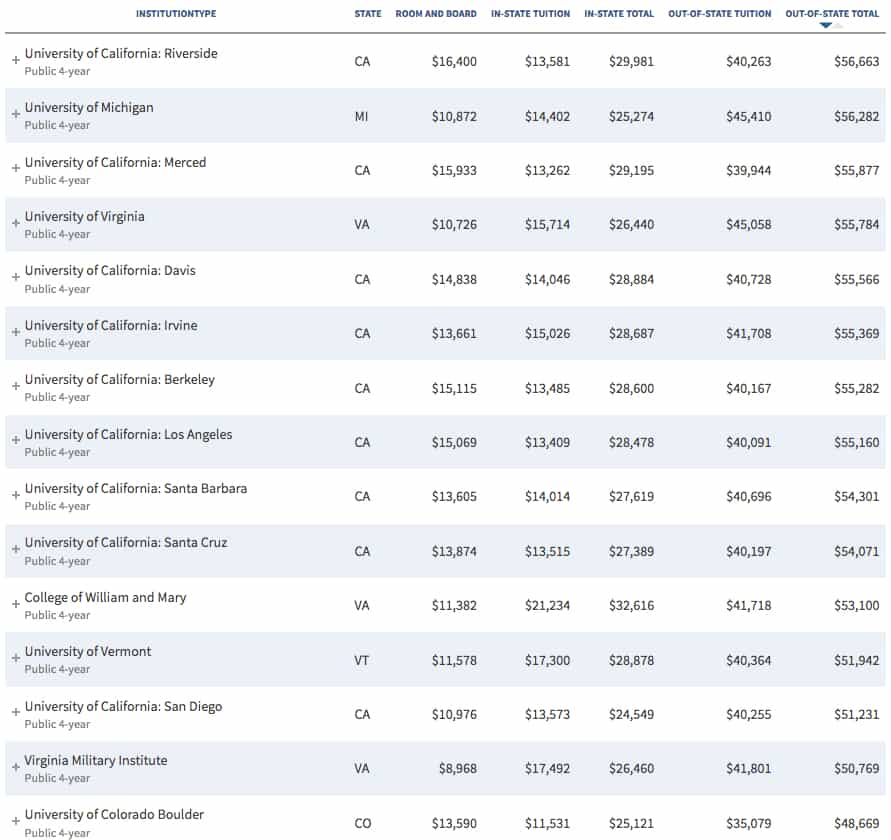 Looking for good buys
This exercise would suggest that millions of families are often paying for schools based on these dubious rankings. I'd argue that parents and consultant should examine their prejudices about what schools are worthy of consideration and which aren't. There are wonderful education opportunities at many schools regardless of what U.S. News might think of a school.
I'd urge you to pay a lot of attention to academic departments when researching schools. Read my post below to find out more.
Clearly there are more issues involved in picking a school than price. And a school with a lower price tag isn't going to be affordable if a child can't graduate from the institution in four years or are surrounded by students who aren't very motivated. Families need to do their due diligence.
Keep in mind, however, that a great education can be found at many colleges and not just among US News' anointed. There are many hidden gems out there and if you want to cut the price of college, I'd start looking for them.
Bottom Line:
aa