Look Who Is Attending Faraway Colleges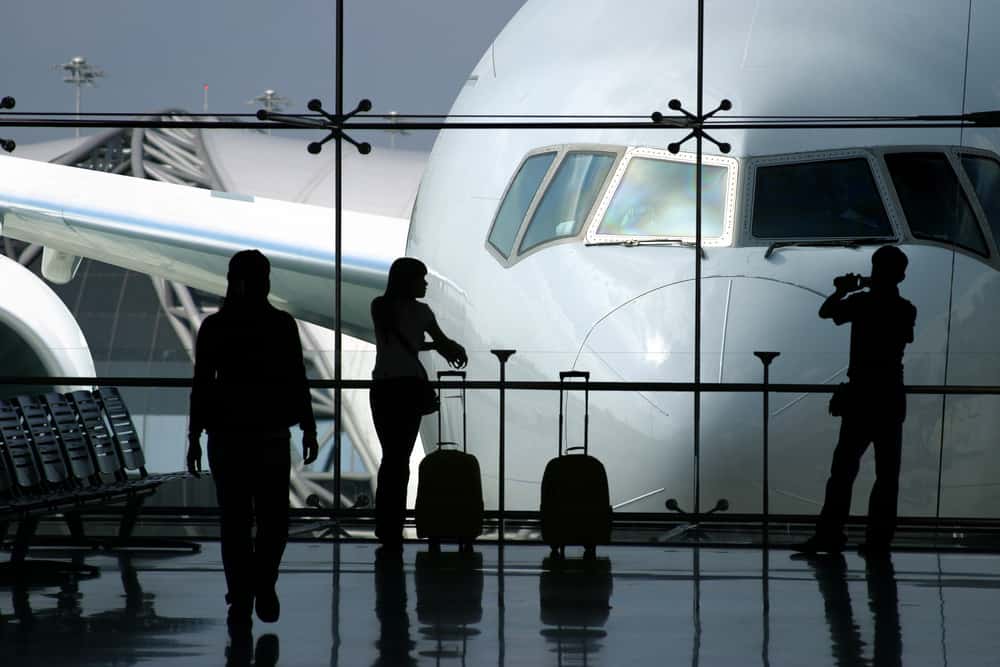 Fifty eight percent of students who attend college pick a school that's located within 100 miles of their home and 72% choose schools in their own state.
Clearly most teenagers and their parents don't throw a wide net even though it can sometimes lead to better academic fits and also greater tuition discounts.
The latest evidence that students aren't wandering far for college comes from Niche, formerly known as College Prowler, which is one of the nation's most popular college-related websites.
Here is what I considered the most fascinating statistic from the report:  Student with higher SAT scores tend to travel longer distances for college. Students who earned a SAT score of at least 2100 (on a 2400 scale) traveled an average of 500 miles for their school and were more likely to attend a school out of state.
In contrast, students earning between 1200 and 1500 only traveled an average of 192 miles. Here is a chart from Niche that breaks down SAT scores ranges with distance traveled for school: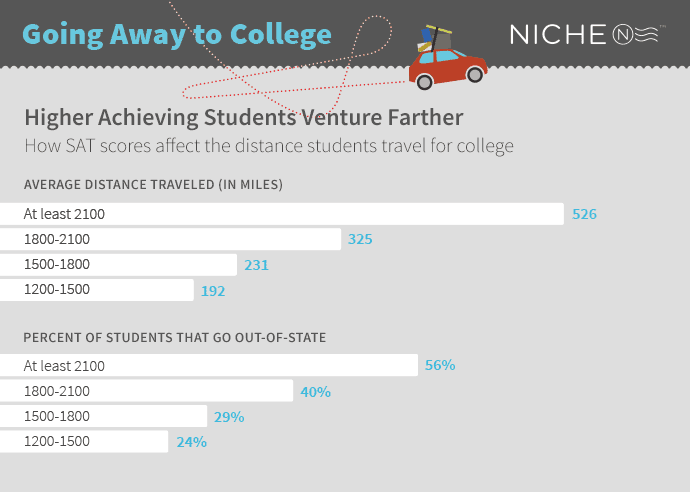 Most students, regardless of their academic smarts, rarely travel across country to pursue a bachelor's degree. In fact, more students attend college within five miles of their house (7%) than do those who travel 2,000 miles or more (2%). My son and daughter graduated from colleges that were respectively 2,000 miles (Beloit College) away and 2,500 miles (Juniata College) away from our home in San Diego. Only 11% of college students selected a four-year school that was at least 500 miles away.
Schools With Drawing Power
There are some schools, however, that manage to attract a large percentage of students from distant states. The vast majority of these schools are located on the East Coast, but the biggest magnet for these students was Reed College, a reknowned liberal arts college in Portland, OR. Reed, which is one of the most intellectual schools in the country, produces undergrads who ultimately go on to earn an outsized number of PhD's in the arts and sciences. Here is a graphic that shows the schools with the longest reaches: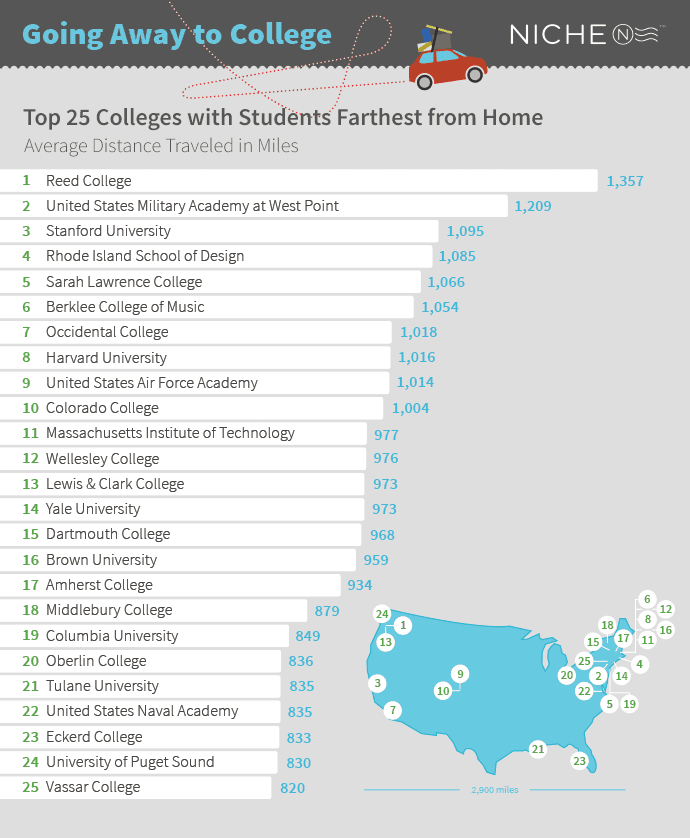 Niche generated its statistics for nearly 350,000 teenage users from 2012 to 2014 through its database that included where students attended high school and college. Niche  calculated the distance between high school and college for each user and also flagged whether the high school and college were located in the same state.
Throwing a Wider Net for College
While the study didn't address the wisdom of looking greater distances for schools, applying to institutions that are a time zone or two away, will sometimes give students a leg up on larger financial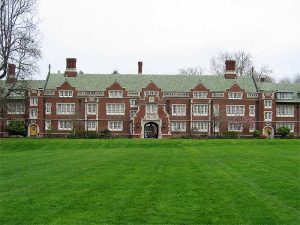 aid or merit awards.
Why? Because colleges crave geographic diversity. If a college admission office in Ohio, for instance, is trying to decide who gets a scholarship between two equally talented candidates, do you think that yet another applicant from Cleveland will capture it or a teenager from San Francisco?
Certainly not all students can handle attending school far from home, but many more can succeed at distant campuses if given the chance. While parents often say that their children don't want to attend college outside their state or region, I think this close-mindedness often originates with moms and dads.
The argument could be made that students can experience a harder time adjusting to college if they live closer to home. The temptation to head home for weekends or during the week to hang out with high school friends, get a home-cooked meal and do laundry can be great. Yet being away from the campus can prevent students from making new friends and taking advantage of what a school has to offer.
Learn More…
Attending a College With Lousy Weather
California Teen Getting Grief for Liking Southern Universities
Enroll in My Summer Online Class
My online class – Cutting the Cost of College – is ideal for parents with teenagers, high school counselors and college consultants. Taking the class is also a smart idea for financial advisors who want to help their clients.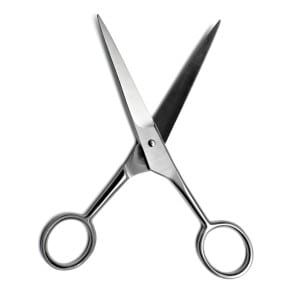 Through written material, videos, discussion boards and webinars, I provide you with a road map that can empower you to make smart decisions on selecting colleges and making them more affordable.
While many parents stop thinking about college in the summer, I believe that's a huge mistake. Summer is an ideal time to become an empowered college consumer.  You can take my class, which starts July 9,  at your own pace and all the materials will be available to you through Sept. 30.
If you sign up early, you will receive a $50 discount on the class. When enrolling, use the term earlybird to get the price break.
Learn more about what my class offers here – Cutting the Cost of College.