Do you know the differences between a college and a university?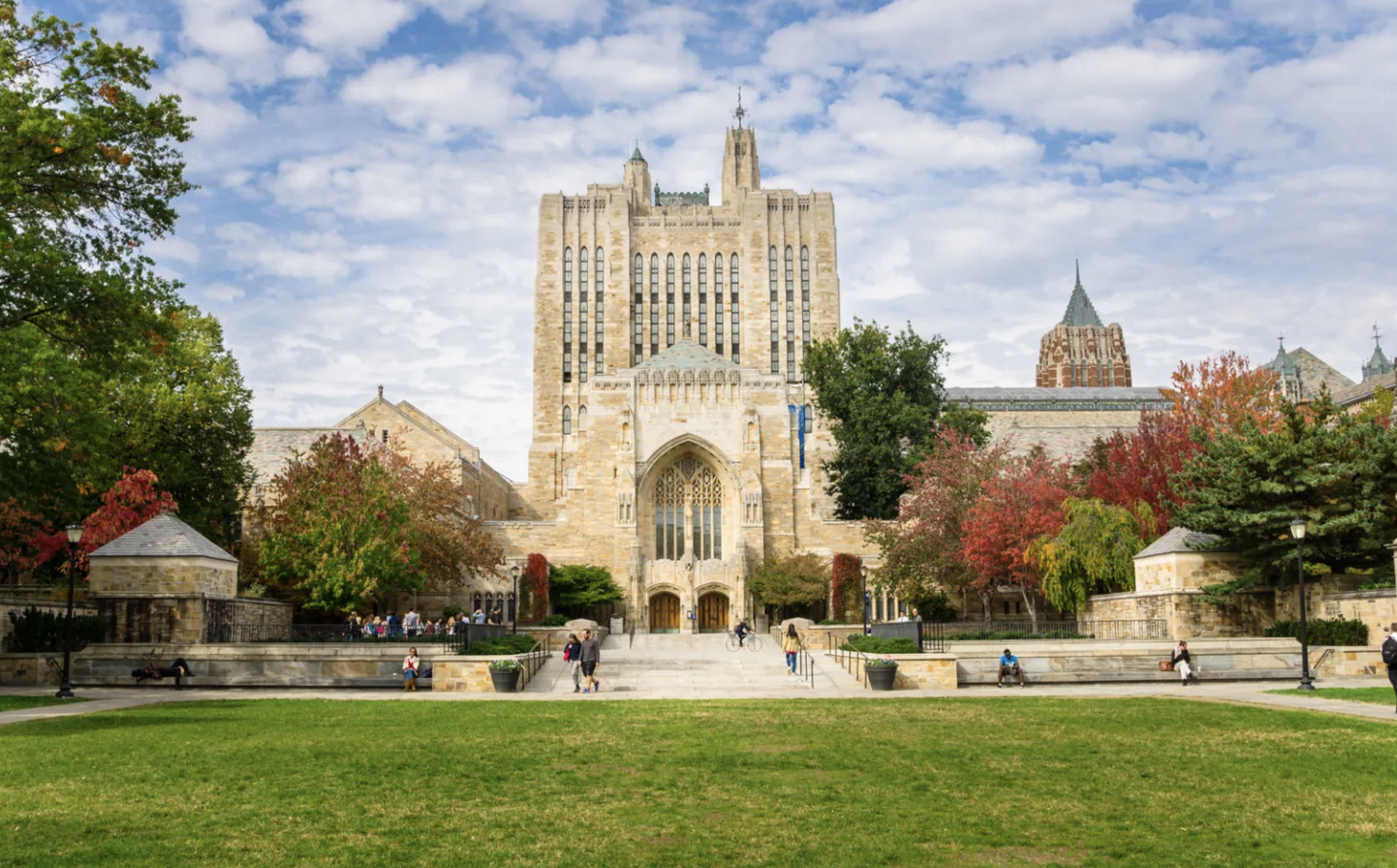 What is the difference between a college and a university?
I have always found it depressing and frustrating that few parents and teenagers know what the differences are between a college and university. And the differences are substantial.
Americans use the terms college and university interchangeably, but these two types of higher-education institutions are quite different.
Families who understand how colleges and universities differ are more likely to throw a wider net when looking at higher-ed options. And this can lead to finding better academic fits and spending less money on a bachelor's degree.
With that in mind, I'm sharing with you the nation's three major types of higher-ed institutions. Understanding the different categories of schools that exist can help families find more appropriate fits and also locate institutions that offer better price points.
In addition, understanding the strengths and weaknesses of different types of institutions can also reduce the likelihood of students ultimately transferring.
It's a scandal that roughly a third of students at four-year private and public institutions end up transferring to another school. Transferring is disruptive and also typically boosts the price of college since inevitably some academic credits won't transfer which leads to delayed graduations.
Three main types of higher-education institutions
Here are the three major categories of higher-ed institutions:
• Research universities
• Master's level universities
• Liberal arts colleges
Research Universities
1. Research universities tend to be the most popular schools with teenagers. Among public universities, they are typically the best known and most sought-after schools in their state.
Here are examples of research universities:
• All the Ivy League institutions
• Carnegie Mellon University
• New York University
• Georgia Institute of Technology
• Ohio State University
• Purdue University
• Rutgers University
• Southern Methodist University
• Tulane University
• University of California, Berkeley
• University of Florida
• University of Southern California
• University of Wisconsin
• Vanderbilt University
2. Research universities are usually large campuses. The nation's biggest research universities are Texas A&M (73,000 students) and University of Central Florida (70,000 students).
Students are drawn to these campuses, in part, because of the large size which often brings with them Division I sports (most notably football and basketball) and lots of clubs, cultural events and activities. The size also allows these universities to offer a huge selection of academic majors.
3. Families often don't appreciate what the mission of these schools is. Here are the top priorities of private and state research universities:
No. 1 priority: Conducting professor research and bringing in research grant dollars to support these efforts. Professors are hired for their research record and not for any teaching ability.
No. 2 priority: Educating graduate students.
At research universities, which are known for attracting top professors (researchers) in their fields, graduate education is the second priority.
This leaves undergraduate education as the third institutional priority. At these universities, graduate students often do most of the teaching of the undergraduates while many classes that are taught by tenured professors take place in lecture halls.
4. Because there can be little, if any, meaningful contact with professors on the tenure track, it can be challenging for undergrads to find a mentor or obtain a recommendation for graduate or professional school.
5. It's important to understand that the educational experience a student receives at a research university, as well as a master's level university or liberal arts college, will depend largely on a student's academic major. At research universities, students with less popular majors could have more contact with professors.
6. It's equally important to understand that no university or college is uniformly great, average or mediocre. The quality of the institution can vary dramatically among the academic departments. A university, for instance, could have a fabulous business school, but a lousy biology program. Consequently, it's important to evaluate academic departments when researching colleges and universities.
7. One way to make an undergraduate experience at a research university more personalized is to participate in the school's honor college or honors programs. At some honor colleges, students can enjoy at least some small classes and may have access to professor mentors and better housing. The quality of the honors programs, as well as admission eligibility, can vary significantly so families need to do their research.
You can learn a lot more about honors colleges by reading the following article on the website of College Transitions, which is one of my favorite collegiate resources:
Best Honors Colleges and Honors Programs
Liberal Arts Colleges
1. Among the three main types of schools, liberal arts colleges are the smallest. They often have student bodies between 1,000 and 2,500 students. State public liberal arts colleges are larger with campus populations closer to 5,000, but that's still much smaller than most state universities.
Most liberal arts colleges are private, but public ones exist too. You can find a list of the latter schools at the website of the Council of Public Liberal Arts Colleges.
Here are examples of public liberal arts colleges:
• New College of Florida
• Purchase College—SUNY
• Ramapo College of New Jersey
• St. Mary's College of Maryland
• Truman State University
• University of North Carolina, Asheville
• University of Science and Arts of Oklahoma
• University of Virginia—Wise
United States Military Academy
• United States Naval Academy
Here are examples of private liberal arts colleges:
• Beloit College (my son's alma mater)
• Claremont McKenna College
• Colgate University
• Colorado College
• Grinnell College
• Lake Forest College
• Middlebury College
• Rhodes College
• Scripps College
• Washington and Lee University
• Williams Colleges
2. The number one priority at liberal arts colleges is undergraduate teaching. These schools rarely have any graduate programs so professors actually teach.
It's far easier to connect with professors at liberal arts colleges since they are accessible and opportunities for mentorships will be more plentiful and it will often be easier to get guidance and recommendations for graduate school.
This reality might be why liberal arts colleges dominate the list of the higher-ed institutions that produce the greatest percentage of grads who end up earning PhD's. Here is a chart with the top schools.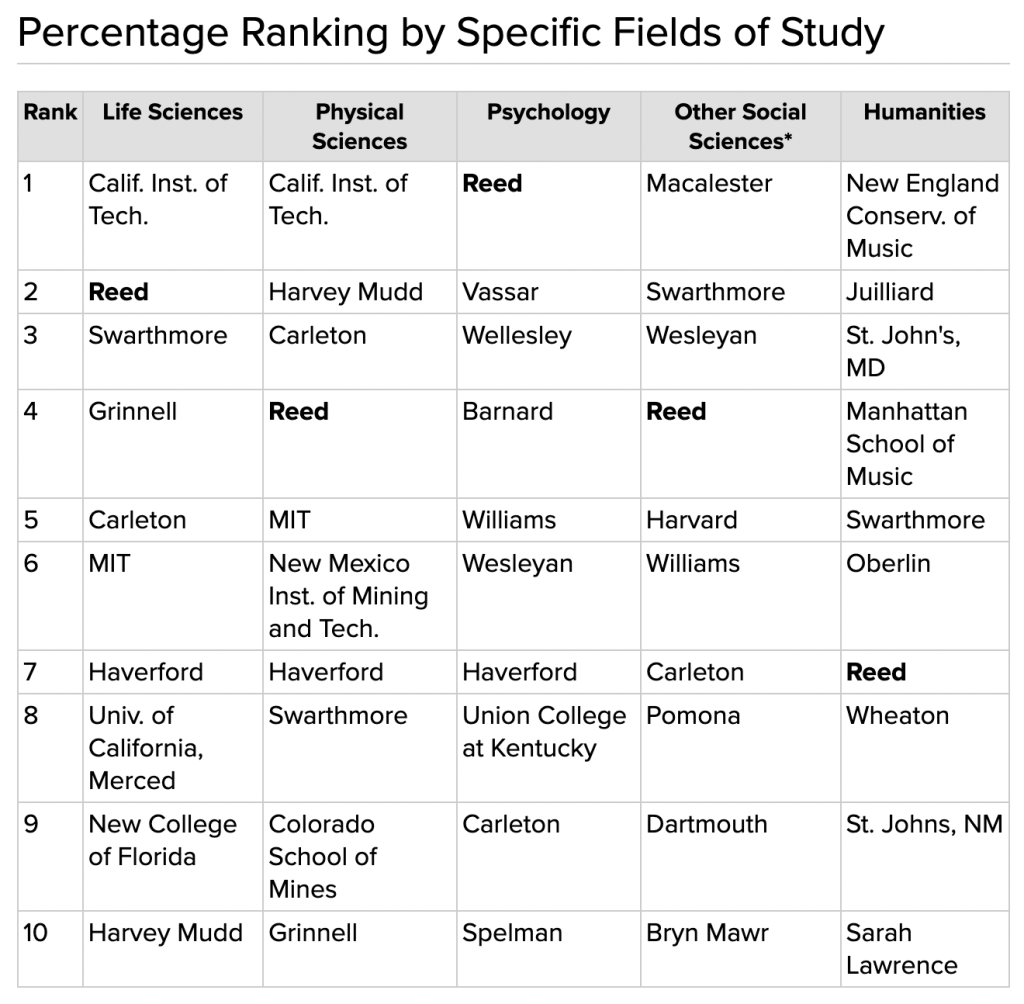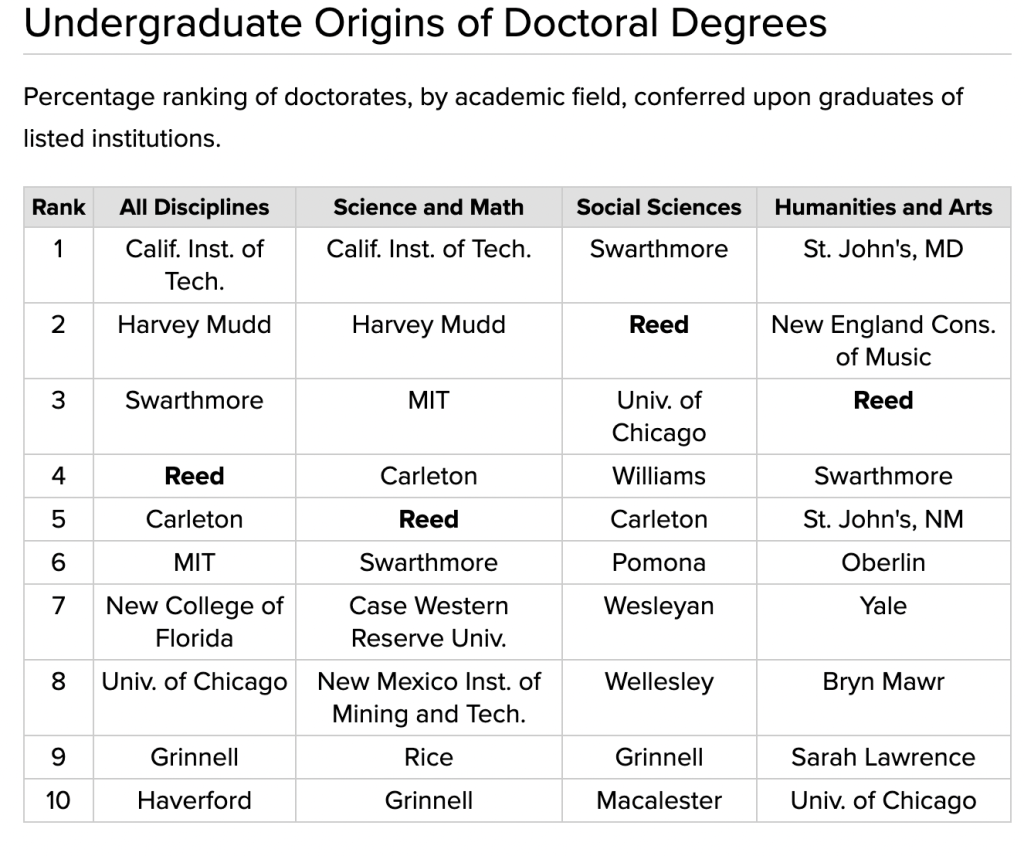 3. As the name suggests, liberal arts colleges offer bachelor's degrees in the liberal arts such as English, history, biology, economics, mathematics and chemistry. While some of these colleges offer business degrees due to their popularity, these schools typically avoid vocational degrees such as journalism, nursing, engineering and allied health majors.
4. One of the most attractive features of liberal arts colleges is that they are small. Classes are small. Some schools even boast that there isn't a single lecture hall on their campus.
Small classes lead to more interactive learning and often provide more opportunities to earn good grades. That's because smaller classes can allow for credit for class participation and more frequent grading for quizzes, as well as tests. In contrast, at big universities with large classes, there might only be a mid-term and final for grading.
5. The smaller size of liberal arts colleges is a huge nonstarter for some students who have attended bigger high schools and want what they assume will be a more exciting campus atmosphere with more students. In addition, some students will dismiss these colleges because they don't offer their majors.
Master's Level Universities
Here are things you need to know regarding master's level universities, which are also referred to as regional universities:
1. Master's level universities are so named because there are usually few if any PhD programs at the schools. Instead, the graduate programs typically focus on master's degrees.
Many of the regional state schools were founded in the 19th century as colleges dedicated to educating school teachers but long ago they broadened their offerings. These schools offer the traditional liberal arts subjects such as biology, psychology and economics, as well as career-oriented degrees such as business, engineering, nursing, criminology and allied health fields.
2. Most students who attend four-year state schools attend master's level universities.  Lots of private institutions also fall into this category including many Catholic and Christian universities. Here are examples:
Abilene Christian University
Bentley University
Butler University
Creighton University
Drake University
Elon University
Gonzaga University
Ithaca University
University of Dallas
University of Portland
Here are examples of state regional universities:
• California Polytechnic State University
• College of New Jersey
• CUNY—Hunter College
• James Madison University
• Northern Illinois University
• Salisbury University
• San Francisco State University
• SUNY-Geneseo
• The Citadel
• University of Michigan—Dearborn
• Western Washington University
In my opinion, evaluating master's degree universities, whether public or private, will be trickier than the other two categories.
Here's why: As you've learned, the primary mission of research intense universities is research and graduate education with undergrads being the third priority. In contrast, liberal arts colleges are dedicated to undergraduates. But at master's level universities, the commitment to undergrad education versus research varies. Trying to get some sense of where a particular institution resides on this continuum can be challenging, but worth the effort.
3. A resource to learn what institutions fall into this category is U.S. News. Check out it's "Regional University" category that is divided into four geographic areas. You can find a list of liberal arts colleges by looking at U.S. News' "National Liberal Arts Colleges" listings.
It's important not to put stock in the actual ranking that U.S. News gives each school, but instead use the lists to generate ideas for further research!
Need math help?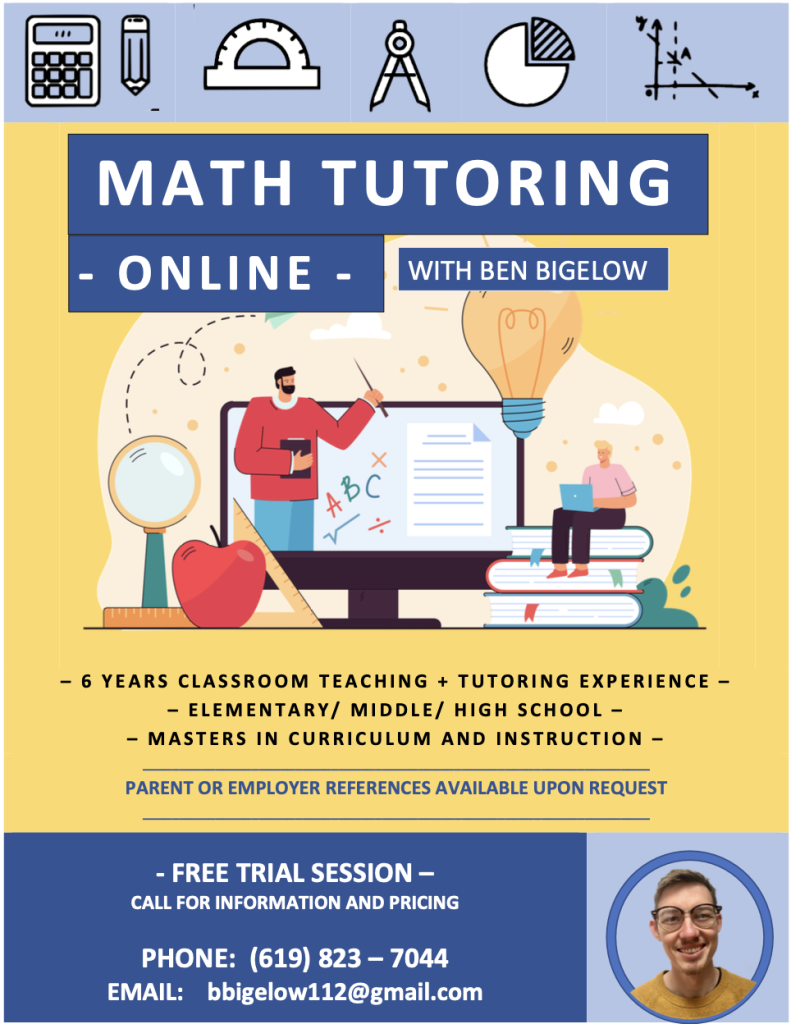 My son, who is a veteran math teacher, has started offering online math tutoring for students in grade school up to those studying pre-calculus.
Ben is an incredibly patient and supportive teacher, who has a gift for making students feel better about math and/or accelerating their math ability. If your child needs some help, Ben is offering a first session for free. You can reach him at (619) 823-7044 or bbigelow112@gmail.com.

I'm confused by your of three main types of higher education institutions. You have listed; research universities, Liberal Arts Colleges and masters level universities. I think you're missing a large type of school here – colleges that aren't liberal arts colleges and offer both liberal arts degrees and professional degrees. SUNY Geneseo is one of them, its a college within the State University of NY system. I guess you're using US News & World Report categories? Confusing.

Hi Joanne,

Actually, SUNY Geneseo is a master's level (regional university). There are regional colleges that focus on undergraduates but offer most of their degrees that are not tied to liberal arts. The categories that I focused on are the institutions that I think my readers will primarily be interested in. Lynn O'Shaughnessy

Hi Lynne,
Thank you for your research and writing. I'd like to make a correction to your article. Our military service academies are indeed liberal arts colleges, but they (all five) are public, not private schools.