How to Contact College Coaches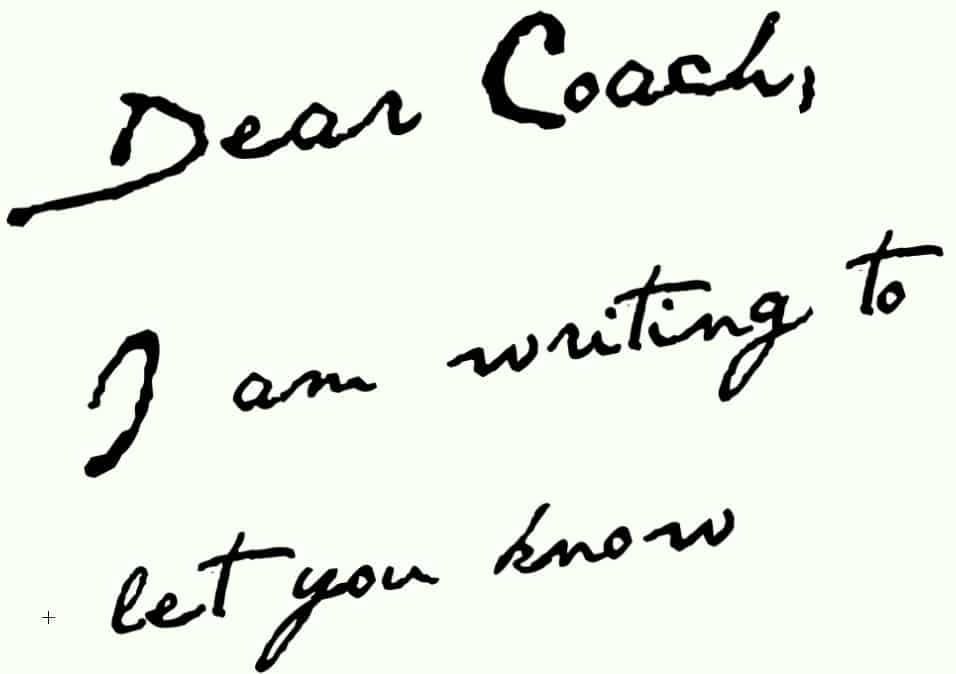 Today I am sharing a guest post on athletic scholarships that Jon Fugler,  the founder and CEO of Recruit-Me, wrote. Fugler has been helping parents and student-athletes navigate the recruiting road since 2002. Lynn O'Shaughnessy

What's the best way to get on a college coach's radar when seeking an athletic scholarship?
You first need to understand that the burden is on your family to contact coaches. This might seem like an easy thing to do, but parents and teenagers frequently make mistakes when reaching out.
Below you'll see some frequent mistakes that families make, as well as my recommendations on how to attract a coach's attention.
Five Common Mistakes When Contacting Coaches
1. Do not send out hundreds of identical "Dear coach…" emails.
Coaches can smell spam a mile away.  If they get a non-personalized email, they are just going to hit "delete".
2. Do not mass mail DVDs to coaches. 
There is a role for athlete videos, but you should never use a video as an introductory contact.  Most coaches don't want to take the time to watch an athlete's video until after they've done some screening of the athlete's facts and stats.
3. Don't fill out a questionnaire to introduce yourself.
Coaches want you to do that, but you'll just blend in with the crowd if you try this as the introductory approach.  You don't want to blend in, you want to stand out.  You'll eventually be filling out the school questionnaire, but not initially.
4. Don't let your parents phone coaches.
Phone calls aren't useful to coaches for a number of reasons.  First, they take a lot of time that a coach would rather invest after he or she screens a prospective athlete.  Second, the coach would rather talk with athletes than with their parents, scoping the athletes out to find out what they think, what their level of interest is, where their head is, etc.
5. Don't rely on your high school coach to make every coach contact.
Don't get me wrong, it's great when your coach makes contact to coaches.  He knows how to promote you.  That goes a long way but that usually only exposes you to a handful of colleges.  High school coaches don't have the time and they don't have the know-how to run an effective campaign for you.
The Right Way to Contact College Coaches
If you want to get on a coach's radar and want to be recruited by that school, what should you do?
The best method is what I learned early on with my twin boys. Create a well crafted introductory packet to send to a coach.
The packet needs to introduce the athlete to the coach in a very personal way.  It needs to get the coach's interest and make the coach want to know more.  You should never send an all inclusive "here's everything" dump, but you should provide the just right info to get his or her interest.
The two things to include are a one-page cover letter and a one-page profile that includes the athlete's key athletic, academic and personal information.
Your letter should be a few short paragraphs that introduce yourself to the coach.  It should be personalized to each coach, addressing him or her by name and specifically mentioning the school.  Begin by introducing yourself and explaining in one sentence why you want to compete at that
school.  Continue with a paragraph about your athletic abilities and a couple of your best stats.  Finally, conclude by sharing what you feel you can contribute to the program.
If you're sending your packet by email, the cover letter would be the body of the email and the profile should be attached.
On the profile, you will include all your family and contact information, personal information and some of your specific stats.  You can see some samples of one-page profiles by doing a Google search on the term "athletic recruiting resume" and viewing "images."
The one-page profile is a way for the coach to get a feel for your talent level.  Of course, seeing you in person or watching your video will really be the true test.  However, the profile will at least give him or her an indication and will hopefully lead to a response for further information.
Jon Fugler the founder and CEO of Recruit-Me, has been helping parents and student-athletes navigate the recruiting road since 2002. For more details on introductory packets, including a sample introductory letter, request Jon's free e-book, A Parent's Guide to Athletic Scholarships, at www.recruit-me.com. Jon can be contacted at jon@recruit-me.com.
Learn More About Cutting College Costs
I've opened up registration for my latest online course – The College Cost Lab – that will explain how parents can
cut the cost of college.
Enroll early and you'll get my new guide, The Ultimate List of the Nation's Most Generous Colleges. – Lynn O'Shaughnessy