How to Avoid a Student Loan Disaster
Most of the teenagers who visit my college blog aren't thinking yet about how they are going to come up with the cash to pay off any future student loans.
High school students and their parents are more focused on getting into good schools. I don't blame them, but payback time is inevitable. And that's when it's going to get ugly for some graduates. Nearly 9% of student borrowers have defaulted on their loans. Unlike nearly all other debt, you can't wiggle your way out of repaying student loans.
While all this sounds ominous, there is a safety net for students who borrow through the federal government. If you possess federal student loans, and in particular the Stafford or Grad Plus loans, you can pay back them back based on what you are making rather than what you owe.
Student Loan Safety Valve
The income-based repayment plan (IRB) is an incredible deal for students who naturally worry about whether they will find jobs after graduation. The IBR is principally designed for graduates who are unemployed or underemployed and struggling with paying back their loans.
This repayment program is on the verge of getting even better thanks to a White House announcement on Wednesday that will extend the program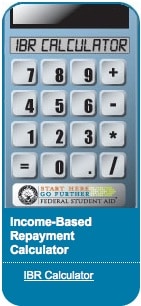 to roughly 1.6 million more Americans.
The current loan repayment program permits borrowers to make lower payments if their loan payments exceed 15% of their discretionary income. If the debt isn't repaid in 25 years, it will be dismissed.
Obama's plan, which will take effect sometime in 2012, will allow borrowers to participate if their loan payments exceed 10% of their discretionary income. Their loans would be entirely dismissed after 20 years. Here is an example from the press release announcing the improved repayment program:



You're probably wondering how you or someone you know might qualify. What, after all, represents 15% or 10% of somebody's discretionary income? No worries here. You can use the federal IBR calculator to determine your eligibility and what your new payment would be.
I used the calculator and assumed that the borrower made $20,000 in income and had $25,000 in outstanding debt. In this case, the borrower would pay just $45 a month.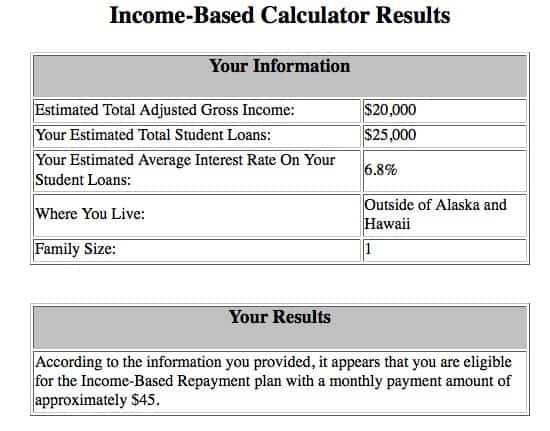 Taking Advantage of the Repayment Plan
Sadly, most borrowers don't know that the repayment program even exists. Only 450,000 borrowers are currently participating in the program even though millions of Americans are eligible. If you know someone who can benefit, please pass the word.
Way Off the Subject: 
As a lifelong St. Louis Cardinal fan, I have to mention one more thing: Friday is game 7 of the World Series. I already bit my fingernails off during Game 6 so I don't know how I'll be able to handle watching the final game. But nonetheless, go CARDINALS!!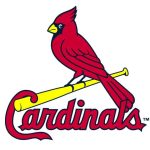 Lynn O'Shaughnessy is the author of The College Solution and she also writes a college blog for CBSMoneyWatch.com and US News & World Report. Join her on Facebook.
Read More on The College Solution:
How Student Loan Borrowers Are Getting Into Trouble
Do All Admission Reps Know What They Are Talking About?
What Is Your Expected Family Contribution?




It was a crazy, historic game and I'm glad the Cards ended up on top. I can't imagine what it would have been like for Ranger fans. I'm keeping my fingers crossed for game 7 tonight!
Lynn O'Shaughnessy

I was wondering if you were going to mention the World Series. What an exciting game!

Couldn't help but mention the World Series. I did tack it on at the last minute though.
Lynn O'Shaughnessy