How Much Parents and Students Are Borrowing for College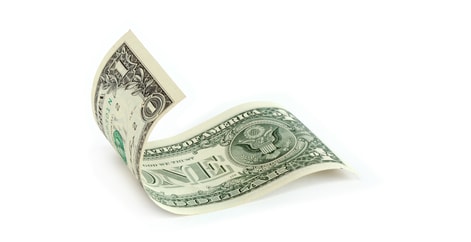 As recently as the early 1990s, most students did not take out college loans. Today nearly 71% of students borrow to pay for college.
The typical student borrower graduating with the class of 2015 left college with an average debt of $35,051, according to an analysis by Mark Kantrowitz, the publisher of Edvisors.com.
In Kantrowitz's chart below, you will see that the percentage of students borrowing for college, along with the amount they borrow, has increased every year since the 1992-1993 school year!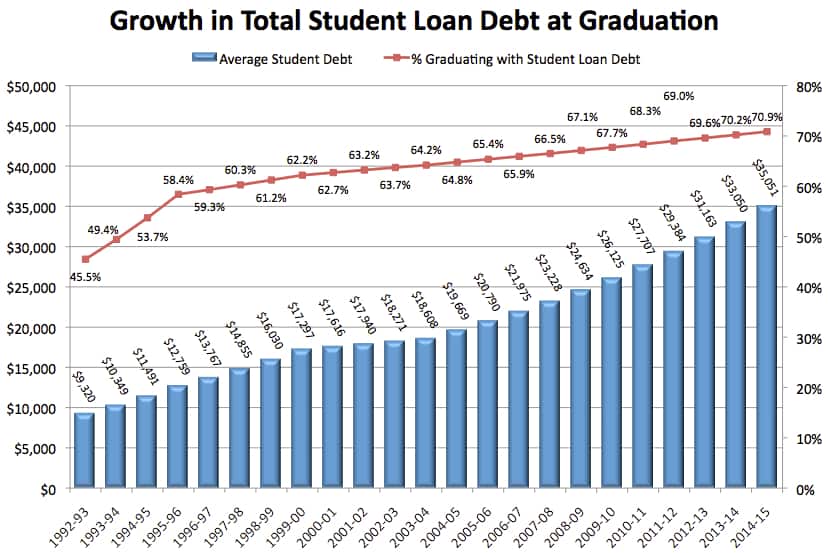 Parent borrowing through the federal parent PLUS Loans has also been climbing annually since the 1992-1993 school year. The average parent who borrows must repay debt of nearly $31,000.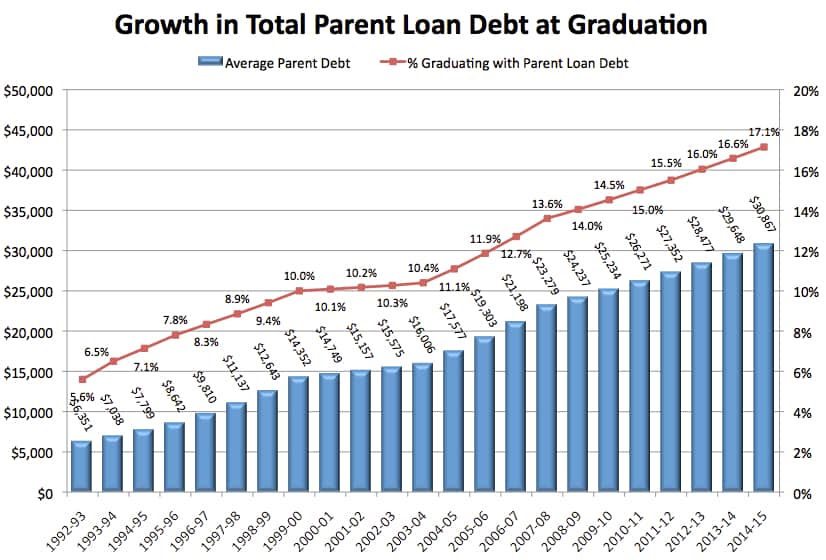 Student Loan Consolidation Guide
For students, who have already graduated with college debt, I'm sharing the link to a extremely helpful student loan consolidation guide from The Simple Dollar website that should help you decide if this is a smart move.
For Students Who Need to Borrow
Is $35,051 a reasonable amount of debt for someone who is seeking to earn a bachelor's degree?
It depends on what types of student loans an undergraduate selects. The level of debt will be much more manageable if the student only borrows via federal student loans. For most students that will mean obtaining federal Direct Subsidized Loans and Direct Unsubsidized Loans.
Federal Student Loans
Here is why these direct federal loans, which designed exclusively for students, are superior:
The reason why federal students loans are far less risky than  private ones is because of their built-in safety net.  A federal repayment program, which allows eligible borrowers to pay based on what they are making rather than what they owe, can be a godsend for grads who are struggling. Here is an previous post that I wrote on this repayment plan:
Subsidized and Unsubsidized Loans
The interest rate on both the subsidized and the unsubsidized federal loans for the 2015-2016 school year is 4.29%, which is slightly lower than the previous year's rate of 4.66%. The interest rates are adjusted annually and linked to the 10-year U.S. Treasury note.
The best loan to get is the Direct Subsidized Loan. Students who qualify for this one don't have to pay the interest that accrues while they are enrolled in college. The federal government pays this interest. In contrast, borrowers through the unsubsidized loan are responsible for covering the interest that accrues while in college.
Qualifying for a Direct Subsidized Loan
Your college will tell you if your child qualifies for the subsidized loan. Look at the financial aid package that your teenager receives to see what the breakdown is between subsidized versus unsubsidized loans.
A federal formula is used to determine if a student, based on a family's finances, is eligible for the better-subsidized deal. The majority of subsidized federal loans are awarded to students whose family's adjusted gross income is less than $50,000.
You can see both kinds of direct loans in your child's package.
Federal Loan Borrowing Limits
Below is a federal chart that outlines how much students can borrow. The left-hand column shows the maximum amount that traditional (i.e. dependent) college students can borrow.
The other column shows how much independent students, as well as dependent students whose parents were denied a federal PLUS Loan, can borrow. (To learn more about independent students, see this old post of mine, which at attracted 377 comments and counting, that focuses on this issue.) Undergraduates whose parents could not obtain the PLUS Loan can borrow up to $57,500.
If a student takes the traditional four years to graduate from college, the maximum he/she can borrow will be $27,000. If the student needs longer to graduate with a bachelor's degree he/she can only borrow an additional $4,000.
When should I apply for my federal student loan?
The new year for federal student loans started on July 1. So if your child will begin college in the fall of 2015, you could apply now.
Another Federal Option: Perkins Loan
The second type of federal option for students is the Perkins Loan. Students who are eligible for the Perkins have what the federal government terms as exceptional financial need.
The interest rate for the Perkins is 5%. With this loan, the student's institution is the lender and borrowers make payments to their school or the institution's loan servicer. If the money is available, the most a student is eligible to borrow is $5,500 a year.
Whether your child will qualify for the Perkins will depend, in part, on where he or she attends school. Because of the way the Perkin was established, not all schools can participate in the program and institutions that have access to more funds tend to be elite, private institutions.
Once a student has graduated, left school or dropped below half-time status, he or she has a nine-month grace period before Perkins payments must start.
Bottom Line:
Students should turn to the federal direct loans and Perkins loans first when borrowing for college. Students should not consider borrowing through private loans unless their federal student loans are maxed out.