How Hard Is It To Get Into College?
Do you assume that most teenagers face lousy odds of getting accepted into a good college?
Lots of families believe that the admission process is stacked heavily against applicants, but this isn't true. I largely blame the media's obsessive coverage of the most elite universities for that misconception.
A new report from the College Board, Trends in College Pricing 2011, however, clearly dispels the notion that colleges are impenetrable fortresses that turn away nearly all who dare apply.
If you look at the pie chart below, you'll see that only 16% of the nation's four-year colleges and universities reject 50% or more of its applicants. Only 2% reject more than 75% of their applicants.
College & University Acceptance Rates

College & University Graduation Rates
There is a price to pay, however, for students who attend less selective schools. The more exclusive a college or university is, the greater the chance of graduation. I'd argue that the graduation rates at more exclusive schools have far less to do with the institutions and more to do with the kind of students they attract.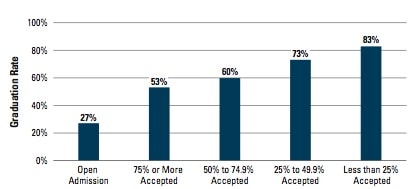 The Price of Tuition
Also in the report, I ran across a breakdown of prices that families pay for tuition at state and private schools that I found fascinating. Nineteen percent of college students attending public institutions are paying less than $6,000 a year in tuition. In contrast, 8.1% of students at private schools pay more than $42,000 a year in tuition alone!
Nearly 61% of students attending four-year public universities pay less than $9,000 a year in tuition. Those figures don't cover room/board, which, in some cases, especially out here in California,  can easily double the price. The Western states charge the nation's highest dorm fees while the Midwest and the Southwest have the lowest.
Percentage of Student Attending Schools at Different Price Points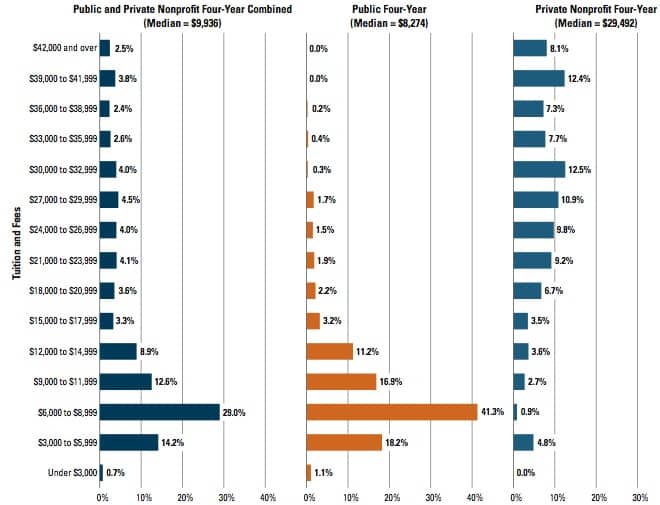 Cutting the Cost of College
Now that you know what college prices are like, read below for a few suggestions on how to shrink your costs:
Why Saving for College Won't Hurt Your Financial Aid Chances
Playing Hide and Seek with Net Price Calculators
College Cost Calculators: Getting Wildly Different Answers
Qualifying for Financial Aid: How Wealthy Is Too Wealthy?

Lynn O'Shaughnessy is the author of The College Solution and Shrinking the Cost of College, a financial workbook. Follow her on Twitter and Facebook.