Hope for the 3.4 GPA Student!
Yesterday I wrote a post about a teenager with a 3.4 GPA who failed to capture a scholarship from any of the schools where he applied.
This is hard to do when you consider that two-thirds of college student don't pay the sticker price for college.
If you missed yesterday's post, here it is:  Getting Stiffed by Colleges

After reading the post, two blog visitors asked the following question, which prompted me to decide to revisit this issue for a second day:
Options for Students with a 3.4 GPA
First, I want to say that it's a sad commentary on the college admission process that parents and students fret that a teenager with a quite respectable 3.4 or 3.5 GPA has few options. I appreciate that I might be reading too much into the questions posed by these moms,  but I have known a lot of kids with these kinds of GPA's and lower who worry that they are doomed. My own daughter had an unweighted 3.4 GPA as a sophomore and junior that she barely nudged to a 3.5 GPA by the time she began applying to college so I've been there.
Eighty five percent of students at private schools receive some type of scholarships or grants so obviously it's not just the students with the 4.0 GPAs who are hogging the awards.
Scholarships and grants are plentiful because its' a buyers' market – despite what the media says. Most schools need to hustle to fill their freshman slots. Schools offer merit scholarships because the institutions are fiercely competing against each other for good students.  It's understandable that families don't appreciate this because the media focuses primarily on the tiny fraction of schools that can turn away almost all comers.
Here's a recent post that touches upon this subject: Who Is Stressed Out About College?
Who Gets What
It is true, however, that colleges are most interested in giving their best awards to the students they covet the most. Students with higher grades and test scores. And that often – but not always – means students who have done the best academically at their schools.  At one school, for example, a student with a 3.75 might get a $15,000 a year scholarship, while a student with a 3.2 GPA might get a $10,000 a-year award.
Muhlenberg College
Muhlenberg College has an excellent (and candid) explanation of this phenomenon on its website that I would urge you to read. I applaud Muhlenberg's candor on this topic and wish more schools would be honest with students:
The Real Deal on Financial Aid
One of the main points of the Muhlenberg essay is that students who are in the top quarter to third of a school's freshman class will typically enjoy better financial aid or merit scholarships. What kind of academic profile a student will need to get into the top third will vary by school.
A Scholarship Calculator
Some schools post scholarship calculators on their websites that you can use to see what kind of money a student might earn. Public universities, in particular, are more likely to use strictly numbers (GPA, test scores and class rank) to award scholarships because of the sheer volume of applications.
As an example, here is what Baylor University's scholarship calculator looks like: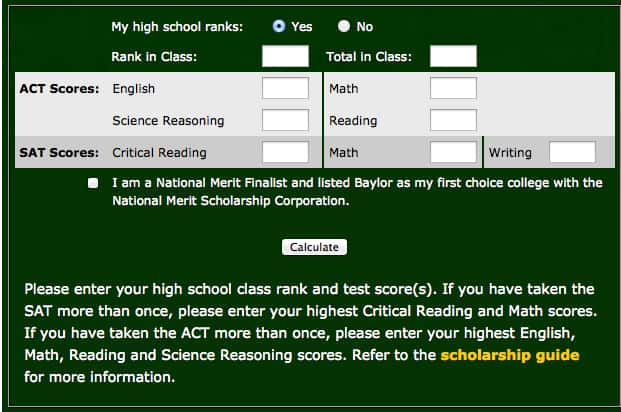 Another Scholarship Calculator
Michelle Kretzschmar, who runs a wonderful website called Do-It-Yourself College Rankings posted this example on my site yesterday for a student with a 3.4 GPA who is interested in Southwestern University, a lovely liberal arts college in Texas. A 3.4 GPA applicant at Southwestern could get $9,000 a-year scholarship for a total of $36,000.
Net Price Calculators
The definitive way to find out what kind of price break a school will provide is to use its net price calculator. I wrote a post recently for my CBS college blog that discusses these calculators:
How to Find Out What College Will Really Cost You
 Use a College Search Engine
Another strategy for finding schools based on the academic profile of your teenager is to use a college search engine. At the College Board, for instance, you can look for schools based on SAT and ACT scores. Here is a peek: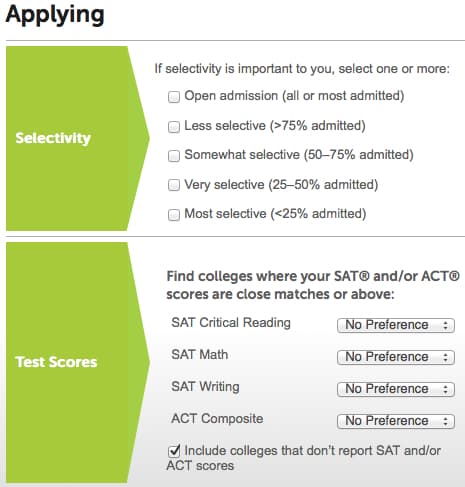 One More Tip
If your child's GPA isn't as strong as you'd like, you could also consider focusing on schools that use a holistic admission process. The GPA will be important, but other factors will also be weighed like a student's coursework, extracurricular activities, gender, state of origin, demonstrated interest in the school, recommendations and interview.
That's the route that I took with my own daughter Caitlin. She qualified for a $12,000-a-year scholarship from Juniata College. Students with her academic profile began getting $15,000 scholarships the year after she applied. She also won a scholarship from Juniata for foreign language majors.

The No. 1 way to cut the cost of college is to become an educated consumer. You can learn how by attending my popular online course, The College Cost Lab. I'll be relaunching the

course in June 2016 and if you'd like to be notified when I have more details, please click here!
Austin,The name of the game is EARLY and OFTEN. What I mean by this is start thinking about what you want in a coglele education now and what schools would offer you those EDUCATIONAL opportunities. Leave out specific divisions at this point instead focusing on what cogleles can offer you outside of athletics. Once you start coming up with a growing list of schools you might have an interest in then you can start to think about contacting those coaches. Remember, it does you no good to contact a coach without understanding what his program and school can offer you and what you can offer them. When attempting to get recognized it's legwork. The consistent pavement beating, door-knocking that it takes to get someone to pay attention to you even for a few moments. This sometimes involves many emails and phone calls before a coach will give you the time of day but you have to persevere. You gain their attention by having a quality highlight tape, a good athletic resume, and most important- good grades.

OMgosh…the frenetic stress of it all. Athletes receive full 4 year scholarships, take as little as 2 courses per semester to achieve while playihg a sport depending on the university, keep their scholarship, leave early to hit the big time pro circuit somewhere, never pay back the athletic scholarship gift that they left, go suck the life out of a pro sport somewhere, crash and burn their first three years from earning too much money with too little discipline(should have taken that business class I guess) and then go bankrupt. MAKE THE ATHLETE PAY BACK THE SCHOLARHSHIP MONEY SO ALL OF OUR HARD WORKING 3.5 KIDS WHO BY THE WAY PLAY SPORTS CAN HAVE A DAMN SCHOLARSHIP, FINISH SCHOOL AND GET A REAL JOB THAT CONTRIBUTES FOR YEARS TO A COMMUNITY. The End!! Thank you.

I'm sorry you think this way because you are just stereotyping all athletes to be this way and we're not. My school is filled with athletes that work hard. We are the one's in AP courses while managing clubs and going to practice not to mention hw. Most of the athletes work hard. When you've spent every waking moment for your sport and broken bone after bone don't you think they deserve it over a kid who worked but not as hard because they didn't have all the other stress and pressure? I think they do sure sometimes tv and movies make us look like dumb jocks but we are not. I don't believe you understand that when they don't abide by the contract of the scholarship it is removed and sometimes, but im not 100% sure, they have to pay back. Not all hard working athletes just leave college I don't know where you got your information. Athletes at my school are already signed to a college for sports or wanted to be recruited for the pros and they have turned down pros to study. You can't make assumptions about us and just because we dedicate our lives to the sport that we love.

I'm sorry to bother, but alas i shall continue.

I'm your typical 3.47 unweighted gpa student in her junior year and i'm terrified. At my school, i'm surrounded by geniuses who are all battling it out for number one with their glistening 4.0 unweighted gpas and 5+hpas, and i'm drowning. my rank is about 120 out of 326

I've been taking honors classes my entire highschool career and have two ap classes this all of which i've acquired As and (mostly) Bs on–math being the exception, despite being a ahead one year (like most) as its a regular course and i have a B (i'm still lamenting over that fact).

My sat score was a dismal 1800 and though it's my first time, again, my peers are getting 2200 on their first try.

Sorry for the rant, but the point i'm trying (perhaps failing, but i'm used to that) to make is that, even though i'm fundamentally a good, competent student, will the fact that my school is very competitive make me less attractive to colleges?

Thanks. It just so happens that every school on her apply-to list are liberal arts colleges. It is heartening to read that she will be an attractive candidate. She made some use of Naviance to see what colleges look for in students from the high school. That helped to make sense of the GPA statistic (though I admit I still worry). The scattergrams and admit data give a slightly better snapshot of what that college is looking for from this specific pool of students. Of course, that's just about the change of getting in – there's no info on Naviance about aid – either FA or merit based.

We hope to have some good offers when it comes down to it, but it appears that we will only have merit aid which is nearly impossible to guesstimate. Sometimes the Net Price Calculators give you an idea of what merit aid might be awarded, but most just assess the financial aid part. They're up front about that though – they say that merit aid is not included.

Hi Lynn,

I don't think you are reading too much into those comments. You even say that the student's GPA was the problem. GPA is a real concern for students and for parents. I have to admit, GPA statistics confuse me. I'm not sure how to use them appropriately or accurately- either the ones published on the CDS from the colleges or the ones published by the College Board site – to determine fit, chance of admission, and possibility of getting merit money.

I don't know this student's particulars, but surely a 3.5 UW GPA from a student who took all honors/accelerated classes (and got As and Bs ) in core areas is worth something. I would expect class selection does matter – both for core classes and electives. It is difficult to determine this from the statistics because there's not enough information about what the course load was of the students in the pool. Sometimes a college will give you an idea – but not always.

It's a bit personal for me. When I look solely at the statistics, I get the impression there is very little hope for merit aid for my own child who has (as of the end of junior year) 'only' a 3.6 UW GPA (4.0 weighted). She has a 35 ACT/2200 SAT and 5s on her junior year AP exams (she's got 5 more her senior year). I look at what you've printed about Syracuse in the original post and I see that only 20% of admitted students had her GPA. 20% (at Juniata it is even lower)! I suppose that makes Syracuse a reach for her (although her SAT/ACT scores are well above the 75%), and I can't imagine reach schools are generous with merit aid since that is meant to entice top students to attend.

In the absence of information about how course selection is weighted, my daughter's GPA seems to be a deal breaker. My heart says that's not true, but when I look at the information on merit scholarships at many schools I see something like this: "most students awarded this have: SAT M/CR 1350 plus top 10% of class and 3.75 GPA." She has the test scores in spades, but UW she hasn't got the (unweighted) GPA, and she hasn't got the rank (she's top 15%) in our very competitive school where nearly everyone in the top 20%+ has (weighted) GPAs of 3.9 or higher. When I look at the CDS for many schools, I see that less than a 3.75 GPA has a lower admit rate than the rates for students with her SAT/ACT scores.
We need to count on merit aid to make school affordable. I t seems that the percentage of students admitted at many schools with her stats is relatively low (if you ONLY look at GPA) and those getting merit aid must be even lower. It seems clear she WILL be left out in the cold and we will be left with a huge tuition bill. Our only hope lies with the schools that offer a more holistic approach to admission.

Hi Carys,

Unfortunately state universities rely heavily on a student's stats – GPA, SAT/ACT scores and class rank. There are too many applicants to do it any other way. Most state schools are nonselective so your daughter would have no trouble getting into most. It's the flagships, such as the University of Washington, which are tough. My daughter experienced the same situation.

Your daughter will have lots of options at schools that look at students holistically. I'd recommend focusing on liberal arts colleges, which I think are the best higher-ed choice for most students anyway. Don't stress, she will be an attractive candidate at these schools.

Also, schools that look at students holistically will note that she attends a highly competitive school and will take that into consideration. A lot of GPAs that you see at many schools are inflated and colleges know that.

Hope that helps.

Lynn O'Shaughnessy