Getting Ideas for a College List
It's intimidating when families hear that there are thousands of colleges and universities in this country.
It's equally unnerving when families try to grapple with this question:  Where do you find ideas?
This week I hope to share some suggestions on web resources that can help you start collecting college candidates. The first one to the plate is College Results Online.  I've written before about this site, which is a service of The Education Trust. It's where I head when I want to find a school's four-year grad rate.
College Results Online, however, can also help you generate ideas in a variety of ways.  Let's say, for example, that you're interested in Drake University, a mid-sized, master's-level institution in Des Moines. You'd like to also know about similar schools. To find them, call up Drake's profile and then click the Similar Colleges Button in the upper right-hand side of the website.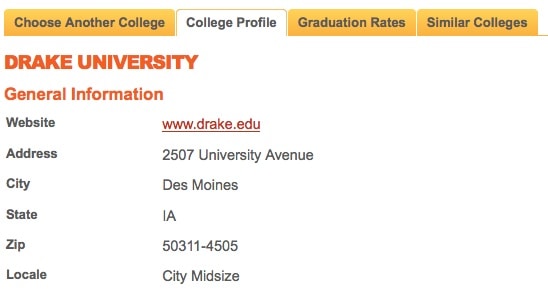 When I clicked on the Similar Colleges button, I saw this list of  peer institutions, along with their four-year grad rates: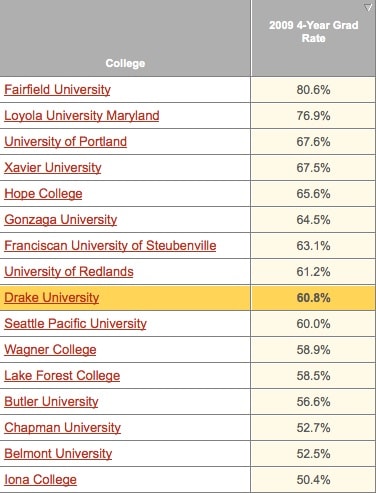 For another example, I used Willamette University, a liberal arts college in Salem, OR. Here is the list of peer institutions that the site generated for Willamette: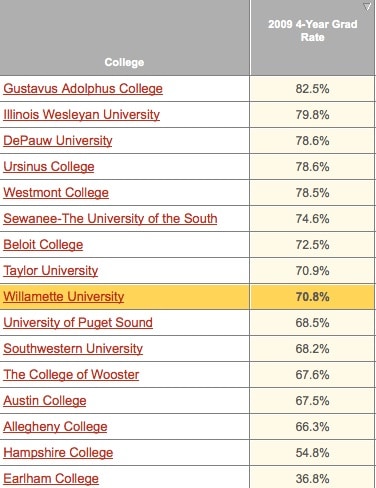 Advanced Search Feature
When hunting for schools, I'd also urge you to play around with the site's Advanced Search feature. You'll find the tab in the upper right hand corner of the website:

With this tool, you can direct the site to find schools based on your criteria. For instance, I used it to search for private institutions with at least 500 student that had a six-year graduation rate between 80% and 100%. Only 111 schools made the cut. Here is the top of the list: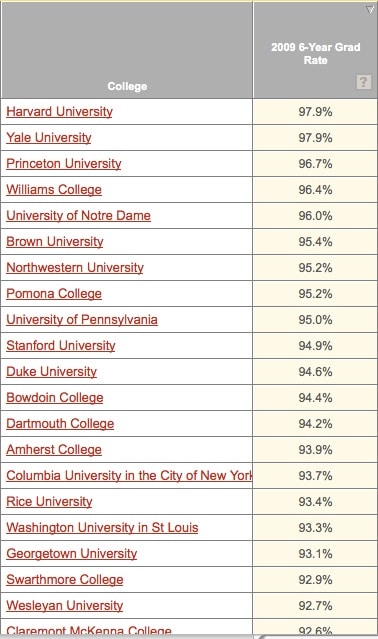 Search Criteria
There is a slew of other search criteria that you can use to find schools on this site. You can assemble lists of schools based on price, standardized test score ranges, grad rates of subgroups of students such as by race/ethnicity, freshman retention rates, location, size of student body and more. Here are the main categories that you can explore in your search:
Happy hunting!
Lynn O'Shaughnessy is the author of The College Solution and she also writes a college blog for CBSMoneyWatch. Follow her on Twitter and Facebook.
Hi Lynn, Thanks for your great help with child #1. He is now very happy at Wiliam & Mary. Ironically he starting wanting an urban east coast city but then realized that he really wanted a beautiful campus with academic rigor and is happy in rural VA – who would have guessed? Now for my #2 child who is a very independent minded junior – Do you have any good tools for her to think about the kind of college type she should focus on? She seems to know some of the fields she wants to pursue (environ studies/IR/journalism, ideally with a portuguese offering). She wants a coast (not midwest), but not sure how small she would want (she is very social and seems to think a greek scene would be interesting…). That leaves the field pretty large so we could use some guidance. Standardized test results are still pending but she is a 4.2 student with tons of extra curriculars (internships/community service). At this point rather than narrowing to a specific list, I am looking for more of a college life style check list to get her thinking about the major factors (school size, lifestyle, etc) so she can prioritize what is most important to her in choosing a school culture. She is pretty defined in her interests but likely won't be able to find them all at one school. To give an idea – she's a beach bum, vegan, indy rock fan and loves to ride horses (so ideally a equi club) – but definetely wants to go away from San Diego for college. I imagine there is some kind of good check list out there to help her think through her priorities and I bet you would know. Thanks for any reference you may have.