Getting Disappointing Scholarship News
I have started getting emails from parents who are disappointed that their teenagers' financial aid packages are so meager. I wanted to share one story today from a mom, whose daughter is a stellar student and who was hoping for the University of Delaware's top scholarship.
A Mom's Email
My daughter just received her acceptance today from the University of Delaware into their Honors program and  Chemical Engineering dept.  She was awarded $11,000 in merit as well.  We are Pennsylvania residents and the COA is estimated to be around $40,000.
Ilana is a straight A student with all APs and Honors.  She scored a 2250 on her SATs and has had significant involvement in extracurricular activities and community service  (though she never held an officer position).
I, of course, feel that she is deserving of a more significant scholarship and was disappointed that she wasn't invited to compete for their Distinguished Scholars award.  I emailed the head of financial aid 2 weeks ago curious as to why she wasn't considered for that award and never received a response back from her.
I'm very interested in knowing what your opinion is as to whether I should continue to pursue a larger award or be very appreciative that she was given $11,000 per year.
She did receive $12,000 to University of Maryland, and $22,000 to Drexel and most likely will receive $15,000 to RPI.  Do I mention these awards in a letter to UD's financial aid dept?
My Thoughts….
Congratulations on having such a bright daughter! Unfortunately, being a stellar student isn't going to guarantee that your daughter will have a shot at a university's top award.
When I looked at the University of Delaware's website it mentioned that only 10 to 12 students receive its Distinguished Scholars award, which provides a full ride. University of Delaware has more than 3,900 freshman and while the vast majority wouldn't realistically have a chance at getting a full-ride, this award has to be extremely competitive.

Out-of-State University Realities
One of the hazards of applying to an out-of-state public university is that the costs will typically be far higher than if a student remained in her home state. Here is the cost of tuition from the University of Delaware for residents versus nonresidents that I pulled from the College Board.
University of Delaware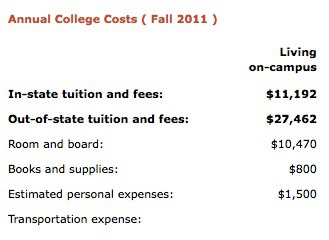 Across the country, nonresident tuition is typically two to three times what residents pay. Here is an even more extreme example from the University of California, Berkeley. The UC campuses are the most expensive schools in the nation for students who aren't California residents.
University of California, Berkeley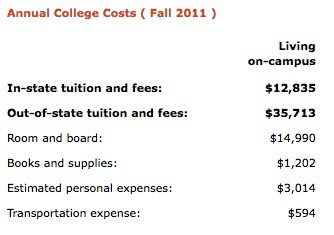 Why Public Universities Loves Outsiders
State universities are more eager than ever to attract smart outsiders to their campuses because the schools need the money. As support from state governments has dwindled over the years, public universities are trying to entice more nonresidents to their campuses.
The schools' chief goal is to attract smart, affluent students who can afford to pay far more for their education than residents. So it's not unusual that a state school would offer a scholarship to an extremely bright student like this mom's daughter, but even with the scholarship the price will be stiff.
I have a chapter in the upcoming second edition of my book, The College Solution, devoted to out-of-state universities and I'm sharing with you a partial list of flagships that includes their percentage of nonresidents. I bet you will be surprised at the percentages.
Percentage of Outsiders Attending State Flagships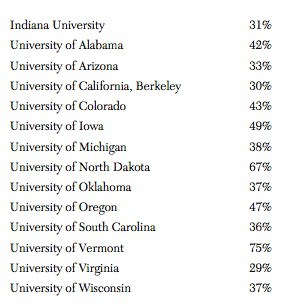 Answering the Question
As for the mom's question, I don't think it would hurt to contact the school again. I think the mom — actually the daughter — should call the admission office, not the financial aid department. The admission office would be in charge of  selecting candidates for the top award. Good luck!
More Reading
Here are other posts that I've written about state universities recruiting nonresidents:
Should You Apply to an Out-0f-State Public University?
Flagship Universities Going  Rogue
10 Most Expensive State Universities for Outsiders
Order a copy of The College Solution
You can now pre-order the second edition of The College Solution: A Guide for Everyone Looking for the Right School at the Right Price. The second edition contains about 90% new content including chapters on evaluating schools financially and academically.
She got significant money from two public institutions, there's no reason to be disappointed. I think she might have better luck going back to the private schools who will have a more flexibility in the area. However, while she appears to be an excellent student if she doesn't have the experiences (ECs or volunteer) that stand out in terms of initiative or accomplishments, there isn't going to be a full-ride at any of the schools she's looking at.

I get the feeling that for a lot of private schools, merit aid is really just a way of discounting the tuition so that the family will only have to come up with around half the tuition so that it's competitive with in-state tuition. This assumes that the student has scores and gpa above the 75th percentile for the school.

As far as state schools go, it's like Lynn says, unless they're paying full tuition, there really isn't any incentive to take out of state students. Unless they're athletes where some public schools will provide a minimal scholarship and only charge in-state tuition.

I find the above situation all too common in this Ivy League or bust era as parents watch their kids doing AP, extracurricular activities, getting great test scores, and not realizing that thousands of other students are doing the same thing. Yet, parents see a great and hardworking student as they should while not really having the thought of scholarship amounts nor appropriate schools that can be afforded being tempered by many guidance counselors. This can lead to situations much like the letter above describes when things don't follow the dream.

Also, I am a believer that parents and students need to approach higher education thinking that they will have to the pay the entire bill and not count on scholarships. Utilizing an approach that includes any money that doesn't exist is poor and doesn't help to create breathing room if the amount expected turns out to be dramatically less. It also doesn't put options on the table such as work-study, working in computer labs, tutoring, or even being a janitor if the parents decide they cannot afford the entire amount or only want to pay so much.

I find the mom's belief that her daughter is deserving of a more significant scholarship and is disappointed in the amount to be quite troubling because there are many students at universities across this country that would kill for a few hundred extra scholarship dollars. In my opinion, she should be thankful that her daughter is getting something and be proud of her for receiving it because there are many who are quite deserving as well that get nothing.

With respect to her question I agree your answer while recommending that the daughter talk to the admissions officer they worked with closely if possible while being appreciative of what has been given. Also, I would recommend for her to look into if there is an out-of-state tuition waiver for maintaining a specific GPA and programs such as work-study, tutoring, etc.

The average non-need based award at the University of Delaware is only about $4000 so the student in question received a very hefty award despite the disappointment of the parent.

Thanks Paula for pointing out that the average merit award is just $4,000.

Lynn O'Shaughnessy