Fearing the worst: college closings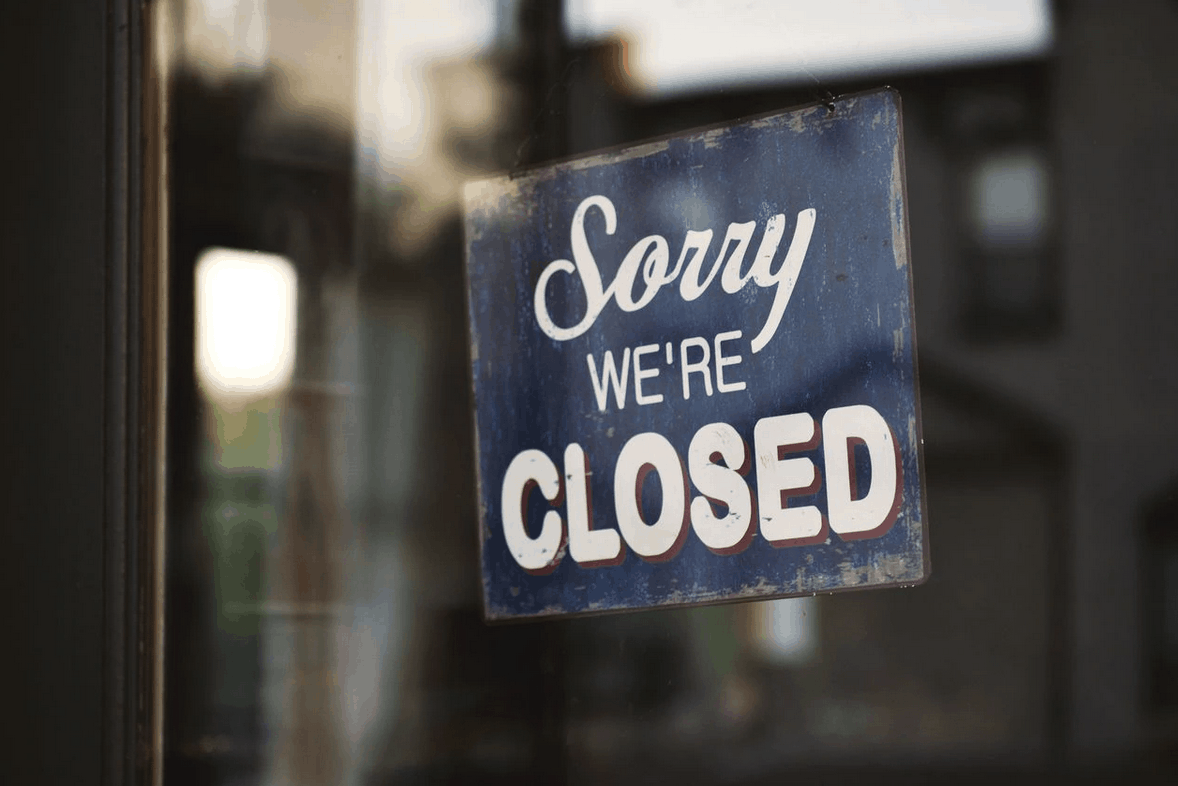 The COVID-19 pandemic is hitting the higher-ed world hard.
Colleges across the country shut down during a crucial time in the college admission season. It's the spring when colleges heavily court high school seniors as they urge them to attend their schools in the fall.
But this year's accepted student days were cancelled. Campus visits dried up. Previous freshmen enrollment projections are now worthless for many schools. Many admission administrators are petrified,
For most colleges and universities, competing for high school seniors has been a cutthroat Hunger Games exercise for many years. And now it's much, much worse.
Uh oh. How much trouble are colleges in?

Here are some factors that are weighing heavily on admission administrators.
1. Colleges are expensive and even fewer families now will be afford to underwrite the cost of a bachelor's degree. Parents' income was lagging long before the pandemic chased us all inside.
Here is a screenshot of a graphic that shows the alarming gap between household income versus the price of state and private colleges over the years. Paul Friga, a professor at the University of North Carolina, Chapel Hill, presented this slide during a Chronicle of Higher Education webinar yesterday that more than 1,600 (nervous) college professionals attended.
The take home of Friga's presentation was that the pandemic crisis will hit colleges much harder than the recession of 2008-2009.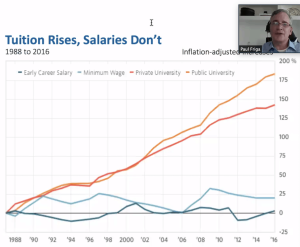 2. Early surveys suggest that more high school seniors are reevaluating their college plans. In one survey, one out of four high school seniors said they were rethinking their colleges choices and of those teenagers nearly a third of them were considering attending college closer to home.
If this desire holds true, this could be a boon for regional state universities and community colleges, as well as urban private institutions.
3. College endowments have tanked.
4. Moody's Investor Services, an institutional grim reaper, has downgraded the outlook for the higher-ed sector from stable to negative.
What if colleges close?
All this bad news leads to the question about whether all colleges are going to make it.
That makes the question this week from one of my newsletter subscribers from North Carolina very timely. Here it is…
I've used your blog extensively to help plan college admission for my two older daughters.  My youngest is a high school sophomore and we're starting to make plans for her.  I've noticed that based on her intended major, interests, and selectivity, many of the colleges making the cut are weaker financially. 
I hate to eliminate good choices from her list solely based on finances, but I also don't want to get into the situation of a college merger, closure, or program elimination.
Is there a single good source to determine a college's financial health?
Answer:
Excellent question!
No one knows what's going to happen with colleges this year.
Who knows if schools will even be allowed to open in the fall? Or we could have a normal summer and the virus returns in the fall. Or maybe we will be absolutely fine by the time school starts again.
It's likely that smaller private colleges, especially in rural areas, will be the hardest hit by the pandemic if lots of students decide they want to stay closer to home.
That said, you can't lump all schools into the same category. All possess different levels of financial strength.
Measuring a college's financial strength
A good tool to evaluate a college's financial strength is through an annual report that Forbes produces called the College Financial Health Grades.
You can use the built-in search function in the online report to discover the financial grade of  933 college or university. The best grade is an A+ and D is the worst.
The report only covers private, non-profit institutions and not public ones.
It should be noted that while state universities have and will continue to experience troubles, they do have support from their own state governments (even if it's woefully inadequate and almost certainly will be), which is a luxury that private institutions don't enjoy.
Here is a screenshot of the Forbes search function and the schools at the top of the report card: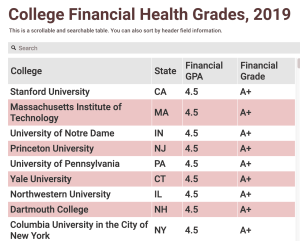 It's no surprise to see schools like the following getting the coveted "A+":
Duke University
Harvard University
Johns Hopkins University
Massachusetts Institute of Technology
Northwestern University
Rice University
Yale University
Also earning top spots are some elite liberal arts college including Grinnell College in Iowa that formerly had Warren Buffett, when he was a trustee, investing its endowment assets:
Barnard College
Bates College
Carleton College
Claremont McKenna College
Davidson College
Grinnell College
Washington and Lee University
Wellesley College
Williams College
The report, however, also highlighted some other high-performing schools that received "A" or A+" ratings that don't enjoy national visibility. The list includes work colleges, private research universities owned by the Church of Jesus Christ of Latter-day Saints and Hillsdale College, a conservative liberal arts college that proudly accepts no government money.
Brigham Young University
Brigham Young University – Hawaii
Berea College
Berry College
College of Idaho
College of the Ozarks
Hillsdale College
Kansas City Art Institute
New England Conservatory of Music
Forbes uses nine factors to evaluate each institution including:
Core operating margin.
Tuition as a percentage of core revenues.
Admission yield.
Percent of freshmen getting institutional grants.
Endowment assets per full-time students.
You can learn much more about the methodology Forbes uses by checking out its report.
Good luck, everybody!
Learn more:
Especially during this scary time, it is absolutely crucial that you become a smart consumer as you weight your college choices. You can do

that and ultimately save tens of thousands of dollars or more by enrolling in my online course, the College Cost Lab.
You can learn more here.