During a pandemic, getting more money from a college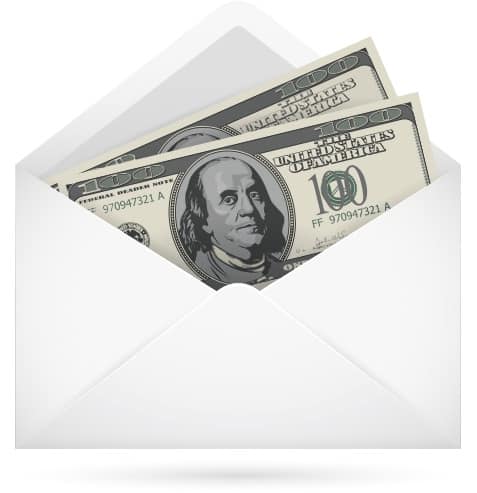 During the COVID-19 pandemic, plenty of colleges are worried about not only attracting enough freshmen for this fall, but also for the 2021-2022 college admission season.
Many colleges have made the calculation that it's better to pay too much to attract a new student than to lose that prospect – and the revenue he or she generates – all together.
According to the latest annual report from the National Association of College and University Business Officer, tuition discounting among private institutions is already at an historic time high. The pandemic will surely inflate the offers even more.
I mentioned this tuition discounting phenomenon in a post that I wrote at the beginning of this pandemic. Here is the link:
Tackling common college questions during COVID-19
A new tool to look at college offers
A natural question you might be asking yourself is how much more money you might be able to squeeze from a college. With this pandemic, we are in uncharted territory since colleges are facing an unprecedented threat to their own financial health and, for some, their very existence.
That said, what we can do is look at the sort of offers that schools have recently made to prospective students. Fortuitously, a new tool from Educate to Career, a nonprofit chock full of helpful online tools (many of them free), can provide you with recent, pre-pandemic figures.
The ETC tool that I am sharing with you can provide you with a framework for how much an individual school might offer to entice a teenager to its campus.
Here is the link to the tool:
Using the tool you'll see that most students do not pay the full tuition price. And that's true at nearly every private and public college and university in the nation.
Here is what the tool looks like:

To use the tuition negotiator, simply select a state, college major and college to generate aid figures for freshmen who attended the institution for the 2019-202 school year.
One thing that you'll discover by playing around with this tool is that colleges with similar tuition prices can offer merit aid/financial aid that is significantly different. And that's just one reason why you shouldn't never assume that a school's price tag means anything.
State University Examples
University of Massachusetts Amherst
You can see that the vast majority of freshmen at UMass, which is the state's public flagship, did not pay the full tuition price for the 2019-2020 school year. Eighty-two percent received some kind of discount. The tuition and average tuition paid figures are for in-state residents only for public universities.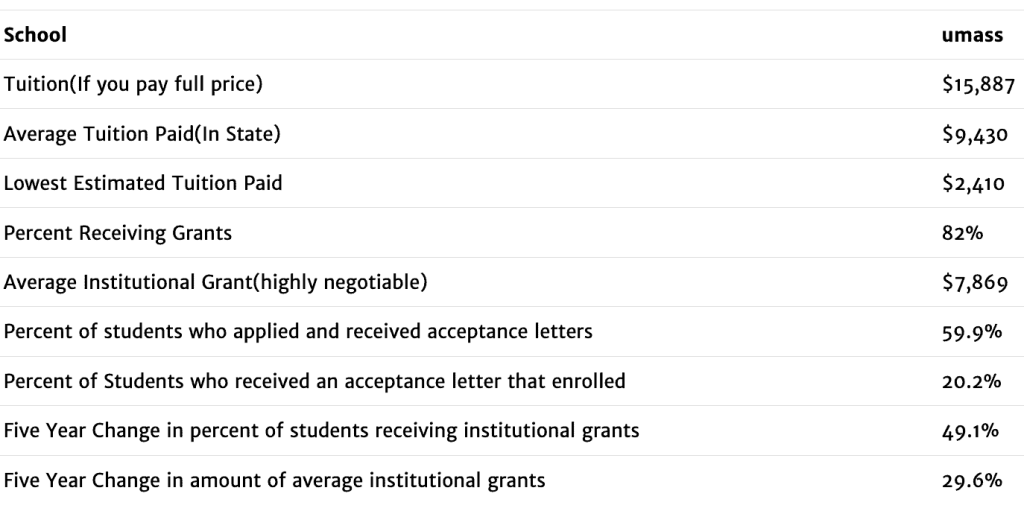 University of California San Diego
The University of California campus in San Diego had significantly fewer freshmen receive grants (49%). This school, like the other UC campuses, devotes its money to students with financial need and not those looking for merit scholarships.

Private College Examples
Grinnell College

Claremont McKenna College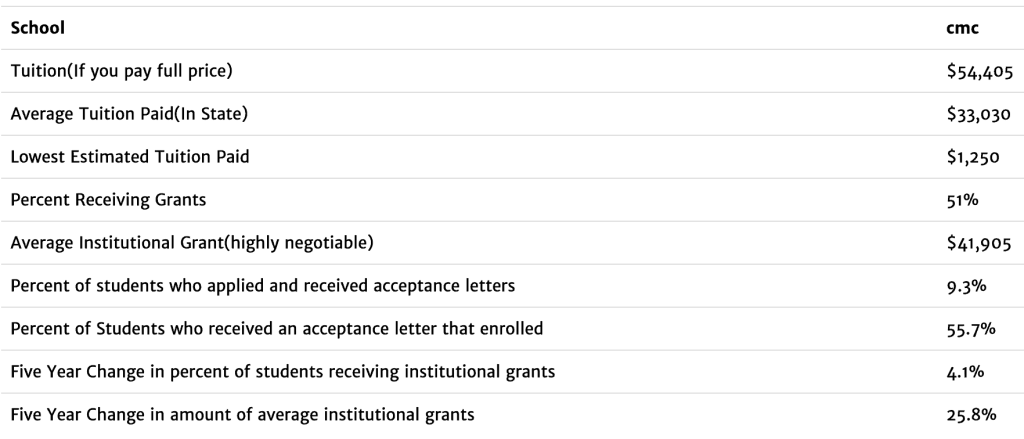 Something you should notice about this pair of private colleges is that the published tuition price at both Grinnell and Claremont McKenna colleges are similar. The average tuition that Grinnell freshmen actually paid, however, was nearly $10,000 less than the freshmen at the California school.
One reason for this difference is the location of each liberal arts college, which are both highly ranked. Institutions near metropolitan areas can typically charge more. Claremont McKenna is close to Los Angeles and Grinnell is in Iowa.
Here's another difference:  Grinnell needs to give an institutional discount to most of its freshmen (85%) versus just 51% of students at the California school. Once again, location is a major factor.
Easy to Use
A helpful feature of the college tuition negotiator is that you can generate statistics for up to eight colleges for a side-by-side comparison. You can print out the information as a PDF.
Methodology
All the tools that you can find on Educate to Career's website are the work of data scientists at Job Search Intelligence, which is a leading provider of information relating to educational attainment and career outcomes. Employers and recruiters use JSI's programs to enable them to know where to recruit new hires from based on college major and region. They also use the programs to know what to pay new hires, as well as for benchmarking salaries for existing employees.
JSI uses dozens of data sources from such places as the colleges themselves, Census Bureau, Bureau of Labor Statistics, U.S. Federal Reserve, and National Center for Education Statistics when generating its college statistics.
Bottom Line:
For many families, the pandemic has made choosing a college more challenging than it was already.  Understanding what a college may provide a student financially can help with selecting colleges and negotiating.
Especially in these times, don't assume the first offer is the final offer.
This seems like a great tool. But it doesn't seem to have any information regarding students who get aid who are looking to go into the arts. My daughter will be applying to schools this fall for dance. Do yo have any advice on where to look for schools who give the most aid/scholarships in the arts?

Hi Tracy,

Hi Tracy,

The process is no different for a student majoring in any disciplines. Look for generous schools. For dance, there can be separate talent scholarships though not always. You'd have to ask individual schools if they offer extra dance scholarships in addition to general financial aid and merit scholarships. One school that I would HIGHLY recommend checking out is the University of Utah, which has a phenomenal dance program. There are dance scholarships with auditions and the instruction is great. I recommended it to the daughter of a dear friend of mine and she had a tremendous experience. The price is much lower at U of Utah – like other interior West schools – and it's easy to become a resident. That's what my friend's daughter did. She turned down UCLA to attend Utah because it was a superior program. Good luck.

Lynn O'Shaughnessy

Any suggestions for more financial support for the University of Oregon?

Hi,

The University of Oregon will rarely be affordable for a student who is not an Oregon resident. U of Oregon likes for nonresidents to attend its school because they pay so much more for a bachelor's degree. I would urge you to not overpay for a degree. There are other state universities for nonresidents that cost far less money and I'd also have you check out your own state universities. Across the nation, state universities in the interior west have the lowest price tag. I'm talking about schools such as University of Utah, U of New Mexico and Montana State.

Here is a post that I wrote five years ago about U of Oregon and no overpaying:

https://www.thecollegesolution.com/would-you-pay-47000-for-the-university-of-oregon/

Lynn O'Shaughnessy

Peggy, I agree. For a newbie this is good information. But obviously (at least to me) is that sites such as Collegedata.com, (recommended by Lynn)gives a complete breakdown of numbers pertaining to need based/merit monies in greater detail. With that said, I would like to ask Lynn what advantage(s) that this site may have.

Hi Charles,

Thanks for reading the post. I just wanted to share this new tool with people and the site has other pandemic tools too. There are plenty of other tools that you know about including at the College Board and Collegedata.com that I use. Obviously, there is a lot more to be said about how schools are evaluated financially.

Lynn O'Shaughnessy

When looking at the College Tuition Negotiator tool, I can't see anything that tells me the relative split between students with need and students without need. It seems to me that simply knowing the average amount doesn't help if you don't know if the school awards only need-based aid and little to no merit, or if the school awards merit to those with no need. Am I missing something?

Hi Peggy,

The vast majority of private colleges and universities give students money. If you see a school that provides only 40% to 60% of student with money, that is a huge tip that they give zero merit aid or very little. These are elite schools that can attract rich students without offering merit aid.

For all other schools, I'd argue that it doesn't matter what the breakdown is between need-based and merit aid because the vast majority of students receive institutional money. It doesn't really matter if it is need-based or merit based. Most merit aid actually serves as need-based aid for families.

Lynn O