Comparing the Right Graduation Rates
When I give talks about finding and affording colleges in California, the audiences often gasp when I share grad rates for some extremely popular state schools. Here are some of the four-year grad rates that shock parents:
Low Grad Rates Elsewhere
These low rates are hardly just a phenomenon of California. Here are grad rates of just a few of the countless universities across the country with poor four-year grad rates:
Wide Variation Among Similar Schools
It's easy to dismiss poor grad rates as a reflection of a school's selectivity.  A public university that has a mandate to accept most of its applicants will possess a much lower grad rate simply because of the students it attracts. Schools that educate a wealthy student body should possess much higher grad rates. Is anybody going to be surprised that Princeton University's four-year grad rate  (90.1%) is much higher than another New Jersey institution – Rutgers University in Camden (32.1%)?
What is surprising is the grad-rate variation among schools that attract similar student bodies. For instance, if you are looking at flagship public universities that draw top-performing students in their respective states, you would expect the rates to be similar. If you are looking at academically rigorous private liberal arts colleges, for example, you would expect that their grad rates would be similar. That, however, is not the case.
You can discover wide disparities in grad rates among similar institutions by heading over to College Result Online, which is my favorite source for graduation rates. At College Results Online, which is brought to you by the Education Trust, you can obtain a college's four, five and six-year rates by just typing the name into the search box.
Comparing Peer Institutions
One of the features that I particularly like about College Results Online is that the site will generate the names of peer institutions for you so you'll get  a sense about whether a school's grad rate is good or not for the company it keeps.
The cool part about the site's software is that you don't have to know what a school's comparable institutions are. Simply hit the Similar Colleges button when you are looking at a school's profile. I am demonstrating what the software can do by using American University in Washington DC.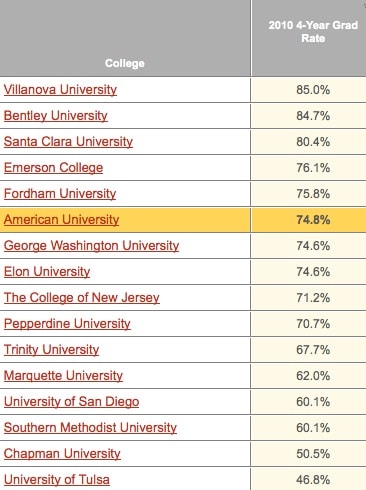 Among this peer group of  private universities, you can see that American U. is closer to the top of the list. What I find most interesting in this example are the laggards. University of Tulsa and Chapman University in Orange County, CA, have significantly lower grad rates than their peers. This is something you would want to investigate before applying to these schools. These are expensive schools and I would not be interested in my child attending a school where the odds of graduating in four years was iffy.
Another Feature of College Results Online
You can also research school graduation rates by developing your own criteria by using the site's Advanced Search tool. You can generate lists of schools based on such criteria as location, type of institution, selectivity and freshman retention rates.

Lynn O'Shaughnessy is the author of the second edition of The College Solution: A Guide for Everyone Looking for the Right School at the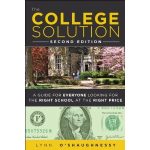 Right Price, which was released last month.
Hi Dave,

Yes, anytime that a full-time student transfers to another college that original school gets dinged. Schools where students transfer out in greater numbers will have lower grad rates.

Northeastern got hit by Forbes rankings, in part, because of the school's terrible financial aid awards. This is a very miserly school and students graduate with high levels of debt. Unlike US News, Forbes admirably pays attention to debt loads. Northeastern, of course, would like to complain that the low rating is because of its internship program. Shame on the school for hiding behind that and ignoring their poor aid practices.

Lynn O'Shaughnessy

I think people need to remember it's not just the cost of an extra year (or two) in college. It's also the loss of income from starting to work full-time as well (okay, theoretically in this economy.) So an extra year at a state school is another $20,000 on top of a lost first year salary. If you're conservative, that's another $50,000 a year for every year delaying graduation.

Excellent point Michelle! I should have mentioned that.

Lynn O'Shaughnessy

Good posting on Collegeresults.org! One of our schools in Georgia is at the top of the list and there are some in the state that have lower 4 year graduation rates. I have shared this information with families over the years and some shifts have been made in the direction they would have taken. What is real disconcerting to me is when I see a school with 40% of the students graduating in 6 years. Collegeresults.org has a nice feature where you can search for schools within a specified distance of a zip code. Many parents and students are familiar with a certain number of schools and this search is a great tool to expand their available options.