College Cost Calculators: Getting Wildly Different Answers
Have you tried out any college cost calculators yet?
If you haven't, I'd urge to to get started. I experimented with some net price calculators recently and I wanted to share my experience.
The purpose of these so-called net price calculators is to help you determine how much a college is going to cost your family by generating a personalized estimate. These calculators are going to be revolutionary because for the first time teenagers and their parents can form a good idea of ow much a school will cost before they ever apply. You can learn more about net price calculators in my previous college blog posts:
Schools aren't required to post their calculators on their websites until Oct. 29, but some have already installed them. I tried out three of the cost calculators that I found on the College Board, which is one of the higher-ed players which are creating these tools.
The first calculator I tried belonged to Claremont McKenna College, a liberal arts school in Claremont, CA.  Here are some of the figures that I plugged in for a hypothetical family with one college-bound teen and another younger child in high school.
Parents' income: $125,000
Cash/checking: $25,000
Home equity: $150,000
Non-retirement assets: $50,000
Itemized deductions: $18,000
Latest year's contributions to 401(k) plans: $8,000
Claremont McKenna College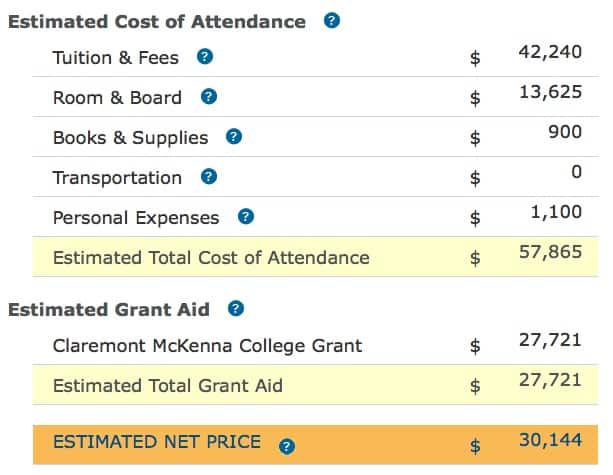 The calculator estimated that this family would receive $27,721 in grant (free money) assistance from Claremont McKenna. I think many families making $125,000 with decent home equity are going to assume they wouldn't get any need-based financial aid, but the calculator clearly shows that this isn't true in this case. Claremont McKenna has a excellent financial aid policy so this family would not receive this much assistance at most colleges.
Syracuse University
I used the same hypothetical family with the same finances for Syracuse University and look at the results: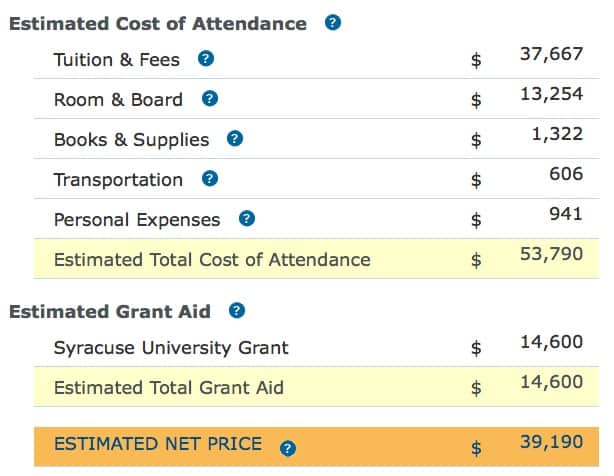 When you look at Syracuse University's estimate, the family would receive $14,600 for the student's freshman year. Clearly this school isn't as generous as Clarement McKenna.
New York Film Academy
For my last example, I used the same numbers for my hypothetical couple for  New York Film Academy, which costs a little bit more than Claremont McKenna.  The difference in awards is stunning.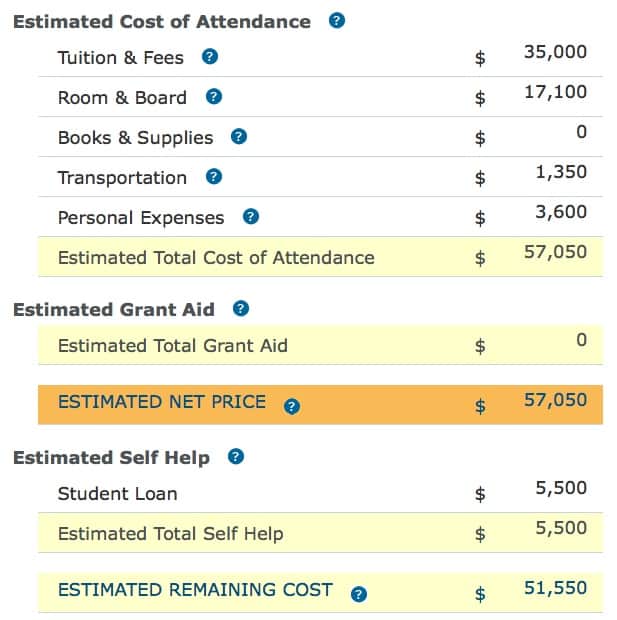 Remarkably, New York Film Academy would not give this family any money at all! The school did insert a $5,500 federal loan in the financial package. Big deal.
Bottom Line:
Using just three calculators for my imaginary family, I obtained three very different answers. I hope this convinces you that you need to take advantage of the net price calculators before applying to any colleges or universities.
Lynn O'Shaughnessy is the author of  Shrinking the Cost of College workbook.  She also writes a college blog for  CBSMoneyWatch and US News. Follow her on Twitter.
More on The College Solution:
You're right Ann. For-profit schools don't provide scholarships but I think too many people don't understand this and don't know how to tell the difference between a nonprofit and a for-profit school.
Lynn O'Shaughnessy

Thank you Lynn for giving such a great visual! I give it to as many families as I can since it clearly debunks financial aid myths they keep holding onto!