College Board: Evaluating School Generosity
The College Board is a favorite resource of mine when I want to get a quick read on whether a school is stingy, financially awesome, or somewhere in between.
What you'll find on the College Board is equally relevant whether you are seeking schools that provide generous need-based aid or are hunting for schools that provide merit scholarships that are awarded without regard to a family's finances.
In this video, I explain how you can easily use a school's financial figures to determine what kind of merit awards or need-based packages an institution usually provides. I selected the following four schools to demonstrate what you can find on the College Board site, as well as to illustrate the different institutional priorities that schools have when deciding who gets awards:
Washington University in St. Louis
New York University
University of California, Berkeley
Rhodes College in Memphis
Below I'm providing you with a cheat sheet of what I cover in the video. Keep in mind that the prices are higher since I recorded this video.
How to Use the College Board Tool
Step One:
On the College Board's home page, type in the name of any school to call up its profile. On the left-hand side of the school's profile click on the Paying tab. Here is Washington University's:
Step Two:
After clicking the paying tab, you'll see the published costs of the school, which will often be scary but are usually meaningless. Next click on Financial Aid by the Numbers.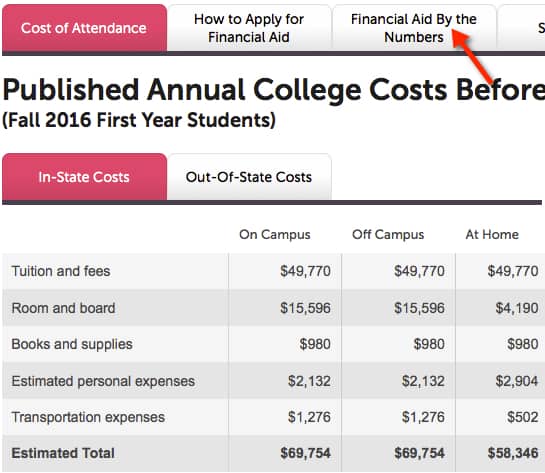 Step Three:
What you'll see next is a statistic that shows what percentage of need this school typically meets. For students who require need-based aid, getting accepted into a school like Washington University that meets 100% of need is the ultimate prize.
The pie chart illustrates how the school's typical financial aid package is broken down between free money (scholarships/grants) and loans/job. The jobs always refer to campus federal work-study positions.
Step Four:
Scroll down on this page to discover more financial statistics for all undergrads.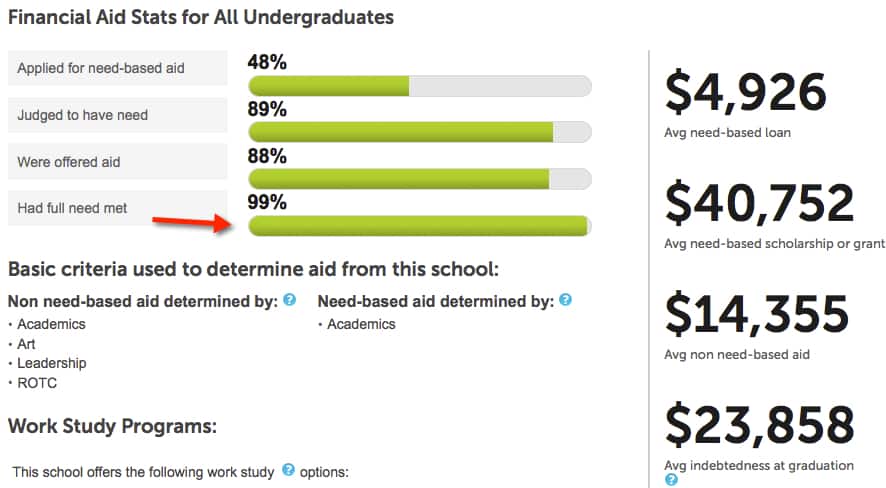 You can see above that 48% of students applied for aid at this nearly $70,000 school. (Like many elite schools, there are many rich students here who can cover the cost without any assistance.)
The statistic that I find most relevant is this one: Had full need met. Ninety-nine percent of students who had financial need (as determined by a financial-aid methodology) had their full need met. That's excellent (although 100% would have been better) and only a few dozen colleges and universities can make the same claim.
On the right-hand side you will also see the value of the average need-based package. For Washington U., it's $40,752. As for the need-based loan, you can almost always assume that the school will insert the maximum federal Direct Subsidized and Unsubsidized Loans into the package. The maximum federal Direct Loan is $5,500 for freshmen.
Merit Scholarships
For those of you who will not qualify for need-based aid, this financial aid page can also be valuable. What you need to look at is the figure for average non need-based aid. That's higher-ed jargon for merit scholarships. In this case, the average merit award for high-income students is $14,355. While you will learn what the average merit scholarship is — if it provides one — the College Board doesn't share how many students receive merit scholarships, which is a critical piece of information to know.
COLLEGEdata.com, however, provides this missing statistic. You will learn about how to use COLLEGEdata in the next lesson.