Checking the Generosity of Your Child's College Picks
When students are developing their college lists, most of them (unless their parents are wealthy and don't mind writing monster checks) should be paying attention to the net price of all their school picks.  Net price is what a school will cost you after scholarships and grants are deducted.
An email that I received from a mom over the weekend has given me an good excuse to review this cardinal rule when building a college list.  Here's her note:
Hi Lynn! …Because of your book, The College Solution, my son, who is a rising senior, is looking very seriously at Rhodes College in Memphis.  Actually, all of his schools on his list are small, private Liberal Arts Colleges.  His Expected Family Contribution is between $12,000 – $13,000, depending on the methodology you use. He is also looking at Trinity, Davidson, Rollins, and Furman.
Evaluating a College List
This student is going to need a lot of help from the schools on his list. With an EFC of $13,000, the family will require about $38,000 to attend a school like Rhodes College. Rhodes, by the way, is the beautiful liberal arts college that graces the cover of the second edition of my book!
As a general rule, the more elite the private college or university is, the more generous the financial aid packages. If you don't know what an EFC is, here is one of my previous posts:
To get a quick idea of how generous a school will be, I'm sharing a helpful tool that you can find at the College Board website. I'm using Rhodes College as an example because it's the No. 1 pick of the teenager.
To get started, I type in Rhodes College in the search box on the left hand side of the home page:
After calling up the Rhodes College profile, I clicked on the Paying tab.
Cost of Rhodes
First you'll see the published tuition, room and board and other costs, which will be intimidating. As I've said many times on this college blog, however, price tags are meaningless. Eighty five percent of students at private schools receive grants/scholarships and two thirds of students attending private or state schools receive some type of price cut.
To get an idea of how good the financial aid packages are at a school scroll down past the prices and you'll see the school's Financial Aid Distribution:
A key figure on this chart is the percentage of need met. Rhodes typically meets 94% of a student's need. That is a high figure. The closer a school gets to 100% the better. Of the schools on this teenager's list, only Davidson College meets 100% of need.  Out of thousands of colleges and universities in this country, just a few dozen schools — all elite institutions  – can offer 100%.
What's also important to look at is the breakdown between scholarships/grants and loans and work-study jobs. (See the pie chart.) Most of the aid that Rhodes provides is in scholarships and grants, which is excellent.
The figure that I would disregard is the one that I have marked with a red X. This figure always seems to be wrong when I am researching schools so ignore it.
Next Step
Next you should click on the oddly-named link called Policies & Stats. Here is what you'll find:

In this chart, you'll see that 66% of the undergrads applied for aid. Based on their financial aid applications, 75% of these students qualified for need-based assistance and nearly all of them received help.
What is a key figure in this chart is the bottom line — how many had their full need met. Of the students who required assistance, 39% got their full need (100%) met. The higher this number (100% is the gold standard) the better.
To the right of the above chart, you'll find a breakdown of the college's typical aid packages.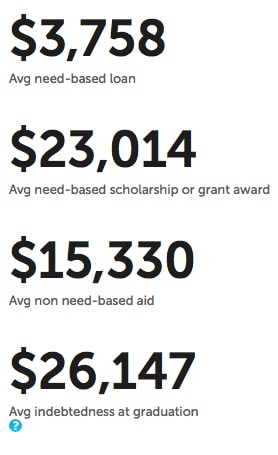 For students seeking need-based aid, check out the average scholarship or grant. For wealthy families who will not qualify for need-based aid, check out the average non-need-based aid category – that's higher-ed jargon for scholarships for rich students. The average scholarships for wealthy students — $15,330 – is a healthy one.
Finally, look at the average indebtedness of student borrowers who graduate. The average indebtedness for student borrowers in this country is about $27,000 so Rhodes is right in line with the national average.
Bottom Line:
If money is an issue, don't let your child finalize a college list without researching the generosity of the schools!
Read more on The College Solution
What's Wrong with College Dream Lists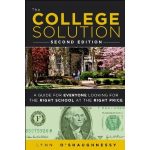 Anatomy of a Stingy College and a Generous One
Lynn O'Shaughnessy is the author of the newly released second edition of The College Solution: A Guide for Everyone Looking for the Right School at the Right Price.
Yes, there is a resource that will provide a personal estimate of what any school will cost you because as you say averages are just averages. You should use a school's net price calculator to get a personalized estimate of what a particular school will cost your family. Here are some of my posts with net price calculators as tags: https://www.thecollegesolution.com/tag/net-price-calculator

Lynn O'Shaughnessy

Lynn,
I have a rising senior so I don't know for sure, but it seems that other colleges (in addition to the elites) giving excellent financial aid — merit and need-based — are those in far-flung locations. They seem to be the ones with excellent reputations and healthy endowments but located far from major cities and wanting geographic diversity. I know that this "remoteness" factor is an issue for some parents. Even though most colleges have a shuttle service from college to major airport, there can be plane changes which makes a parent feel that their child could be stranded somewhere alone.

In my son's case, we'll probably take a great financial package and let the travel be an adventure. But … I'm wondering if this is true. Perhaps parents are dismissing colleges far away without realizing that they may be given very generous price breaks based on locations.

Lynn,
I have a rising senior so I don't know for sure, but it seems that other colleges (in addition to the elites) giving excellent financial aid — merit and need-based — are those in far-flung locations. They seem to be the ones with excellent reputations and healthy endowments but located far from major cities and wanting geographic diversity. I know that this "remoteness" factor is an issue for some parents. Even though most colleges have a shuttle service from college to major airport, there can be plane changes which makes a parent feel that their child could be stranded somewhere alone.

In my son's case, we'll probably take a great financial package and let the travel be an adventure. But … I'm wondering if this is true. Perhaps parents are dismissing colleges far away without realizing that they may be given very generous price breaks based on locations.

Hi Denise,

Nearly all schools have to give merit aid to students for competitive reasons. I think schools that are located in cities on the East Coast can be less generous because students want to live in metro areas like Washington DC, Boston, New York and Philadelphia. You are generally going to pay a premium in college prices for living in these cities.

I think colleges as opposed to universities, in particular, have to provide more merit aid (beyond the most elite such as Amherst, Williams and Swarthmore) because these colleges are less well known than many universities and thus must provide bigger carrots. These colleges are where you are going to find some of your best values.

Lynn O'Shaughnessy